Art and other cultural attractions reflect the city's vibrancy and diversity
Perhaps above all, Los Angeles is known for its incredible diversity, as seen in everything from its population demographics to its array of hotels and culinary offerings.
"Los Angeles is a destination that truly has something for every taste and interest," says Darren K. Green, senior vice president of sales for Los Angeles Tourism Board. "It's an integral component of our own identity to be self-evolving; to boast an ever-changing mix of attractions, from traditional to progressive, to quirky, and even concepts that start here that can't be found anywhere else."
This diversity is fully evident in the city's arts scene, which ranges from timeless classics at The Getty to the highly innovative street art downtown and elsewhere. Smart Meetings participated in a media trip last month that explored the rich variety of Los Angeles art, as well as some of the other exciting cultural attractions that are well-suited to meeting groups.
"We know culture in Los Angeles can be incredibly broad," Green says. "It can range from museums and landmarks to street murals and quirky pop-ups. We wanted this fam trip to encompass the incredible wealth of culture offered by L.A., where there is truly something for every taste and interest around every corner and in every neighborhood."
Here's a day-by-day, first-hand account of some of these stimulating attractions, many of which offer inspiring meeting spaces.
Day One: An Area on the Verge
Beyond the Streets art
One of the most exciting things in life is to experience something on its way to becoming bigger and much grander, whether it be the blossoming of a child, emergence of a fabulous band or a brilliant property renovation. In these and other cases, the process can be even more enthralling than the final success that is attained, because it's characterized by a certain freshness and rawness, with the promise of much more to come.
Such is the case with Row DTLA, a 30-acre area from Seventh to Eighth streets that is in the midst of transforming into a major progressive hub. Built from 1917 to 1923 along the Southern Pacific Railroad right-of-way and a longtime hub for the distribution of produce, its buildings are being repurposed into creatively designed art galleries, restaurants, retail businesses and offices. Some places are open now, and when completed, Row DTLA will be home to more than 100 tenants.
"It's truly a blank canvas for groups, where planners can transform its spaces, such as its rooftops, into immersive event experiences, ranging from a rooftop movie scene to a festival-style atmosphere with pop-up art, DJs and more," Green says.
Walking around the grounds, Row DTLA feels very much in process. Most spaces are vacant, but they're interspersed with vibrant shops and businesses, and talented tenants such as artist Zadik Zadikian, a native of the former Soviet Armenia whose Produce Haus is situated on the second floor of a historic building. He is a prominent sculptor who enjoys working with gold—due to his interest in the mystical transformation of matter.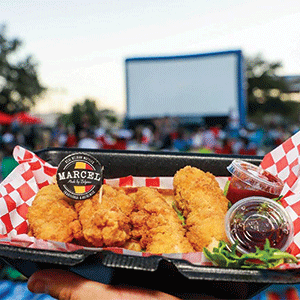 The group later headed over to Row DTLA's Street Food Cinema, which, as the name suggests, offers street food as well as a movie. But it's actually a much more complete experience: Located on a rooftop with outstanding views of the surrounding area, it blends live, progressive music, top pop culture films and gourmand-worthy dishes.
During our visit, Rappahannock Oyster Co.—whose owners received a 2005 Food & Wine magazine Tastemaker Award—provided the culinary fare. Virginia-based Rappahannock is known for eco-consciousness: Its oyster-growing practices actually help to restore the surrounding marine environment. There was ample time for socializing as the sun began to set, and soon we settled into chairs to watch the movie La La Land under the stars.
Street Food Cinema provides a distinctly offbeat, enjoyable experience for groups.
"It can create authentic experiences, from intimate events to those on a larger scale," Green says. "They are experts in event production and have 12 years of experience in outdoor movie entertainment. They can put on a cool scene with an outdoor screening, tasty food trucks and live music for any group."
We also toured Hotel Figueroa, where we stayed. Los Angeles' thriving arts, dining and business scene inspired a comprehensive revitalization to restore this downtown property in 2016. It drew from the hotel's original Spanish Colonial decor and its historical position as the center of Downtown Los Angeles' vibrant cultural scene.
Hotel Figueroa is within easy walking distance of Los Angeles Convention Center, which not only provides 867,000 sq. ft., with 720,000 for exhibit space and 147,000 of meeting space, but also plenty of artistic features, including a 50,000-square-foot map of the Pacific Rim, with symbols of the various Rim cultures (see the Convention Centers Supplement after p. 25).
Many other hotels and convention centers in the Los Angeles area feature intriguing aesthetics. Jamaica Bay Inn, situated on a calm cove at Marina Beach in visually stunning Marina del Rey, transports guests to the tropics with its island-inspired decor. The 111-room boutique property is ideal for small leisure groups and executive retreats.
Day Two: A Classic Market and Plenty of Art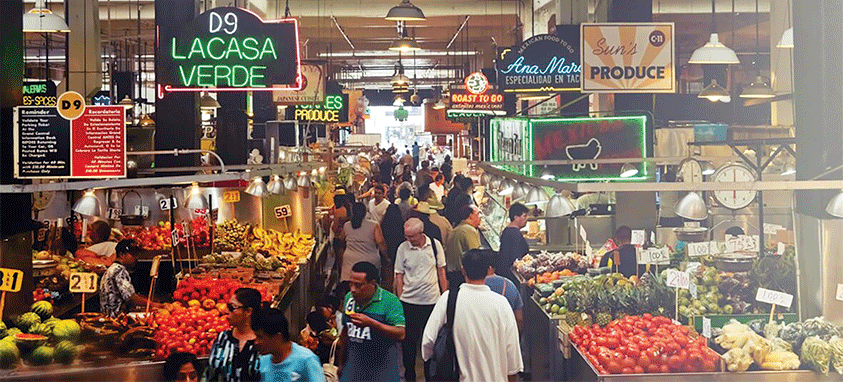 We began the following day with a visit to Grand Central Market, a lively downtown space that has been a Los Angeles landmark since 1917. The group was there to peruse the dozens of food stalls—with many serving both as a market and a restaurant—and to choose one for breakfast. The vendors represent a microcosm of Los Angeles—a broad range of ethnicities, including Japanese, Chinese, Filipino, Mexican, Italian, German and American, as well as traditional and vegan options.
"Grand Central Market celebrates the cuisines and cultures of Los Angeles with a 30,000-square-foot food emporium that is a dynamic hub for events," Green says. "Groups can enjoy private team-building food tours of Grand Central Market through local companies like Six Taste Food Tours and Avital Food Tours."
The group then headed to the Art District, where Kevin Flint of LA Art Tours took us on a street art excursion. Flint, a street artist himself, has a thorough knowledge of the subject, and provided insightful details about its history and many colorful characters. He explained how Los Angeles street art has evolved from simple graffiti to world-class works.
LA Art Tours offers several other tours, and specializes in small-group, guided walking excursions that take guests into artist lofts, warehouses, mural-filled alleys and other unique spaces. The guides are all professional artists. Tours can be customized for groups, and can include team building.
We also previewed Beyond the Streets, an exhibition of graffiti, street art and more. Curated by Roger Gastman, a leading authority on graffiti art, the indoor and outdoor exhibit includes the original work of more than 100 artists, including Shepard Fairey. Los Angeles hosted the world premiere of the exhibition on May 6, and it will remain there for two months before heading to other cities.
Our next stop was Los Angeles County Museum of Art (LACMA) on Museum Row in the Mid-City area. The largest art museum in the West, it features some of the world's leading traditional and modern art, including Chris Burden's Urban Light sculpture and Michael Heizer's 340-ton Levitated Mass rock sculpture. Tours and events can be arranged in several spaces, including the 15,376-square-foot Grand Entrance and 14,400-square-foot Los Angeles Times Central Court.
"One of the foremost museums in the country, LACMA provides a unique and elegant setting for events, offering guests an exclusive opportunity for private viewing of the museum's galleries," Green says. "It can accommodate after-parties, conferences, meetings, receptions, award banquets and more in the Grand Entrance, Bing Theatre and Director's Roundtable Garden, to name a few."
Day Three: King Tut Exhibit and Other Intriguing Attractions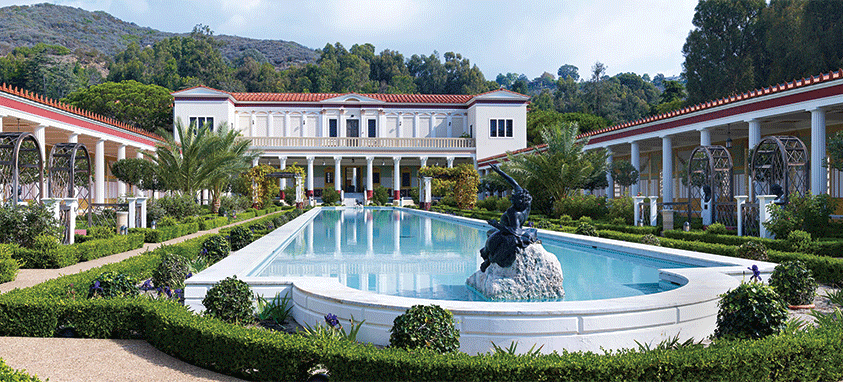 California Science Center features plenty of interactive exhibits, innovative programs, live demonstrations and awe-inspiring films. But we visited the center specifically to tour the magnificent exhibit King Tut: Treasures of the Golden Pharaoh, which had opened a few days earlier. King Tut exhibits have toured the world previously, but this one is unique in that it is celebrating the 100-year anniversary of the discovery of the boy-king's tomb, and is the largest King Tut exhibition ever to tour.
The 150 authentic artifacts from the tomb include 60 that have never previously traveled outside of Egypt. The center was the first and only stop in the United States—and the exhibit will remain there until January, when it will then begin a circuit to nine other cities throughout the world.
The center features five venues, with each offering many options for daytime meetings and events. One popular spot is Samuel Oschin Space Shuttle Endeavour Pavilion, where groups can enjoy dinner under the original Endeavour space shuttle.
After viewing the King Tut exhibit, we split into two groups. One group visited Craft & Folk Art Museum and Getty Villa, while the other toured Museum of Jurassic Technology and Wende Museum.
Getty Villa, one of J. Paul Getty Museum's two locations, is in the Pacific Palisades neighborhood. This educational center and museum is dedicated to the study of the arts and cultures of ancient Greece, Rome and Etruria. It houses 44,000 Greek, Roman, and Etruscan antiquities dating from 6,500 B.C. to 400 A.D. Some 1,200 works are on display in the permanent collection's 23 galleries, and additional pieces are rotated into five other galleries. Group dining, tours and events can be arranged.
Craft & Folk Art Museum explores the leading edge of craft, art and design. Groups can not only view exhibitions of compelling work that take traditional techniques in new directions, but also participate in hands-on workshops led by professional artists and instructors. Tours are available for groups of 15–60 on Wednesdays, Thursdays and Fridays.
Museum of Jurassic Technology contains a specialized repository of relics and artifacts from the Lower Jurassic, particularly those that demonstrate unusual or curious technological qualities. It features many bizarre items, such as sculptures on the head of a needle and portraits of canine cosmonauts. Group tours are available.
After moving from an industrial park to Culver City's Armory Building in November, Wende Museum of the Cold War has much more exhibition and storage space. It houses some 100,000 artworks and artifacts from the Cold War era, including many unusual items from the former Soviet Union and Eastern Europe. A small portion of the collection is on display. Guided group tours are available.
Reincarnation of a Legend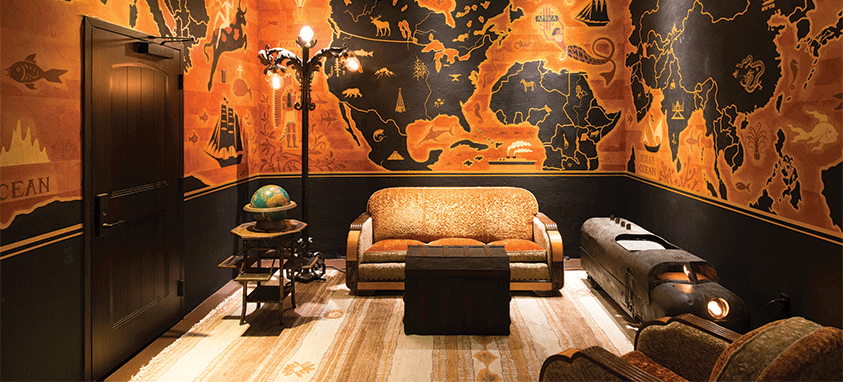 Clifton's Republic (pictured), which we visited on the second night of the trip, is perhaps best known for having the oldest surviving cafeteria-style eatery in Los Angeles. It's also the largest public cafeteria in the world, but it is only one part of legendary Clifton's Republic, which perhaps can best be defined as an experience, rather than as simply a place.
It's been a local, downtown landmark for 83 years, and reopened in 2015 featuring five stories of cafeterias, bars and restaurants; museum-quality artifacts, including a bronzed meteorite and fossilized dinosaur eggs; and a four-stories-tall fake redwood tree in the center of the building. It consists of six distinct, themed areas, and blends the establishment's heritage with modern features, including a high-end mixology bar and others serving craft beers.
"Clifton's recently completed a $10 million renovation that enables groups to experience a cafeteria-style eatery and collection of kitschy bars that offer a wild ride through history—real and imagined—for an immersive and wondrously distinct hospitality experience," Green says.
Clifton's can be rented for group functions.