The Dakotas offer an exciting array of meeting possibilities
Landscapes in the Dakotas are striking in their diversity, from waving wheat fields to dense forests, waterfalls, prairies and mountains. The cities and towns, too, have their own distinct personalities, history and architectural styles.
One thing most of the cities and towns have in common, however, is the predominantly European ancestry of their residents. Nearly half the residents are of German ancestry, almost one-fifth are of Norwegian ancestry and about 10 percent have Irish ancestry. Groups have plenty of opportunities to experience these cultures.
Though North and South Dakota are off the beaten path and still somewhat under the radar as meetings destinations, planners who have brought groups there become bullish about their virtues, including nice hotels and meeting facilities, excellent service from convention and visitors bureaus, interesting culinary and craft-brewing scenes, and low costs.
Wherever you meet in the Dakotas, it's never far from stunning natural wonders, including 11 national parks, monuments and sites. And who doesn't like a bit of that Western swagger, an ethos still much in evidence in popular culture and daily life.
North Dakota
Bismarck-Mandan
North Dakota Heritage Center & State Museum, Bismarck-Mandan, North Dakota
When it was founded in 1872, Bismarck was named Edwinton, after Edwin L. Johnson, who championed making it a stop on the hoped-for transcontinental railway. A year later, though, to attract German investment in that railway, local folks renamed their town in honor of German chancellor Otto von Bismarck.
The German investors never ponied up. But the railroad eventually arrived.
Bismarck is the capitol of North Dakota. Together with neighboring Mandan, it has 100,000 residents who will be genuinely glad to see your group and interested in making your meeting successful.
This general region is a happy mixture of slightly urban and slightly Western—and Bismarck has a lively downtown. Residents will tell you that the "No Boundaries" on their city's logo applies to meetings, too, and will add that Bismarck is one of the safest cities in the nation.
Bismarck Event Center offers 200,000 sq. ft. of meeting space, bordering a walkable downtown with shops and locally owned restaurants, and it's within walking distance of 800 guest rooms. The hotels are all within 15 minutes of Bismarck Airport (BIS), and most offer free shuttle service.
Ramkota Hotel & Conference Center, across the street from Kirkwood Mall, has 305 guest rooms, 25,000 sq. ft. of meeting space, a restaurant and bar, and an indoor water park. The downtown Radisson Hotel Bismarck offers 215 guest rooms and 12,000 sq. ft. Both hotels are currently upgrading their guest rooms.
Bismarck/Mandan also has some very cool meeting and event spaces. The beautiful glass atrium at North Dakota Heritage Center & State Museum is rentable, and your attendees will have access to four magnificent galleries.
Speaking of cool event spaces, have you ever heard of a pitchfork steak fondue? Best Western Plus Seven Seas Hotel in Mandan caters the pitchfork fondue meals in Fort Abraham Lincoln State Park, where chefs load steaks onto pitchforks to deep-fry in oil, for groups and special events. Gen. George Custer's last home is also in the park, as is On-A-Slant Individual Village, with reconstructed Native-American earth lodges.
Fargo-Moorhead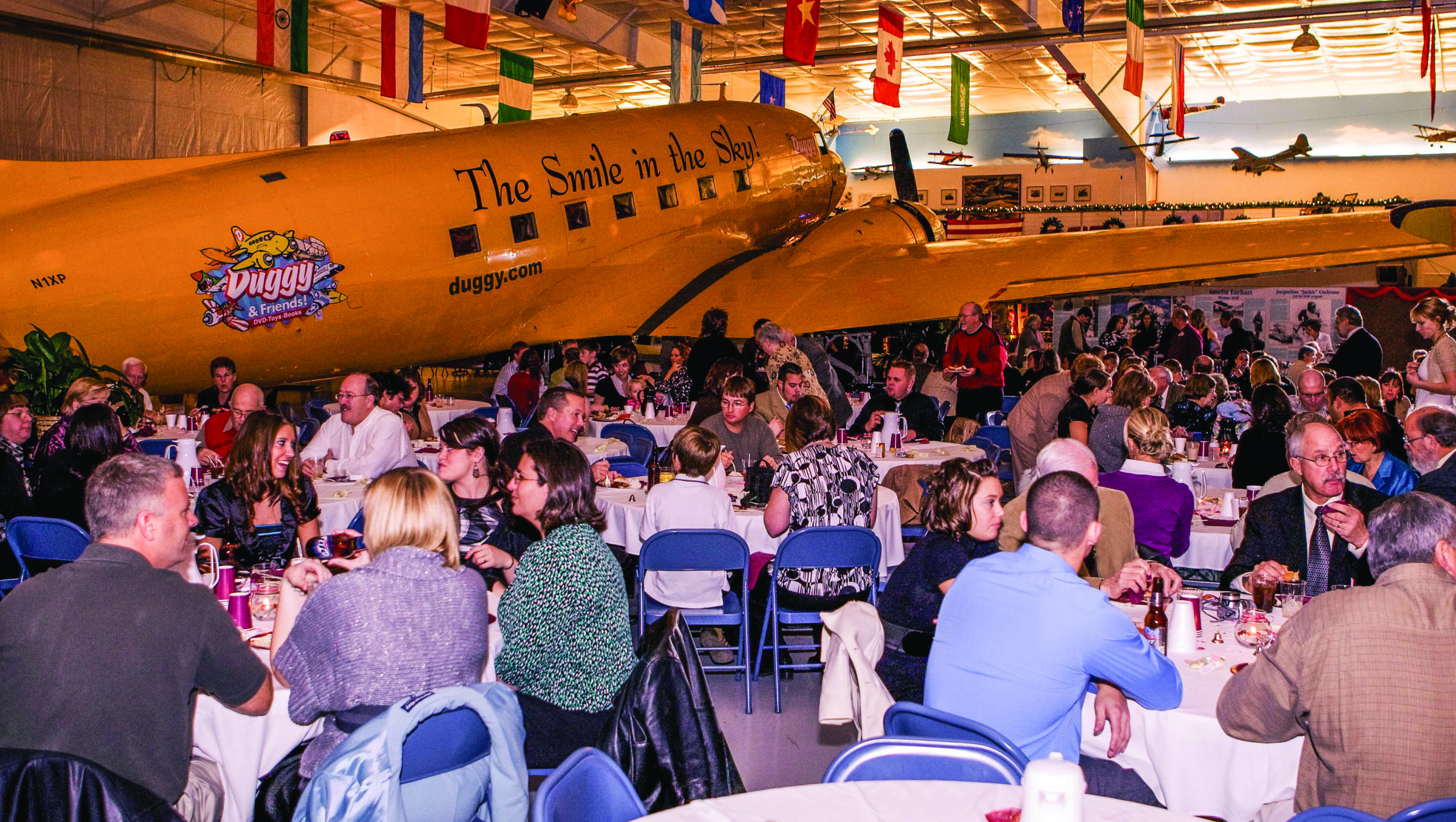 Fargo residents take pride in their town's slogan, North of Normal. If you've seen the oddball but much beloved movie Fargo, you know why.
On the border of Minnesota and North Dakota, this region is actually the conglomeration of three cities in two states: Fargo and West Fargo in North Dakota, and Moorhead in Minnesota. It's home to a total of 245,000 weirdness-loving people.
Where else do they embrace winter with events such as cardboard sled-racing, snow-sculpture competitions and undie runs (yes, they really run in their underwear in the dead of winter)? The historic downtown of Fargo has been revitalized and filled with locally owned eateries, boutique shopping and art literally everywhere, including on benches, utility boxes, rooftops and buildings.
The community's deep Scandinavian heritage comes alive at Hjemkomst Center, where you can step inside a replica stave church (a medieval wooden building once common in northwestern Europe) built by a local resident. The imposing Viking ship inside the center was also built by a local—and he built it so faithfully that it was actually able to sail to Norway and back again.
This is a young, innovative community that includes Microsoft's second-largest campus. Fargo also offers great value for your meeting dollar, in addition to several free services from Fargo-Moorhead Convention & Visitors Bureau.
Holiday Inn Fargo features 307 guest rooms, 27,000 sq. ft. of meeting space, a restaurant, a bar and a fitness center. Delta Hotels Fargo has 185 guest rooms, 28,430 sq. ft., a restaurant/bar, a Starbucks and an indoor pool.
Coming later this year is a new downtown hotel (as yet unnamed) with a projected 110 guest rooms, 3,685 sq. ft., a restaurant and a lounge.
Fargo provides meeting attendees with genuine experiences, such as farm-to-table banquets in a field in Red River Valley and candlelight snowshoe tours.
At Bonanzaville USA, you can host 250 people in a pioneer village with 12 acres, 41 historic buildings, 400,000 artifacts and paranormal-activity tours. Fargo Air Museum can accommodate 1,200 attendees in an old hangar with aircraft ranging from a Wright Brothers Flyer to a reconnaissance drone.
Grand Forks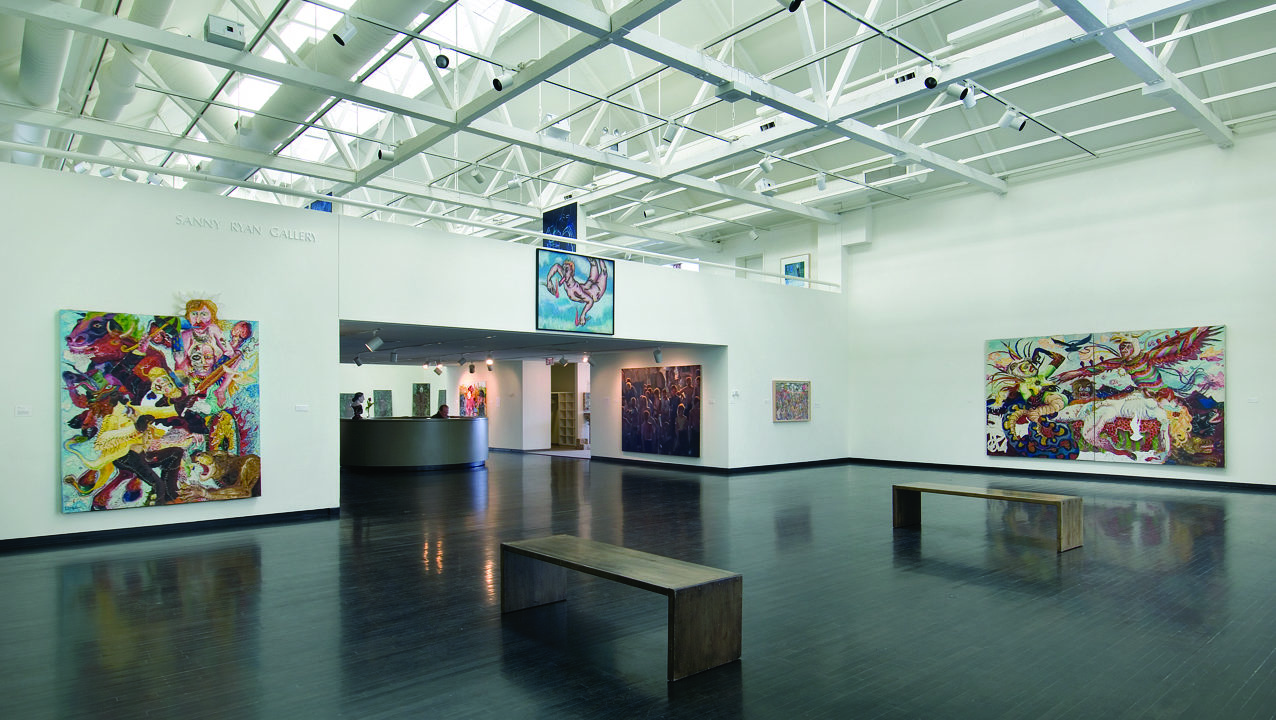 Apropos of its name, this city is an attractive foodie destination. Attendees can enjoy treats such as chocolate-covered potato chips from legendary Widman's Candy, Food Network-featured fried cheesy pickles at The Toasted Frog and a glass of wine as they stroll through downtown during the Art & Wine Walk. While strolling, they will also be enticed by interesting specialty stores and boutiques.
Greater Grand Forks is a lively, bustling community surrounded by the rich, quilted landscape of Red River Valley farm country. It exudes "warmth" even in the winter, offering friendly hospitality, and plenty to see and experience.
Alerus Center is Grand Forks' convention complex, and after a recent remodel and new additions, it's a flexible facility. The main arena has 22,000 seats, and hosts major events such as University of North Dakota football games. For meetings, the center offers 160,000 sq. ft., including 12 meeting rooms and a 25,000-square-foot ballroom.
Attached to Alerus Center is Canad Inns Destination Centre, with 206 guest rooms, meeting spaces for 200, an indoor water park, and five restaurants and bars. Ramada by Wyndham Grand Forks has 100 guest rooms, 6,232 sq. ft. of meeting space, a restaurant/lounge and an indoor pool.
Off-sites include North Dakota Museum of Art, with a boardroom available for meetings, and items of interest that include a life-size giraffe, classical music from one of the nation's top string quartets and works from internationally acclaimed artists. The Cafe there also hosts and caters events and meetings.
A markedly different off-site possibility is Ralph Engelstad Arena, home of the University of North Dakota men's hockey team. The Ralph features a marble-floored lobby, UND Hockey Museum, an 11,700-seat arena and a practice rink seating 500. Other meeting spaces range from Green Room, accommodating 60, to Main Arena Bowl, holding 650.
South Dakota
Rapid City
Rapid City boasts location, location, location. It's only 25 minutes from Mount Rushmore and convenient to seven national forests, national parks and monuments.
Fittingly, Rapid City calls itself City of Presidents, and you will find life-sized bronze statues of them on almost every downtown corner. A reverence for its Native-American heritage is also obvious at places such as Prairie Edge Trading Post, where local native artists display and sell their crafts.
With more than 4,500 guest rooms and some excellent meeting spaces, this city's slogan is Do Big Things!
Meetings in the Black Hills usually generate higher attendance, and local folks are genuinely happy to show off their region.
The former Rushmore Plaza Civic Center is now The Monument, with 250,000 sq. ft. of meeting space that includes Barnett Arena, with 10,000 seats; Ice Arena, with 7,500; the Theatre, with 1,700; and a beautiful lobby for receptions. Next year will see the addition of 12,000-seat Monument Arena.
This huge civic center is in downtown Rapid City, two blocks from Main Street Square, Rapid City's "living room." There, fountains cascade in summer and skaters glide in winter, and restaurants, breweries, wineries and great shops are hopping all year long.
Best Western Ramkota Hotel and Conference Center has 267 guest rooms, 36,554 sq. ft. of meeting space, award-winning Minerva's Restaurant and an indoor water park. Holiday Inn Rushmore Plaza, adjacent to The Monument, offers 205 guest rooms, 14,000 sq. ft., an indoor pool and a fitness center.
Rapid City's newest hotel is Tru By Hilton Rapid City Rushmore, which opened in April 2019 with 98 guest rooms, 946 sq. ft. of meeting space, a fitness center, a pool and free breakfasts.
Interesting off-sites include Carver's Cafe at Mount Rushmore, creating memorable events for up to 250 at one of America's most breathtaking spots, and Crazy Horse Memorial, an enormous rock carving of the Sioux leader's face, with conference space for 300 in its Welcome Center.
Sioux Falls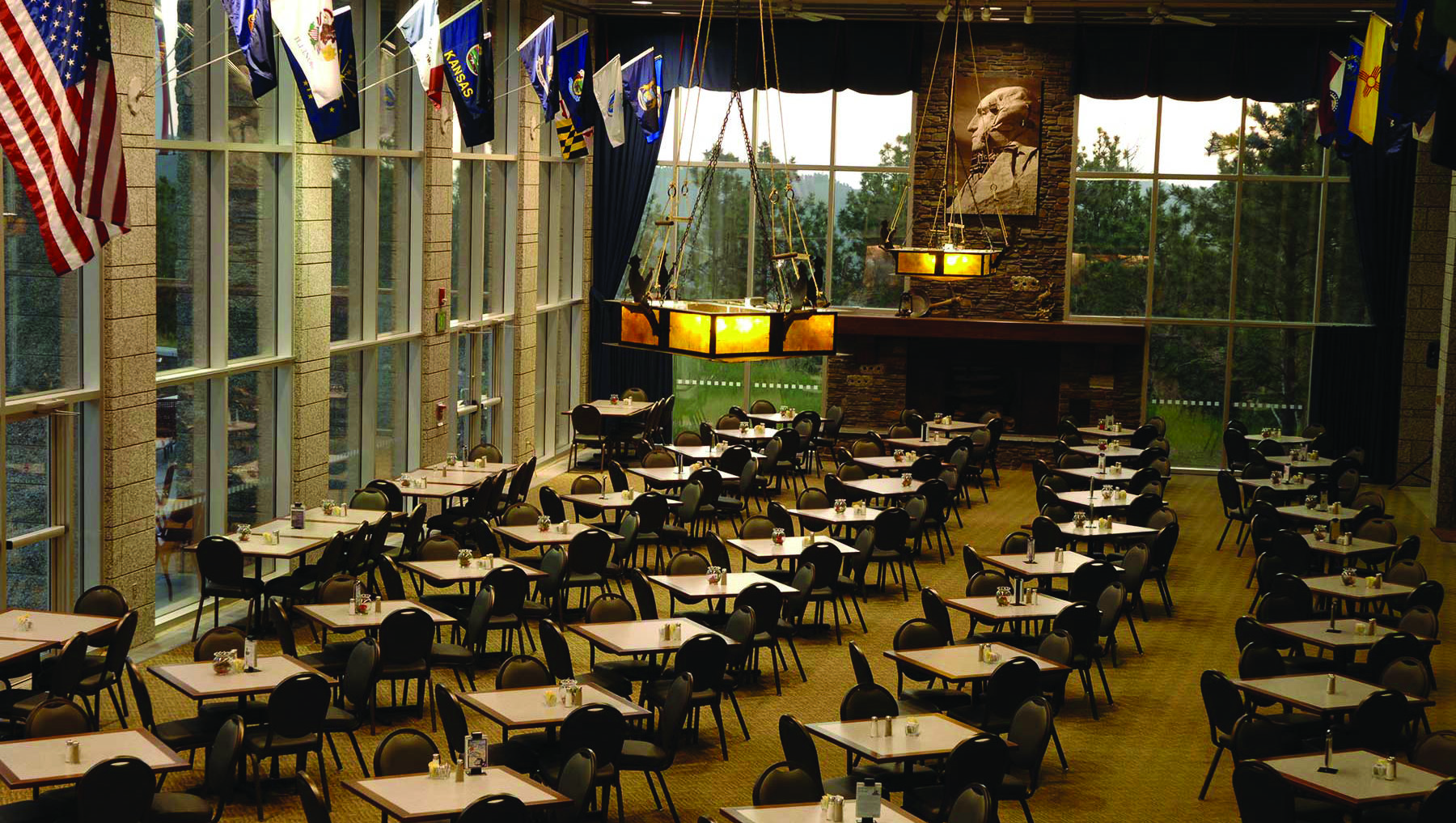 Boasting a population of 187,200, Sioux Falls is not only South Dakota's largest city, but also vibrant and modern, rising from wide-open spaces. It's named after a majestic natural sculpture of pink quartzite carved by the cascading waters of Big Sioux River.
There's a thriving craft-beer and farm-to-table food scene downtown. Whimsical modern sculptures and historic architecture meld together gracefully in this city, with both a vibrant cultural life and urban trails woven into its fabric.
Sioux Falls has a reputation of offering excellent meeting and convention services and amenities, with many planners describing the city in general as "authentic."
Denny Sanford Premier Center Complex boasts more than 132,000 sq. ft. of meeting space, along with in-house technical and media services and an on-site restaurant. Sheraton Sioux Falls & Convention Center is attached, with 243 guest rooms that will all be upgraded by next year and 66,534 sq. ft. More than 1,000 hotel rooms are within a mile of the convention center, and downtown shops and restaurants are just a five-minute walk away.
Best Western Plus Ramkota Hotel offers a restaurant, bar and indoor water park, and is now in the final stages of a $10 million upgrade to its 228 guest rooms and 60,000 sq. ft. of meeting space. Holiday Inn Sioux Falls-City Centre has 290 guest rooms, 15,000 sq. ft., a restaurant and a fitness center.
Washington Pavilion, situated in a building housing the city's first high school, is now a multifunction performing arts center with classic decor and architecture. Its Mary W. Sommervold Hall offers reception space for 500 or banquet seating for 300, and there's also a 1,900-seat theater, a lobby, a gallery and boardroom spaces.
Becky Snyder, events coordinator for Missoula, Montana-based National Taxidermist Association, brought 120 taxidermists and vendors to Sioux Falls July 25-27 for its 48th Annual Convention, Competition & Trade Show. "I can't say enough about Sioux Falls," Snyder says. "The falls are beautiful, the downtown has great bistros and shops, and the CVB was the best I've ever worked with."
The group met and stayed at Best Western Plus Ramkota Hotel.
"The first time I saw Sioux Falls was on a site visit in December 2018." Snyder says, "I knew it would work perfectly for us. We're going back this July. And you should have heard the room erupt with cheers when we announced it."
The Treasure of Mount Rushmore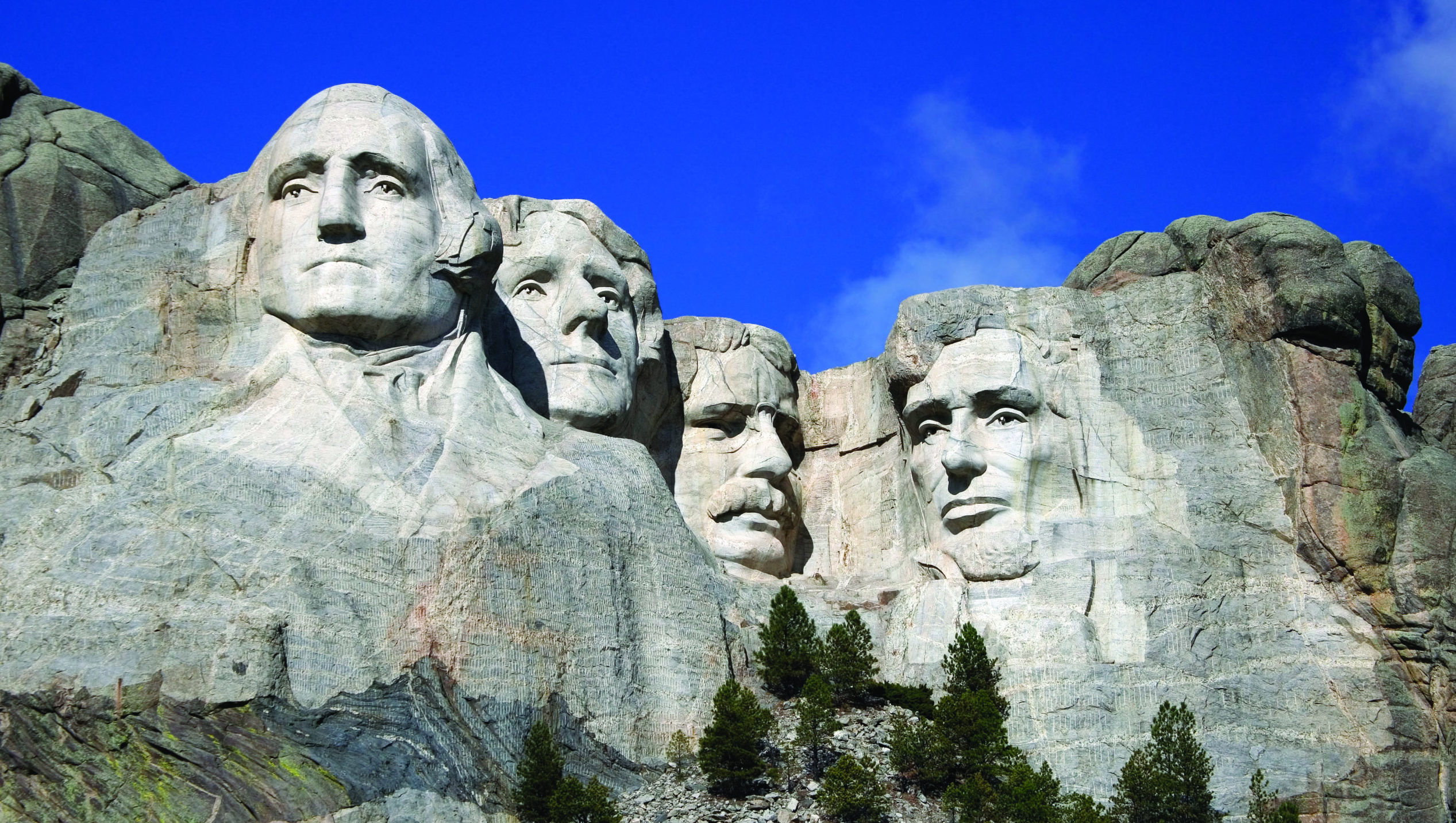 This stunning wonder of both man and nature, just outside Rapid City, South Dakota, is a true American treasure. There, at an elevation of 5,725 feet and a mass of 2 square miles, sits one of the greatest examples of American ingenuity.
People in even the most remote countries on Earth know about this massive rock plateau topped by the 60-foot-high faces of George Washington, Thomas Jefferson, Abraham Lincoln and Theodore Roosevelt carved painstakingly into it. They know about it because this mountain and these faces tell the story of America in every inch.
The mountain itself was actually named after a New York lawyer, Charles E. Rushmore, who first saw it during an 1885 trip to check a client's mining deeds. Why name it after a New Yorker? Because 40 years later, he apparently donated $5,000 to build a monument to four presidents on the top of this majestic golden plateau.
It took a lot more money and a lot more time, however, and then the Great Depression intervened. The site was dedicated in 1927, and the job of creating a monument fell to sculptor Gutzon Borglum, an Idaho resident and son of Danish immigrants. He hired 400 workers to do one of the most dangerous jobs in American history up to that time.
But, alas, Borglum never lived to see the completion of his work. He died in March of 1941. But his son, Lincoln, completed the job seven months later.