Nation's capital and nearby region boast undiscovered gems for planners
It's no secret that the nation's capital is saturated with amazing historical sites, but its identity has been expanding by leaps and bounds as it serves as a model for modern urban renewal.
"The Washington, D.C., landscape is ever-changing," says Melissa A. Riley, vice president of convention sales and services for Destination DC. "It's so much more than just monuments, memorials and museums. You can go undercover at the newly expanded International Spy Museum, explore the new, luxurious Conrad Hotel, check out T. rex at the recently reopened Fossil Hall at Smithsonian's National Museum of Natural History, and explore local vendors and D.C.'s music scene down at the wharf."
Washington, D.C., and surrounding areas also boast many intriguing lodging and meeting spaces, attractions, and food and beverage options that are "under the radar," either because they are new (or upcoming) or simply aren't widely recognized, despite their excellence.
Here's are some of the most outstanding unsung options for planners in Washington, D.C., and Northern Virginia.
Washington, D.C.
Located between Maryland and Virginia, with the Potomac River serving as its western border, Washington, D.C., is home to an estimated 702,000 people (as of July 2018), making it the 20th-most populous city in the United States. The entire metropolitan area, the country's sixth-largest, has an estimated 6.2 million residents. It also lures a wide variety of meetings.
"There are so many reasons why the Washington, D.C., area is one of the top destinations to hold a meeting," Riley says. "The city continuously invests in new opportunities, with 11.2 billion in development, 15 hotels in the pipeline and many new and renovated special-events venues in the works, such as the Reach expansion at the Kennedy Center and the highly anticipated Riggs Washington DC to arrive at the end of 2019."
Intriguing Lodging and Meeting Spaces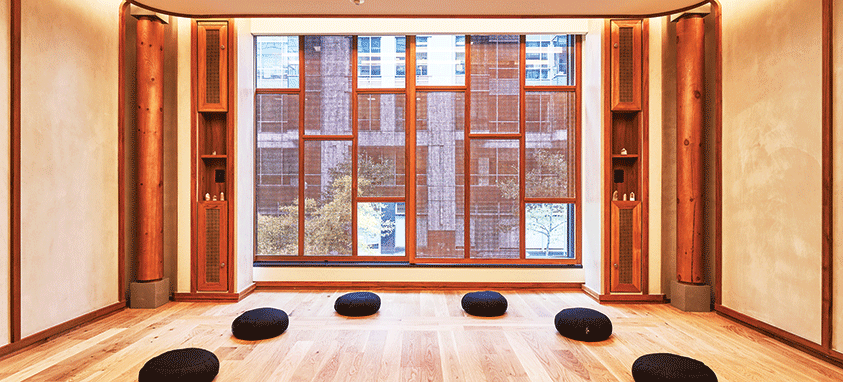 Groups looking to get away from the buzz of the city might consider Kellogg Conference Hotel at Gallaudet University, located in a quiet area of Capitol Hill. The hotel provides 122 guest rooms and 17,000 sq. ft. of meeting space, including an executive boardroom, a 330-seat auditorium, a 4,722-square-foot ballroom, tiered classrooms and light-filled breakout rooms.
"The range of large, naturally lit and spacious rooms, as well as smaller spaces for more intimate gatherings, cover all the possibilities for necessary meeting spaces," Riley says.
Dupont Circle Hotel is undergoing a multimillion-dollar transformation that includes the new Doyle Bar and new The Pembroke restaurant, both of which are open. Other renovations, which will be completed in May, include the 327 guest rooms, 14 suites (including the penthouse suite), the lobby, a fireplace, and a heated garden terrace with views of the Washington Monument.
Eaton DC, which celebrated its grand opening in September, is a downtown hotel that caters to creative types, with a co-working space and holistic wellness center—along with a restaurant, cafe, cocktail bar and rooftop bar. The minimalist, 209-room hotel is LEED Gold-certified and provides more than 15,000 sq. ft. of flexible meeting and event space.
Dock 5 offers more than 12,000 sq. ft. of warehouse space with high ceilings as well as outdoor space. It can accommodate everything from intimate social celebrations to high-end dinners and large-format gatherings. The venue sits above Union Market, an artisanal marketplace that houses more than 30 of the top food producers in the region.
One of Washington, D.C.'s most unique venues, Mansion on O Street features 23 themed guest rooms and creative meeting spaces that are designed to stimulate outside-the-box thinking. Each space is decorated with fine art, antiques and furnishings from around the world. The venue, located in the heart of Dupont Circle, consists of 12 conference rooms, large meeting galleries, ballrooms and a host of other unique spaces. It can accommodate up to 650 for receptions and 185 for dinners.
The Lore Group will open its first hotel in North America, Riggs Washington DC, late this year. Located at the corner of Ninth and F NW streets, it will feature 181 guest rooms, a 5,000-square-foot restaurant, a basement bar and an enclosed rooftop space.
Fabulous Attractions
President Lincoln's Cottage at the Soldiers' Home in Washington, D.C., is one of the most significant historic sites directly associated with Abraham Lincoln's presidency, but most people have never heard of it. The cottage was restored by National Trust for Historic Preservation and opened to the public in 2008. Lincoln lived on the property in the summer to escape the stresses of the White House and the Civil War while he developed his policy of emancipation. Exhibits provide an intimate view of Lincoln's presidency and family life during the Civil War. Private group tours can be arranged.
The first modern art museum in the United States, The Phillips Collection, opened to the public in 1921 in Washington's Dupont Circle neighborhood. It features paintings by Renoir, Rothko, Bonnard, O'Keeffe, van Gogh, Diebenkorn and other legends, as well as new acquisitions—many by contemporary artists, including Wolfgang Laib, Whitfield Lovell, and Leo Villareal. Group tours are offered, and must be made two weeks in advance.
Nestled in the hills of Northwest Washington, D.C., Hillwood Estate, Museum & Gardens is known for its large decorative arts collection that features the House of Romanov, including Faberge eggs. It also includes notable 18th- and 19th-century French art and one of the country's finest orchid collections. The property also boasts 25 acres of serene, landscaped gardens and natural woodlands.
Artechouse blends 21st-century art, science and technology as it serves as an innovative platform for experiential, genre-bending, unique multimedia art exhibitions and explorations. It's also home to the United States' first augmented-reality bar, where drinks are served by activating a free app available on Google Play and App Store. Private events for up to 400 can be arranged.
Amazing Food and Beverage Options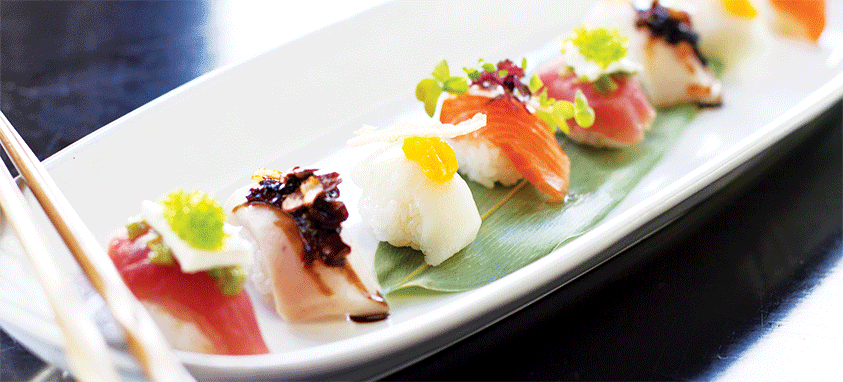 District Winery, located on the waterfront in Navy Yard, offers behind-the-scenes tours that illustrate the process of urban winemaking as well as a sample of seven of its wines. Group tastings, private tastings and group tasting with dining experiences can be arranged. Private and semi-private spaces can be rented and can accommodate up to 200 seated and 450 standing.
Located in the Union Market neighborhood, O-Ku DC offers modern Japanese cuisine using fresh ingredients from around the world and traditional techniques. Menu items range from sushi and sashimi specialties to contemporary robata-style dishes. Private dining is available for up to 50 seated and 250 reception style.
Calico—a restaurant, bar and urban backyard located in historic Blagden Alley—features Eastern shore-inspired, elevated, cookout-style fare as well as a beverage program that includes shareable large-format cocktails and growlers, reflecting Calico's relaxed, communal atmosphere. The outdoor space includes a 3,000-square-foot patio with communal tables surrounding a large vintage greenhouse, which provides additional seating and accommodates large, semi-private parties.
The first modern, international Balkan cuisine restaurant in Washington, D.C., Ambar blends tradition and heritage with creativity and modern design. The second floor is available for private parties and features high-top tables, a bar that spans one side of the dining room and a balcony alcove that seats up to 12. The second-floor space can accommodate up to 45 guests for a seated dinner or 90 for a standing reception. Ambar also features a 700-square-foot theater and covered rooftop terrace that can accommodate 25 for a seated dinner.
Alexandria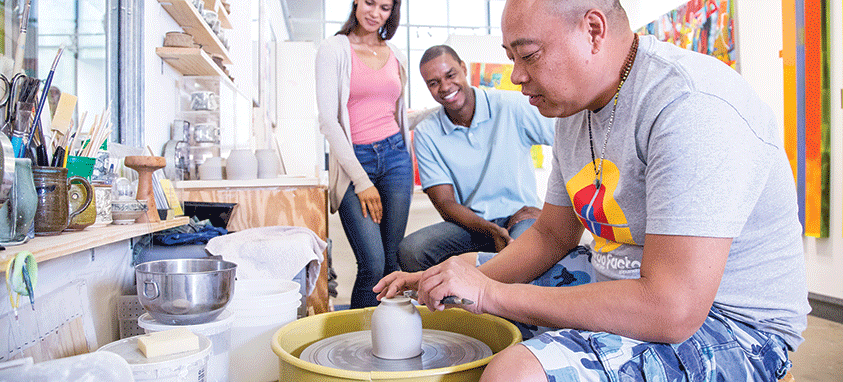 Located 10 miles south of Washington, D.C., Alexandria boasts a nationally designated historic district and a Potomac River waterfront that features more than 200 restaurants and shops along King Street, a walkable mile recognized as one of the Top Great Streets of America by American Planning Association.
"Alexandria is also an approachable, small city that has all the amenities of a major destination, since we are just minutes from Washington, D.C.," says Lorraine Lloyd, senior vice president of sales and international marketing for Visit Alexandria. "Attendees often come early or extend their stay so they can explore Alexandria on their own and take advantage of all that the region has to offer."
These offerings include some exceptional places that are not widely known.
Intriguing Lodging and Meeting Spaces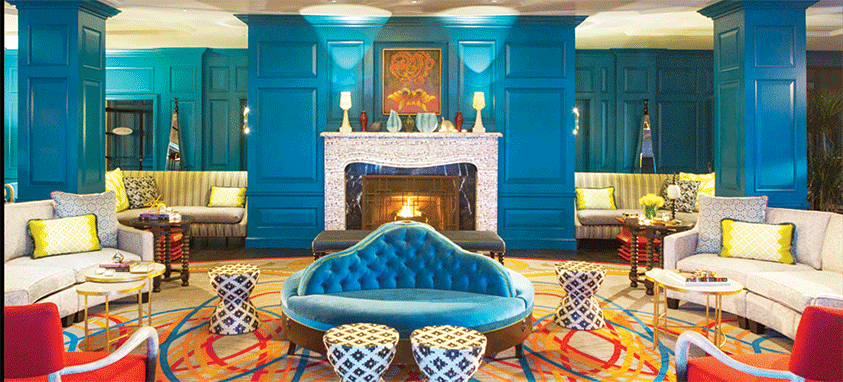 Groups wanting to stay in the heart of historic Old Town might consider two hotels in Marriott's Autograph Collection—The Alexandrian and Morrison House.
Sporting a stately red-brick facade and scenic setting near the downtown waterfront, The Alexandrian offers 241 guest rooms, Jackson 20 restaurant—featuring contemporary cuisine inspired by Southern flavors—and 9,285 sq. ft. of meeting space, including seven rooms and outdoor areas. Morrison House, the city's only AAA Four Diamond Hotel, is an intimate, 45-room boutique property that is well-suited for small groups. It's built in the style of a Federalist mansion, and blends seamlessly with the surrounding Old Town neighborhood.
Kimpton Lorien Hotel & Spa provides a soothing, tranquil atmosphere, ideal for attendees after a busy day. The 107-room property features an award-winning spa, signature outdoor terraces, two chic culinary venues and 5,600 sq. ft. of meeting space.
Set on the waterfront, the 120-room Hotel Indigo Old Town Alexandria is a charming enclave of colonial treasures and historic waterfront architecture. It provides a private room for small corporate events and the patio at its chic restaurant, Hummingbird, is ideal for receptions, with its stunning views of the Potomac River.
"Smaller groups in town for leadership training and executive development will love Hotel Indigo," Lloyd says.
Fabulous Attractions
A perfect space to inspire groups, The Garden is a new coworking community space presented by Building Momentum, a veteran-owned science and engineering group.
"Wander through The Garden and you'll find groups from corporate, military and nonprofit organizations wielding welding torches, sending designs to 3D printers and operating high-flying drones," Lloyd says.
The Garden also offers space for board meetings, strategic retreats and private receptions.
In the waterfront area, a former World War II munitions plant has been transformed into Torpedo Factory Art Center, featuring Alexandria Archaeology Museum, six galleries and more than 80 working artists' studios—the largest number of publicly accessible working artist studios in the United States. Groups have three floors of working artists' studios to explore and foster connections with artists, and ignite their own creative spirit. Planners can rent the center, which accommodates 450 people reception-style.
The Tall Ship Providence will dock in Old Town Alexandria in July, and remain there for at least a year. The Providence is a full-scale replica of one of the U.S. Continental Navy's first warships, built in 1768, and was captained by John Paul Jones under the leadership of George Washington. The ship was included in the movie Pirates of the Caribbean. It's available for a three-hour sail on the Potomac River with up to 25 guests, as well as an intimate, eight-person dinner in the Captain's Cabin.
Amazing Food and Beverage Options
Mount Vernon Inn Restaurant, 8 miles south of Old Town Alexandria and just steps from George Washington's historic estate, provides one of the most unique dining experiences in the area. Group rentals can be arranged, and include unforgettable experiences such as this one described by Lloyd: "Up to 220 guests will forget what century they are in as they enjoy a buffet across six delightful Colonial dining rooms."
Another enjoyable F&B experience is offered by Port City Brewing Company, the oldest packaging brewery in metropolitan Washington, D.C. Regular tastings, tours and events are offered at the artisanal facility, located 2 1/2 miles west of Old Town. Trivia nights, cheese-and-beer combos, and Pedal and Pints Beer Yoga events are among the offerings. Private tours and events can be arranged.
Loudoun County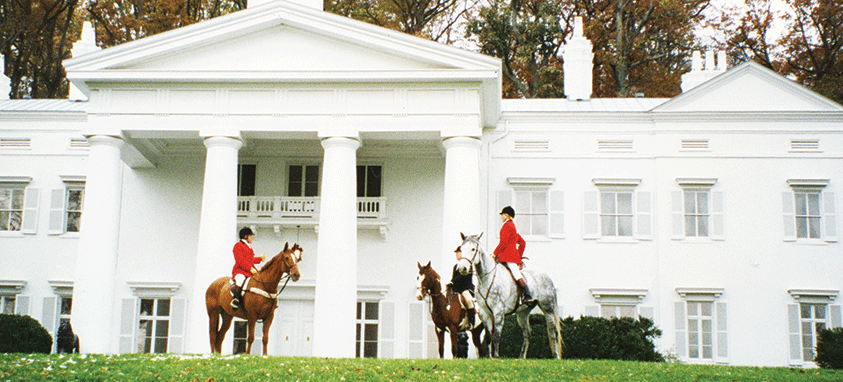 Loudoun County, situated northwest of Washington, D.C., features some unique meeting spaces and attractions for outdoor enthusiasts, foodies, beer and wine aficionados, and history buffs.
"Home to Dulles International Airport [IAD] and just 25 miles from the nation's capital, Loudoun County is a premier meetings destination that will also be accessible by Metro in 2020," says Ann Diamond Hayes, director of sales, meetings and conventions for Loudoun Convention & Visitors Association. "Loudoun sets itself apart with its breathtaking landscape of vineyards and horse farms, which provide a relaxing backdrop for meeting attendees.
"Leesburg, in particular, also offers a charming, historic downtown for groups to get lost in 18th-century architecture along brick-lined streets."
Intriguing Lodging and Meeting Spaces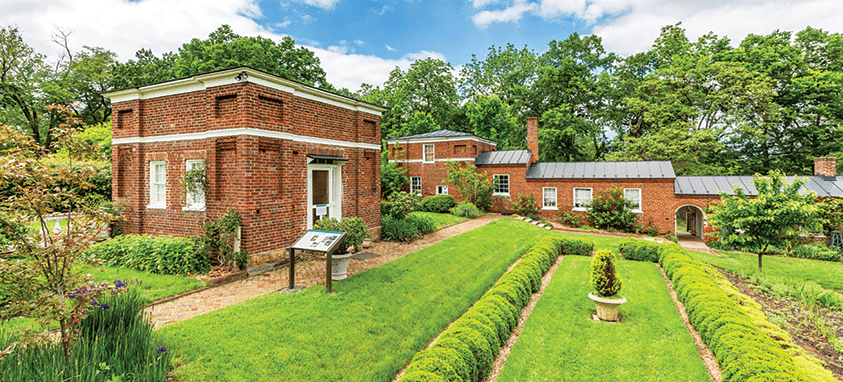 The Manor at Courtland Farm is a 100-acre, countryside villa with breathtaking views that was once used as a government safe house. Amenities include a wine cellar, a theater, yoga, horseback riding, a fitness center, swimming, ATV riding, fishing and a cooking class. The Manor in Aldie, 15 miles southwest of Leesburg, accommodates meetings and events for up to 75 guests seated or 150 cocktail style.
Morven Park, which is on the National Register of Historic Places and is a Virginia Historic Landmark, is a 1,000-acre park in Leesburg that was once home to Virginia Gov. Westmoreland and Marguerite Davis. It now includes The Winmill Carriage Museum, featuring a unique collection of horse-drawn vehicles; The Museum of Hounds & Hunting of North America; and lawns, fields, a wooded ridge and formal boxwood gardens. Meetings can utilize the carriage museum or the second-floor ballroom.
The 3,400-acre Oatlands Historic House and Gardens in Leesburg is a National Historic Landmark that once served as an active plantation. Its newly renovated Carriage House accommodates up to 72 guests for a sit-down dinner or 100 guests for a standing/cocktail reception. Planners also can rent the front lawn, which sits in front of the Greek Revival mansion and beside the 4.5-acre formal terraced gardens. Front-lawn events require the rental of a tent from Capital Party Rentals.
"While there, meet with docents dressed in period attire, tour the circa 1804 mansion and property, and discover some of Virginia's rich history," Hayes says.
Fabulous Attractions
Summit Ropes is a unique adventure park consisting of a 16,550 square-foot ropes course, making it the largest indoor ropes course in the United States. Corporate gatherings—including team-building events—can be arranged at Summit Ropes in Sterling, 12 miles southeast of Leesburg.
Exit Plan in Leesburg is Loudoun County's only escape-room experience. It's excellent for team-building—people work together to find clues, solve puzzles, crack codes and complete a mission within a designated time.
The first and only one of its kind built from the ground up for paintball games, Pev's Paintball in Aldie consists of 48 acres, with 14 playing fields; a town with more than 25 buildings and props; a fortress with three mega-towers and eight buildings; two human-made rock fields with caves; six spectator arena fields with inflatable obstacles; and two fields with artificial turf. Large groups and private parties can be accommodated.
Amazing Food and Beverage Options
The Conche in Leesburg is all about chocolate. It features an array of artisan, handmade confections, savory cuisine, craft cocktails and original desserts. Planners can buy out the restaurant for gatherings of up to 100 that can include a chocolate-making lesson, a chocolate-sculpting class or instructions on how to pair various wines and liquors with their perfect chocolate companion. Up to 60 people can simultaneously participate in these fun team-building activities.
ChefScape Kitchen is a membership-based incubator for all kinds of food and beverage entrepreneurs. The bar and food hall can accommodate up to 140 people. Flexible spaces can handle up to 15 people for cooking and mixology classes, and an adjoining event space is suitable for up to 140 people. A built-in stage is used for live music performances, karaoke and trivia contests. The Leesburg facility, which can host up to 500 people, is available for complete buy-outs.
A family-owned business in Purcellville (10 miles west of Leesburg), Monk's BBQ prides itself in offering "simply the best barbecue smoked meats in Northern Virginia."
"They take no shortcuts when smoking meats," Hayes says. "This means long nights, but a great product."
Monk's hosts private events Monday through Thursday in the Whisky Room, which can accommodate up to 60 people. Full buyouts for up to 100 are available.
McDowell's Brew Kitchen in Leesburg offers more than 150 beers from throughout the world. They can be enjoyed in the restaurant, at the bar or outside at the beach bar, complete with sand, palm trees and tiki torches. Private events can be arranged for up to 60 seated and 125 standing can be hosted.
An Affordable Alternative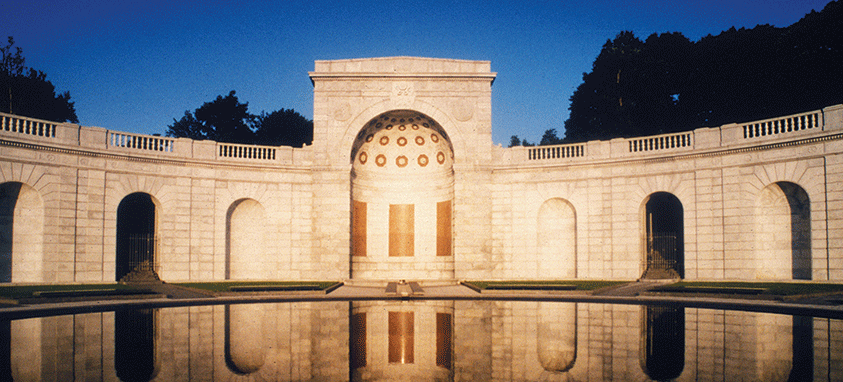 Located just across the Potomac River from downtown Washington, D.C., Arlington provides a convenient and value-friendly option for planners.
"Staying in Arlington helps groups save an average of 20 percent or more over downtown D.C. hotel rates," says Emily Cassell, director of Arlington Convention and Visitors Services. "Virtually all of Arlington's hotels are easily accessible via public transportation, so whether you're meeting downtown or you'd just like to do some additional sightseeing, Arlington is a best-of-both-worlds scenario."
Arlington also has its share of significant attractions, including Arlington National Cemetery, Marine Corps War Memorial (Iwo Jima), Air Force Memorial and The National 9/11 Pentagon Memorial.
"And when [groups] are done, they can experience Arlington's charming restaurants and cafes, funky boutiques, nationally renowned theater and intimate live music venues," Cassell says.
One spectacular new attraction that isn't on some planners' radar yet is The View of DC in Central Place Tower in Rosslyn, the highest point inside the DC Beltway. The attraction's Observation Deck that provides panoramic, bird's-eye views of downtown D.C., Georgetown and historic sites such as Washington Monument, Lincoln Memorial, Jefferson Memorial, Capitol Building, Supreme Court Building, The Pentagon, Arlington National Cemetery and National Cathedral.
The 12,000-square-foot interior of the Observation Deck is flooded with natural light through floor-to-ceiling glass windows. The Cafe offers quick bites and a full bar. Private events can be arranged. A champagne room and outdoor terrace offer guests additional elevated perspectives.
Another unsung attraction is Women in Military Service for America Memorial, next to Arlington National Cemetery. The memorial honors the past, present and future servicewomen of the United States. The venue offers several meeting areas for groups and complete buyouts can be arranged.