Sponsored by Mohegan Sun
The long, fascinating histories of Connecticut and Rhode Island are a major draw to meeting groups and tourists, and can be experienced in many ways, including visits to museums and famous sites. They can also be cultivated in the many historic hotels and other structures found throughout the states, from rural areas to major cities.
Though not housed in old structures, many other hotels include features—ranging from overall design and views of historic sites to minute details such as light fixtures—that provide a feel of a time long past
Both types of hotels are ideal for attendees because they immerse them in a stimulating, different environment that can trigger new ideas and emotions. Meeting spaces in historic buildings—such as those on the Yale University campus in New Haven, Connecticut—are similarly stimulating.
"It's only natural you would feel smarter as soon as you set foot in Greater New Haven, where the ivy-covered walls of Yale University serve as the backdrop for your meeting," says Sarah Washburn, tourism manager for REX Development/Visit New Haven. "As a world-renowned center of education and innovation, Greater New Haven is the ideal location for the exchange of ideas and the creation of strategies that will propel your business or organization forward."
Many of the hotels and other meeting spots are clustered in specific cities and regions, such as Hartford, Mystic, New Haven and Stamford in Connecticut, and Providence and Newport in Rhode Island. Here's an insider's view of some of the top historic venues for groups.
Connecticut
Hartford
Founded in 1635, Hartford is among the oldest cities in the United States and is Connecticut's capital. Its proud legacy includes being home to the nation's oldest public art museum (Wadsworth Atheneum), oldest publicly funded park (Bushnell Park) and oldest continuously published newspaper (Hartford Courant).
This legacy also includes its many historic hotels and other meeting spaces, including The Goodwin Hotel, an elegant downtown property that underwent extensive renovation and reopened in 2017 after being closed for eight years. Originally an upscale apartment building, The Goodwin was later converted into a classic, prestigious hotel. Its facade was preserved and is an iconic Hartford landmark.
The Goodwin now features a vibrant city style while retaining elements of its history and tradition. The 124 guest rooms and interior spaces have original architectural elements harmoniously infused with modern amenities. The more than 5,000 sq. ft. of meeting space includes a 100-seat ballroom.
Hartford boasts several other sites for meetings and events, including Bushnell Center for the Performing Arts. When it opened in 1930—in the midst of the Depression—it was heralded as a beacon of hope. It has remained so to Hartford residents ever since, as a landmark that provides a unique sense of place and plenty of enjoyment. Many major artists— including Toscanini, Bernstein, Pavarotti, Hepburn, Brando, Garland and Baryshnikov—have appeared on The Bushnell stage.
Visitors can peruse the vast compilation of historic photographs, books, brochures and primary source materials—along with the hall's famous backstage autograph walls—that capture the sweep and brilliance of some of the performances.
Planners can arrange to have events at the center's two distinctive theaters and variety of event spaces. The historic William H. Mortensen Hall provides 2,799 seats and the modern Maxwell M. & Ruth R. Belding Theater has 908 seats.
Mystic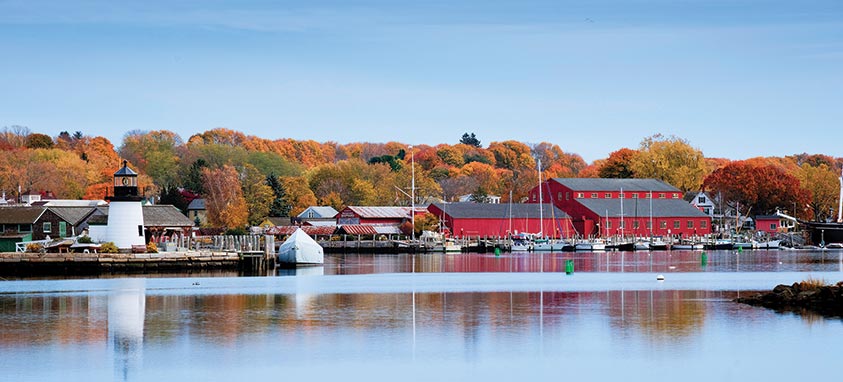 Mystic, situated 56 miles northeast of New Haven, is a compact little village on the Connecticut coast that provides gorgeous views of Long Island Sound and Mystic River. It also features explorations of maritime history and maritime life, excellent dining and easy access to Stonington Vineyard and Foxwoods Resort Casino in Mashantucket.
Foxwoods boasts AAA Four Diamond hotels, 2,230 guest rooms, seven casinos, outstanding restaurants and 55,000 sq. ft. of meeting space. The resort's Pequot Museum and Research Center, located near the complex, highlights the history of native tribes in the United States and Canada. It has 64,000 sq. ft. of rentable space.
Mystic Seaport Museum, the nation's largest maritime museum, aims to inspire an enduring connection to the sea by hosting world-class traveling exhibits from internationally prominent museums and organizations.
"It also offers meeting attendees 19 acres of a beautiful, authentic New England setting while providing modern amenities for meeting planners," says Rebecca Shea, group sales associate manager for the museum.
The three main meeting spaces are located within and adjacent to the grounds of the museum, which includes original historic homes and buildings relocated from throughout New England to create a 19th-century seafaring village. It is also home to four National Historic Landmark vessels—including Charles W. Morgan, the only remaining wooden whale ship in the world—and a historic shipyard in which shipsmiths preserve and pass on the skills of traditional ship building.
Olin Stephens Room, which was built in 1862, offers 1,765 sq. ft. of meeting space; River Room, featuring a nautical feel, provides 3,180 sq. ft.; and Masin Room, with fabulous views of the Mystic River, has 984 sq. ft.
New Haven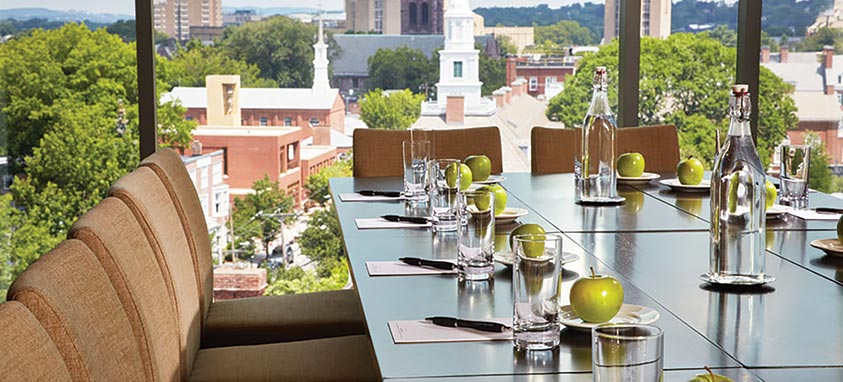 A coastal city with some 130,000 residents, New Haven was the first planned city in the United States. It was founded in 1638 by English Puritans, and the following year, eight streets were laid out in a 4-by-4 grid, creating what is commonly known as the Nine Square Plan.
Much of life in New Haven centers around Yale University, founded in 1701 and one of the most prestigious colleges in the country. As the city's biggest taxpayer and employer, Yale is an integral part of the city's economy.
Yale Housing & Events offers housing options for groups of 10 to 2,500 from June to August as well as a wide variety of meeting spaces, including some on the "Old Campus," which features stunning Gothic-style architecture. Built in the 18th century, this large quadrangle includes dormitories, two chapels and three classroom buildings, and can accommodate 1,000 guests.
The Study at Yale opened in 2008, but captures the historic essence of the university. A sophisticated, yet relaxed property located in the heart of Yale University's vibrant Arts Campus, it offers 124 guest rooms and 2,200 sq. ft. of meeting space. Art, literature, music and thoughtful design are central themes, and are evident throughout the hotel's inspired spaces.
Boathouse at Canal Dock was unveiled this fall and pays homage to New Haven's storied boating history. It incorporates architectural pieces from the previous boathouse (Yale University's George Adee Memorial Boathouse), including the 35-foot-by-20-foot terra-cotta frame from the early-20th century original portal. Artisans also re-created the main oak staircase, doorways and refurbished doorways, mantels and the original Yale Bulldog mascot gargoyles.
The venue can be rented for private events and offers 3,600 sq. ft. of meeting space in the main event hall and some 1,300 sq. ft. in Adee Room. Both rooms offer access to a large outdoor balcony with sweeping views of New Haven Harbor and Long Island Sound.
Scheduled to open in fall 2019, Graduate New Haven will occupy the former space of the historic Duncan Hotel, built in 1894. The new hotel will be located on Chapel Street, adjacent to the Yale campus, and offer 72 guest rooms.
New On The Scene
Besides the many intriguing historical meeting spaces in Connecticut and Rhode Island, both states have plenty of other excellent meeting spots. Here's a rundown of some of the top new and forthcoming, as well as newly renovated, hotels and resorts.
Connecticut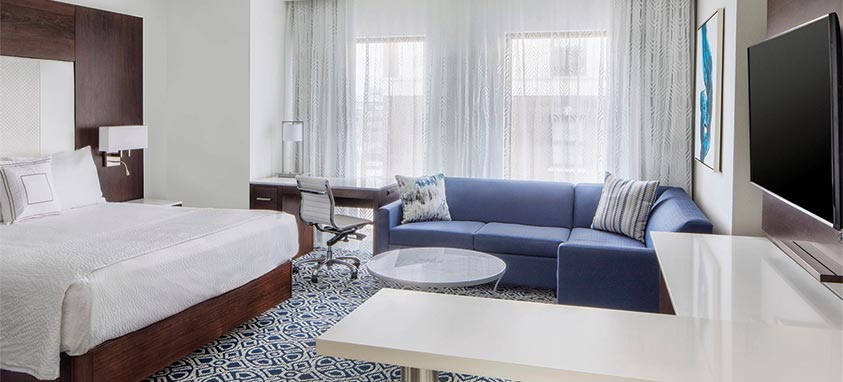 Recently renovated Connecticut Convention Center in Hartford has 140,000 sq. ft. of exhibition space, a 40,000-square-foot ballroom and 25,000 sq. ft. of flexible meeting space.
The $80 million Mohegan Sun Earth Expo & Convention Center opened in June at the 1,600-room Mohegan Sun in Uncasville, 9 miles from Mystic. The new center provides 155,200 sq. ft. of exhibition, ballroom and prefunction space, thereby increasing the resort's total meeting space to more than 275,000 sq. ft.
Located in downtown New Haven, The Blake Hotel will be a six-story boutique property featuring 108 guest rooms, a fitness center, a rooftop patio and meeting rooms. It's scheduled to open in 2019.
Billed as the city's first extended-stay hotel, Residence Inn by Marriott Stamford Downtown (pictured) opened in November. It has 156 guest rooms, a tequila and tapas bar, a 1,954-square-foot fitness center and 2,000 sq. ft. of meeting space.
Rhode Island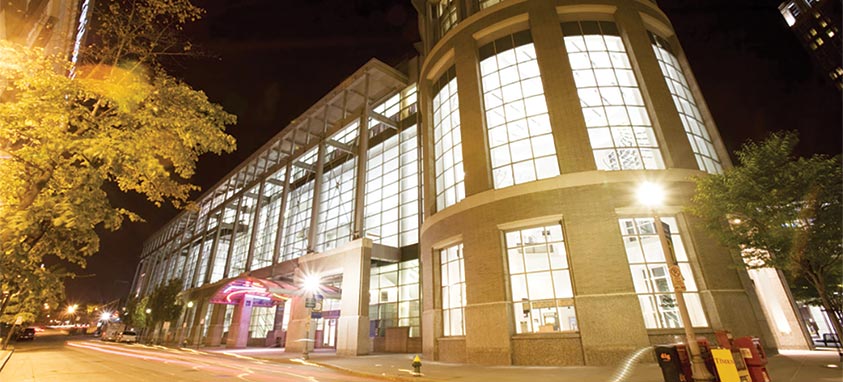 The newly updated Rhode Island Convention Center (pictured) in Providence is the bow on the Providence meetings package. The building has 100,000 sq. ft. of exhibit space and 60,000 sq. ft. of ballroom, breakout and flexible meeting spaces, including Sabin Place, a new, creatively designed, nontraditional area.
A 170-room Aloft hotel is scheduled to break ground in downtown Providence in the spring. It will be a high-end property with a restaurant, a swimming pool and a 1,500-square-foot fitness center.
Gurney's Newport Resort & Marina, formerly Hyatt Regency Newport, debuted in 2017 on nearly 10 acres of Goat Island. Subsequent renovations include fresh room and lobby designs that reflect the property's New England aesthetic and origins. The 257-room resort's meeting areas include 50,000 sq. ft. of seaside lawns and pavilions, and 27,000 sq. ft. of ballrooms and halls.
The 143-room Cambria Hotel & Suites recently opened in Middletown, 3 miles northeast of Newport. It overlooks Easton Pond and the Atlantic Ocean, and offers several meeting settings, including Atlantic Pavilion and Easton's Pavilion, with each providing more than 8,500 sq. ft. of meeting space.
Stamford
Located on Long Island Sound, Stamford has a population of 130,000, making it the second-largest city in Connecticut. It's the fastest-growing city in the state, with a rapidly increasing millennial population. The city also has a nice blend of traditional and unusual meeting spaces.
Stamford Museum & Nature Center, located on a 118-acre property in the woods of North Stamford, is an art, history, nature and agricultural museum. It also provides excellent meeting areas, including Henri Bendel Mansion, an asymmetrical, 10,000-square-foot, neo-Tudor building that was built in the 1920s. The mansion features outdoor terraces and oversize leaded-glass windows, and is surrounded by classical statues, sculptures and plantings. The mansion is well-suited for ceremonies and receptions for up to 150 guests.
Indoor spaces easily accommodate lectures, breakout sessions, working meals and interactive presentations. The property also can be used for company picnics, team-building experiences and corporate volunteer events.
Nestled among the historic landscape of Southwestern New England, Bartlett Arboretum & Gardens is a 93-acre natural preserve that highlights the best of Connecticut's landscape. It features 12 gardens and hundreds of unusual species.
It also offers a spectacular setting for groups that want to venture away from the conventional hotel and hall venues. The arboretum's colorful and majestic trees and gardens offer a stunning backdrop for private parties, corporate events and educational retreats.
Rhode Island
Providence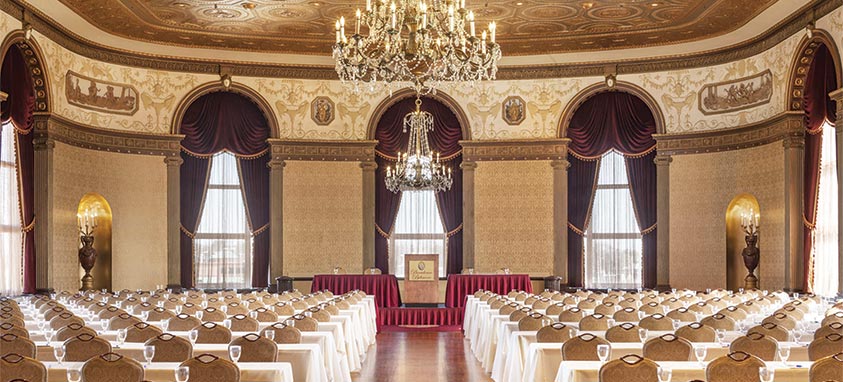 Located along the Northeast Corridor, Providence blends the qualities of a quaint New England town with the amenities and sophistication of a big city. It is home to more than 180,000 people and about 20 percent of the U.S. population is within a five-hour drive.
Providence features 2,500 hotel rooms within two blocks of Rhode Island Convention Center, including some intriguing historic properties.
The Providence Biltmore, which opened to the public in 1922, was regarded as the grand dame of Providence. Designed by Warren and Wetmore, the architects who designed New York City's Grand Central Station, it is on the National Preservation Register as one of the country's cherished architectural treasures; it's also a Historic Hotel of America.
"With grand architecture and an impressive list of guests, including John F. Kennedy, Lyndon Johnson and Nelson Rockefeller, the hotel boasts the confidence of an established hostess and the vitality and charm of an ingenue," says Thomas Riel, vice president of sales and service for Providence Warwick Convention & Visitors Bureau.
It retains its historic feel in all areas, including the 294 guest rooms and 18,000 sq. ft. of meeting space that encompasses Garden Ballroom and the iconic, rooftop grand ballroom, which features a two-story ceiling with magnificent architectural details.
Hotel Providence consists of three connected buildings. One of them, the Westminster Building, was home to Westminster Hotel from 1882 to 1912 and continued operating as a hotel until 1976. It later served as a dormitory for Johnson & Wales students before again becoming a hotel. The Lederer Building was constructed in 1897 and housed dressmakers, musicians and milliners. It features a grand staircase, copper bay windows, columns, intricate tile work and a cast-iron storefront. The Liner Building was added in 2014 and Hotel Providence opened a year later as a luxury boutique hotel.
Featuring European flair and New England charm, the hotel is steeped in historic character—vintage furnishings, art and classic novels are sprinkled throughout the property. The 96 guest rooms and 5,500 sq. ft. of meeting space—consisting of four meeting rooms, including an executive boardroom and a ballroom, plus an outdoor terrace—blends vintage and modern features.
Another historic property, Renaissance Providence Downtown Hotel, occupies the building that was originally intended to be a temple for Scottish Rite Freemasons. Work on the temple began in 1928, but halted on the eve of the Great Depression and was never completed. The partial shell of the building stood abandoned for 78 years, and in 2007, the hotel emerged from what was the largest restoration project in Rhode Island history.
The downtown hotel features the refined opulence of a 1920s-era hotel and sweeping views of Rhode Island State House. The 272 guest rooms and 10,000 sq. ft. of meeting space (which includes a ballroom and an executive board room), on the other hand, are distinctly modern.
Newport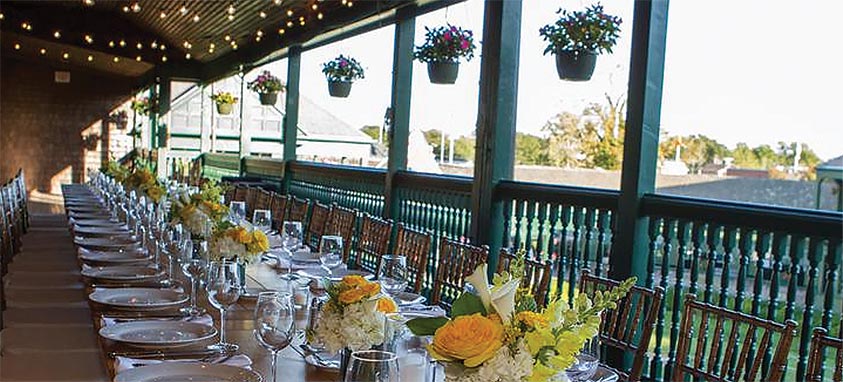 Set on Aquidneck Island, Newport is perhaps best known for its yacht-filled harbor, which hosted the America's Cup sailing regatta for many years. The city of some 25,000 people also boasts many Gilded Age mansions—some of which are now museums—lining Bellevue Avenue.
The city has more than 900 hotel rooms across four convention properties, which offer a combined 70,000 sq. ft. of meeting space. More than 700 additional hotel rooms can be found in the surrounding townships.
Situated atop Newport's Historic Hill neighborhood with breathtaking views of Bellevue Avenue, Hotel Viking is a member of the prestigious Historic Hotels of America. Plenty of famous dignitaries and celebrities have stayed at the property, which opened in 1926 and retains many of its original touches, such as a front desk that depicts ancient Nordic Runes, and the original brass letter box in the lobby.
Fresh off a $6.2 million restoration, Hotel Viking's 208 guest rooms offer nods to the property's past while featuring modern technological amenities. It has 14,400 sq. ft. of meeting space, including 5,880-square-foot Viking Ballroom.
Providing a unique setting of timeless elegance and charm, International Tennis Hall of Fame is inside the 128-year-old Newport Casino building, which first housed the National Tennis Club. The 7-acre property features 1,811 sq. ft. of meeting space, including areas with sweeping open-air porches overlooking manicured grass courts and indoor options with stunning views of the several historic buildings and grounds.