These Centennial State cities have new heights to show off
Colorado
Like the rest of the world, Colorado had a little time on its hands. Covid made hermits of us all. But for this beautiful nature-centric state, perhaps the better simile is hibernating bears. Any planner who has hosteda an event at Denver's Colorado Convention Center knows the Big Blue Bear, the 40-foot-tall icon that seems to be peering curiously from the sidewalk into the exhibit halls.
Yet Denver, along with the nearby cities of Aurora and Colorado Springs (less than an hour and a half's drive away), chose not to sleep through the lonely winter of face-to-face gatherings. Instead, they were busy as bears in springtime. Hungry for business and hard at work—renovating, building, readying for your return. Preparing for a brand-new day of in-person meetings.
Denver
If you ever doubted the aura of can-do creativity that hovers over the Mile High City, check out the "Coming Soon: Denver" digital marketing campaign—seven movie-themed videos in genres ranging from sci-fi to indie and spy thriller—that Visit Denver premiered earlier this year to highlight citywide improvements. They garnered more than half a million views.
The videos focused on upgrades to Denver International Airport (DEN), the convention center, 16th Street Mall, event venues, hotels and arts and cultural facilities.
"Meeting attendees will soon experience a greatly improved city," promised Rachel Benedick, executive president of sales and services at Visit Denver.
Let's take a closer look.
Airport Expansion and Renovation
The best way to kick off a meeting is with a smooth arrival. Over the last 25 years, DEN has grown from 33 million to more than 69 million passengers annually and is currently the seventh-busiest airport in the world. Not content with the status quo, the airport is busily increasing its overall capacity by 30 percent, adding a total of 39 new gates in three concourses.
Enhanced dining and shopping options, outdoor decks for fresh air, more comfortable seating choices and additional charging stations are also on the way. So are improvements to restrooms, as well as new carpeting, moving walkways and escalators.
In all, the ambitious project is part of DEN's $3.5 billion Capital Improvement Program, which is funded through airport bonds. Most of the work is expected to be substantially completed by the end of the year, with the new gates coming on line in 2022 and concourse renewal completed by 2024.
National Western Center
Only a single train stop from downtown's vibrantly restored Denver Union Station is 250-acre National Western Center, which by 2024 is slated to play a much larger role in meetings and events upon completion of this $1 billion project. The longtime home of the National Western Stock Show is being converted into a year-round, urban hub for food and ag discovery and innovation.
It pledges to bring people together, in person and online, from all walks of life to "lead, inspire, create, educate and entertain in pursuit of global food solutions."
Major highlights include construction of more than 2.2 million sq. ft. of new indoor and outdoor space designed to host innovation and research labs, farmers markets, international conferences, outdoor festivals and everything in between. The project also is activating six acres of riverfront that has been inaccessible and implementing more than 20 acres of public plazas and stockyards.
Central to the low-carbon campus of energy-efficient buildings powered by renewable energy will be "The Spur," housing Colorado State University research programs for animal health, water, sustainability and food.
New and Newly Redone Hotels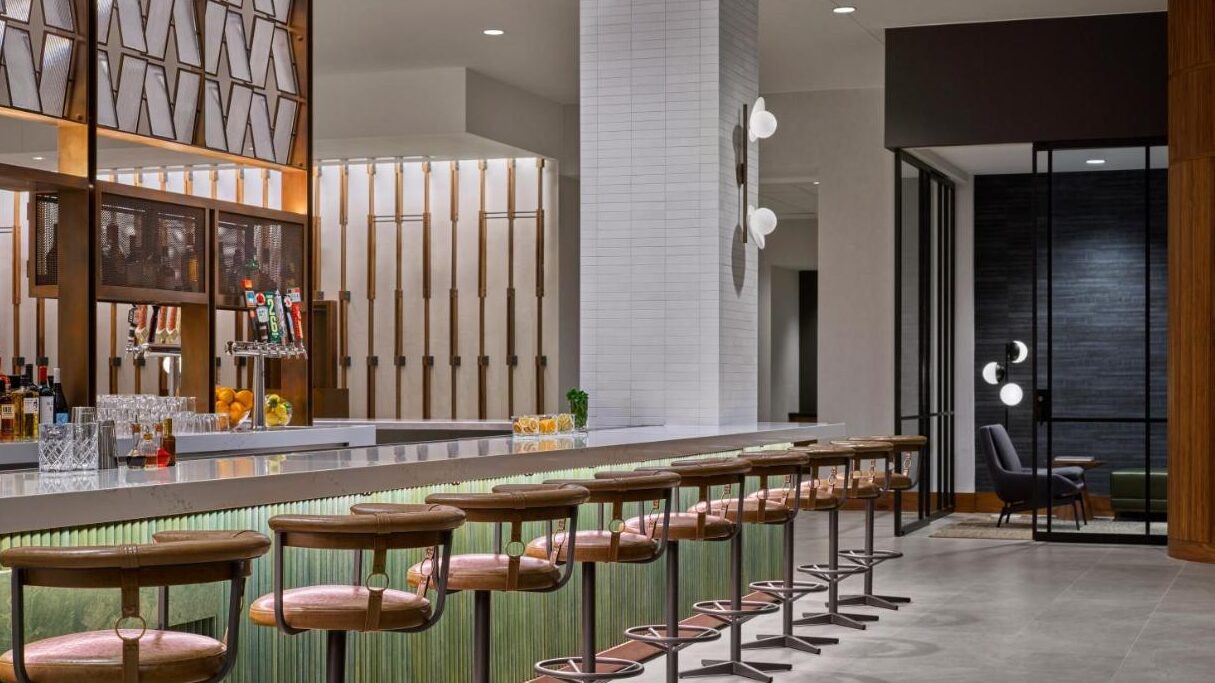 The city's compact, walkable downtown boasts 11,000 hotel rooms, with some exciting news to share on that front, too.
The biggest in town has just gotten way better. Sheraton Denver Downtown Hotel, long a meetings mainstay, recently wrapped an $80 million renovation—and an impressive showcase of the brand's new design standards—of its 1,238 guest rooms (including 138 suites) and 133,000 sq. ft. of meeting space anchored by reinvented Plaza Ballroom. Also transformed were all public spaces and lobbies, and new culinary and beverage options like 16th Street Commons Coffee Bar—caffeine by day, adult beverages by evening—have debuted.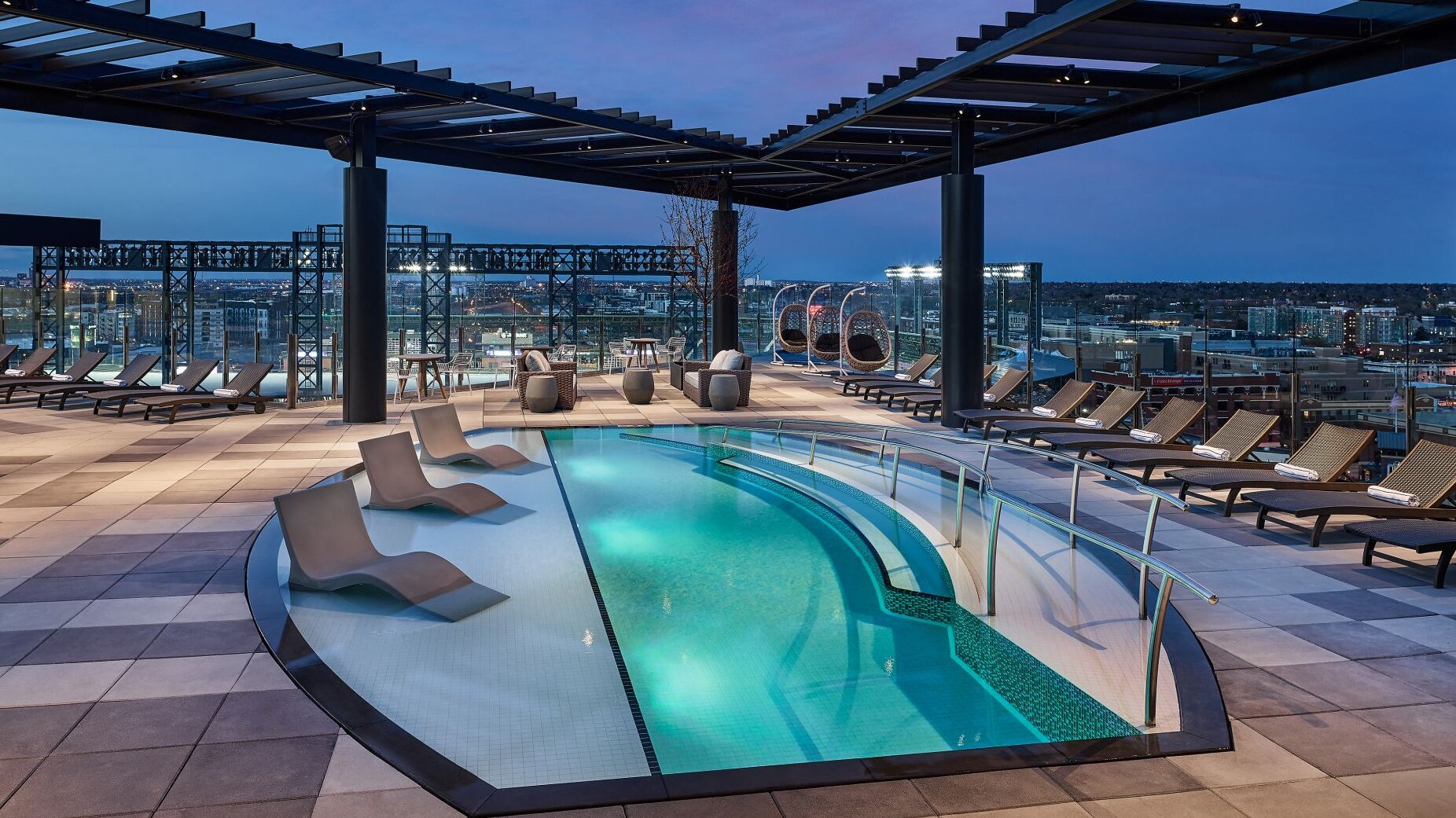 In the new McGregor Square development next to Coors Field, home of MLB's Colorado Rockies, The Rally Hotel recently unveiled 176 guest rooms and 15,000 sq. ft. of indoor meeting space. Outside the front doors is a 17,000-square-foot public plaza that will be a pre- and post- game gathering place for baseball fans on game day, as well as a year-round events venue. McGregor Square also offers a 35,000-square-foot Rockies Hall of Fame experience, unique retail and a food hall.
The chic Cherry Creek North neighborhood is home to stylish new Clayton Members Club & Hotel, which boasts 63 guest rooms (a quarter of which are suites), 5,000 sq. ft. of meeting space, a 2,400-square-foot ballroom and great food and beverage options. Guests have access to the "physical and experiential amenities" of the property's membership club, which include a members' restaurant, fitness center, coworking and social spaces, as well as a rooftop restaurant and pool.
Across from Colorado Convention Center, The Schoolhouse will open by late summer in a landmark former vocational school building with 250 guest rooms and 3,000 sq. ft. of meeting space. There will also be 48,000 sq. ft. of retail space and an "activation alley."
Near Union Station in LoDo (Lower Downtown), Thompson Denver will be the first Colorado property for this boutique Hyatt brand and will have 214 guest rooms and 8,000 sq. ft. of meeting space. Luxury suites, a ground-floor signature restaurant, and an indoor/outdoor terrace with lounge and bar on the sixth floor are among the highlights. A ribbon-cutting is scheduled for fall.
Creative Venues
Denver Art Museum (DAM), in downtown's Golden Triangle District, plans to host a 2021 grand opening celebrating major renovations to what is now known as the Martin Building and the addition of the $150 million Sie Welcome Center, a 50,000-square-foot, elliptical-shaped structure that adds to DAM's meeting and event spaces and features a visitor center, expanded public gallery spaces, and two new restaurants. The seven-story Martin Building, originally designed by Italian architect Gio Ponti and Denver-based James Sudler Associates, was one of the first high-rise art museums in the world and is the only completed building in North America designed by the renowned Italian modernist.
The much-lauded Meow Wolf artist collective opened its first permanent installation in Santa Fe, New Mexico, in 2016. A fall 2021 opening of Meow Wolf's Denver location will unleash the group's largest installation yet, 90,000 sq. ft. with four floors of interactive art from more than 110 local artists. A cafe and a live performance venue for up to 450 attendees will round out the experience.
A $36 million renovation of the 185,000-square-foot Helen Bonfils Theatre Complex at Denver Center for the Performing Arts (DCPA), one of the largest nonprofit theater organizations in the nation, is nearly complete. DCPA made the best of quieter Covid times to fast-track the project to be ready when audiences and groups return.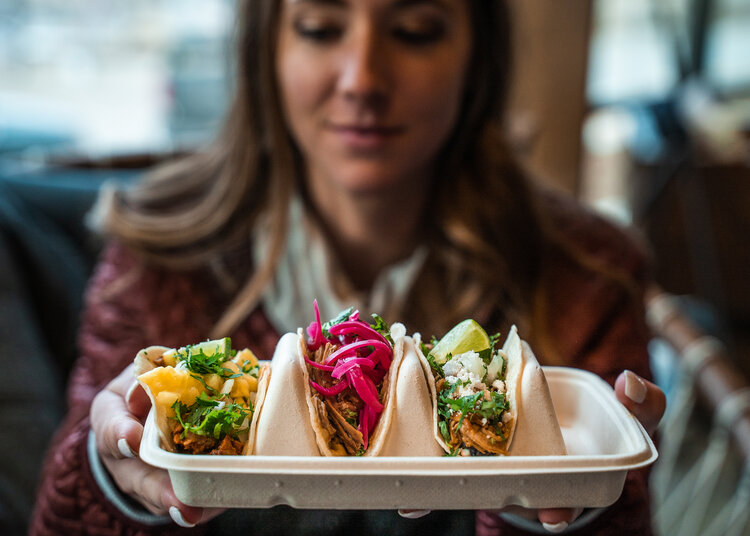 Also noteworthy is a new 30,000-square-foot combination indoor/outdoor event space, Number Thirty Eight, that features four kitchens, an outdoor stage for live music and a large patio with a private deck and beach volleyball courts; Mission Ballroom, in the trendy River North (RiNo) neighborhood, hosts major musical acts and offers up to 12,000 sq. ft. for events.
16th Street Mall Upgrades Designed by internationally renowned architects I.M. Pei & Partners, the mile-long pedestrian 16th Street Mall is enjoying a $130 million refresh. Dating to 1982, the polychromatic granite pavers are being repaired, transit lanes for the free MallRide shuttle are being moved to the center of each block, and sidewalks are being expanded for walking, cafe seating and other activities. The renovation will also expand the existing tree canopy, for a refreshing green space in the city center.
Colorado Convention Center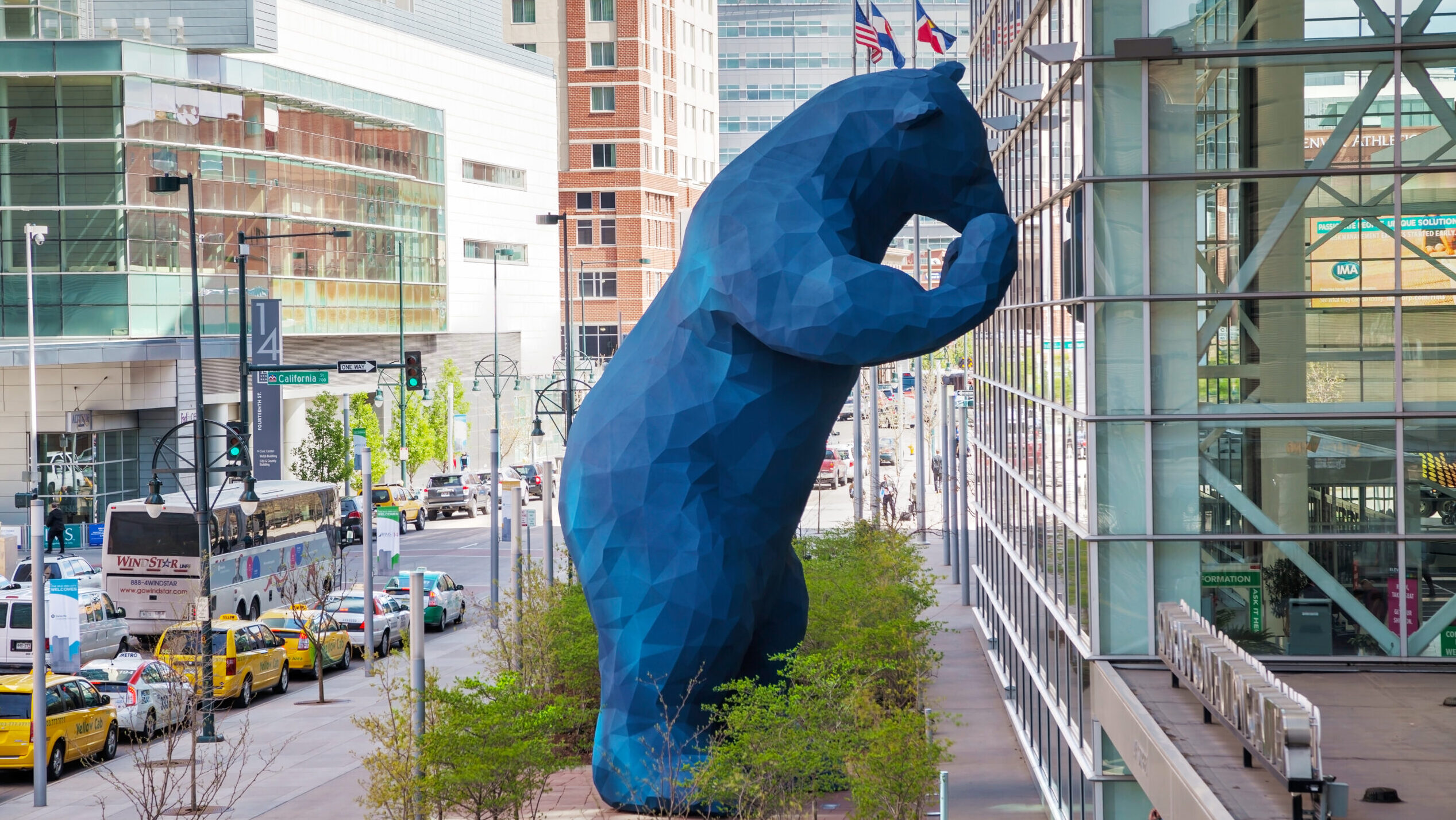 A $233 million expansion is about to turn Colorado Convention Center into a cutting-edge meetings destination. By 2023, expect a new 80,000-square-foot flexible ballroom; the addition of 35,000 sq. ft. of prefunction space; a 20,000-square-foot rooftop terrace with panoramic views of both the city skyline and the Rocky Mountains; and technology improvements, such as increased capacity for Wi-Fi and streaming video.
Aurora
If you've been to Denver, chances are you've already been to Aurora. DEN falls within its city limits. Visit Aurora and the city want planners to know the many reasons for lingering after landing at the airport. Such as 13,500 hotel rooms, 1 million sq. ft. of meeting space and more than 75 off-site experiences that are engaging, authentic and distinctly Coloradan.
FieldhouseUSA
Located inside Town Center at Aurora, along with 130 retailers and eateries, this new indoor sports facility (where a Sears once stood) will specialize in leagues, events, and tournaments beginning this summer. Think team sports like basketball, soccer, flag football, pickleball, futsal, as well opportunities for groups to participate in corporate events, boot camps, all-sports camps, cheerleading, club volleyball, softball, baseball, taekwondo, tumbling and much more.
New and Newly Redone Hotels
A spate of recent hotel development includes several properties tailor-made for smaller gatherings. DoubleTree by Hilton Denver International Airport (163 guest rooms and 4,900 sq. ft. of meeting space) is a free, seven-minute shuttle ride from DEN. Parking and Wi-Fi are free, and there's also a restaurant and lounge. Element Denver International Airport (89 guest rooms, nearly 4,000 sq. ft.) showcases the Marriott brand's focus on nature and sustainability. Courtyard Denver Aurora (141 guest rooms, 1,486 sq. ft.) offers an attractive boardroom among its meeting venues. Hyatt House Denver/Aurora (140 guest rooms, largest space is 1,859 sq. ft.) is located by Children's Hospital of Aurora, University of Colorado Anschutz Medical Campus and Rocky Mountain VA Medical Center. Hampton Inn & Suites Aurora South Denver is a short walk from a light rail stop, offers free parking and Wi-Fi, and has one meeting room to complement 112 guest rooms.
Among the Aurora meetings classics, the "Big Blue Bear" of Aurora resorts, of course, is Gaylord Rockies Resort & Convention Center, which opened in 2018. From its Arapahoe Springs Water Park to the world-class Relache Spa, it has something for every taste. Along with 1,387 guest rooms, there is 517,987 sq. ft. of event space in 69 rooms, including four ballrooms (Aurora Ballroom, at 59,467 sq. ft. is the largest) and the 175,000-square-foot Aurora Exhibit Hall.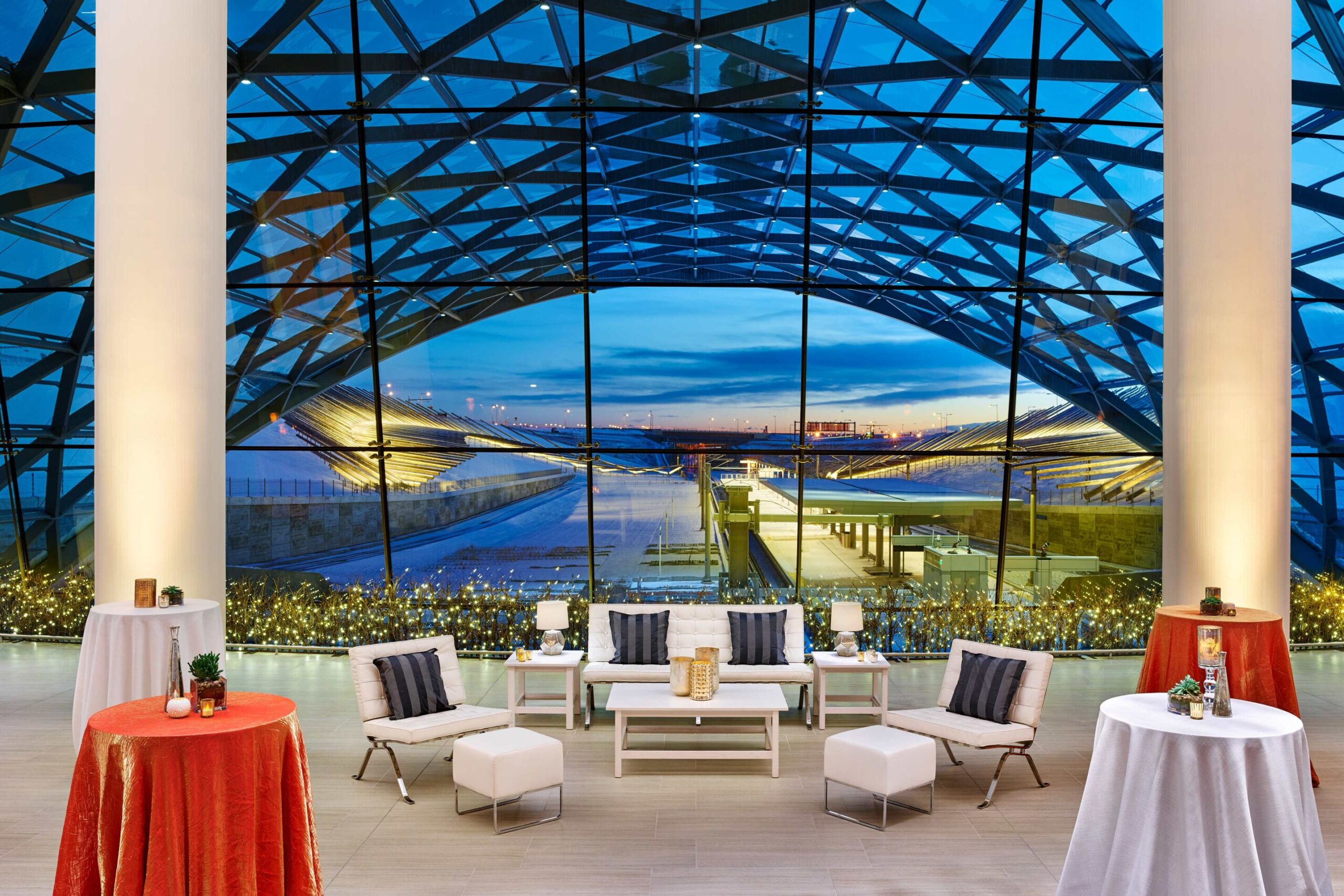 At DEN, award-winning, wing-shaped The Westin Denver International Airport (519 guest rooms, 37,500 sq. ft. of meeting space) elevates the concept of airport hotel, with the brand's commitment to wellness and a Westin WORKOUT Fitness Studio.
More Unique Venues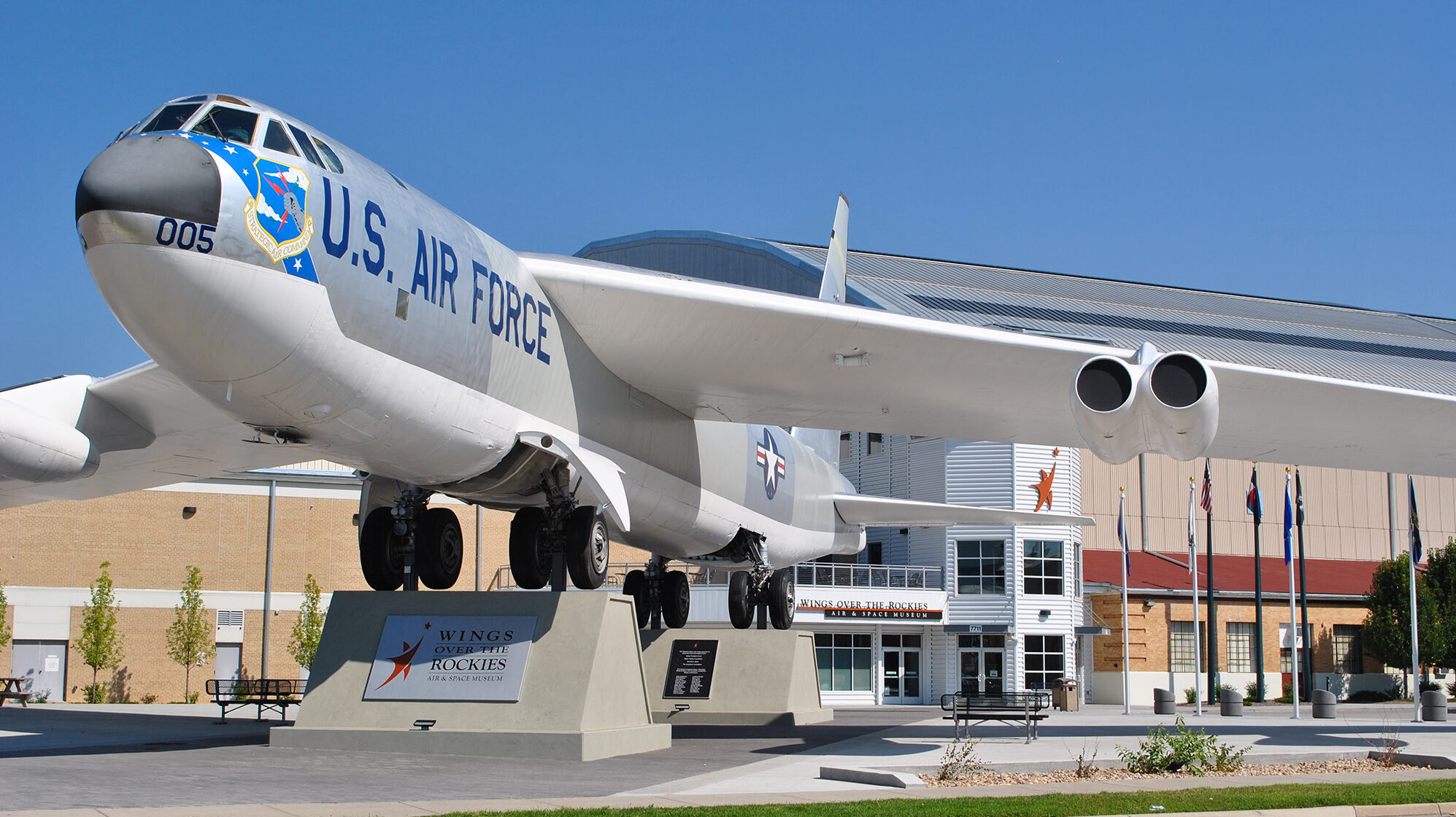 As one of the largest indoor and outdoor event venues on the Front Range, The Hangar at Stanley is a 1954 building reeking of character, with steel beams, polished concrete floors, large wooden wire spools, and 30-inch light fixtures that once lit up Stanley Aviation. Much more than your average museum, Wings Over the Rockies Air & Space Museum is filled with aircraft cockpits and a world-class exhibit inside a World War II-era aircraft hangar. There's room for 50 to 3,500 guests.
In the heart of the Aurora Cultural Arts District, The People's Building is one of those unique venues you'll want to remember. With more than 3,000 sq. ft. of flex space, concert setups and stadium seating, it calls itself "the link between arts, wellness, community and a thriving society." Pelican Bay at Cherry Creek shows off Aurora's vast, natural terrain. Set on a marina, the upper deck of the lake house is the perfect spot to astound attendees with Rocky Mountain sunset views, cocktail in hand. During warmer months, jet skis, paddleboards, and kayaks can be rented.
Colorado Springs
The state's second-largest city sits at an elevation of 6,035 feet at the foot of Pikes Peak. Spectacular backdrops and wide-open spaces are its secret sauce after the long months of lockdowns and restrictions. Citywide, over 15,000 hotel rooms range from mountain retreats to familiar brands. And there, too, ongoing efforts to entice groups and enhance their experiences have put a shiny new spin on a visit to the city.
It's easier to get to than ever. Southwest Airlines now serves The Colorado Springs Airport (COS), with nonstop flights to five cities and one stopover to destinations throughout the country.
Bartolin Hall at The Broadmoor
This new 125,000-square-foot convention facility with a large meeting hall and 32 breakout rooms has joined the Convention Center at the much-lauded resort, with its 784 guest rooms, suites, cottages, brownstones and a five-bedroom Estate house. Total function space is now more than 315,000 sq. ft.
The Broadmoor Manitou and Pikes Peak Cog Railway
After a three-year rebuild, the world's highest cog railroad is back with a new depot, new and refurbished trains and new track. It leaves from historic Manitou Springs near Colorado Springs, and several times daily it ascends to the summit and the newly redesigned Pikes Peak Visitor Center.
Weidner Field
With 8,000 permanent seats and capacity up to 15,000, this new outdoor stadium downtown is home to the USL's Switchbacks Football Club and hosts concerts and other special events. With 117,000 sq. ft. of event space, not to mention sprawling views of Pikes Peak and the Rockies, it's eager to host meetings, receptions, team building and more.
More Unique Venues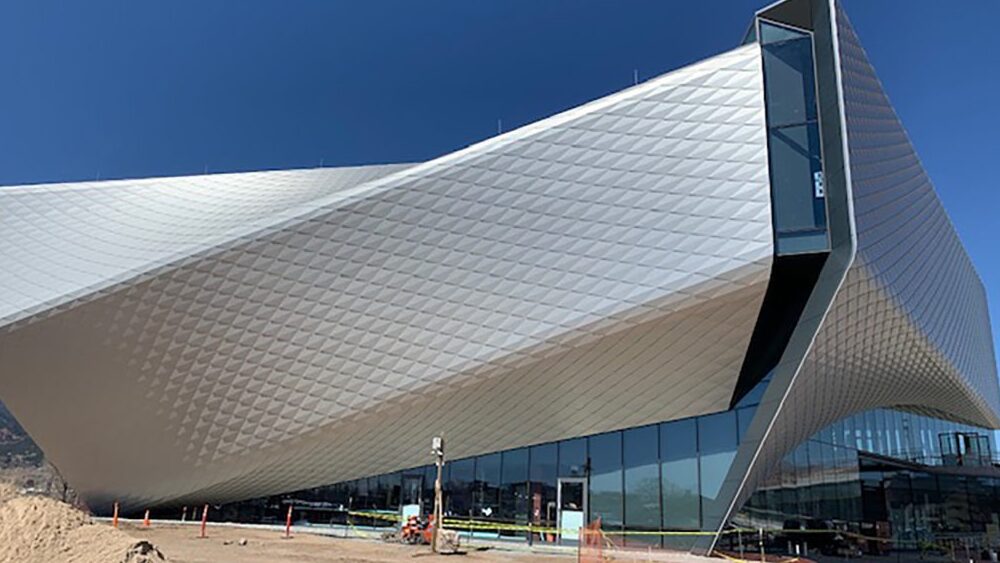 U.S. Olympic & Paralympic Museum, which has been open since 2020, has several choices for indoor and outdoor meeting space suitable for 10 to 1,000 attendees. Tables, chairs and basic AV are included with room rental, as is access to the museum's interactive exhibits for evening events. Flying W Ranch, a working mountain cattle ranch, can accommodate up to 1,000 people for an authentic chuckwagon supper and western entertainment by the Flying W Wranglers. The Great Hall in Glen Eyrie Castle, the home built by Colorado Springs' founder Gen. William Jackson Palmer, offers 2,152 sq. ft of soaring meeting space, and the property boasts 16,500 sq. ft. of indoor and outdoor meeting space in all.