Greater Orlando adds more reasons to host your next event
Orlando has had quite a year. Well, two years, really. In April, Visit Orlando, the city's official tourism association, announced that more than 60 million people visited The City Beautiful in 2014—the highest total any U.S. city has ever recorded, breaking its own record of 59 million visitors set in 2013.
On top of that, Cvent named Orlando the top city for meetings and events in the country for the second time in three years (Chicago took the top spot over O-Town in the 2014 list, but dropped to third in 2015). And while Orlando gets the lion's share of attention, sister city Kissimmee is stepping further out of the bigger city's shadow. (Oft-overlooked fact: Walt Disney World Resort is closer to Kissimmee than Orlando.)
"We're having a banner year," says Tracy Ward, Experience Kissimmee's vice president of sales. "We have more pre-sold than ever for 2016."
The two cities form the heart of Central Florida, and the region is currently undergoing its biggest expansion since what's now Orlando's chic downtown district was lined with orange groves.
"One of the remarkable things is the amount and variety of investments made by our members to attract new business and new conventions," says George Aguel, president and CEO of Visit Orlando. "Orlando is a never-ending story." And with $5 billion of expansion happening right now, the story is getting more layered every day.
Convention Corner
Orange County Convention Center, Orlando
The unequivocal star of the city from an events standpoint is Orange County Convention Center. The 7 million-square-foot facility has attracted major events since it opened in 1983 (with 177,000 sq. ft. of meeting and event space, compared with today's 2.1 million), and continually improves. A five-year renovation that began in 2013 is in full swing, with the 48,961-square-foot Tangerine Ballroom and the Sunburst Meeting Rooms and Terrace as the latest additions, which opened last month.
All new digital signage was added to the Westwood Lobby in June, eco-friendly terrazzo flooring was installed in the E/F Lobby in February, and many more improvements are scheduled through 2018.
In addition to being able to handle any size event, the convention center connects to four of the area's convention hotels via a network of covered bridges, making transportation between them a cinch. All told, there are "40 hotels and just under 20,000 rooms in proximity to the convention center," Aguel says.
Being right on International Drive, Orlando's main tourist hub and center of the city's convention district brings proximity to some of the area's most popular attractions. "We have four clusters of retail, dining and entertainment within a 4-mile radius," Aguel adds. Downtown Disney, Universal City Walk, Pointe Orlando and I-Drive 360, the convention district's latest entertainment expansion project (see sidebar), lure attendees for group events and after-hours fun.
"Meetings like to come here because we merge facilities with general entertainment," Aguel says. "They're attendees and tourists at the same time." I-Drive's new Escapology satisfies both sides and is the Orlando area's only permanent home for the growing trend of "escape from a room" puzzles. Teams of up to five people use clues and teamwork to figure their way out of a locked room that's made to look like part of Fidel Castro's compound, a cabin in a Chinese junk ship or an Old West saloon in immersive storylines that play out in one hour.
Park Hopping
Disney Springs, Walt Disney World Resort, Orlando (rendering)
The Orlando area's world-famous theme parks seem to always have something new brewing, and they've played a significant role in the region's recent expansion. The biggest news from the mouse is the expansion and transformation of Downtown Disney into Disney Springs.
Work is already underway to double the size of the dining, shopping and entertainment hub, bringing the number of venues from 75 to more than 150, divided into four neighborhoods that will open in phases between now and 2016. Disney Springs will offer planners several venues that can be rented for private events, and there's also the appeal of the variety of dining and entertainment options for unwinding after a long day of meetings.
STK Orlando will be one of the chic steakhouse's largest worldwide locations—and will be the only spot in Disney Springs to offer rooftop dining when it opens later this year. Opening this summer is Morimoto Asia, the first pan-Asian restaurant by superstar chef Masaharu Morimoto of Iron Chef fame. "It's a wonderful chance to share some of my favorite foods from across the Asian continent," Morimoto says.
Frozen Ever After, Epcot (rendering)
On the park front, the most exciting news comes from Epcot, with the 2016 addition of a new ride based on the wildly popular animated film Frozen. The ride, dubbed Frozen Ever After, will usurp The Maelstrom's space in the Norway pavilion of the park's World Showcase. Presumably, it will attract people to this area of the park who are too young to have ever heard of the country (and educate them about it).
Universal Orlando Resort is upping the "resort" part of its name with the spanking new Loews Sapphire Falls Resort. The 1,000-room-and-suite resort will be the fifth hotel built on Universal property when it's finished in summer 2016. A massive—16,000 sq. ft.—and lushly landscaped lagoon will serve as the resort's centerpiece, and planners will be able to take advantage of 131,000 sq. ft. of meeting and event space. Sapphire Falls will connect to Loews Royal Pacific Resort via covered bridge, granting easy access to a combined 272,000 sq. ft. between the two hotels.
Universal Orlando opened Diagon Alley, the second section of its Wizarding World of Harry Potter attractions, to excited crowds in 2014. It turns out meeting planners are just as enthused to engross themselves among fantastical set pieces based on the magic-themed novels and films. "It creates a terrific backdrop for special events, which is one of the leading advantages we give to planners," Aguel says.
Also anticipated at Universal is the return of the King. King Kong, that is. Skull Island: Reign of Kong is set to open in 2016, the first Kong-themed ride since the original Kongfrontation ride closed in 2002.
Downtown Digs
Loews Sapphire Falls Resort, Orlando (rendering)
Though not a traditional part of town for meetings, events or tourist traffic (at least not since the theme parks took over), downtown Orlando is gaining traction among all sets. "A surprisingly high number [of visitors] have started going downtown," Aguel says. "It's part of them trying to experience more."
Three new or renovated venues have turned the downtown district into a sports hub. The long-standing Citrus Bowl football stadium was almost entirely torn down in 2014 and rebuilt into a state-of-the-art facility with chair-back seating (replacing old, less-than-comfortable bench seats), new HD video boards and premium club spaces with private concessions. "If you haven't seen it in a couple years, you wouldn't even recognize it," Aguel says.
Amway Center, home to the NBA's Orlando Magic, opened in 2010 and is still one of the state's most technologically advanced arenas, but it's the yet-unnamed soccer stadium that's generating the most anticipation. The stadium will seat more than 25,000 and host the Orlando City Lions Major League Soccer team when it opens in 2016. The Lions are playing their inaugural season in the revamped Citrus Bowl.
W XYZ Bar & Re:mix Lounge, Aloft Orlando Downtown
On the hotel front, chic boutique Aloft Orlando Downtown targets smaller groups. The property's modern design greets guests with a glowing exterior and extends to its 11 meeting and event spaces (totaling more than 7,000 sq. ft.). Downtown's best bars and restaurants—think handcrafted cocktails in a speakeasy setting and tapas being served while flamenco dancers perform—sit within an easy walk of the Orange Avenue location.
Kissimmee Calling
Kissimmee's borders practically rub up against those of Orlando, and the region's focus on first-rate hospitality thrives there. "All groups are a big deal to us," Ward says. "We're able to offer more personalized service."
The smaller city can't boast the same numbers as Orlando, but the event spaces shine just as bright. Gaylord Palms Resort & Convention Center's glass-ceilinged St. Augustine Atrium is an icon for drivers along Interstate 4, and the property's 400,000 sq. ft. of flexible event space includes the state's largest in-hotel exhibition hall in the 178,500-square-foot Florida Exhibit Hall. The resort's Moor restaurant opened in May, and diners rave about its New World, farm- and sea-to-table Florida cuisine, such as Cedar Key clams and a wide range of fresh fish caught from the Keys to the Panhandle.
Omni Orlando Resort at ChampionsGate, Kissimmee
The AAA Four Diamond resort is the crown jewel of the city's convention hotels, and factor in other stellar properties such as Omni Orlando Resort at ChampionsGate (128,800 sq. ft. of event space) and Reunion Resort (25,000 sq. ft.), and Kissimmee has any event covered. Plus, the city can even help bring people to events. "We're experts at attendance building," says Ward, citing the city's ability to create personalized landing pages and put out email blasts in advance of events.
Wild Florida Airboats & Wildlife Park, Kissimmee
In addition to exceptional meeting spaces and services, Kissimmee excels with things to do outside of the meeting spaces. "Our outdoor adventures are beyond anything Orlando can provide," Ward says. Take a ride on an airboat powered by a giant propeller in the headwaters of the Florida Everglades at Wild Florida Airboats & Wildlife Park. Groups are almost guaranteed to spot America's national bird—Kissimmee is home to the largest breeding population of bald eagles in the lower 48 states. The park also snuck in 2,200 sq. ft. of air-conditioned meeting space to take advantage of its scenic surroundings.
If wildlife interaction is on the agenda, there's no better spot than Central Florida's most famous small theme park: Gatorland. This iconic attraction rose from the ashes of a fire that nearly destroyed the park in 2006 and emerged stronger than ever. Among the highlights is the zipline adventure that slings guests 65 feet above alligator-filled waters.
Staying Power
So what's next for Orlando and Kissimmee? If the last three years are any indication, Central Florida has every intention of keeping itself atop the list of favored destinations. Future developments include the massive iSquare Mall—recently green-lighted for I-Drive by the Orlando Municipal Planning Board—a $400 million complex featuring a hotel, dedicated meeting and event space, and upscale shopping and dining. Combined with the region's recent surge, the new developments are certainly good omens for success.
---
Resources
-Experience Kissimmee
experiencekissimmee.com
-Visit Florida
visitflorida.com
-Visit Orlando
visitorlando.com
-Visit Orlando Meetings & Conventions
orlandomeeting.com
---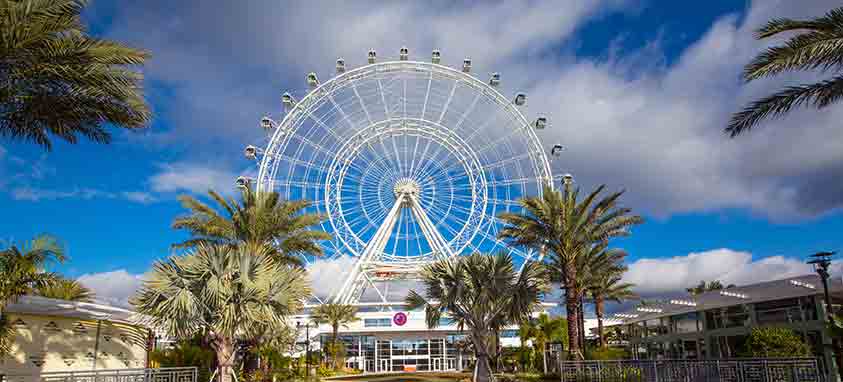 Entertainment Options Expand Near Convention Center
There are 40 hotels within 2 miles of Orange County Convention Center, supporting Orlando's vastly successful meetings and events industry. But once the day's meetings are complete, attendees looking for some excitement often flee International Drive for theme parks and other attractions that lie beyond the convention center corridor.
That's changing thanks to a bevy of new entertainment venues, restaurants and retail shops. The new $200 million I-Drive 360 entertainment complex opened in the spring, featuring the 400-foot-tall Orlando Eye observation wheel (pictured). Thirty capsules combine to hold up to 450 passengers, which makes for a fun and exciting group activity. Before the 20-minute ride, guests are privy to a 4-D film about Florida.
"We can't continue be the No. 1 destination if we don't continue to evolve and bring on attractions like the Orlando Eye and new and exciting dining and entertainment complexes," says George Aguel of Visit Orlando. "These attractions make visitors say, 'I want to go to Orlando and, if I have been, I want to come back.'"
World-famous celebrity wax attraction Madame Tussauds is another key addition, with look-alike statues of President Barack Obama, tennis player Serena Williams and country-star-turned-pop-queen Taylor Swift among featured luminaries. Sea Life Orlando lets guest encounter sharks face to face via a 360-degree underwater tunnel.
A slice of Miami Beach has been transported to Orlando thanks to Mango's Tropical Cafe, which is scheduled to open this month. Only 1 mile from the convention center, Mango's new spot in Orlando is bigger than the original location and expected to be an event hot spot with capacity to host private events for up to 2,000. Besides a stage and dance floor, there will be a restaurant serving Florida-Caribbean cuisine and tropical cocktails. It's the exact kind of sizzle International Drive is striving to achieve.
–Holly Woolard
---
Seven-Star Luxury Coming to I-Drive
The conceptual drawings of iSquare look like a building that would fit right in with the lavish architecture of Dubai skyscrapers. The 5.6-acre mega-complex is expected to be completed in 2017, and is one of the most ambitious projects the city has seen. The complex is set to include a five-star hotel with seven-star amenities, according to developer BlackMine Group, and a wide range of entertainment options to draw locals as well as visitors.
-Solis luxury hotel with 500 rooms
-100 ultra-luxury suites
-Animated facade with LED lighting
-Rooftop infinity pool
-Ice skating rink
-Helipad for VIP guest arrival
-Capella spa
-Upscale meeting space and ballrooms
-Several spaces for high-end shopping
-Multiple restaurants serving international cuisine
-Movie theater
-Rooftop restaurant
-Observation deck
---
Major Meeting Venues
Orlando
B Resort & Spa Lake Buena Vista
394 guest rooms; 25,000 sq. ft. of flexible meeting space; two ballrooms and a 5,000-square-foot event terrace; courtesy guest iPads; priority access to theme parks.
Disney's Contemporary Resort
115,000 sq. ft. of event space; ballrooms, breakout rooms, boardrooms in conference center; monorail takes guests to Disney hotels and theme parks.
Four Seasons Resort Orlando
443 guest rooms; 37,750 sq. ft. of flexible meeting and event space; outdoor banquets that can accommodate more than 700; Tranquilo Golf Course; four restaurants, including rooftop steakhouse with views of fireworks at the theme parks.
Hilton Orlando Bonnet Creek
1,001 guest rooms; 132,000 sq. ft. of meeting and event space; on Disney property, with access to adjacent Waldorf Astoria golf, spa and meeting spaces; two large ballrooms; landscaped outdoor venues including private island and pavilion.
Villas of Grand Cypress
146 luxury villas; 7,200 sq. ft. of meeting space; AAA Four Diamond, 1,500-acre resort; 45 holes of Jack Nicklaus Signature-designed golf and Grand Cypress Academy of Golf.
Hyatt Regency Orlando
Restorative programs for groups; 22,000-square-foot spa; 105 meeting rooms, four ballrooms and veranda settings; 1,641 guest rooms; 315,000 sq. ft. of event space.
JW Marriott Orlando Grande Lakes
1,000 guest rooms; more than 100,000 sq. ft. of flexible meeting and event space; 15 minutes from Orlando International Airport (MCO).
Loews Portofino Bay Hotel
750 guest rooms; 42,000 sq. ft. of meeting space; indoor space as well as sweeping lawns and piazza; arranges private tours and parties at Universal theme parks and CityWalk.
Orlando World Center Marriott
1,883 guest rooms; 450,000 sq. ft. of flexible meeting and event space; ballroom capacity of nearly 10,000; 92 meeting rooms; Hawk's Landing Golf Club; six restaurants serve American and international cuisine.
Rosen Centre Hotel
1,334 guest rooms; more than 150,000 sq. ft. of meeting and event space; 33 meeting rooms, three ballrooms totaling 67,000 sq. ft.; seven restaurants and bars; award-winning green lodging program.
Rosen Plaza Hotel
800 guest rooms; 60,000 sq. ft. of meeting and event space; adjacent to Orange County Convention Center; accommodates banquets for 1,800 and receptions for 2,740.
Rosen Shingle Creek
1,501 guest rooms; 462,000 sq. ft. of meeting space; connected to Orange County Convention Center; 95,000-square-foot, column-free ballroom; four swimming pools, tennis, fishing, hiking trails.
The Ritz-Carlton Orlando Grande Lakes
582 guest rooms; 47,000 sq. ft. of meeting space; 20,000 sq. ft. of outdoor space; 7,000-square-foot fruit and vegetable garden; 40,000-square-foot spa; Highball & Harvest restaurant.
Waldorf Astoria Orlando
498 guest rooms; 42,000 sq. ft. of meeting space; Bonnet Creek resort; ballrooms with golf course and garden views; lush outdoor venues; 12 restaurants and lounges; championship golf; luxury spa.
Wyndham Grand Orlando Resort Bonnet Creek
400 guest rooms; 25,000 sq. ft. of flexible meeting space; lakeside resort within Disney; private cabanas at lagoon-style pool; golf at nearby Rees Jones course.
Wyndham Orlando Resort International Drive
613 guest rooms; 60,000 sq. ft. of meeting space; 18,480-square-foot Palms Ballroom; 34 meeting rooms; two pools, fitness center; three eateries.
Kissimmee
Embassy Suites Orlando
300 guest rooms; 40,000 sq. ft. of meeting space; Florida's largest Embassy Suites hotel; two ballrooms, 28 breakout rooms; shuttles to surrounding theme parks and shopping.
Gaylord Palms Resort & Convention Center
1,406 guest rooms; 400,000 sq. ft. of meeting space; 178,500-square-foot expo hall, 61 meeting rooms; four acres of glass-enclosed gardens in St. Augustine Atrium; event lawns fit up to 1,100.
Omni Orlando Resort at ChampionsGate
730 guest rooms; 128,000 sq. ft. of meeting space; AAA Four Diamond property; multibedroom villas; conference center; outdoor pavilions and function space for up to 2,000; Greg Norman-designed championship golf course.
Park Inn by Radisson Resort & Conference Center
Formerly Worldgate Resort; minutes from Disney; 434 guest rooms; 30,000 sq. ft. of flexible meeting and event space that can host up to 1,300 guests; prefunction area that transforms into a spacious break area.
Radisson Resort Orlando-Celebration
718 guest rooms; completed a $10 million renovation in 2014; 6,270 sq. ft. of flexible meeting space available as one 5,880-square-foot room or broken into six smaller rooms; complimentary Wi-Fi.
Reunion Resort and Club
360 guest rooms; 25,000 sq. ft. of meeting space; AAA Four Diamond; suites and villas available; Annika Academy and three top-rated courses make this a major golf destination.
Sheraton Lake Buena Vista Resort
490 guest rooms, suites and villas; 13,000 sq. ft. of meeting space, including 6,786-square-foot Majestic Palm Ballroom; huge pool terraces; spa; free theme park shuttle.