Castello di Amorosa picture by Jim Sullivan
Something old and something new in NorCal's Wine Country
Roll the dice and no matter what property you land on, Napa and Sonoma counties are prime real estate for venues old and new. From a 13th-century inspired castle to the latest restaurant in town, visitors can immerse themselves in an experience spanning centuries, all in one trip. Pull up your pants' legs and stomp on some grapes, just like Lucille Ball did in the black-and-white days of television. Pair up with your Ethel for an exhilarating team-building squish fest inside a super-sized barrel. You've heard all about it through the grapevine; now see and taste Northern California's famous Wine Country for yourself.
Napa County
Napa is a beloved destination for Californians and visitors from afar, who want a break from the everyday to enjoy wine, restaurants and shopping. According to a recent study commissioned by Visit Napa Valley, the area drew 3.5 million outof- towners in 2016. An overwhelming majority, 80 percent, were American, followed by Chinese, who accounted for more than 5 percent.
In 2016, meetings and events, including weddings, pumped $196 million into the Napa Valley economy. Since tourism is so big in this area, the hospitality industry is a leading employer, providing more than 13,000 jobs. Leisure visits were reported by more than 77 percent of guests as the leading purpose of a Napa trip, with business travel and wedding or special events coming in at about 8 percent and 6 percent respectively. But, with the ever-increasing popularity of "bleisure" travel, the lines can easily be blurred.
Calistoga
Calistoga's stature as a premier destination in the Napa Valley has grown as more flights have been added to Charles M. Schulz Sonoma County Airport (STS), a 30-minute drive away. Not only does that make it the most accessible Napa location, but it also offers the widest range of wineries.
More than 50 wineries are within the city limits, and a great way to sample most of them is during the annual Calistoga Harvest Festival in early September, when 1,000 feet of tables line Main Street. Or, in December, become one with the community and get in the holiday spirit during the Calistoga Lighted Tractor Parade, a tradition for more than two decades. USA Today called it one the best holiday parades in 2016, ranking it higher than Disney World's parade.
The crown jewel of Calistoga is Castello di Amorosa. Designed to resemble a 13th-century Tuscan castle and even built with tools from that era, this jaw-dropping venue celebrated its 10th anniversary this year. Staying as true to the medieval model as possible, the 121,000-square-foot castle has its own torture chamber, drawbridge, watch tower and secret passageways concealed within thick walls. Tours and tastings of Italian-style wines are offered.
Established in 1882, Chateau Montelena Winery is built into a picturesque hillside. Its chardonnay wines are historic, and helped to make Napa the world-renowned wine region it is today. A Chateau Montelena chardonnay shocked the wine world by beating France in a blind tasting in the contest known as the 1976 Judgment of Paris. The dramatic feat was depicted in the 2008 film Bottle Shock.
Sterling Vineyards, founded in 1964, is a stark departure from the European-style winery architecture that predominates in the valley. It is distinctly modern, and boasts the only aerial tram in Napa Valley that transports visitors uphill to the tasting area and event space. Meeting professionals can host a private event there complete with a tour, tasting and Instagram-worthy panoramic views. Sterling went Hollywood as the official wine of the 2016 Emmy Awards and 2017 SAG Awards.
You might consider wearing your bat suit to Clos Pegase. But then again, maybe not. Its 20,000 sq. ft. of caves are lined with barrels, not bats—for truly magical events for up to 225 attendees. Above ground, the 1987 estate features a 17th-century fountain, stunning architecture and acres of vines. Milestone Events Group oversees this and other area venues to help meeting professionals plan the perfect gathering.
Beware of the splash zone! Old Faithful Geyser in Calistoga is the only geyser in California. Under new ownership, the outdoor event space has been transformed to provide a one-of-a-kind setting for retreats and company picnics. Parties of up to 300 can enjoy a steamy water show every 15 to 20 minutes and be otherwise entertained by Tennessee fainting goats.
MAJOR MEETING VENUES IN CALISTOGA

Four Seasons, The Residences at Calistoga Resort
First Four Seasons in Napa Valley; opening in 2018; spa with natural geothermal waters; pools; fitness center; fully operational winery and vineyard.

Indian Springs Resort and Spa
California's oldest continuously operating hot springs pool and spa; mud baths; 3,500 sq. ft. of indoor meeting space; new event barn, garden retreat center and speakeasy dining cellar; 116 guest rooms.

Solage Calistoga
Forbes Five Star resort; only Michelin-starred restaurant in Calistoga; complimentary cruiser bikes; more than 15,000 sq. ft. of flexible indoor/outdoor event space; 89 guest rooms.
St. Helena
The ultimate guide to St. Helena, almost everyone's favorite little town in the Napa Valley, is The Little Book of Big Experiences, which offers discounts to 24 curated experiences valued at over $1,000, but is priced at only $100. This jurisdiction contains Napa's oldest winery, Charles Krug. It's been holding public tastings since 1882. The Great Lawn offers meeting professionals the flexibility to transform the outdoor space into a memorable event for up to 800. Inside, the newly renovated Redwood Cellar, which was constructed in 1872, can hold 300, and the renovated ballroom in the 1881 Carriage House can fit 250.
The Culinary Institute of America (CIA) at Greystone was built in the late 19th century and is on the National Register of Historic Places. The Barrel Room contains an amazing collection of more than 1,000 different corkscrews for groups of up to 500 to marvel over. A second location, CIA at Copia, opened in December near downtown Napa.
Hop on over to Hall Wines, which has more than 35 contemporary pieces by world-acclaimed artists on display, including a tremendous 35-foot-tall Bunny Foo-Foo rabbit statue. The 33-acre property is located on historic Bergfeld Vineyard, near the Mayacamas Mountains. It offers modern and rustic event spaces indoors and out for groups large and small.
Family-owned winery V. Sattui was founded in 1885 by Vittorio Sattui, when he brought the flavors of Italy to St. Helena. Forced to shut down operations during the Prohibition, V. Sattui was reopened in 1976 by his great-grandson Dario. By day, this is a great place for tastings, tours and picnics. By night, V. Sattui transforms into a beautiful reception and dinner venue for up to 200 guests.
MAJOR MEETING VENUES IN ST. HELENA

Las Alcobas
Opened in March; onsite restaurant Acacia House by celebrity chef Chris Cosentino; 2,200 square-foot event barn; 68 guest rooms.

Meadowood Napa Valley
Estate with two championship croquet lawns, seven tennis courts; The Charter Oak restaurant opened in June 2017; group wine experiences and golf tournaments; 1,518-square-foot ballroom overlooking 9,900-square-foot lawn; 85 guest rooms.
Yountville
The Vineyard at The Estate Yountville just opened in October, making Yountville more accommodating than ever for meeting professionals. The 1,125-square-foot area is just one of 11 on-site event spaces. In total, The Estate Yountville boasts 50,000 sq. ft. of gardens, ballrooms and a conference center.
MAJOR MEETING VENUES IN YOUNTVILLE

The Napa Valley Performing Arts Center at Lincoln Theater
Home of Symphony Napa Valley; founded in 1957; 1,200-seat theater; Grand Foyer can accommodate 300 guests; Upper Foyer can host 100; 660-square-foot boardroom.

Villagio Inn & Spa
Adjacent to the Vintage Estate Conference Center; 30,000 sq. ft. of indoor/outdoor event space; 90 guest rooms and 22 suites.
Rutherford
Peju has been a go-to winery in Rutherford for more than 30 years. It's a great location for a teambuilding cooking class for small groups. The Peju daughters, Lisa and Ariana, branched out on their own in 2016, combining their names to create Liana Estate in Napa.
MAJOR MEETING VENUES IN RUTHERFORD

Auberge du Soleil
Five-star boutique hotel; 33-acre olive grove; Michelin-starred dining; more than 6,000 sq. ft. of indoor/outdoor event space; 50 guest rooms and suites.

Inglenook
Dates to 1879; South Barrel Room can host groups of more than 200 guests and has original carriage doors, towering ceilings and turn-of-the-century, 1000-gallon casks; dining area opens to Chateau Terrace, which can be tented for additional seating.

Round Pond Estates
Rated one of The Best Winery Restaurants in America by Food & Wine Magazine; mill equipped with modern technology, but blending and bottling done by hand; private tours, dining and tastings; 90-person maximum.
Napa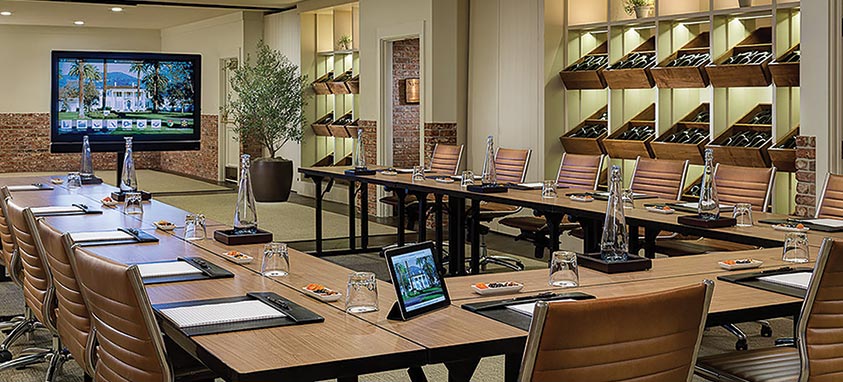 Silverado Resort and Spa meeting space
A legendary meeting location within the city limits of Napa is Silverado Resort and Spa, with the 18,000-square-foot, indoor/outdoor Mansion Gardens offering more space than ever before. It has additional boardrooms, ballrooms and conference rooms galore in its 15,000-square-foot conference center. Besides golf, tennis and a spa, the 375-guest room resort offers fun experiences, such as the Silverado GPS Challenge, which is a scavenger hunt around the gorgeous property.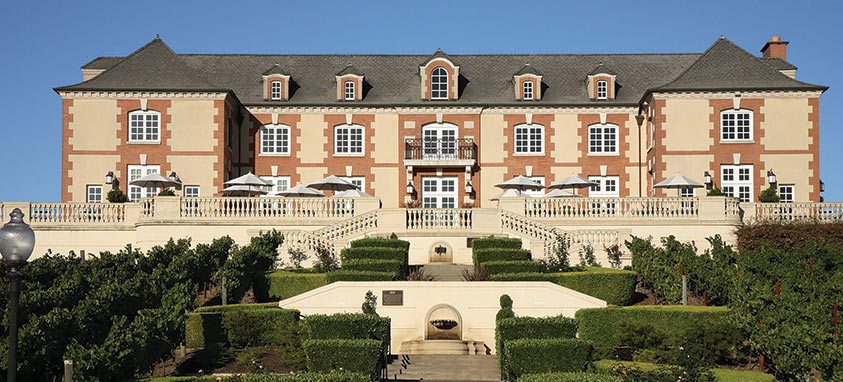 Domaine Carneros
As you drive through miles of vineyards, stately Domaine Carneros, in the Carneros district, will undoubtedly catch your attention. The French chateau and estate's outdoor terrace is its largest event space, with room for 120, but it also has several indoor options for smaller parties of up to 80 guests. Known for sparkling wine, Domaine Carneros was completed in 1989 but modeled after an 18th-century structure in Champagne, France.
Compline Wine Bar, Restaurant and Merchant is brand-new to Napa's downtown scene and creating quite the buzz. Compline is Latin for "completion of the work day," so this is the perfect spot for attendees to wind down after a day of meetings. The 3,000-square-foot space seats 90, and offers shareable food as well as wine education seminars.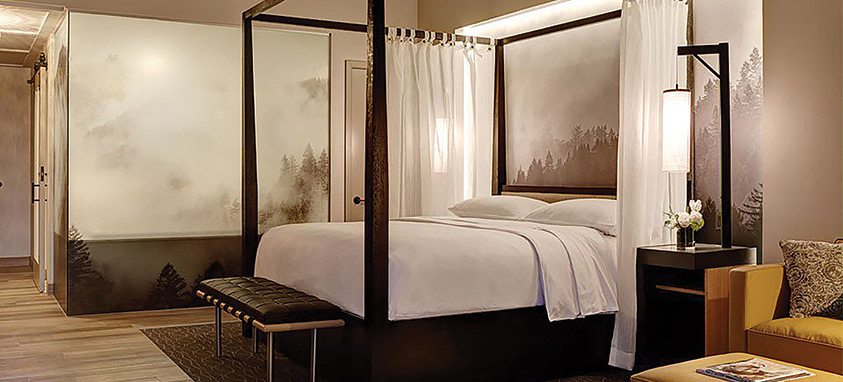 Archer Hotel guestroom
No designated driver is necessary, because Compline is walking distance to the recently opened Archer Hotel. The 143-guest room property boasts a rooftop with breathtaking, panoramic views of wine country, a spa, a fitness studio and a ledge pool. Charlie Palmer Steak, located within, caters events in the hotel's more than 17,000 sq. ft. of event space.
Feeling blue you're not in New York? Greenwich Village's Blue Note jazz club has a second location in Napa, on the first floor of the historic 19thcentury Napa Valley Opera House. Groups large and small can wine, dine and be entertained by live music during a private facility rental.
MAJOR MEETING VENUES IN NAPA

Andaz
Winner of Smart Meetings' 2015 Platinum Choice Award; farm-to-table restaurant; spa; more than 9,000 sq. ft. of event space; 141 guest rooms.

River Terrace Inn
Renovations underway; newly landscaped River Walk along Napa River; Alba restaurant; 1,350-square-foot ballroom opened in October; 3,500-square-foot event center adjacent to hotel; 113 guest rooms.

The Meritage Resort and Spa
AAA Four Diamond resort; lounge with bowling lanes; more than 50,000 sq. ft. of event space; 322 guest rooms; coming summer 2018 are 145 new guest rooms, event lawn, food and wine center, market, tasting rooms, event dining room and new pool.
Sonoma County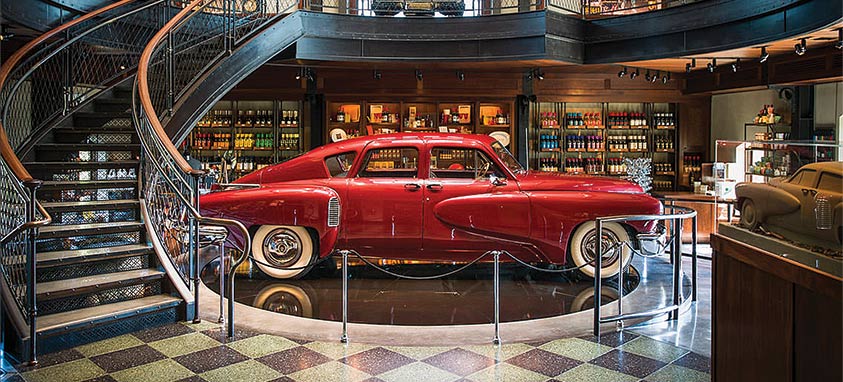 Tucker: The Man and His Dream at Francis Ford Coppola Winery, Geyserville
Sonoma County has so much to offer, from a beach day in Bodega Bay to kayaking on the Russian River to exploring the towns of Healdsburg, Guerneville, Petaluma and Sebastopol. During your visit, make a stop at Francis Ford Coppola Winery in Geyserville. Catered events are reminiscent of a Coppola family-style meal. For business meetings, the winery recommends West Tower, equipped with a projection screen and surround sound.
Soak up some California sunshine and take a dip in the inviting, 3,600-square-foot pool area. The Oscar-winning director opened this property in 2010. It houses a gallery showcasing his five decades in movie-making, including Don Corleone's desk from The Godfather. The winery's design was partially inspired by Tivoli Gardens in Copenhagen, which is the amusement park where Walt Disney drew inspiration for Disneyland.
Kenwood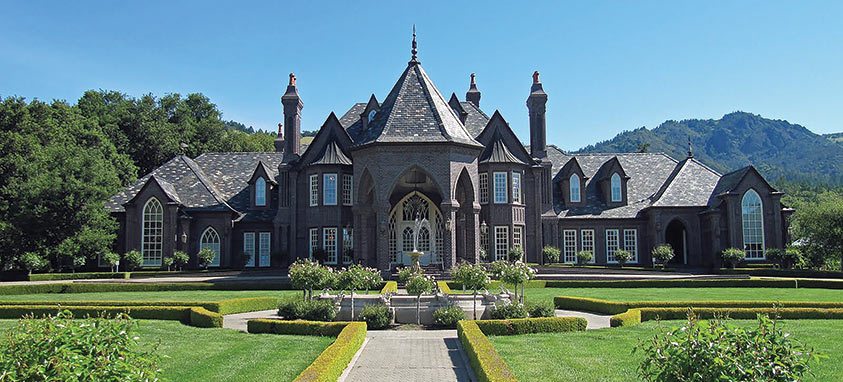 The Castle at Ledson Winery, Kenwood
The Castle at Ledson Winery will take your breath away. The 16,000-square-foot French Normandy mansion opened to the public in 1999. It features sweeping staircases, marble fireplaces, cathedralstyle windows, tasting bars and hand-cut mosaics. Meeting planners can reserve Ledson Winery for executive retreats. Six lucky guests can stay among antiques at Ledson Hotel, a boutique hotel in historic Sonoma Plaza.
Petaluma
Soon after entering Sonoma County when driving north from San Francisco, you'll be embraced by Petaluma, home of the annual World's Ugliest Dog Contest, which is held at the fairgrounds each June. That's not the only quirky thing this riverfront town has to offer. For nearly 13 years, classic car enthusiasts have rolled into Petaluma for Salute to American Graffiti, an annual event honoring the movie, which was filmed in the area in the summer of 1972.
May the force be with meetings at Rancho Obi- Wan, the world's largest collection of Star Wars memorabilia. The 9,000-square-foot museum and event space is curated by a former Lucasfilm executive who opened his expansive private collection to the public in 2011.
McNear's Mystic Theatre & Music Hall in downtown, adjacent to McNear's Saloon & Dining House, has a rich history in Petaluma that dates back to 1911. New owners purchased the music venue last year, keeping it as vibrant and relevant as ever, with space for more than 400 guests.
Wine country isn't all about vino. Lagunitas Brewing Company, a leading U.S. craft brewer in Petaluma, offers beer tours, food and music in a fun setting. There's some new kids on the block, too! Open less than a year, Brewsters Beer Garden is an open-air barbecue restaurant with seating for 350 guests, live entertainment, fire pit and bocce ball court. The restaurant 256 North also recently made its debut, and has dining and banquet rooms for meetings.
Walker Creek Ranch Conference Center is located on 1,700 acres of land first inhabited by the Coastal Miwok tribe. Groups can bond over a low-ropes challenge course or hold a meeting inside a barn built in 1914. The ranch may be old, but it's updated with modern technology for meetings, such as high-speed internet, projections and a sound system.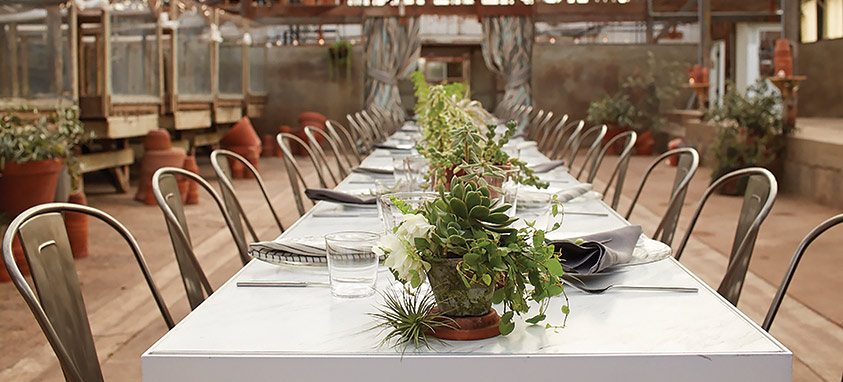 Barn setting at McEvoy Ranch, Petaluma
Hawkwood Hill Farm spans 240 acres in Petaluma. Aside from traditional outdoorsy activities, Hawkwood is also an equestrian center, so it can arrange for a special dressage or show-jumping exhibition. Groups visiting the 550-acre McEvoy Ranch can enjoy team-building activities such as wine- and olive-oil tastings, yoga, cooking classes, hiking, bird-watching, aromatherapy, wreath-making, floral arranging and tours. The largest event space can accommodate 300 guests for a reception. There's also a red piano signed by Elton John and a Chinese tea room-inspired pagoda.
MAJOR MEETING VENUES IN PETALUMA

Hotel Petaluma
Historic downtown hotel dating to 1923; newly restored to art deco glory; wine-tasting room; 1,900 square-foot ballroom; 950 square-foot boardroom; 47 guest rooms available now; 91 guest rooms after renovations are completed by early 2018.

Sheraton Sonoma County-Petaluma
Overlooks marina and river, just off State Highway 101; guest service scores in top 10 percent of all Sheratons nationwide; 13 meeting spaces totaling 15,000 sq. ft.; 4,233-square-foot ballroom; 185 guest rooms.
Santa Rosa
Lace up your sneakers. Santa Rosa is the only city in California to host both a full- and half-Ironman triathlon. As you race around town, you can't miss noticing that lovable character known as Snoopy displayed here, there and everywhere. That's because Charles M. Schulz, creator of the Peanuts gang, spent the final three decades of his life there. He built an ice rink and The Warm Puppy Cafe in 1969, and a museum opened in his honor in 2002.
Everyone's favorite beagle isn't the only animal in Santa Rosa. Safari West is always welcoming new giraffes to the preserve. Sonoma's own Serengeti welcomes guests to glamp overnight in luxurious tents, sip craft beer with buffalos and taste wine with rhinos at its banquet space.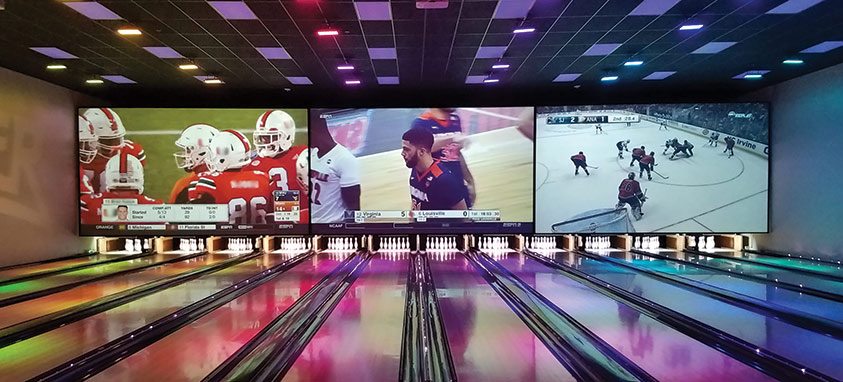 Bowling lanes at Epicenter, Santa Rosa
Plan an epic event at Santa Rosa's new Epicenter sports and entertainment complex. The 130,000-square-foot facility features indoor soccer fields, basketball court, trampoline park, laser tag and more. The 7Ten Social space offers the private Club 300 Lanes & Banquet Room with exclusive bowling lanes. The largest event venue, Champions Hall Banquet Room, seats 80, but buy-outs of the entire complex are available.
Expansive Sonoma County Fairgrounds recently unveiled the new 11,000-square-foot Saralee Kunde Barn. Complete with full-service kitchen, this is just one of many venues available for rental on the festival lot. Over at Saralee's Vineyard, La Crema is a new tasting-room addition to the estate. The two-level former residence can host groups inside and out.
MAJOR MEETING VENUES IN PETALUMA

Hyatt Regency Sonoma Wine Country
Formerly Hyatt Vineyard Creek; newly renovated lobby and 155 guest rooms; 20,000 sq. ft. of newly renovated indoor meeting space and 20,000 sq. ft. of outdoor flexible garden space.

Rock Star University's House of Rock
1,000-square-foot stage and catwalk; sound system; theatrical lighting; six cameras feed to two large screens; several seating options; can accommodate 600 for cocktail reception.

The Flamingo Conference Resort & Spa
Old hot spot for movie stars; opened in 1957; named historic landmark by City of Santa Rosa in 1996; stadium cycling studio; 13,000 sq. ft. of meeting space; 170 guest rooms and suites.

Vintners Inn
Situated on 92 acres of vineyards and gardens; can accommodate up to 500 guests for receptions; 3,159-square-foot ballroom; 44 guest rooms.
Wine Industry Reopens in Aftermath of Raging Fires

The Great Hall at Castello di Amorosa, Calistoga
After over a week of blazing wild fires that ravaged through Napa and Sonoma counties, Wine Country reopened for business once firefighters contained and extinguished the threatening flames. The devastating brush fires claimed lives, acreage and thousands of structures, including homes and businesses.
Sadly, the Hilton Sonoma Wine Country was destroyed. The hotel's human resources director, Lenora Olson, made a plea on Facebook to help her 130 employees find new jobs in the hospitality industry. "Thank you so much to the 7,500+ caring people that liked/loved/etc., shared, commented with hope + kindness + support, and reached out to me directly with job leads and kind words," she posted in gratitude to the response she received. Area hotels quickly hosted job fairs to help hospitality workers find new positions.
Silverado Resort and Spa, Napa fared much better. Although they temporarily had to close for minimal repairs, "the permanent structures of the resort are all intact," their website reports.
Menacing towers of smoke in the mountains behind Ledson Winery's castle served as a backdrop for news coverage. There was another close call at Buena Vista Winery, one of the oldest in the valley. "The fire swept to the edge of Buena Vista, right up to the buildings, and the remarkable fire crews protected the winery and the first stone buildings of the California wine world," Megan Long, communications manager of the Boisset Collection, told Sonoma Index-Tribune.
Two of Napa's classic vineyards partnered to help the wine community recover. "We are eager to take action toward the recovery, and to assist in these efforts, V. Sattui Winery and Castello di Amorosa will be making a joint contribution of $100,000 to the Napa Valley Community Foundation (NVCF) Disaster Relief Fund," Tom Davies, president of V. Sattui Winery, announced in a press release.
Clay Gregory, president and CEO for Visit Napa Valley, was touched by the outpouring of support the region received from all over the world. "We also appreciate the collaboration and teamwork from our partners in the Napa Valley, as well our tourism colleagues, most importantly our neighbors in Sonoma County, as well as Visit California, U.S. Travel, and San Francisco Travel," he said.