A fiesta of experiences awaits groups
The stretch of stunning coastline in the southeastern state of Quintana Roo known as the Mexican Riviera offers white-sand beaches, aqua waters, fabulous hotels and a lively vibe. It's the most-visited region in Mexico, due in large part to its immense appeal to meeting groups.
"The Mexican Caribbean has become a very popular destination among the MICE travel market due to our state-of-the-art meeting facilities, five-star services and easy budgeting, along with the luxurious hotels, exuberant nature, great nightlife options and the wide variety of tourist attractions that Cancun, the Riviera Maya, Cozumel and Chetumal have to offer," says Andres Martinez Reynoso, executive marketing director for Quintana Roo Tourism Board.
Some of the offerings on the Mexican Riviera are world-renowned, whereas others are distinctly under the radar. Here's a tour of unique and amazing options in some of the region's major areas.
Cancun
Located in the northern part of Quintana Roo, Cancun is famous for its spectacular beaches and turquoise waters. "It also has excellent air connectivity, tourist infrastructure and some of the largest meeting facilities in the Mexican Caribbean," Reynoso says. "That is why it has held a lot of important national and international events." These events include International Gay Festival in May, Caribbean Hotel International Congress in June and Mexican Caribbean Travel Mart in October.
Cancun International Airport (CUN) is considered the second-most important airport in Mexico, trailing only Mexico City International Airport (MEX). During the past four years, its passenger traffic has increased by 31 percent, from 17.5 million to 25.2 million annually. Work began to establish Cancun as a resort destination in 1970, and many special events are planned to celebrate its 50th anniversary in 2020.
Awesome Experiences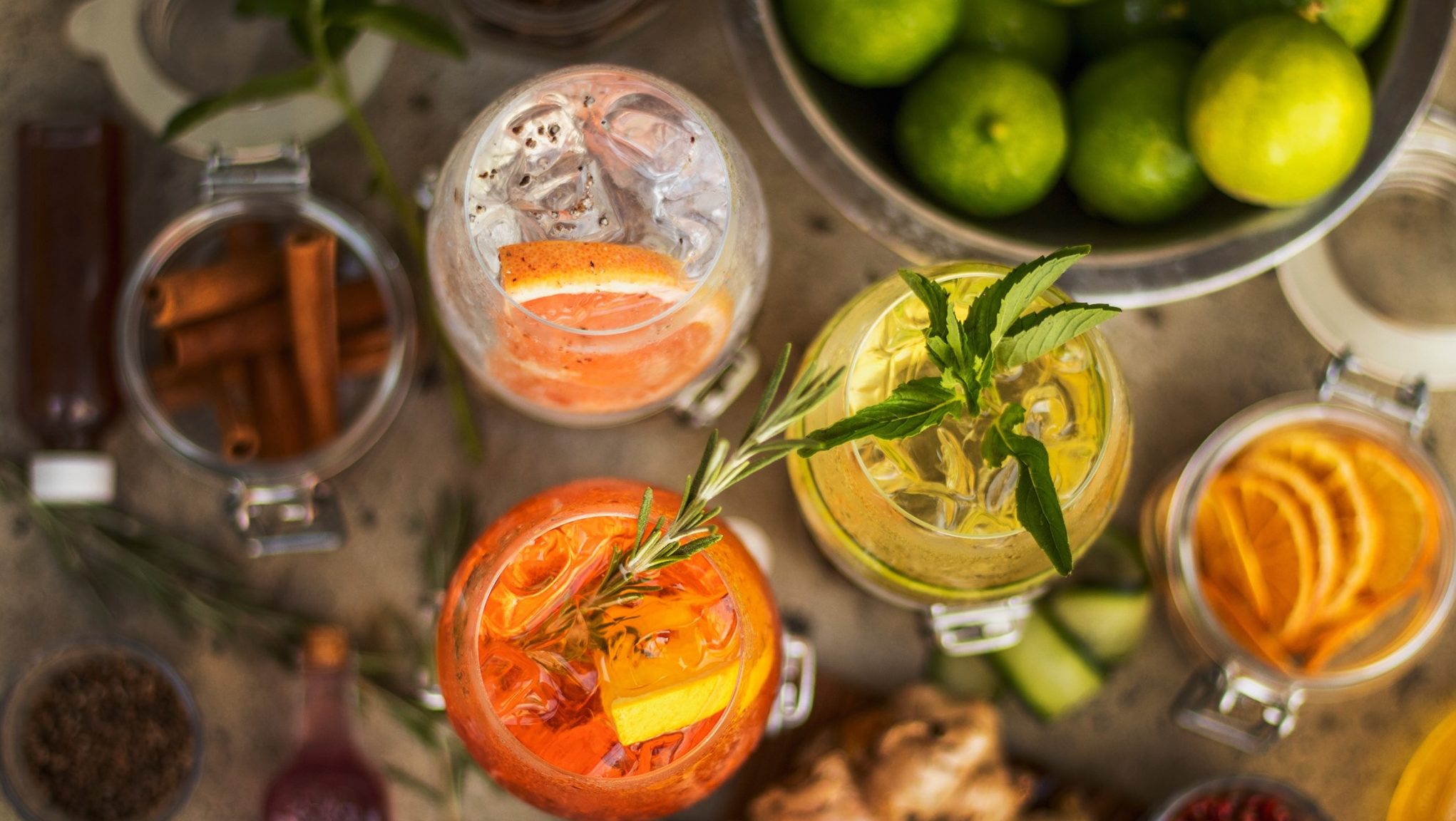 Cancun boasts plenty of outstanding restaurants, and certainly one of the most interesting is Black Hole, featuring "sensorial" haute cuisine. Guests are actually blindfolded as waiters provide them with a 27-course tasting, dish by dish. Participants have no idea about the dishes set before them until they've tasted them, and a waiter clues them in them to "see" if their taste buds told the truth. Two luxury, all-inclusive properties—The Sian Kaan at Sens Cancun and The Pyramid at Grand Cancun—feature Black Hole restaurants.
The city is an elite snorkeling and scuba diving destination, and several companies, including Cancun Diving Adventures, offer a variety of options. Many people aren't aware these activities are also available after dark, providing an unforgettable experience. Sea life that is visible during the day displays different behaviors at night, and reefs that have a blue tint by day exhibit different colors when seen in artificial light. Also, a very different ecosystem thrives underwater at night in Cancun. Many pretty fish go to sleep, and the strange and unusual come out to play and prey.
Another unique scuba-diving adventure offered in the waters surrounding Cancun and Isla Mujeres is a visit to Museo Subacuatico de Arte (Underwater Museum of Art), featuring some 500 sculptures, most by British sculptor Jason deCaires Taylor, and the others by five Mexican sculptors. Three different galleries are submerged 10 to 20 feet deep in the warm waters of the Caribbean. The sculptures feature people, animals and cars, among other things, and each one tells a story.
Groups in Cancun can also swim with whale sharks. The largest fish on the planet, slow-moving, filter-feeding whale sharks grow to up to 66 feet long, so your attendees swim side by side with a fish 10 times as big as them. Cancun and other Mexican destinations are among the world's best to swim with these gentle giants, since hundreds of them remain in the waters of the Yucatan Peninsula from May to September. EcoColors Tours is one of the leading companies offering "swimming with the sharks" adventures.
Dazzling Meetings Venues
Cancun boasts 50 hotels, which together offer more than 35,500 guest rooms and over 900,000 sq. ft. of meeting space.
Situated in the heart of the hotel zone, just 20 minutes from Cancun International Airport, Cancun International Convention Center is the city's first and only convention center. It offers 152,847 sq. ft. of meeting space and is surrounded by 4,000 hotel rooms.
Large events also take place in Moon Palace Arena, with more than 140,000 sq. ft. of multifunctional space, smart technology, stunning outdoor terraces and exhibition areas. The arena is part of Moon Palace Cancun, an all-inclusive property with more than 3,000 guest rooms, a spa, 15 restaurants, 12 bars, a 27-hole golf course designed by Jack Nicklaus and more than 276,984 sq. ft. of meeting space.
Grand Fiesta Americana Coral Beach Cancun, boasts 602 ocean-view suites, each with a private terrace. It offers six dining options, a spa, a cascading pool with three swim-up bars and sun loungers, and a private beach with shaded palapas. The resort also has 80,000 sq. ft. of indoor and outdoor meeting space, including the lavish, 15,351-square-foot Grand Coral Ballroom and 20 breakout rooms.
Haven Riviera Cancun, located in the port town of Puerto Morelos (between Cancun and Riviera Maya), is an adults-only, all-inclusive luxury resort. Set on the ocean, it features 333 guest rooms, eight restaurants, two bars, a performance venue, 15,700-square-foot MySenses Spa and three pools. In fall 2020, it will debut Convention Center at Haven, with 14,500 sq. ft. of state-of-the-art meeting space.
Situated on 27 acres, Nizuc Resort & Spa boasts 274 luxury suites and private villas, along with spacious terraces, magnificent views, lush tropical gardens, private pools and free-standing soaking tubs. The 11,600 sq. ft. of meeting space includes 5,760-square foot Sian Kaan Ballroom.
In April 2020, the luxury, all-inclusive Senator Riviera Cancun Spa Resort will open its doors 7 miles from the airport. It will feature 1,044 guest rooms, along with more than 20 restaurants and a water park.
Riviera Maya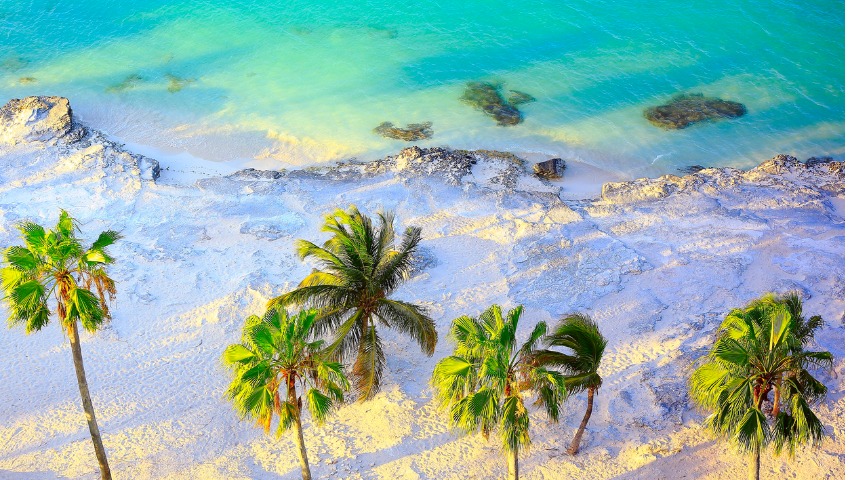 Riviera Maya stretches over nearly 100 miles of coastline with stunning white-sand beaches and translucent waters. It begins 20 miles south of Cancun in the town of Puerto Morelos and extends down to Punta Allen, a fishing village within Sian Kaan Biosphere Reserve. This strip is home to mangroves and lagoons, cenotes (fresh-water caverns), the remains of ancient Mayan cities, ecological reserves, adventure parks and the world's second-largest coral reef.
"It offers great pre- and post-meeting experiences, which can be tailor-made," Reynoso says. "Some of the best activities include visiting theme parks and archaeological sites, swimming in cenotes and enjoying our nightlife entertainment options.
"The Riviera Maya is also a sustainable destination. Many venues, vendors, hotels and other event services have taken action to protect the environment by setting up eco-friendly programs."
Awesome Experiences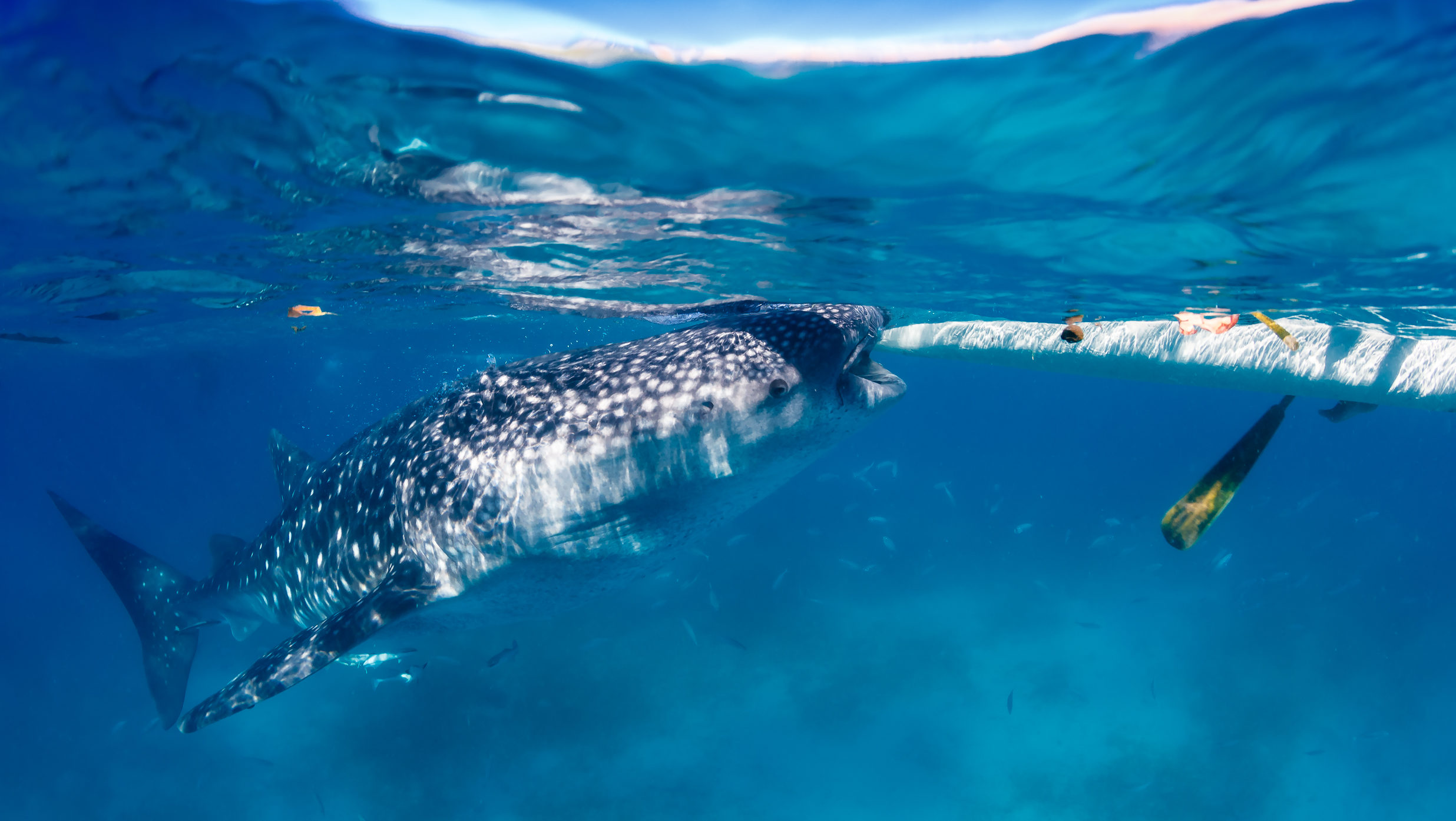 Punta Venado beach club, located just outside Playa del Carmen, offers Travelers' Table, a three-hour, multifaceted culinary experience. The evening begins with a sunset wine reception, followed by a cocktail-mixing lesson and a five-course, curated chef's meal with Old World influences from Spain, Africa and the Middle East, along with contemporary Mexican cuisine. The meal includes a variety of influences with centuries of history in the Yucatan area of Mexico, including a special focus on traditional ingredients used by Mayans, such as chaya, epazote, corn, yucca, habanero chile, sour orange and chocolate.
Ambitious, advanced divers can participate in bull-shark diving in Playa del Carmen. Billed as "an extreme scuba-diving experience for those who want to experience the most thrilling dive in the world," bull-shark diving puts participants up close and personal to what are said to be the meanest and most aggressive sharks in the oceans. While the thought of diving with these fearsome creatures scares away even veteran divers, some are tempted to experience the sharks' remarkable grace and power during safety-first excursions offered by Mexico Blue Dream and other companies from November to March. The dives are available only to certified Advanced Open Water Divers or Open Water Divers who have taken more than 30 dives.
Another adventurous activity that is much more suitable for most attendees is offered by Aventuras Mayas park in Playa del Carmen. The Mayan Xtreme Tour consists of exciting adventures underwater and high above the jungle canopy. Participants snorkel through stalactites and stalagmites in an underground cenote and traverse a seven-zipline circuit over the jungle canopy, featuring five different hanging styles. The activity can be customized for groups, and experienced guides ensure their safety.
Riviera Maya also features several popular annual events, including Hanal Pixan (Food of the Souls). It is celebrated by cities and towns throughout the region, and the traditions are very similar to Dia de los Muertos (Day of the Dead), with a few variations. Mayans construct altars and offer food to their loved ones lost, just as during Day of the Dead, but the altars and the food are very specific to Mayan culture. Instead of offering the deceased person's favorite snacks and beverages, they prepare a special dish called Mucbipollo, or Mukbil, a sort of tamale wrapped in banana leaves and cooked in a pit buried in the ground.
Riviera Maya Jazz Festival, held in Playa del Carmen, is a three-day event held in late November and early December, and one of the top jazz festivals in the world. Featuring Grammy Award winners and other prominent musicians, it is a free event. Past performers include UB40, Trombone Shorty & Orleans Avenue, George Benson, Tower of Power, Sergio Mendez, Spyro Gira, Herbie Hancock, Celso Pina, and Earth, Wind, and Fire.
"The opportunity to see so many beloved jazz performers in such an idyllic setting is irresistible to many music fans, who schedule their vacations around attending the festival," Reynoso says.
Dazzling Meetings Venues
All-inclusive Hard Rock Hotel Riviera Maya in Puerto Aventuras has a 687-room, family-friendly section as well as Heaven at Riviera Maya, a 577-room exclusive area for adult guests. It provides a water park, a private beach, Woodward (a 29,000-square-foot shrine to lifestyle sports), exclusive saltwater snorkeling areas, 91,555 sq. ft. of meeting space—and, of course, plenty of music, including expert instruction and accelerated stage training for guests at Music Lab.
Nearby, Unico 20° 87° Riviera Maya is an adults-only, sophisticated playground with a beachside setting, 448 guest rooms and 30,197 sq. ft. of meeting space, including a handsome conference center with an 11,603-square-foot ballroom and 10 breakouts.
Located in the village of Xpu Ha, 21 miles from Playa del Carmen, Barcelo Maya Rivera is an all-inclusive, adults-only property on one of the loveliest beaches in the Caribbean. The recently built hotel features 850 guest rooms, five restaurants, five bars, a spa and four pools. Guests staying at Barcelo Maya Riviera have privileged access to all offerings at Barcelo Maya Grand Resort complex's five other resorts.
This month, the property will be unveiling Barcelo Maya Arena, destined to become the region's largest convention center and meeting space. The venue will have more than 190,000 sq. ft. of customizable, multipurpose space for expos, conventions and events, including a 3,400-square-foot terrace.
Enchanting Playa Mujeres Emerges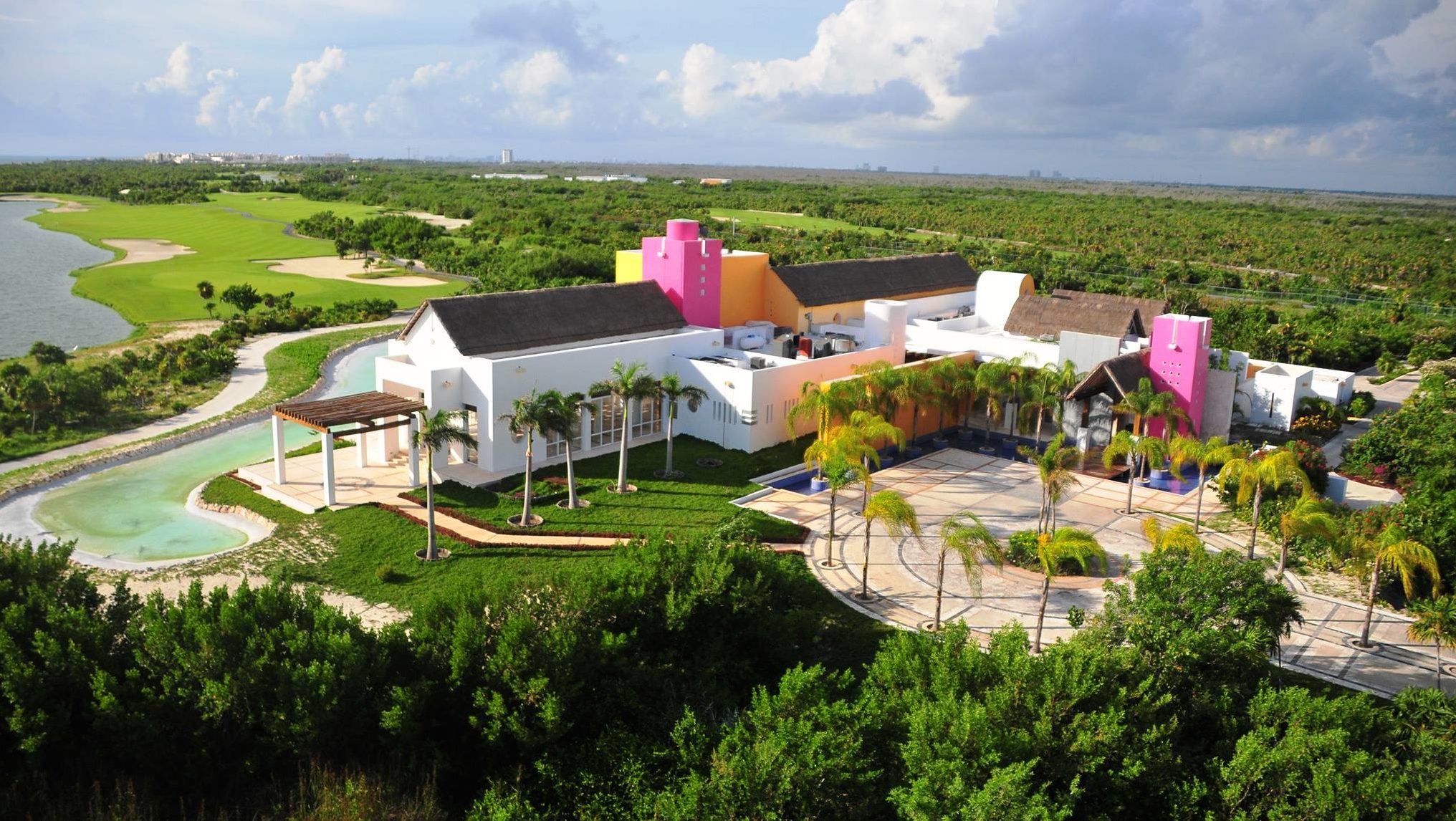 The newest destination in the Mexican Caribbean, Playa Mujeres (also known as Costa Mujeres) is just 10 miles north of Cancun. It is a 1.4-acre, master-planned community with expansive, remote beaches fringed with palm trees and blanketed in sugary sand. The island has a small selection of all-inclusive resorts, a golf course, a few restaurants and shops, and a 170-slip marina.
Attractions include El Meco, a small but influential Mayan archaeological site that recently opened to the public. It is well-preserved, and the influence of Itzamna—the upper god and creator deity thought to reside in the sky—is clearly evident. Serpent heads decorate the castillo staircase of the highest Mayan pyramid in the Cancun area.
Another leading attraction, Playa Mujeres Golf Club, boasts an 18-hole, par-72 course designed by Greg Norman.
Collectively, Playa Mujeres resorts have more than 6,000 guest rooms and 67,408 sq. ft. of meeting space. These numbers are expected to grow exponentially, as hotel companies are now recognizing the many attractive qualities of this area, which until recently was largely untapped.
The buzz has already started over all-inclusive Planet Hollywood Beach Resort Cancun in Playa Mujeres, set to open in March. This beachfront property will feature 566 guest rooms, Hollywood memorabilia, entertainment-themed attractions and amenities, dining venues, bars, a spa, a mini-golf course, a lazy river, and 60,000 sq. ft. of meeting space.