GOLDEN MOMENTS
TIME TO HEAD TO A MORE CREATIVE STATE
No two meetings are alike. Luckily, the Golden State is unlike any other when it comes to venue variety. The diverse landscape ranges from beach and vineyard to mountain and city and everywhere in between. This robust event infrastructure is paired with a temperate climate that makes taking the meeting outdoors the preferred alternative most of the year.
The Golden State is also a pioneer in environmental and social initiatives that align with many organizations' priorities. And, since it is the innovation capital of the world, creative technology solutions are at-the-ready to enhance gatherings of all sizes.
Smart Meetings looked at meeting hot spots all over the state to find inspirational ideas for your next convention, incentive or retreat.
SOUTHERN CALIFORNIA
From San Diego to San Luis Obispo, the south coast is brimming with cool spots for gatherings of all sizes. A mix of urban centers and resort areas with easy access to beaches and vineyards makes both the main-stage production and team-building execution as easy as
falling off a surfboard.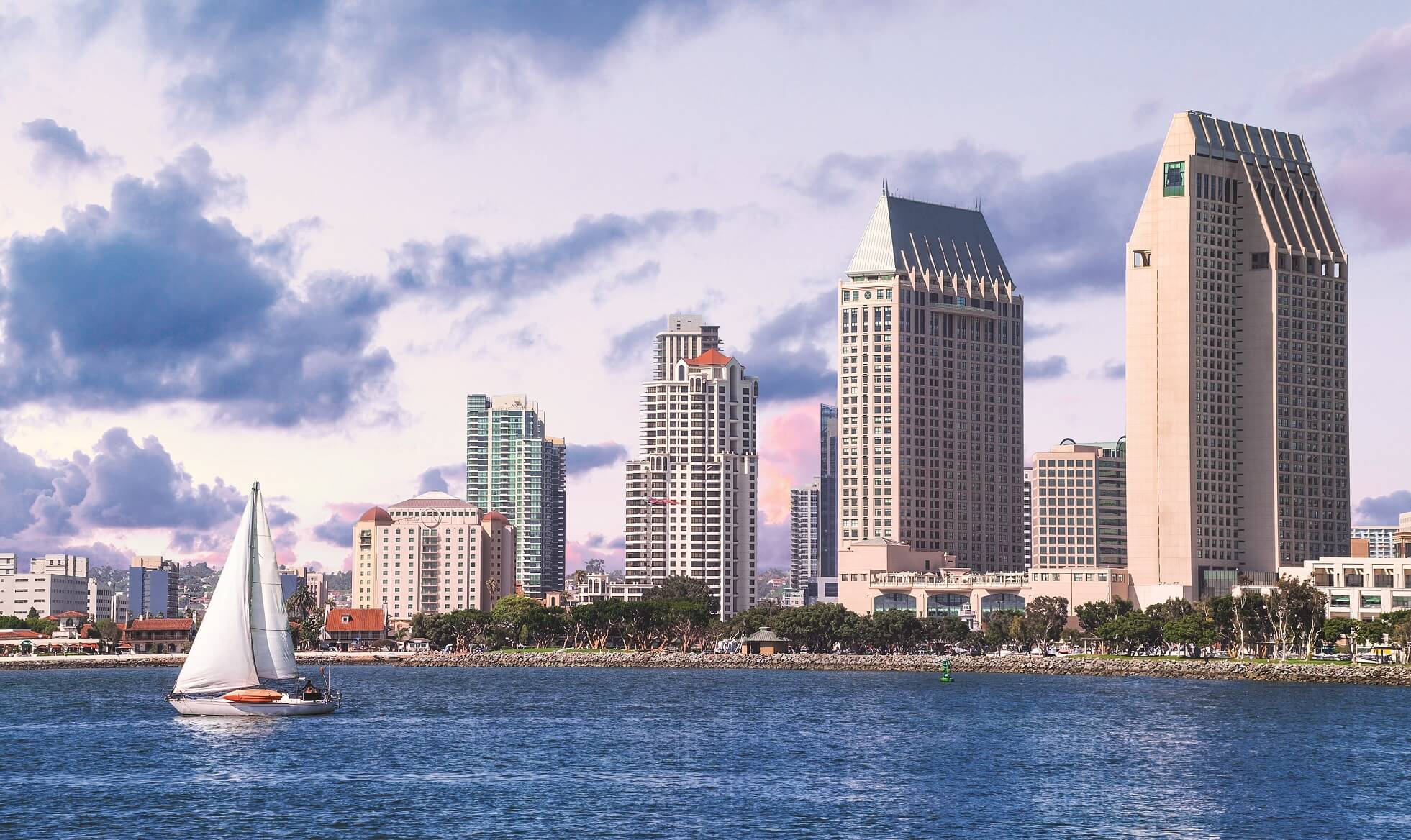 5 FANTASTIC PLACES TO MEET
One of the largest convention headquarters on the West Coast is 53-acre Anaheim Convention Center with 1.8 million sq. ft. of space across the street from Disneyland Resort. The city boasts 29 hotels with dedicated meeting
space, including a new luxury JW Marriott Anaheim and The Westin Anaheim Resort.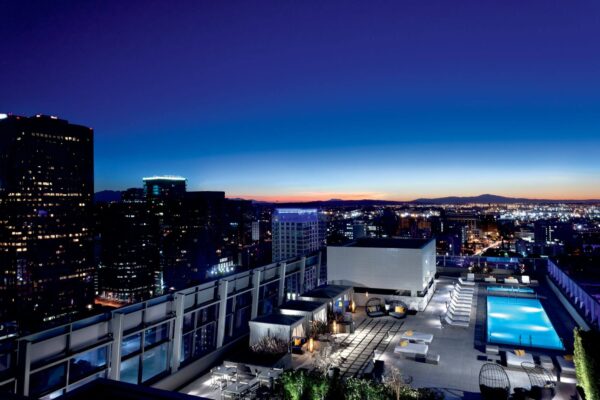 Los Angeles Convention Center and its neighbor JW Marriott/ The Ritz-Carlton Los Angeles LA Live were recently approved for a $1 billion expansion that will add 700,000 sq. ft. The dual-branded Marriott properties will add a 37-story tower with 861 rooms, to augment the 1,000 rooms already in place. The project could take up to 3 years.
Hotel del Coronado, the 133-year-old landmark on the
beach adjacent to San Diego is showing off a $450 million renovation that added a conference center and 142 new guest rooms to the iconic white and red Victorian-towered retreat that has hosted Marilyn Monroe, Franklin D. Roosevelt and Edward, Prince of Wales.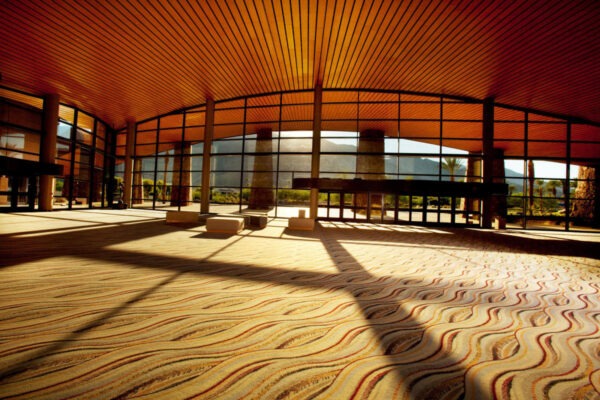 Greater Palm Springs is more than an oasis of luxury, it is also a cultural and sustainable resource. Palm Springs Convention Center's 261,000 sq. ft. of meeting space is powered by 2,574 onsite solar panels. It is served by socially and environmentally conscious properties throughout the nine cities.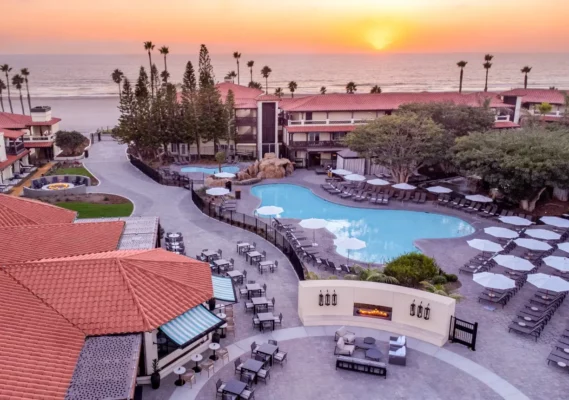 Toes in sand is easy at Zachari Dunes on Mandalay Beach, a completely transformed Curio Collection by Hilton property in Oxnard with direct access for elevated beach picnics. The vibe in Ventura Coast is more laid back and meetings ramp up the local taco trail culture by shredding the formality.
5 REASONS MEETING PROFS LOVE SOUTHERN CALIFORNIA
Easy Access: Wherever your guests are coming from, there is a good chance that Los Angeles International Airport (LAX)
has a direct flight. It is one of the five busiest airports in the world and is geared up for a $14 billion renovation to be completed in 2023. It will add gate capacity with an expansion of Delta Airlines, modernize he facility and streamline traffic going into downtown. In Orange County, John Wayne Airport (SNA) is the easy way to access the resort towns of Laguna Beach and Huntington Beach.
Fresh Air: Meeting outside is always in fashion in sunny SoCal. San Diego's new $85 million The Rady Shell is part concert hall, part public park and all about bringing people together. In downtown LA, SoFi Stadium is an indoor-outdoor escape that kicks off the networking even when it isn't game day. Beach access is never far. A short trip to Marina del Ray opens a world of possibilities, including dockside event spaces, private yachts and waterfront dining courtesy of vendors such as FantaSea Yachts. From Pasadena Convention Center's 130,000-squarefoot LEED Gold Certified ballroom to Santa Ana's Streetscapes, the arts scene is alive and well. Meetings that take the chance to escape to Irvine will find wideopen spaces on world-class golf courses and at Orange County Great Park where 1,300 acres of opportunity await under the big orange balloon. Two hours from Los Angeles, Amtrak's Pacific Surfliner drops groups at the Funk Zone where walking from the Pier to a cluster of urban wineries and restaurants is all in a day's work.
Glam and Glitz: From the early days of Hollywood's Golden Age, this is a place where the spotlight is a little bigger and everything feels shinier. The Sunset Strip, Santa Monica Boulevard and the Design District in West Hollywood are so bright, you will have to gift sunglasses to attendees. Your event can grace the same Dolby Theater stage as Academy Award Winners or take the meeting to the new The Academy Museum of Motion Pictures where a red-carpet arrival is an appropriate approach to a celebration in the dramatic 966-seat David Geffen Theater. Across the street, Petersen Automotive Museum offers full buyouts of the three floors of car art, or a more intimate affair in the Penthouse and Pavilion.
Brain Trust: Fueled by a concentration of higher education (University of Southern California, Pepperdine University and University of California Los Angeles for three examples), start-up incubators and accelerators, Silicon Beach has launched some of the top internet and medical companies in the world. Leverage that mental energy for speakers and insights.
Vintage Vibes: Southern California boasts its own vino culture from Temecula Valley's wine country where Pechanga Resort Casino is a popular launching pad for foodie tours and air balloon rides alike to San Luis Obispo area where Allegretto Vineyard Resort Paso Robles is an award-winning escape for executive groups looking to grow closer to each other and the beautiful landscape.
LOCAL EXPERT TIPS
Anaheim: ocV!BE, the adult playground for entertainment, dining and gathering scheduled for completion in Anaheim by 2028 will be "transformational."
– Jay Burress, CTA, president and CEO of Visit Anaheim.
Los Angeles: "The new LAX is a game changer. The renovation will really alleviate the traffic coming in and out of LAX. And the Delta expansion is out of this world."
– Darren Green senior vice president of sales, Los Angeles Tourism and Convention Board
Greater Palm Springs: "Visit Greater Palm Springs can use its power and platform and influence to ensure that development is sustainable."
– Lauren Bruggemans, director of sustainability and community engagement, Visit Greater Palm Springs
Ventura County Coast: "California is a magnet for dreamers, the heart of the California brand is the promise of dreaming big and being welcomed into a California lifestyle that celebrates abundance and diversity. Here in Ventura County Coast, our destination delivers on the California promise where all vibes, are always welcome. For planners looking for new ways to host unique events, integrate the outdoors, incorporate health and wellness activities, or simply host their event somewhere other than a big metro center we are the perfect choice."
– Brian Tucker, Ventura County Coast ( Camarillo, Oxnard, Ventura, Port Hueneme) Los Angeles Tourism and Convention Board
Q&A:
with Kristin McGrath,
Executive Director of Visit Pasadena
Pasadena is known for year-round gatherings. Rose Bowl Stadium just turned 100 years old. How does the history of the area, including its starring role in so many movies and television shows excite interest in registration for events that book the city?
With so much history, Pasadena offers a diverse range of exciting activities, including rich cultural heritage, culinary endeavors, arts and sciences, spectator sports and entertainment. The Rose Bowl Stadium has withstood the test of time and continues to be an incredible venue filled with exciting events, such as the flea market that attracts 20,000 visitors every second Sunday, the spectator sports, concerts and summer music festivals. Ice House Comedy is the oldest comedy club in the country, having seen some of the most acclaimed comedians, and is getting a grand unveil in 2023 with new renovations and an exciting new lineup of entertainment. The Pasadena Playhouse is known as a star factory, due to the number of celebrities discovered on its stage. As the official state theater of California, the Pasadena Playhouse continues to be one of the most prolific theaters with a 6-month celebration of Sondheim in 2023, culminating in a concert featuring Bernadette Peters. Meeting planners should utilize some of the incredible information that Pasadena's CVB has to curate impactful destination experiences that can also include architectural tours, film history walking tours, culinary tours and more.
What are the hot dining and catering trends?
Restaurants in Pasadena range from modest to opulent, innovative to comforting, and cover nearly every cuisine. With over 650 restaurants to choose from, restaurants and eateries continue to delight in this foodie town. New venues continue to pop up with Spanish tapas and paellas at Dos Besos, elevated dim sum in an historic building at Chef Tony, the incredibly Nashville hot chicken at Howlin' Ray's first full-service restaurant, and a chock-full line up of cafes featuring teas, bobas, coffees and pastries. Head over to Burlington Arcade in the South Lake District for a phenomenal photo op while grabbing a cup of handcrafted coffee or herbal tea from the new Mandarin Coffee Stand. At Agnes in Old Pasadena, the charcuterie and cheese boards paired with tinned fish and wine serves as a delightful place for long conversations with new acquaintances. There's never a dull moment when exploring the cuisines from around the world in Pasadena.
How does the robust STEM infrastructure in place help meeting professionals looking for inspiration and educational speakers?
Meeting professionals can take advantage of Pasadena's renowned status in the STEM world and work with Pasadena Convention & Visitor Bureau to explore options for educational speakers among the many institutions. The CVB is a part of the fabric of the city and can provide important introductions and connections to Pasadena's ArtCenter, Caltech, NASA's Jet Propulsion Laboratory, the Huntington Library, Art Museum and Botanical Gardens, the USC Pacific Asia Museum, Pasadena Heritage, and more. These unique opportunities provide attendees access to leading experts in science, technology, engineering, math and space, providing insight into some of the most cutting-edge work today.