Outside the Big City
New York State offers a variety of experiences
By Morgan Saltz
Although people envision the bright lights, heavy traffic and high fashion associated with the mention of "New York," it is a geographically and culturally diverse state with many other exciting and desirable destinations outside of the flashy and famous Manhattan.
Explore the softer and quieter side of the state of New York with venues surrounded by nature and enjoy the hospitality of smaller towns that you may not find in Times Square. With wellness, outdoor activities and cultural experiences trending in the meetings industry, looking outside of the metropolitan areas will allow meeting profs to discover venues that offer a surprisingly different vibe of The Empire State.
Local Expert Tip
"For a lot of groups, during Covid and even afterward, it was very big to be outside in the fresh mountain air."
–  Eric Domitrovits, director of sales, Mohonk Mountain House
5 Reasons Meeting Profs Love New York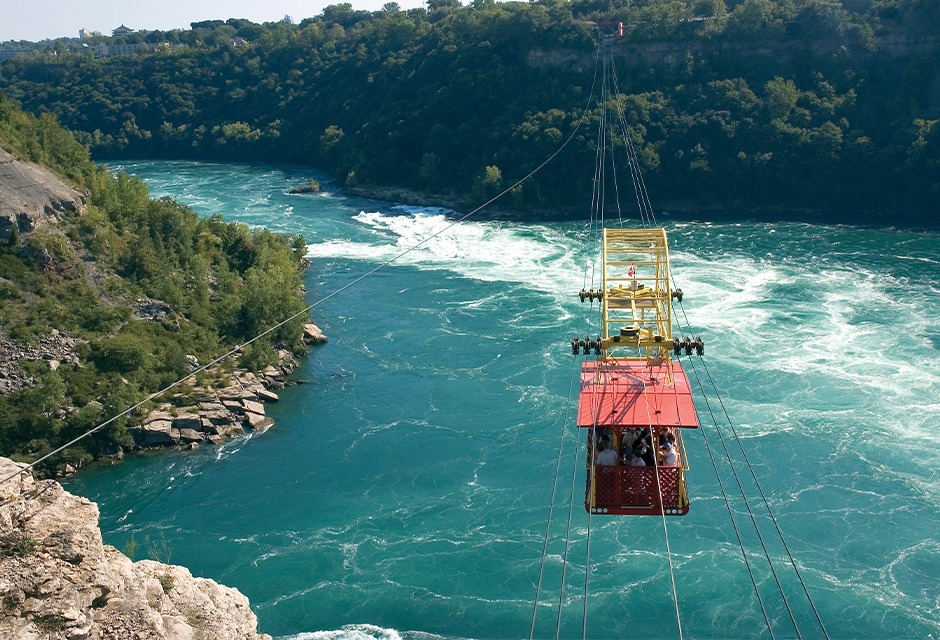 Rochester Broadway Theater League
Experience iconic Broadway shows such as Annie and Moulin Rouge or new hits such as Mrs. Doubtfire and Tina outside of the iconic Broadway strip in Manhattan and in the equally talented upstate city of Rochester. Offering group sales and corporate box packages at the West Herr Auditorium Theatre, Rochester brings an authentic New York experience.
Attractions in Niagara Falls
With the obvious splendor of Niagara Falls, there are many outdoor activities surrounding the aquatic country border. Take the whirlpool aero car to fly 3,500 feet above the Niagara whirlpool and the Niagara Gorge. You will be crossing the border between America and Canada in style!
Read More: New York: Secrets of the Empire State
With the Mountains and hills of the Catskills as the backdrop to the courses, groups can tee off at premier golf clubs and resorts and enjoy the natural beauty of upstate New York. Some of the top golf resorts in the Catskills are Sullivan Country Golf & Country Club in Liberty and Windham Country Club in Windham.
The Hudson Valley in upstate New York has had a rich history of agriculture dating back to the 1600s. To celebrate its history of feeding the families of the region for hundreds of years, festivals for fruits, cheeses and other produce are in full swing on the sides of the country roads during harvest season.
In the heart of the Adirondacks is The Wild Center, a science-based establishment with a mission to educate groups about nature through experiential activities such as The Wild Walk—guests can walk bridges connecting the treetops of the Adirondack Forest. Cross swinging bridges to sit in the scattered sky-high houses.
5 Fantastic Places to Meet and Stay
Play Big in New York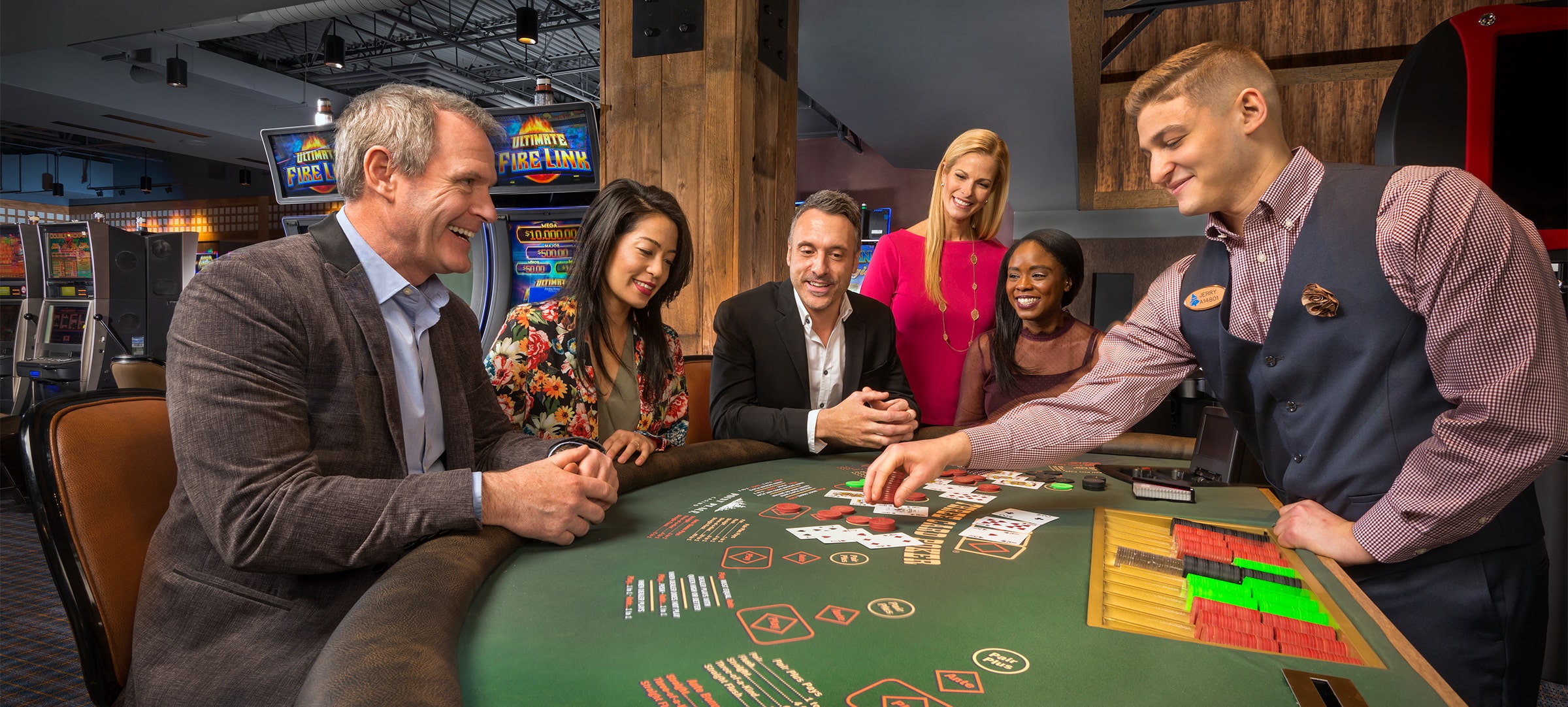 While Manhattan may be known for its fun nightlife and high rollers, upstate New York has just as much of a gaming scene as the fast-paced big city environment. With energy that rivals Manhattan, Las Vegas and Miami and a culinary scene delicious enough for the most famous casinos, New York State has upscale casinos with desirable cuisine and entertainment and attracts meeting professionals and attendees to an unexpected part of the state.
Seneca Gaming Corporation
With several locations around New York, Seneca Gaming and Entertainment offers all the entertainment and gaming energy you would expect from Manhattan or Las Vegas. Filled with slot machines, table games and the Sports Lounge to bet on your favorite teams, guests can experience the thrill of gaming and the camaraderie of fellow risk-takers. With locations in Allegany, Niagara and Buffalo Creek, Seneca Gaming Corporation shows visitors that fun nightlife can happen outside of the Big City.
The Turning Stone Resort and Casino, Verona
Located in Central New York, Turning Stone has scenic views from its guestrooms as well as from its award-winning TS Steakhouse on the penthouse floor with additional outdoor balcony seating. Experience Central New York nightlife at Exit 33, a collection of lounges and bars. Try line dancing at Tin Rooster Dancehall & BBQ or dress upscale and try cocktails from the sophisticated mixologists at Turquoise Tiger.
Point Place Casino, Bridgeport
Boasting that it rivals a Las Vegas experience with over 250 of the hottest slot games, classics and trending alike, Point Place Casino is bringing high-stakes gaming to Bridgeport. With live DJs and fun events like Rock n Roll Bingo, gamers can enjoy the top-tier casino and its other entertainment perks. The best perk? Point Place Casino claims to have the best burgers in Madison County.
Long Island Recovers and Thrives
A big investment in hospitality infrastructure in Suffolk County will boost Long Island's ability to host major sports events and break ground for the county's first convention center. With big-name hotels setting up shop in Long Island and more business and experiential opportunities attracting more meeting professionals, Long Island is bouncing back better than ever after the pandemic.
The Gold Coast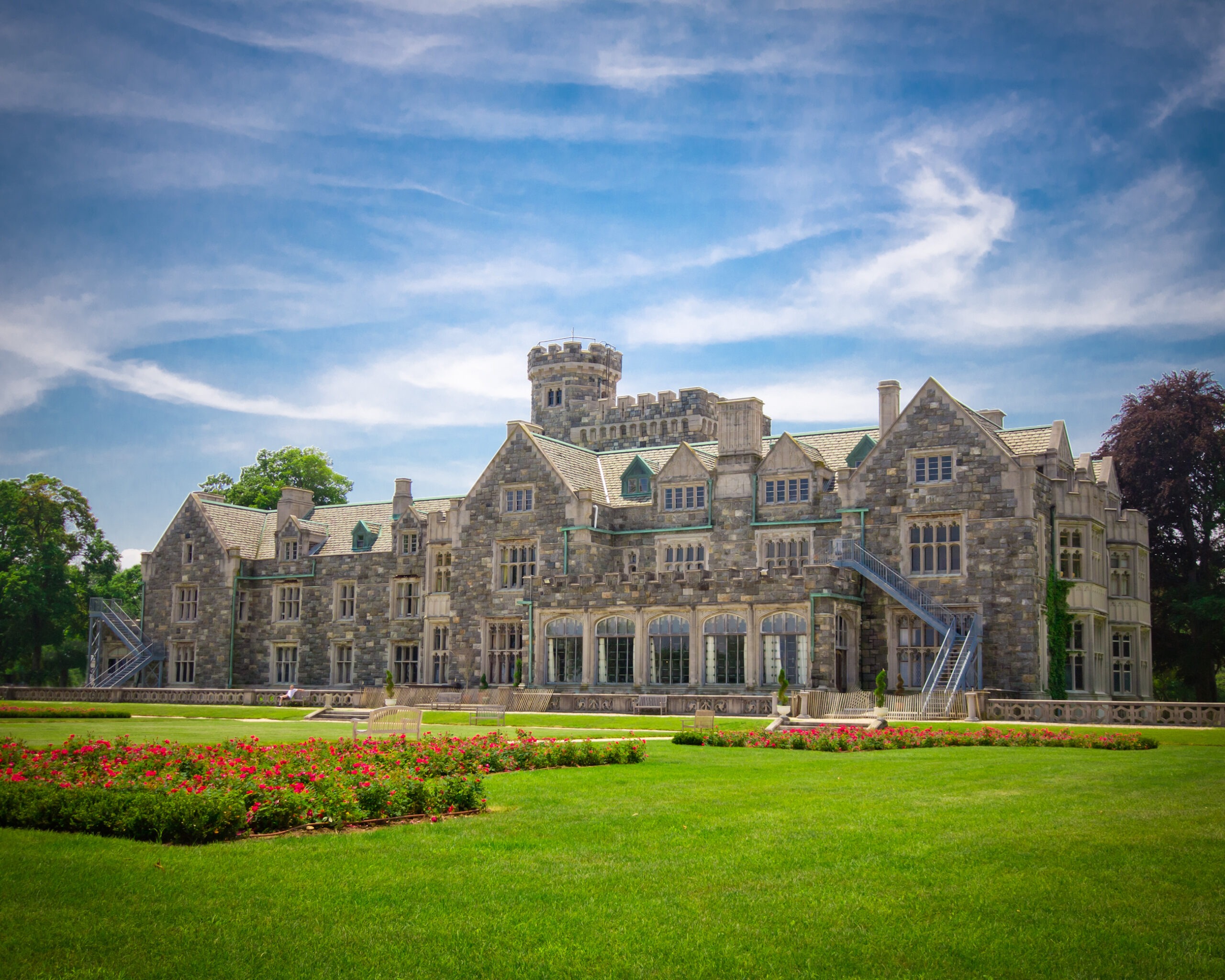 Long Island's hotels have been making recoveries and renovations and are attracting meeting professionals to its Gold Coast. One of the most historic and well-known places to stay is The Fox Hollow. Resting luxuriously on an 8-acre estate, the North Shore of Long Island earned its nickname as the "Gold Coast" for its sprawling mansions and timeless elegance that can be seen in its hospitality industry.
Easily accessible by car or by ferry, Danfords Hotel & Marina marry impeccable hospitality service and amenities with a casual maritime vibe. Only steps away from the water, the Maritime Exploratorium and Harborside Park beckon guests to enjoy seafood and cocktails at the Ferryman Grille or take a walk down the marina and soak up the history and classic aesthetic.
Golfing in Long Island

Long Island has a history of being home to historic and famous golf courses, and the Ryder Cup will be taking place at Bethpage State Park's Black Course in 2025. course has already seen champions walk the grass when hosting North Trust Open in 2021 and the PGA Championship in 2019, yet the Ryder Cup is described as the largest and most prestigious international golf competition in the world. To prepare for the highly anticipated golf competition, Bethpage Black has been undergoing renovation for better sight lines and spectator views.
A veteran of hosting golf tournaments, Shinnecock Hills Golf Club in Southampton will once again host the U.S. Open Golf Championship in 2026 for the 6th time since 2018. With golf legends like Raymond Floyd and Retief Goosen gracing their greens, Shinnecock Hills has made a name for itself in the golfing world.
Wellness and Relaxation
The rejuvenation of Long Island is aligned with the trends of self-care and downtime that are important to corporate meetings and events with its renovated spas and amenities. AIREM, the first Korean beauty-inspired medical aesthetic spa in America, has opened its new location in Long Island with Topping Rose House. The exclusive beauty and wellness treatments blend Western medicine with Eastern holistic influences for maximum results.
Sometimes, wellness and relaxation simply mean getting away from the noise and having the space and silence to pull your thoughts together. Silver Sands Motel & Beach Bungalows has undergone a renovation and recently reopened studio beach shacks, private beaches and private gardens this past July. With privacy screens to shield guests from being seen on their veiled porches or private outdoor showers, guests can unplug and unwind however they choose.
The Perfect Fall in Lake Placid
With ideal leaf-peeping and refreshing crisp mountain air, Lake Placid offers an autumn backdrop one usually only sees in movies or paintings. Perfect for incentive or executive retreat trips, Lake Placid offers fall getaway options that balance a cozy home feel with luxury amenities.
As the seasons change from the more romanticized mentality of summer to the increased pressure of fall and the holidays, meeting professionals can benefit from considering destinations that offer not only all the amenities expected from modern event spaces but also a location that provides attendees with the ability to take a breath, relax in the autumn air and simply enjoy watching vibrant summer turn into the gorgeous fall.
Golden Arrow Lakeside Resort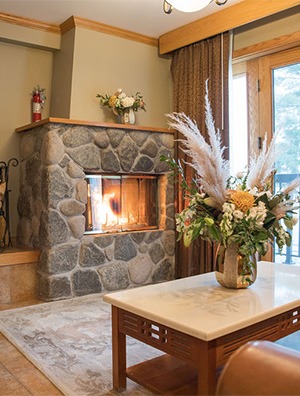 With a focus on a homey style aesthetic but your quintessential East Coast fall scenery, the resort offers two home rentals with a capacity of up to 14 people. Camp Sunny Cove is a seven-bedroom house hugging the waters of Lake Placid and is a secluded lake house that offers swimming, fishing and boating. As the sun sets, guests can enjoy the scenery and cocktails on the boathouse deck before a gourmet dinner in the luxury dining room.
High Peaks Resort
Host meetings or treat attendees to incentive retreats with sweeping views of the Adirondack Mountains that can be seen from the conference rooms, the guest rooms and the customized group activities such as the on-site watercraft or a Gold Medal Games experience on the beaches of Mirror Lake. With options for both adventure and luxury, groups can balance their time between team building and personal recreation at their leisure.
Hiking at Mountain Pass Lodge
Whether you are hiking for team building or for personal wellness, relaxation or exercise, the Adirondack Mountains are ideal. With the new Hiking Center at Mt. Van Hoevenberg, groups can meet both before and after the hike where there is food and a gift shop. Hikers can explore the newest trail, Mount Van Hoevenberg's East Trail, or take the trail to Sleeping Giant State Park, Connecticut.
Albany: A City with Many Names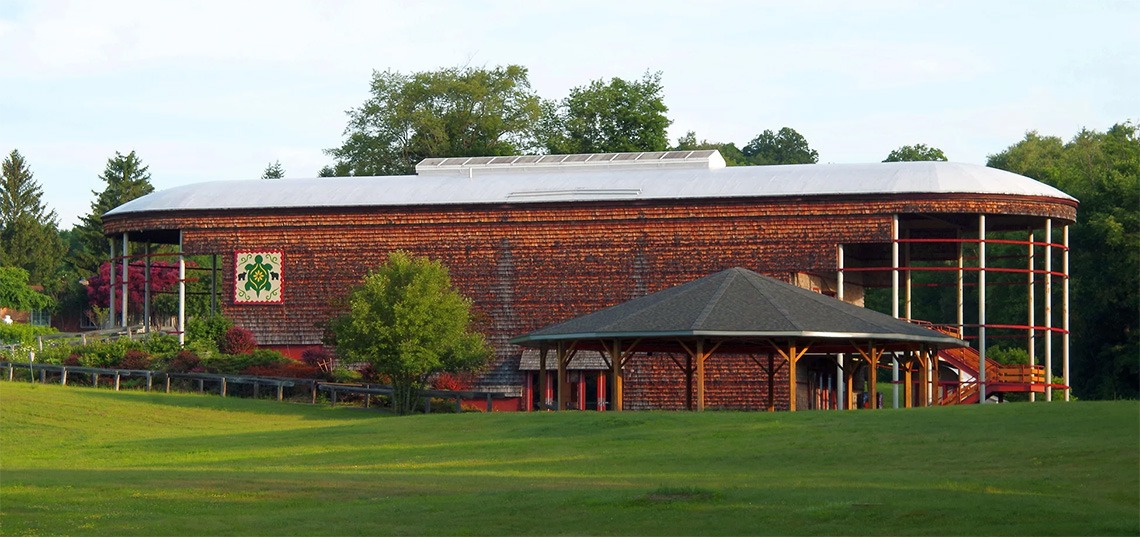 With a rich Indigenous history and frequent changes of pioneer settlers, the capital of New York State has been known by many names before the British solidified the territory as Albany in 1664. The Algonquian-speaking Mohicans and the Iroquoian-speaking Mohicans were both inhabitants of the region surrounding the Mohawk River and had their own names for their land before the Dutch colonists built forts in the early 17th century. Finally, the area was settled by the English and named the area after Duke of York's Scottish title, Duke of Albany, later to be the future James II. With so many influences steeped in American history, Albany a step back in time through very different historical lenses.
Iroquois Museum
Located on the lands of the Mohawk people, the Iroquois Museum exhibits cultural art, historical and anthropological artifacts and historical education. The space offers a meeting place that all are welcome in, with structures representing a modern take on the Great Iroquois Longhouses. The facility also offers an amphitheater, where groups can see a variety of performances such as storytelling, lectures and performing arts celebrating the Iroquois.
The Garden Farm Inn
Less than 10 miles outside of Albany is the historic Garden Farm Inn dripped in the finer things of European aesthetic and attentive old-world hospitality to match. With luxury dating back to the late 1900s as the then owner Albert Augustus Sampson dug a tunnel to the Poestenkill Riven to bring fresh water into the hotel for guests (a luxury of its time), the Dutch-European historical opulence continues until this day through its décor and top of the line modern accommodations.