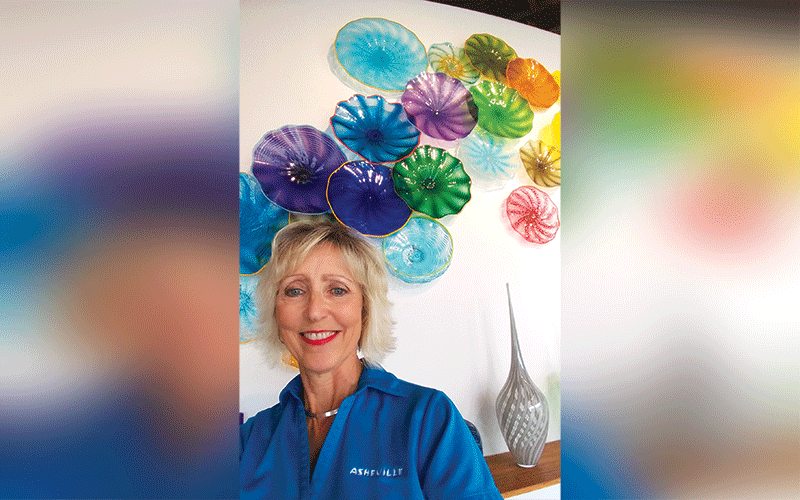 Explore Asheville
Vice President of Sales Dianna Pierce shows that Asheville's creative community provides numerous opportunities for groups to immerse themselves in the art and cultural experiences of the city. Here you'll discover hundreds of working artist studios, some of which open their doors for groups. Lexington Glassworks is one studio that welcomes groups for classes, demos or private social events. The 5,000-square-foot working studio features colorful handmade glass items, from light fixtures to tableware made from locally sourced material. Inside the studio is a taproom that serves local beer in hand-blown glass. Classes offer the chance to make stem-less wine glasses or a pint glass to hold local craft brews. The studio is located on a tucked-away street in downtown Asheville.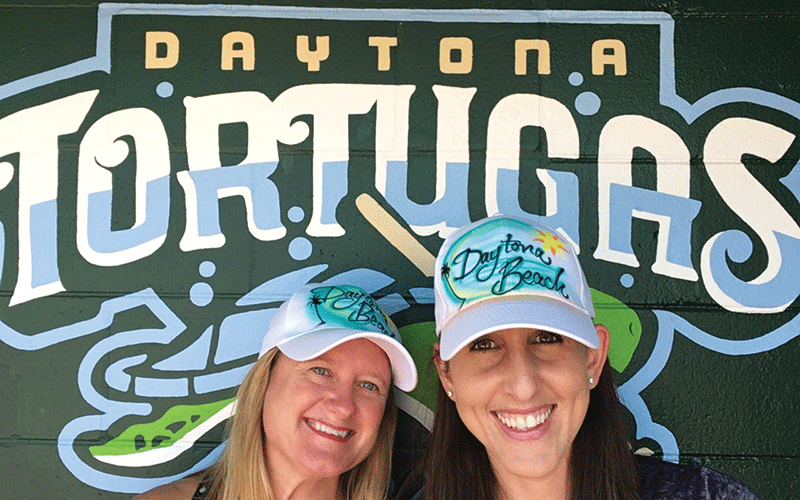 Daytona Beach Convention & Visitors Bureau
Sports Sales Manager Tara Hamburger and Convention Services Coordinator Amber Tischler pose in front of #JackiesDugout, a mural painted by artist Erika Group, to remind visitors that although Daytona Beach is well-known as the World's Most Famous Beach and for its racing heritage, it is also forever tied to a piece of baseball history. In 1946, Jackie Robinson played in the first integrated Major League Baseball spring training game in Daytona Beach. Named in his honor, historic Jackie Robinson Ballpark stands proudly on City Island in downtown Daytona Beach. Today, it is home to the Daytona Tortugas, a Cincinnati Reds' Class-A affiliate baseball team. Over $1 million in recent renovations include a new 3,000-square-foot picnic pavilion with prominently displayed historic markers.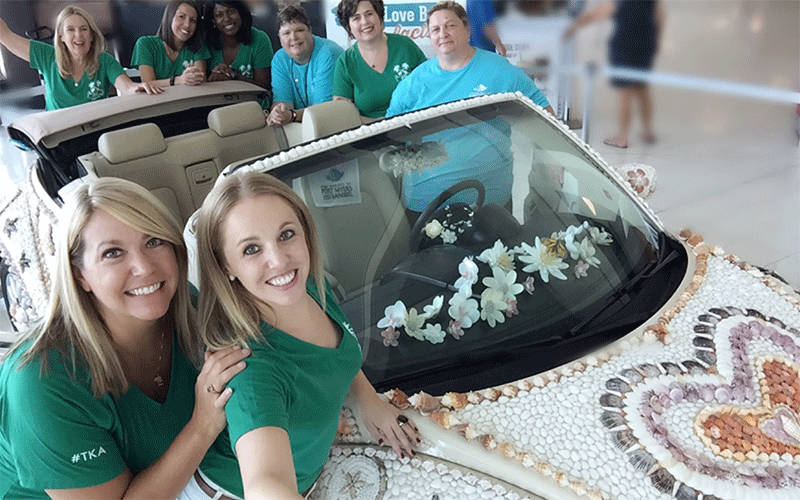 Fort Myers & Sanibel
Roll with the natural inspiration of The Beaches of Fort Myers & Sanibel thanks to our world-famous Volkswagen convertible. Meet the Shell Love Bug, covered in more than 20,000 seashells! Our four-wheel ambassador for fun and sun can be found at Southwest Florida International Airport (RSW). When not welcoming visitors from around the world, the Shell Love Bug cruises to local beaches, wildlife preserves and outdoor events. We're a subtropical paradise where visitors find inspiration for both business and pleasure. Perfect for executive retreats and small- to medium-sized groups, our team can help from planning to event. With a variety of accommodations and meeting venues minutes from the airport, the value for attendees is clear. Let the Shell Love bug welcome your next meeting!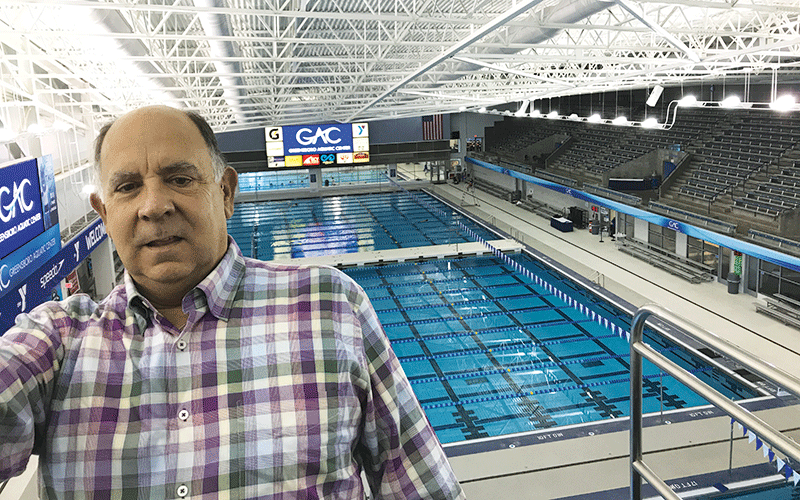 Visit Greensboro
President and CEO Henri Fourrier says standing 33-feet high on the platform looking over Greensboro Aquatic Center (GAC) is energizing! GAC is a state-of-the-art facility featuring leading edge concepts in aquatic design. It brings together all major aquatic sports: competitive swimming and diving, water polo, synchronized swimming and other unique sports, all in one venue. Currently, the center features three bodies of water–competition pool, a warm-up pool and a diving well. By the end of 2017, the GAC will have hosted 54 aquatic events. Groundbreaking in early 2018 will begin on a new practice pool for a total of four bodies of water. The center also gives back to the community and serves local citizens through its diverse programming, including therapeutic rehabilitation and swimming classes.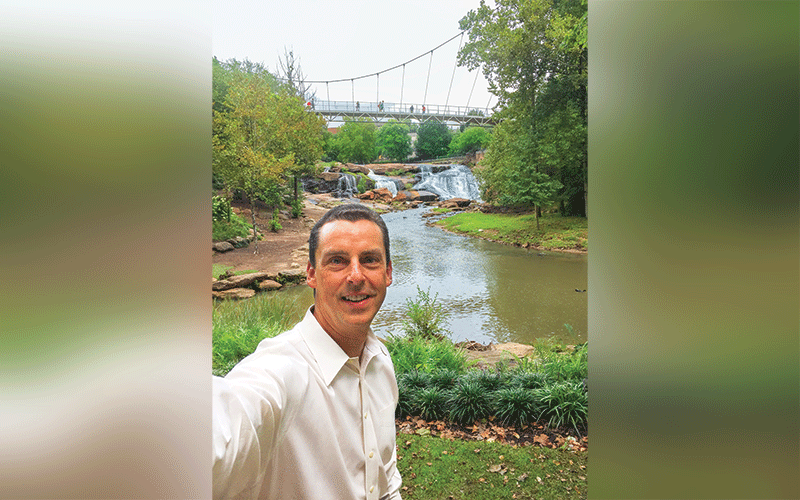 Visit Greenville
Vice President of Sales David Montgomery welcomes you to Falls Park on the Reedy, a ridiculously picturesque 32-acre park nestled right in the heart of downtown Greenville, South Carolina. It's complete with a 40-foot waterfall and the one-of-a-kind floating Liberty Bridge. (No really—it's the only one of its kind in the Western Hemisphere!) The darling of downtown, the pedestrian-only bridge connects Greenville's textile-industry past with today's thriving Main Street district. One of Greenville's greatest treasures, Falls Park is also the starting point for the GHS Swamp Rabbit Trail, a 21-mile, paved rail-to-trail path that takes you from downtown Greenville to nearby Travelers Rest, with plenty of restaurants, shops and even a microbrewery along the way! Greenville, South Carolina—yeah, THAT Greenville.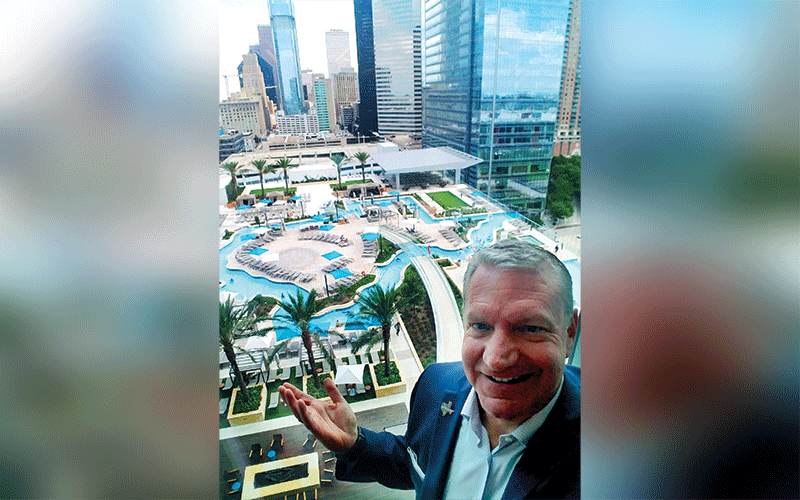 Visit Houston
President Mike Waterman standing over the new Marriott Marquis' Texas-shaped lazy river! This is the newest addition to Avenida Houston's convention campus and the second convention hotel connected to George R. Brown Convention Center.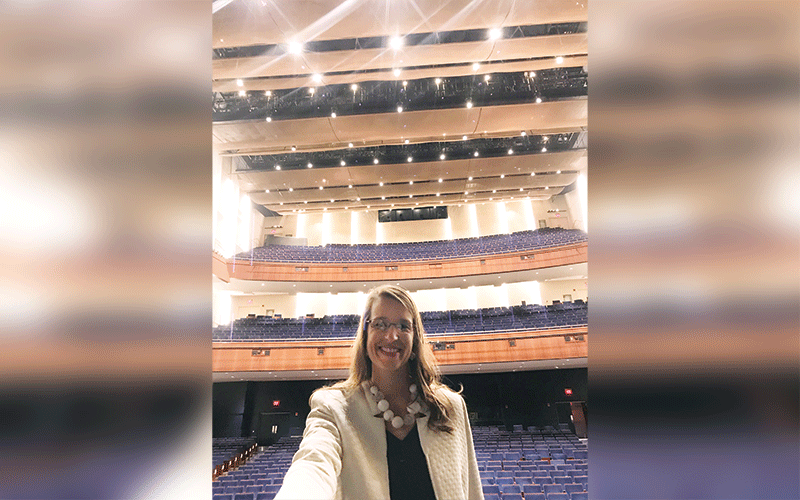 Little Rock Convention & Visitors Bureau
President and CEO Gretchen Hall shows off Arkansas' premier performing arts facility. Robinson Center has recently gone through a tremendous rebirth—to the tune of $70 million dollars. Listed on the National Register of Historic Places, this iconic 1939 landmark is home to the Arkansas Symphony Orchestra, Ballet Arkansas and Celebrity Attractions Broadway Theater Series. Elvis Presley's first recorded performance of "Hound Dog" (1956) was on Robinson's stage. After preserving its historic lobby, transforming its performance hall, and adding a new conference center and outdoor terrace on the scenic Arkansas River, today it stands as one of Little Rock's brightest stars. Robinson Center serves as the westernmost anchor to Little Rock's revitalized downtown district. It is the perfect place to catch a show or performance, or host a convention or meeting.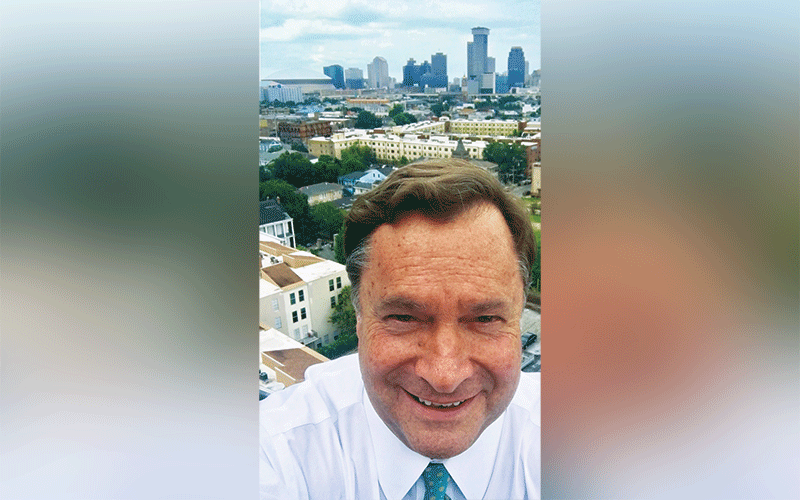 New Orleans Convention & Visitors Bureau
President and CEO Stephen Perry stands in front of the New Orleans skyline, which includes Mercedes-Benz Superdome, Central Business District and the South Market District.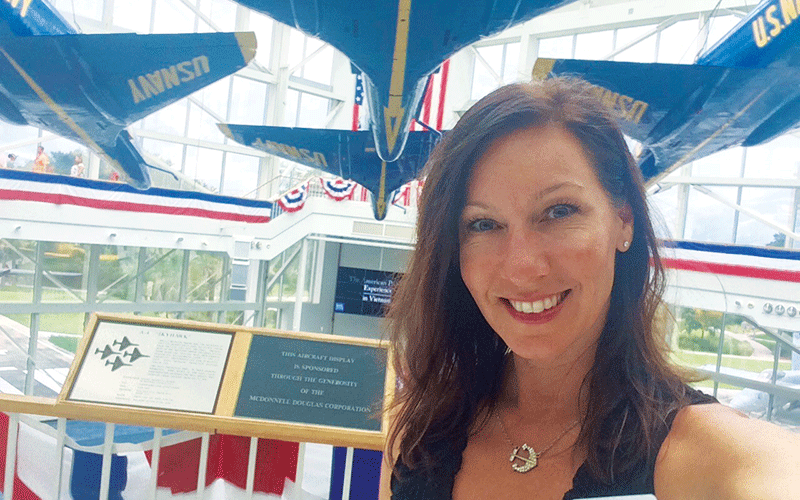 Visit Pensacola
Director of Destination Sales and Services Jennifer Jackson-Keating reminds visitors that Pensacola is the Cradle of Aviation and home to the World's Largest Naval Aviation Museum and the World Famous Blue Angels demonstration squad. Experience hands-on history with more than 150 beautifully restored aircraft. These historic and rare aircraft are displayed both inside the museum's nearly 350,000 sq. ft. of exhibit space and outside on its 37-acre grounds. Experience the thrill of flight in simulators, view live practices by the Blue Angels, and follow-up with meet and greet sessions and autograph signings. Then venture across the street to the Pensacola Lighthouse, One of America's Most Haunted Lighthouses, built in 1859. Climb to the top for a spectacular 360-degree view of historic civil war forts, Pensacola Bay and the Gulf of Mexico.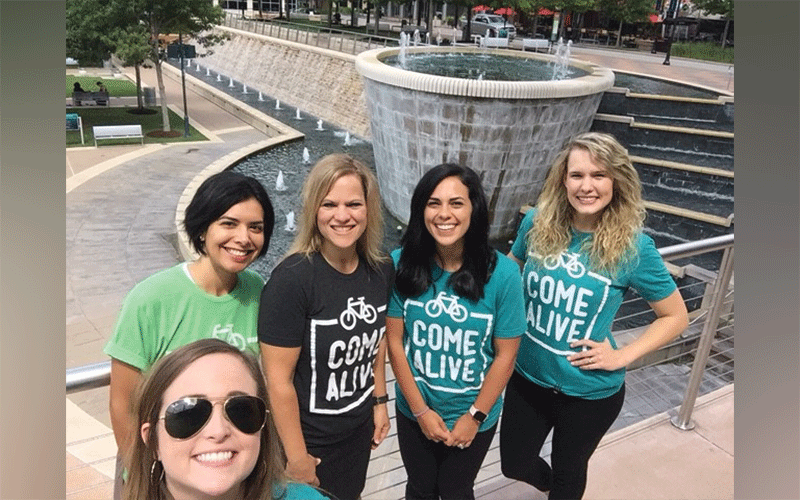 Visit The Woodlands
Visit The Woodlands staff is excited to show off its destination via #selfie! Waterway Square sits in the heart of The Woodlands and is home to many firework extravaganzas, weekend celebrations, local concerts, splash pads, dining experiences and, of course, great views of The Woodlands Waterway. Fun fact: The fountain seen in the photo is enhanced with colored lights and actually synchronizes with music during local events!