When the new 18,000-seat Chase Center opens Sept. 6 in San Francisco's Mission Bay with a Metallica/ San Francisco Symphony concert, it will be more than a new home for NBA's Golden State Warriors. The stadium is the centerpiece of Thrive City, a 3.2-acre mixed-use development that will include office, restaurant, retail—and meeting space.
Smart Meetings got a sneak peek of the building as contractors were putting the final touches on it and came back with lots of suggestions for creating exciting experiences at the new venue.
Stadium Spaces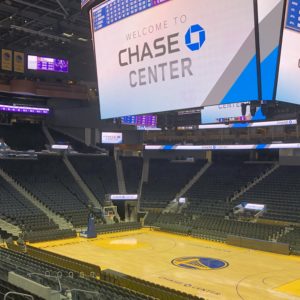 In addition to two rows of suites, the facility is home to five club spaces, including the upscale J.P. Morgan Club, where guests can watch the big screen while enjoying upscale food and beverage options during the game or as part of a meeting on concert and other nongame days. Even closer to the action, 42 suites in Google Courtside Lounges were built for VIPs, with personalized wine refrigerators and luxurious details steps from premium seats.
At Center court is the NBA's largest scoreboard, with more than 8,500 sq. ft. of LED space that can be programmed to share real-time stats, basketball action, or a company logo and messaging, then retracted into the ceiling when it is time for a concert. Outside, the entry plaza is anchored by a 5,000-square-foot building and stadium seating up to 250 people. Imagine an all-star incentive program or a team-building experience inspired by one of the most winning teams in sports.
More: Incorporate Sports into Your Events: A Smart Play
Elevated Art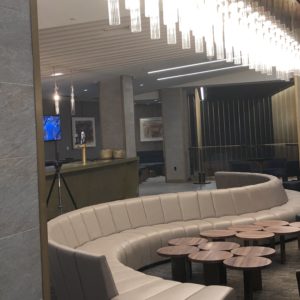 More than 30 artists designed pieces for the site, including the feature piece, Seeing Spheres, by Olafur Eliasson, which consists of five, 15.5-foot-tall polished steel globes, framed by a ring of LED lights for a multilayered space that reflects ever-changing views of those interacting with the piece. Medallions along the esplanade will highlight team heroes in a growing walk-of-fame-style dedication. Inside, an Alexander Calder mobile is on loan from San Francisco Museum of Modern Art. J.P. Morgan Chase Club will display a piece commissioned from Oakland-based Creative Growth Art Center, a nonprofit studio for those with disabilities.
Local Nosh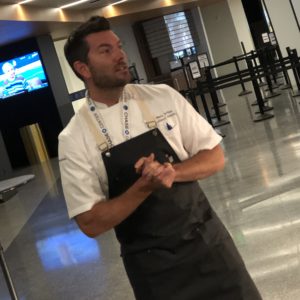 The concourses feature five local Bay Area food "eateries," rather than traditional concession stands. The fare is prepared largely on-site in eight kitchens and 23 bars from favorites such as Tacolicious, Sam's Chowder House, Tony G's Pizza and Hot Dog Bill's Burger Dog. F&B will be managed by Bon Appetit Management Company, Levy Restaurants and Culinary Director Mark Jeffers. All these resources are also available for inspired catering menus, Jeffers said.
Outside the stadium, star chefs have stepped up to amplify the pregame offerings. High-Energy Food Hall by chef Michael Mina, Gott's Roadside, Belly & Sweet Belly and Dumpling Time have announced restaurants. Golden State Warriors President Rick Welts called the next 12 months "a year of discovery" as new features continue to open.
Public Access
Although the building includes 950 parking spots, the best access is from public transit. Every event ticket doubles as a muni pass that drops passengers off within a block of the stadium. Central Subway train service is expected to start in early 2020 and improved ferry service is in the works.