Fairmont, The Queen Elizabeth, Lobby Level Agora
With the announcement of The Ideation Studio at Park MGM, Senior Vice-President and Chief Sales Officer Mike Dominguez notably said, "We're not just building space; we're building the right space." That is the mindset more than a few venues are beginning to adopt in the ever-increasing race to entice groups and redefine expectations. High tech—or "smart"—conference rooms, and the advances that go into them are giving new shape to the future of meetings and events.
Fairmont, The Queen Elizabeth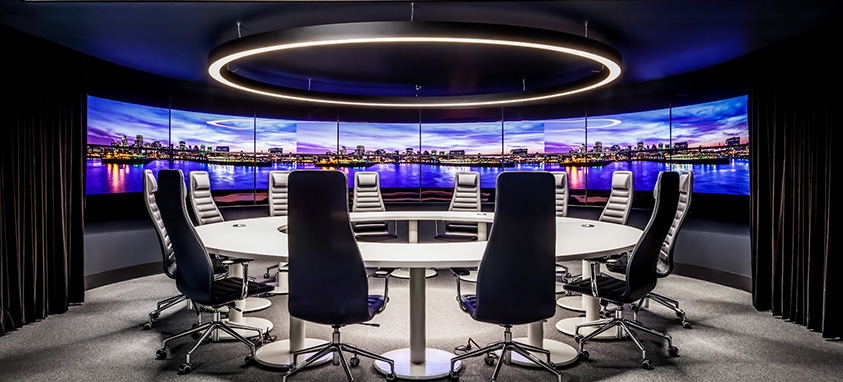 Ahead of the curve, The Queen Elizabeth welcomed Montreal attendees to a newly renovated building last year, complete with creative meeting rooms, chalk full of the latest technology. Whether it is touch screens, video walls—one of which is an impressive 180-degree wrap-around—or 55 high quality ceiling projectors, each room is designed to enable the best presentations and customization a group can ask for.
"Gone are the stark conference rooms that starve the senses," Hotel Manager Anne Marie Johns says. "For meeting planners, getting participants engaged is always a challenge and we wanted to help. This is where the power of innovative technology came into play." And the intention is self-evident.
Where there aren't interactive displays and intriguing new presentation spaces, there are rooms with a ping-pong table as the conference table, swings hanging from the ceiling or walls of stick-on sheets. It all combines for a unique experience for any group. Johns says, "As attendees want to contribute to presentations and share ideas, rather than listen passively, the hotel's multimedia lounges and technology are great assets to liven up discussions and bring subjects to life."
The Bently Reserve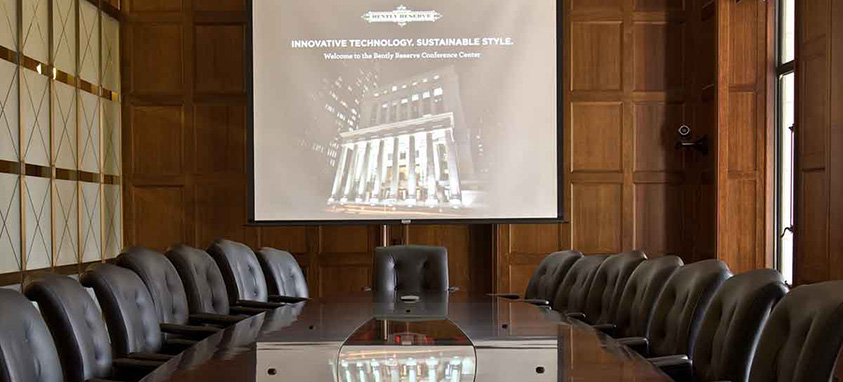 Earlier this month San Francisco's Bently Reserve unveiled the latest meetings technology incorporated into its meeting and event space. A venue built inside the city's old Federal Reserve building, The Bently Reserve originally opened in 2008. New renovations, however, bring a streamlined experience, with extensive automation systems in each room, and 4K Apple televisions.
"San Francisco is a hub for technology," Director of Events and Sales Jim Bruels says. "It's our responsibility to try to keep up with that. We're always looking to help foster the next thing."
Attendees can connect computers or phones to monitors via HDMI or Airplay, and everything from the projector to the window shades is run through the Savant automation system. Sold on its ability to simplify entire home routines to a single click or predetermined time, Savant is meant to bring that power to bear for groups, taking all the second guessing and trial and error out of preparing rooms for a meeting.
Bruels says, "Technology is all about how you make life easier. With Airplay and Savant in the smart meeting rooms, you can have a meeting where you have three people share their work, right in a row, without a problem. It's more collaborative, and it's nothing to just walk in and do it. I hope people walk away realizing just how simple it can be."
The Ideation Studio at Park MGM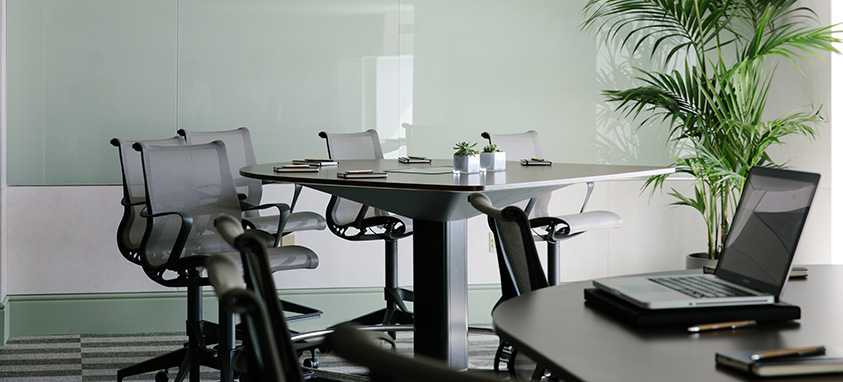 One of Las Vegas's newest contributions to the meetings industry, The Ideation Studio was all the buzz in the lead up to—and during—IMEX America 2018. Ten unique meeting rooms built from the ground up to inspire creative brainstorming and engagement comprise 7,000 sq. ft. of space empowered through Cisco Webex.
The building's superpower, however, may be that it is easy to use. "Any high-tech facility I've ever heard of in our industry, I need a PhD to figure out how to use it," Dominguez said in an interview with Smart Meetings in advance of the space's opening. "That's what we're trying to get away from. We are trying to get into something that is just intuitive. Let's say I am presenting, and I need you to go present something you have on your phone. We can literally hit a button and you're on the screen instead of me. There's nothing to plug in, nothing to figure out."
Along with being entirely device agnostic, the rooms also feature electronic whiteboards that clear themselves after each session, storing any written information for attendees to access later. With aspects of meeting psychology in mind, the tables are designed to keep everyone at eye level, lighting is tailored and efficient, and even the room layouts are meant to encourage people to stand up and engage more.
"This is the first commercial use of something they have never used outside a business or office setting," Dominguez said of the Cisco partnership. "We are the test pilot for it. But we did an executive day with Cisco and the idea came from, 'Wow this is really cool. This has real purpose and use.'"
 Facebook Portal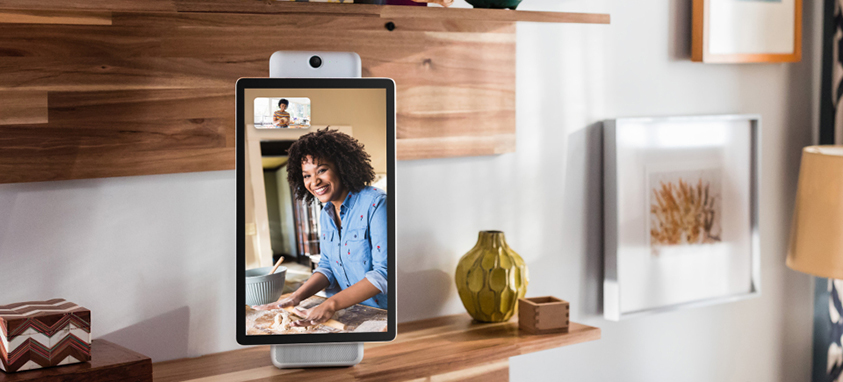 Not all the newest advancements have made it into conference rooms just yet though. Regardless of your feelings about Facebook or the security-concerned skepticism that has overshadowed the device's unveiling and release, Facebook's Portal and Portal Plus both pack some eyebrow-raising technology. What the company is calling "smart video and smart sound" could both have major roles to play in meetings and video conferencing in the years to come.
Tracking the shape of a human body, the fixed-place Portal camera can digitally follow and zoom in while you are on a video call. The days of awkward camera positions and staining to get into view might well be behind us. Similarly, the microphones in the Portal zero in and isolate the person who is speaking, wherever she is in the room, minimizing background noise.
"It's like having your own cinematographer and sound crew direct your personal video calls," the company promised in its initial announcement. Now that it's on the market, this is technology that is only going to develop and spread in the years to come.