Forcing yourself to relax in an industry that's always busy and fast-moving like event and meeting planning? No way—except you absolutely can with five minutes, meditation apps and your smartphone. Some apps even have specialty modes that deal with airports and travel stress that are perfect for business travelers.
These meditation apps are like a buffet: Find the one that works for you and live happy, and be far more mindful than you were before.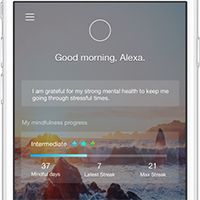 Available on iOS and Android for free.
In this artificially intelligent app, Aura's three-minute guided meditation sessions are just the start. You level up as you learn, even setting daily streaks as you move toward becoming more mindful. Mood tracking is also included, as well as a gratitude journal to keep yourself reminded of what you are thankful for. Top this all off with 30-second "mindful breathers," providing a quick timeout for your life.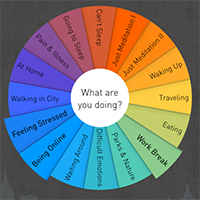 Available on iOS for $4.99 and Android for $2.99.
Get your Buddha on with buddhify, an app that focuses on what you're doing and how meditation can be applied. Whether you're feeling stressed, walking in the city or eating, more than 80 specific guided meditation sessions will walk you through to a more mindful state. Buddhify is a solid option for anyone who is too busy to even figure out which meditation sessions work best for that moment, as the wheel of activities does all the selecting for you. Either select what you're doing—traveling, for instance—or opt for a Solo session without audio and you'll be on your way to being closer to Buddha.
Available on iOS and Android for free.
Breethe's 10-minute guided meditation may seem a little longer than other apps on this list, but the smartphone app also has a web tie-in, where you can check your progress or even meditate right at your desk from your browser. This app can also be used with kids, if some of you want to get your family on the mindfulness boat. Breethe targets specific states of mind to guide you through meditation—some examples include "Dealing with Pressure," for those of us with deadlines, and "Public Places," which can guide you through a meditation exercise with your eyes open.
Available on iOS and Android for free.
Calm, a web and smartphone app that work together, targets specific parts of your life—breathing, meditating, relaxing and sleeping—to become more mindful. Meditating daily with Calm offers serenity in different aspects of our thought processes—patience, paying attention, kindness and others—to become more present.  You can also use Calm to read you Sleep Stories, a new feature that promotes deep sleep by calling back to childhood with bedtime stories. The different soundtracks for relaxation are perfect for a busy airport.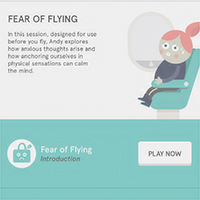 Available on iOS and Android for free with the Basics pack or, for more, a $12.99 per month subscription.
Headspace is essentially separated into two forms with its subscription service. The free version of the app focuses on the basics of meditation and mindfulness, perfect for beginners. Once you have settled into that, Headspace offers a $12.99 monthly subscription, which allows access to hundreds of meditation packs. One noteworthy aspect of Headspace is the meditations that help focus on relationships, exercise and other parts of your life that the idea of meditation may not initially fit. Headspace also offers a workplace partnership to help companies move their employees in a more mindful direction—currently, Headspace is working with companies such as LinkedIn, Google and General Electric.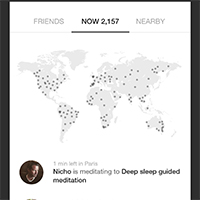 Available on iOS and Android for free.
Insight Timer boasts over 2 million meditators, and you could join the meditation party with this app's focus on community and sharing. Insight Timer's social component makes this one a little different from the others; however, the basis is the same. You can either choose guided meditations through the crowdsourced variety of situations, types and focuses in meditation, or take things into your own hands and use the timer with either ambient sounds or calming bells. Insight Timer also uses teachers, who upload their own guided meditations, as well as groups, which are tailored to specific demographics or motivations for mindfulness.
Available on iOS and Android for free.
Omvana emphasizes not only meditation and mindfulness, but also focus, inspiration, relaxation and sleep. The main form of meditation is delivered through tracks. Initially, you receive 25 tracks for free, but you can purchase additional packs of tracks—including "Accelerate Weight Loss" ($7.99) and "Get Motivated & End Procrastination" ($4.99). Omvana seems to target personal growth through its tracks system rather than just meditation, but it's an option for people who are looking to improve their life through self-help.
Pause, available on iOS and Android for $1.99. Sway, available on iOS for $2.99.
Pause is unique on this list because it requires touch for you to hone in and focus on your meditation. Using your finger, you continually trace the screen and follow the audiovisual cues. The idea here is to keep you in the present and focused on the task at hand, thereby reclaiming your mind in a stressful or difficult time. The company behind Pause also released Sway, an app, only available on iOS that tracks your body and hand movements to have you sway as you meditate—perfect for a commute or standing in line. Both apps are beautifully designed and use sound as well as visuals to help you be more mindful.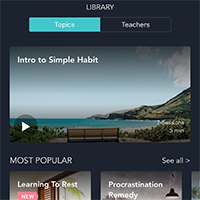 Available on iOS and Android for free with limited access or $11.99 per month for premium.
Simple Habit is all about making a recurring, long-standing habit out of meditating. Unlimited access, as well as offline availability, is offered for $11.99 per month. Guided meditations are led by more than 60 "leaders of mindfulness," with the major point in Simple Habit being the daily streaks. Simple Habit's On-the-Go feature is perfect for busy planners. Its ease of use online in its web app as well as the smartphone app allow meditation to really happen anywhere, making sure you stick to your new daily task. Activities also sit front and center of Simple Habit, whether you're having trouble sleeping or frustrated at work.
Available on iOS and Android for free with basic meditations or $9.99 per month for premium.
Stop, Breathe & Think allows you to take five minutes to check in with yourself and how you're feeling, using that as a springboard to guide your meditation and track your moods. This app also brings mindful breathing to the forefront followed by a thinking process to make you feel more at peace. Stop, Breathe & Think also separates its basic meditations in the free version, while the premium version, available for $9.99 per month, offers more than 45 meditation tracks, eight yoga and acupressure videos and additional soundscapes. You can also add Stop, Breathe & Think to your Amazon Echo or Dot with its Alexa skill. Workplaces that use Slack can utilize their bot to make sure co-workers are in the right mindset.