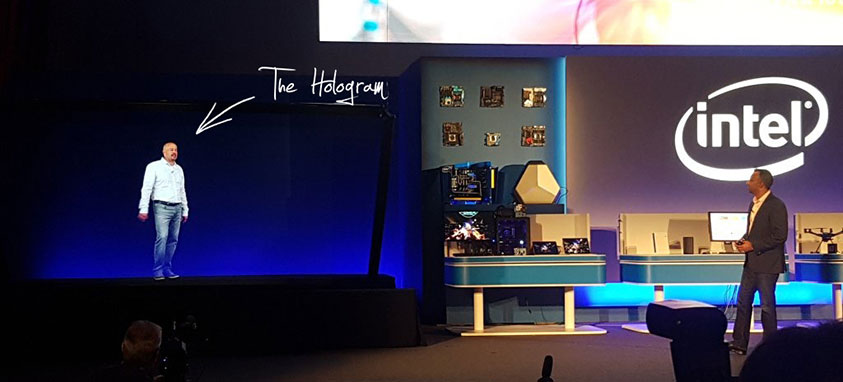 Flying cars aren't on the consumer market just yet, but the futuristic age of The Jetsons has partially arrived. Remember the videophone on the cartoon? New tools can turn this technology, which once seemed out of this world, into reality.
Have you ever wished you could clone or duplicate your keynote speaker? Or, would you find it helpful to be in multiple places at the same time? Now you can. Holograms make even FaceTiming seem outdated.
May the force be with you if recreate the Star Wars scene in which R2-D2 projects a hologram of Princess Leia who says, "Help me Obi-Wan Kenobi. You're my only hope." Executives can teleport to multiple locations simultaneously without ever stepping foot on a plane. Their entire body appears to be standing on the stage or at the podium right in front of your very eyes.
Vntana, a company based in Van Nuys, California, is one of the companies bringing people closer together with this technology. "Vntana telepresence can allow a person to be in multiple locations at once. For example, we allowed an Intel executive to present live on stage via hologram in Taiwan to announce their new processor chip," Ashley Crowder, the company's co-founder and CEO told Smart Meetings. "We have done true live from LA to Seoul, South Korea, with less than a second delay so everyone in the audience can ask the hologram questions and they can respond in real time. This is a great way to make a splash for keynote presentations…"
Hologram technology is also being used by the travel and hospitality industries at airports and hotels. NH Hotel Group, which has over 400 hotels in 25 countries, hired Musion, who holds a patent for a 3-D holographic projection system, to incorporate this augmented reality into the hotel's presentation at The Global Business Travel Association convention in Orlando in 2015. They beamed in their keynote speaker and other figures in addition to giving guests a virtual tour of hotels in the Netherlands.
Activ8-events, which is headquartered in Hong Kong, says their hologram mannequins are used in airports to communicate messages to travelers. A projection of a real person or character can deliver a pre-recorded message. Holograms break down language barriers. Events and airports often have guests from all over the world. A company called Prsonas partnered with Microsoft to create a multi-lingual hologram that has the capability of communicating in multiple languages.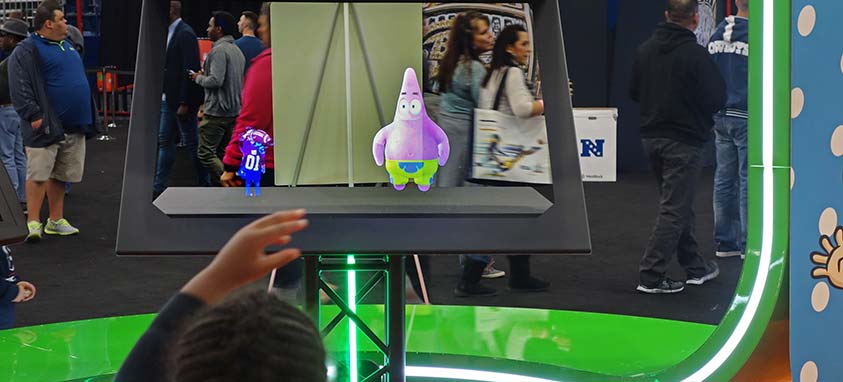 Crowder said that the hologram is also a useful tool for product launches and brand partnerships. "Vntana holograms are a great way to leverage endorsement deals. Brands pay millions of dollars for these deals and are limited by the celebrity's time, but holograms can be recorded and leveraged across a number of events," she told Smart Meetings. "For example, Vntana allowed a hologram of Roger Federer to live inside the Mercedes-Benz tent at the U.S. Open the entire two weeks. Fans got to see their hologram live next to Roger, throw him a hologram tennis ball and get pictures and video of the experience to share. Almost 8,000 fans got to do the hologram experience, increasing engagement by 20% from past years."
The Hollagram Selfie Booth, Vntana's most popular product, is particularly appealing to millennials who enjoy interactive uses of AV technology. "Users get to see their hologram live next to hologram products, celebrities, athletes or other hologram objects. They can interact with the holograms via our gesture control and get a video or GIF of their experience to share online," Crowder explained. "This user-generated content for social media is extremely valuable. It is 50% more trusted, 35% more memorable and 20% more likely to lead to a sale according to Ipsos Millennial Social Influence Study 2014. Some of our clients have seen their qualified leads increase by more than double using the hologram selfie experience."
Further Reading: