A big dilemma for meeting professionals is how to attract attendees to events. Marketing expert Ron Rosenberg, principal of ronsbusinesscoaching.com, gave a high-energy presentation at the 2015 Meeting Professional International's World Education Congress in San Francisco on Monday that included the following tips:
Put the focus on the attendee. Make sure all marketing materials address the benefits he or she will gain. Translate all the features (content, presenters, location, etc.) into benefits, emphasizing the valuable takeaways your event offers. Create customized pieces that address different groups, so each recipient will feel that the event is "just for me."
Walk to the edge of the abyss. Don't be afraid to make your marketing message bold and provocative.
Address objections head on. When potential attendees hedge about an event, don't be shy. Instead, wave the objection like a big banner—actively dispelling notions as to why the objection is not an issue.
When designing a marketing piece (either print or digital), create a killer headline to grab attention. Practical information (date, location, session descriptions, etc.) should appear lower, as should the company logo or pictures. Other design elements should include using short bullets, as well as numbers or percentages, to emphasize key points.
Make presenters earn their pay. Ask them to offer special incentives such as closed-door lunch sessions or one-on-one consulting. To build interest in an upcoming presentation, ask them to develop a video clip that you can post as an exclusive before the event to reward those who have signed up and intrigue those who may be on the fence.
Sincere, attributed testimonials from people who attended your event last year can be terrific, especially if they are humorous. The best way to solicit testimonials is to ask open-ended questions on evaluation forms directly after the event and follow up again with email questionnaires a month later. Tweak the testimonials down to their essence.
The early bird gets the worm. While they are actively engaged in this year's event, get them to register for next year's gathering. Entice them with an attractive offer (perhaps 35 percent off if they sign up early), but provide a strict deadline.
Make it easy. If someone goes to your website to sign up for an event, create a dedicated landing page for it. You don't want them hunting all over the place for the link.
Offer a money back guarantee. It will make attendees feel that they have nothing to lose by signing up for your event.
Create urgency by stressing exclusivity. Emphasize that there are only 75 seats left or state that they don't want to miss out on the valuable information their competitors will reap.
Building Event Momentum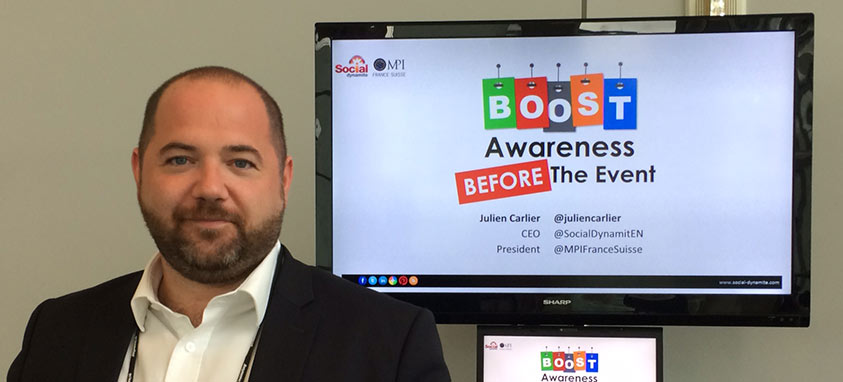 In a presentation entitled, "Boost Awareness Before Your Event," Julien Carlier, founder and CEO of Social Dynamite and president of the French chapter of MPI, also shared some tips:
Marketing is a continuous loop. You need to market before AND after your event, because after the event is actually promotion for your next event.
Use ambassadors to help promote your event. Ask your ambassadors (your speakers, sponsors and attendees) to share content via word of mouth or through social media, especially Twitter.
Employ all types of outreach. While digital channels are very popular and efficient, they have become saturated. Surprisingly, old-fashioned letters, printed on nice paper with a handwritten signature, can be an effective way to market your event because they attract attention.
Let audience members choose their channels. Some like print, others prefer email while others like Tweets. Don't make choices for your readers. Let them choose the channel they feel comfortable with.
Constantly test what works for your particular audience. It can constantly change.
Build excitement by creating a media calendar. Post one article per day on different channels for two weeks leading up to the event. Another good idea is to create a quarterly or "Best Of" collection of content.