Are you ready to enter the age of experience? A new study from the global agency George P. Johnson Experience Marketing singled out the effective emerging practices smart planners used in the last year to produce transformational messaging. David Rich, senior vice president of client services for the company, drilled down on the trends that are motivating employees and consumers.
Delivering Depersonalized Personalization
People expect events to mirror the experiences they are getting when they pick up their breakfast at the local coffee shop. "What happens in a meeting can't pale compared to what they see in daily life; it has to exceed expectations to achieve the level of engagement companies demand," Rich said. Attendees want the registration experience to be just as simple as when someone orders Starbucks coffee on the phone, walks in and picks it up without talking to anyone. "It needs to be exactly the way you want it, when you want it, without waiting in line," he said. Meeting professionals have to learn how to deliver efficient and meaningful experiences that are not interrupted with transactions for paying.
Today, many registration processes are exactly the opposite of that paradigm. Attendees are required to stand in line and the result is the same as what everyone else gets. The good news is that because attendees are already registered and staff knows they are coming, they are armed with the information they need to make showing up easy and bespoke.
Leveraging emerging facial recognition, date analytics and AI technology, could make delivering frictionless customized services ubiquitous at expo halls around the world in the next 3-5 years, Rich predicted.
Cisco is already tapping into the power of data with its GSX Portal experience. Attendees scan their badges and Bluetooth beacons track them around campus, recommending activities based on their individual learning objectives. It even points them in the right direction using dynamic floor projections through the Cisco Event app. "This provided a more personalized, more exciting experience that brought it to life in the space—people lined up to do it," Rich said.
Inviting Story-Living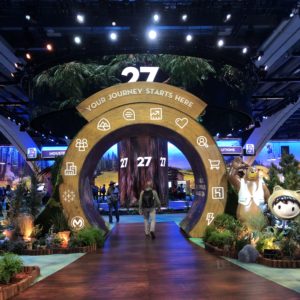 The evolution of storytelling invites participants to co-create their interaction with a brand. "This leverages the innate human desire to create and be seen," Rich said.
Instead of sharing ideas through videos, or talking from stage, meeting planners are now putting people inside the experience of doing something so they walk away smiling and saying they want more of that. "Participating is the shortest distance between not knowing and believing," Rich said.
Examples include a Westworld built at South by Southwest that invited attendees to create and experience their own show plot and Salesforce's Dreamforce that transformed San Francisco's Moscone Center into a camp for exploring.
Leveraging Sensorial Immersion
When story-living is boosted by sensorial immersion—appeals to all of the senses—as part of the food and beverage, staging and lighting, the message is even more memorable. "Experiences that wow audiences by appealing to and pleasing the senses hold the power to deepen engagement, fuel advocacy and amplify the brand socially," the study concluded.
Rich says companies don't have to have a massive budget to tap into these powerful trends. Involve people in social cause expression. Simply giving people a chance to express themselves by welcoming feedback and letting them discover branded moments will lead to more sharing and voluntary participation.
Be the First to Know
Everything you need in one beautiful print and digital magazine