How would you start planning for a once-every-five-year global celebration that brings millions of people and lasts six months? We asked Kailash Nagdev, senior vice president of sales and analytics for EXPO 2020 Dubai, to shine a light on the seven years of work required to coordinate input from 200 stakeholders in 191 countries with the goal of "driving innovation and inspiring action to deliver real-life solutions to real-world problems." Add to that challenge a pandemic that delayed the festivities for a year.
The theme for the 182-day spectacle starting Oct. 1 is "Connecting Minds, Creating the Future" and it was designed to be the largest and most diverse World Expo ever. "With up to 60 live events planned each day, it will be an incredible experience for explorers, foodies and culture enthusiasts, young people, entrepreneurs, thought-leaders, businesses and government representatives," Nagdev said. Visitors will be able to explore and savour a spectacular world of entertainment ranging from world-class music, dance and art to insightful talks and vibrant National Day celebrations.
The site adjacent to Al Maktoum International Airport in Dubai South encompasses parks and gardens, performance spaces and iconic architecture. The world's largest and tallest observation wheel, Ain Dubai will be the latest landmark at 820-feet high.  More than 240 million work hours have gone into transforming it from desert to city of the future, with a daily peak of 45,000 workers on the ground. The Expo office workforce numbers more than 1,400 and many more staff—along with 30,000 volunteers of 135 nationalities will help welcome millions of visitors when doors open.
The capital expenditure was $25 billion AED. "Expo 2020 Dubai is an investment in a sustainable, resilient and diversified economy that will spur broader economic impact in key sectors—including construction, transport, storage, communications, travel, tourism, hospitality and business services—in the UAE, the wider region and beyond," Nagdev said.
Read More: Lessons from the Front: Covid-era Med Meetings
Pandemic Impacts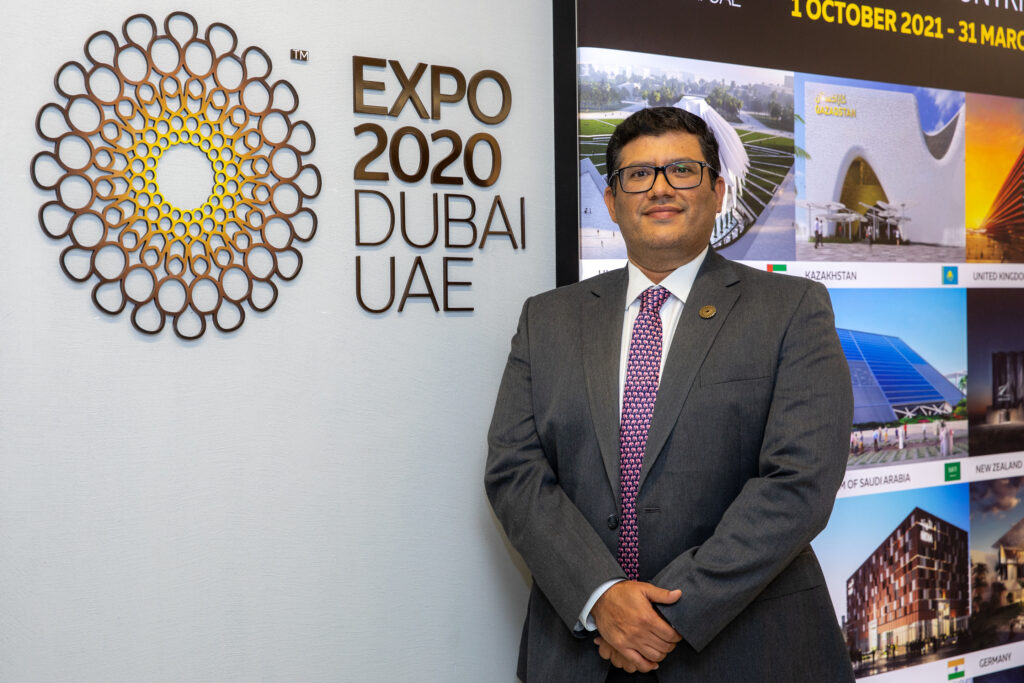 As with all major events taking place during the period of global pandemic uncertainty, Expo 2020 Dubai was faced with challenges presented by Covid-19, which included postponing the event by a year. "Our commitment to hosting an exceptional World Expo remains unchanged," Nagdev said.
"Indeed, given the impact of the global pandemic, Expo 2020's theme and purpose of 'Connecting Minds, Creating the Future' is more relevant than ever before. We strongly believe that now, more than ever, the world needs to come together to create a better future and that Expo 2020 will be a crucial platform for collaboration as we look towards a post-pandemic era," he added.
The theme is based on the belief that innovation and progress are the result of people and ideas coming together in inspiring new ways. Nagdev explained that three subthemes cover areas designers see as fundamental in shaping and building a better world for everyone:
Opportunity: Unlocking the potential for individuals and communities to shape the future
Mobility: Creating more efficient and effective movement of people, goods and ideas, both physically and virtually
Sustainability: Respecting and living in balance with the world we inhabit to ensure a cleaner, safer, healthier future for all
The nations and organizations that will take part in Expo, and the millions who will visit, can explore the power of connections across these key subthemes. And for the first time in the 168-year history of World Expos, each of the 191 participating countries will have its own pavilion at Expo 2020, giving them the opportunity to showcase their achievements, innovations, aspirations and cultures to the world. Country Pavilions will be organized according to Expo 2020's subthemes, rather than geographically.
Issam Kazim, CEO of Dubai Corporation for Tourism and Commerce Marketing, reported in a Visit Dubai press release that business event resumed starting in October 2020 and the city immediately saw a healthy pipeline of conferences booking, including Society of Petroleum Engineers Annual Technical Conference and Exhibition, International Astronautical Congress, and now, Expo 2020 Dubai. "The city was among the first in the world to restart its business events sector, providing a vital platform for associations, businesses and organizations to resume their face-to-face meetings and drive knowledge development in key sectors. We understand the importance for the meetings industry globally to restart physical events, and thanks to the efforts of stakeholders across the city, this all continues to be done in environments that prioritize the safety of all delegates, participants and organizers."
Lessons for Meeting Professionals
Expo 2020 Dubai is a six-month mega-event—one of the first of this size and scale to happen since the beginning of the pandemic. Nagdev described it is a phenomenal opportunity for people, organizations and businesses of all sizes from across the world to come together, form new partnerships and discover new business opportunities. A platform to network with industry leaders and change-makers from around the globe, it will foster a more diversified and resilient global economy, inspire a vibrant business environment, empower robust business connectivity and drive sustainable economic growth.
Read More: First Look: Dubai Exhibition Center
But an undertaking of that magnitude requires thoughtful planning to achieve measurable results. Expo 2020 Business Programme, known as 'Thrive Together' at Dubai Exhibition Centre is a dedicated, business-focused track of Expo's wider program for people and planet, offering a range of curated events and tailored products and services. It will engage on the United Arab Emirate's meetings, incentives, conferences and events sector, attracting domestic and international visitors during and after the event, becoming a cornerstone of Expo's long-term legacy and fueling Dubai's reputation as a world-class destination for major events and conferences.
Three Global Business Forums, including the first edition of Global Business Forum ASEAN, will welcome prominent speakers, leading decision-makers and industry experts to explore business synergies and address obstacles to growth, driving trade and investment and fostering economic development. Meanwhile, Country Business Briefings will enable each of the Expo's participants to leverage the presence of their heads of state or government, as well as their business leaders, to showcase their country-specific business and investment opportunities to a global audience.
An AI-powered app will facilitate interactions across geographies and industries, suggesting potential matches for users based on their profiles, expertise, objectives and interaction patterns. An easily accessible business calendar will be updated daily and carry the latest information on inbound business delegations, and all business events taking place across the Expo site, including in DEC, international participants' pavilions, and the Expo 2020 Business Connect Centre. Sitting at the heart of the Expo site, adjacent to the iconic Al Wasl Plaza, Business Connect Centre will house chambers of commerce and trade entities from across the region, representing more than one million companies, as well as investment houses and venture capitalists.
A premium experience season pass will offer additional opportunities for networking and add-on services to assure a seamless visitor experience, including complimentary enhanced access to the Expo B2B App, a dedicated concierge, entry to an exclusive premium lounge, priority access to a number of networking and thought leadership events.
To ensure that the positive impact doesn't evaporate when the visitors return home, more than 80 percent of the Expo's infrastructure and other assets, including DEC, will be repurposed in District 2020, a new urban innovation ecosystem and model global community of the future.