The niche between the proverbial rock and a hard place that event professionals often inhabit could be even cozier in the coming year, according to the results of a new American Express Meetings & Events study. The 2018 Global Meetings and Events Forecast surveyed 600 event professionals and found that at the same time group hotel rates are climbing, overall meeting costs could remain flat, and meeting owners are scrutinizing the details more than ever.
Group hotel rates in North America are predicted to move up at a rate of 3.5 percent, the highest expected increase in the world. The study labels this a sellers' market and notes the impacts that accompanied the recent round of mergers and acquisitions in the hospitality industry. A majority (65 percent) of respondents in North America said that contract negotiations are more challenging now. On the other side of the equation, many noted that they are seeing more investment in hotel renovations, meetings technology and global preferred hotel programs.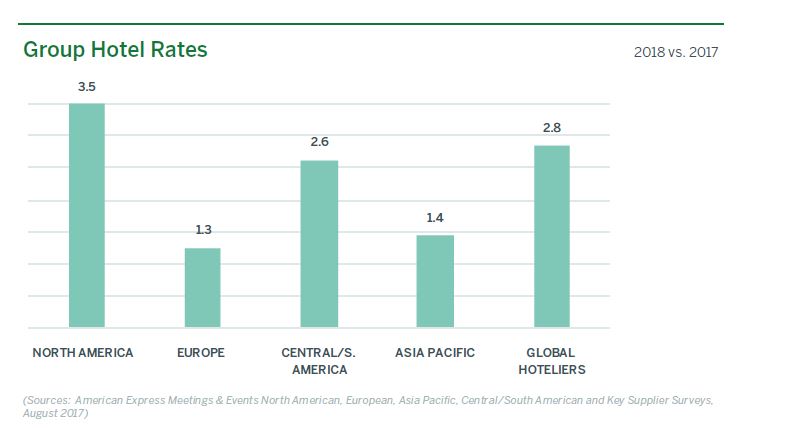 At the same time, meetings have become more complex to produce than ever before as an emphasis is placed on creating "meaningful, quality attendee experience." This can lead to everything from sourcing a nontraditional venue to trying out new tech features such as holograms or virtual reality. One meeting planner told surveyors, "While there is demand for increasingly complex meetings, budgets are not necessarily increasing. So we have to be smarter. Maybe this means smarter in terms of logistics, where we have one bigger meeting rather than several smaller meetings, or smarter in terms of quality, perhaps smaller meetings with enhanced content."
Linda McNairy, vice president of global operations and shared services for American Express Meetings & Events, had some suggestions for softening the blow of these converging trends.
1. Think Short and Sweet
Some events are limiting the number of days, but try filling them with hyper-local experiences and sessions carefully designed to meet goals. This could mean fewer speakers with PowerPoint presentations and more team-building exercises that allow merged companies to interact in ways that mirror their future roles, or one less dinner and an additional working lunch that results in a list of goals to take back to the company.
2. Practice flexibility
Just because a meeting has always been done in that place in that way doesn't mean that has to always be the case. McNairy suggests considering locating a meeting in a mid-size city to reduce costs or negotiating with a property on things such as resort fees or Internet charges. Demand for nontraditional spaces—warehouses, rooftops, a clearing in the woods—is expected to grow by almost 4 percent.
3. Plan Ahead
Locking in prices early and getting on hotel calendars before they are booked solid can help with pricing. Working with seasoned sales and marketing teams can also aid in finding creative ways to deliver value by changing approach or moving dates in a way that works for all parties.
4. Measure Everything
From doorstep-to-doorstep, measuring the quantitative and qualitative experience to understand the value to attendees and measure the return, allows planners to focus on the areas that are getting results and improve or do away with activities that are not embraced.