Convention and leisure travel are more connected than many meeting planners might believe. It's no surprise that attendees frequently turn their conference trips into vacations. That's why destination developers are doing more than just shining attention on convention districts and event facilities; they're also working to shape the neighborhoods that surround them. A good example is Events DC, an organization that's fueling an urban evolution and has created a renewed energy across the nation's capital. Three standout neighborhoods surround not just the city's key convention space, but existing and future venues that will set the city apart when it comes to destination experiences.
Shaw: Growing Neighborhood for Foodies and Retail Shoppers Alike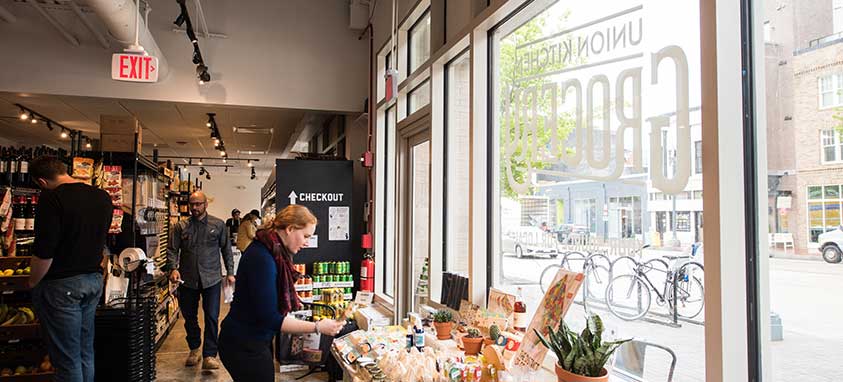 Union Kitchen Grocery
Shaw feels intimate, much like a small town, despite the fact that it's adjacent to the 2.3 million square foot Walter E. Washington Convention Center. More than just a meeting facility, the Convention Center has become an anchor for the historically significant neighborhood. From farmers' markets and trendy restaurants, to hop bars and cool galleries all within walking distance, that new vitality is easily approachable after conference programs end.
"Leasing out the Walter E. Washington Convention Center's retail spaces will further invigorate the Shaw neighborhood – and act as a prime example of how small businesses drive the growth of a city," said Max Brown, Chairman of the Board of Directors for Events DC.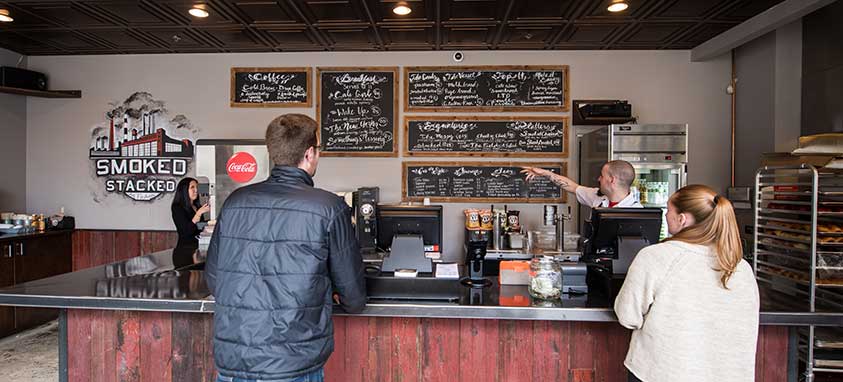 Smoked & Stacked
New retail highlights include, Compass Coffee, a "Made in DC" business, located inside the Convention Center and exterior tenants, Smoked & Stacked, a fast-casual sandwich shop by local top chef, Marjorie Meek-Bradley, Union Kitchen Grocery, Urban Athletic Club, Composition ID and a neighborhood barbershop.  Future additions will include a high-end diner concept, Unconventional Diner and a cocktail bar, in partnership with notable top chef, Spike Mendelsohn.
Capitol Hill/Hill East: A Historic Neighborhood and Home to a Future Reimagined RFK Campus
The big story for the Capitol Hill/Hill East neighborhood is at the intersection of the past and the future – most notably in the redevelopment of the RFK Stadium-Armory Campus. The 190-acre space, formerly home to the Washington Redskins and currently home to D.C. United, is being transformed to include attractions, green space and amenities that will invite both residents and visitors. Short-term development plans include, multipurpose fields, a Sports & Recreation Complex, pedestrian bridges, Market Hall and a memorial named for Robert F. Kennedy.  This area and the proposed amenities will create a new sense of neighborhood for the area – as well as resident and visitor-serving amenities.
Congress Heights: Vibrant Cultural District Located on the Anacostia River
In the heart of Congress Heights is Gateway DC, an innovative and state-of-the-art park and pavilion on the St. Elizabeths East Campus. Key to the rebirth of this neighborhood, the Pavilion provides a venue for local gatherings, a farmers' market hosted by Whole Foods, and other community, cultural and arts events. Adding to the excitement for Congress Heights has been the announcement of an Entertainment & Sports Arena that will become the new home to the WNBA Washington Mystics and a practice facility for the NBA Washington Wizards.  The arena will open in the fall of 2018.
Events DC Brings It All Together
Events DC is more than just venues, meetings, sports or cultural events – they forge all of those things together to keep Washington, DC's economic engine running strong while providing positive community benefits for neighborhoods to thrive. For more information and to start planning your event in DC, visit EventsDC.com/Plan.