A successful offsite meeting requires much more than hot coffee and a basket of pens. In order to truly engage your team, professionals need a place that offers dynamic experiences around the clock, both in and outside of the meeting room.
If you want your colleagues to come home from your next professional event with a newfound sense of wonder and connection, then it needs to be at Lake Tahoe. It needs to be at Edgewood Tahoe Resort.
Here are three ways that Edgewood Tahoe Resort will make your next professional event unforgettable:
Alpine Adventure
Nestled in a private enclave between majestic Lake Tahoe and the soaring Sierra Nevada mountains, Edgewood Tahoe Resort offers easy access to a world of alpine activities that move people in more ways than one.
Kayaking, hiking, boat rentals, cruises, and on-property golf, for example, offer unique laid-back opportunities for uninterrupted outings while colleagues take in the serene views of Lake Tahoe.
For those looking to mix adrenaline with business, the verticality of the Sierra Nevada mountains means that you and your team can bomb black diamonds on mountain bikes, snowboards, or skis, regardless of the season. Mountain biking trails and ski slopes are just a short shuttle ride from the resort.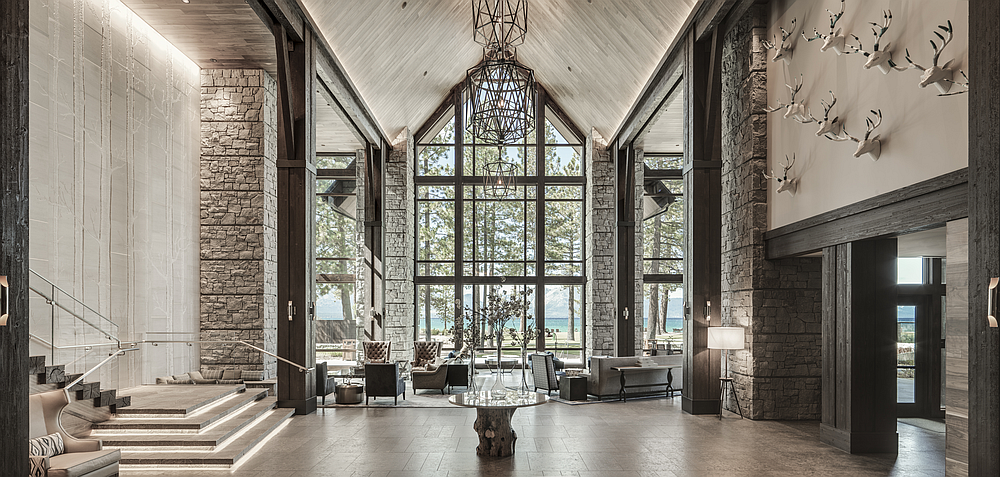 Pristine Places
Edgewood Tahoe Resort boasts impeccably designed meeting rooms and venues that blur the line between nature and architecture, creating an ambiance for your next meeting that is both inspiring and energizing.
The resort's lakefront Clubhouse, for instance, offers breathtaking lake and golf course views along with indoor and outdoor deck spaces that can be adapted to professional events both large and small.
For spring and summer meetings, Edgewood Tahoe Resort's beachfront lawn, framed by the resort's award-winning Lodge and towering pines, is ideal for catered events with an unbeatable lake view.
Along with its award-winning spa and trio of unique restaurants, Edgewood will take care of you, so that you can take care of business.
Top Tech
Lake Tahoe provides the natural splendor and Edgewood Tahoe – by way of PSAV – provides the cutting edge technology that elevates business events to the next level.
One of the largest audiovisual companies in the world – boasting top-of-the-line equipment that has been rigorously tested to perform seamlessly at events large and small – PSAV ensures that the technical side of guest events goes off without a hitch.
From LED walls and multiple circle screens to video mapping, PSAV can turn your next professional event into an unforgettable multi-sensory experience that will both engage and resonate with your team for years to come.
Submit an RFP or take a look at Edgewood's Meeting And Groups Guide, list of amenities and services, floor plans, and more at edgewoodtahoe.com/meetings-groups