On Florida's Paradise Coast, the answer to the question "Business or pleasure?" is always "Both." That's because we offer world-class meeting spaces, adventure and tropical elegance, making it easy to combine work and play—even in the same day. So as you plan your upcoming events, start with the destination that's sure to impress and delight every attendee: Naples, Marco Island and the Everglades.
Meet Well in Paradise
It's not everywhere that lets you see miles of white sand beaches from your seat in the meeting room. But Paradise isn't any ordinary place. It's home to luxurious beachfront resorts. Charming boutique hotels in the heart of downtown Naples. Unique venues like NGALA, an extraordinary wildlife preserve where exotic animals are part of the scenery. No matter your group size or budget, you're sure to find a meeting location in Paradise that's unforgettable.
Eat Well in Paradise
Florida's Paradise Coast is fast becoming a favorite among food lovers, and the reasons why are obvious. When you combine award-winning restaurants with fresh, locally sourced ingredients and creative chefs, you get a dining destination that's sure to make mouths water.
Naples, Marco Island and the Everglades are home to a variety of delicious dining opportunities. You won't want to miss our fresh-from-the-Gulf seafood—especially our world-famous stone crab claws. This local delicacy is only available from October through May, and is served chilled with a side of tangy mustard sauce.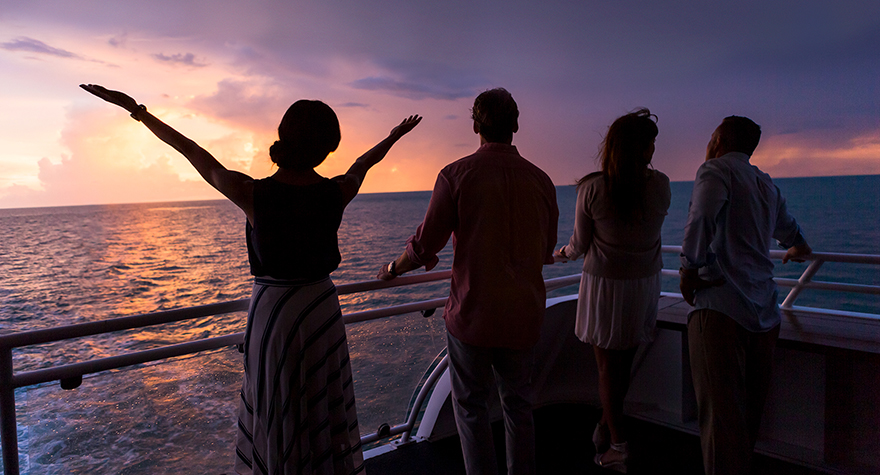 Enjoy the Outdoors
Sunshine is on the menu nearly every day in Paradise. When your meeting's over, your attendees will love teeing it up at one of the area's many championship golf courses. If they're looking for adventure, they can take a guided charter to explore the world-famous Everglades and Ten Thousand Islands, where they can go fishing or observe the area's stunning nature and wildlife.
Get on the Water
The newly renovated Naples Princess luxury yacht offers several ways to impress groups of any size. Step aboard a sightseeing cruise through the waters around the spectacular mansions of Port Royal, where playful dolphins make frequent appearances. Kick start a productive week with an impressive spread of hors d'oeuvres and desserts in air-conditioned luxury during a sunset cruise. Or treat your group to a dinner cruise, where they'll enjoy delicious, fresh fare with a side of stunning natural beauty.
Relax in Luxury
Your attendees can wrap themselves in pure decadence at one of the area's many full-service spas. With indulgent treatments for mind, body and soul, their daily obligations will take a much-needed backseat to bliss. Afterwards, they can take a refreshing dip in a mineral pool, or head to the beach and soak up the sun, salty breezes and good vibes that make the Paradise Coast the perfect place to relax and recharge.
With work-life balance on everyone's minds, the Paradise Coast easily checks both boxes. Start planning your best meeting ever at MeetInParadise.com.