In a city known for our world-renowned celebrations, distinct music, art and delectable cuisine, Hyatt Regency New Orleans is the premier hotel destination hosting some of the Crescent City's most prestigious meetings and events. Our award-winning culinary team and events specialists will work with you to fuse the best of New Orleans culture into your program.
Whether it's spicing up your lunch with traditional creole cuisine, energizing your attendees with a second line celebration to the next function, or adding a three-piece Jazz Band to provide an authentic welcome experience.   Our state-of-the-art facility features advanced technology, newly launched high speed 2Gps internet and more than 200,000 square feet of flexible meeting space—including two 25,000 square foot ballrooms, 50,000 square feet of exhibition space, 70 meeting rooms and a variety of additional options to suit your professional needs.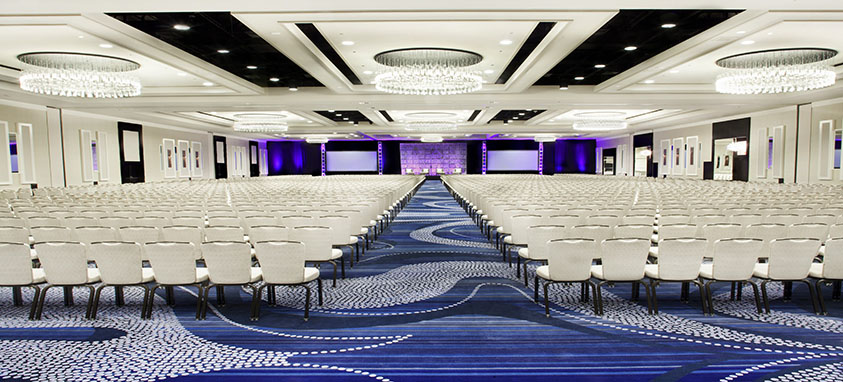 Boasting more than 1,193 guestrooms and 95 suites, our sleek guestroom accommodations are perfect when blending the traditional style Big Easy with the modern conveniences of home. Connectivity to the Hyatt House via a 2nd Floor Bridge allows for efficient overflow options and an array of guestroom styles set to satisfy each of your conference attendees.
Hyatt Regency New Orleans is located Downtown within the Central Business and South Market District. With access to local attractions and events, conference attendees are able to think beyond the meeting room. The city of New Orleans, known for its traditional specialty dishes, is surrounded by more than 20 different restaurants in the surrounding blocks. The Loyola Avenue Streetcar, positioned directly in front of the hotel, offers a short ride to the Garden District or, attendees can take a stroll to the historic French Quarter, less than a mile away.
While planning your meeting, surprise your attendees by hosting an off-premise event of your choice at one of 30 off-premise venues within the city of New Orleans with our catering company, 1718 Catering & Events. 1718 assists with locating the perfect off-property venue and has the ability to touch every aspect of the event planning process – from venue selection, theme and menu development to décor, entertainment. Offered exclusively at Hyatt Regency New Orleans, meeting planners also have the ability to post their off-premise event to the group master account.
At Hyatt Regency New Orleans, we have your meeting in mind. Maximize your next meeting by contacting a sales manager today and mention special offer code: NOLAPERKS for huge savings. For more information, visit us at neworleans.hyatt.com or call 504 613 3900.