At Connect 2023, Cvent showcased new features planners will love
Opening the first day of Cvent Connect 2023 with a Broadway performance by experience company Broadway Plus was fitting.
As the performers of the opening show sang about the joys of connecting and networking with likeminded meeting and hospitality industry professionals, those very professionals in attendance both live and in person likely sung just as joyously about the new event tech products that were showcased at Cvent's latest conference and tradeshow at Las Vegas' Caesars Forum, which included tools that will allow meeting profs to have more control over their event content, keep attendees engaged year-round and be more productive with the use of AI.
New Cvent Products
The new digital products rolling out from Cvent place a great emphasis on year-round engagement among attendees, with the rollout of Cvent Webinar and Cvent Events+, which have numerous features that will allow planners to keep engagement high before, during and after an event.
With Cvent Webinar, event organizers can now host webinars directly on Cvent's platform, allowing planners to manage their events and webinars in one place. The solution makes it easy for meeting profs with no prior experience creating webinars, offering tools like lower thirds, backgrounds, scene transitions and embedded media files to create a better experience. It will also have features that can foster interactivity, such as live polls, Q&A, interactive chat and feedback surveys. It will also integrate with marketing platforms and CRM systems to allow for better measurement of webinar success.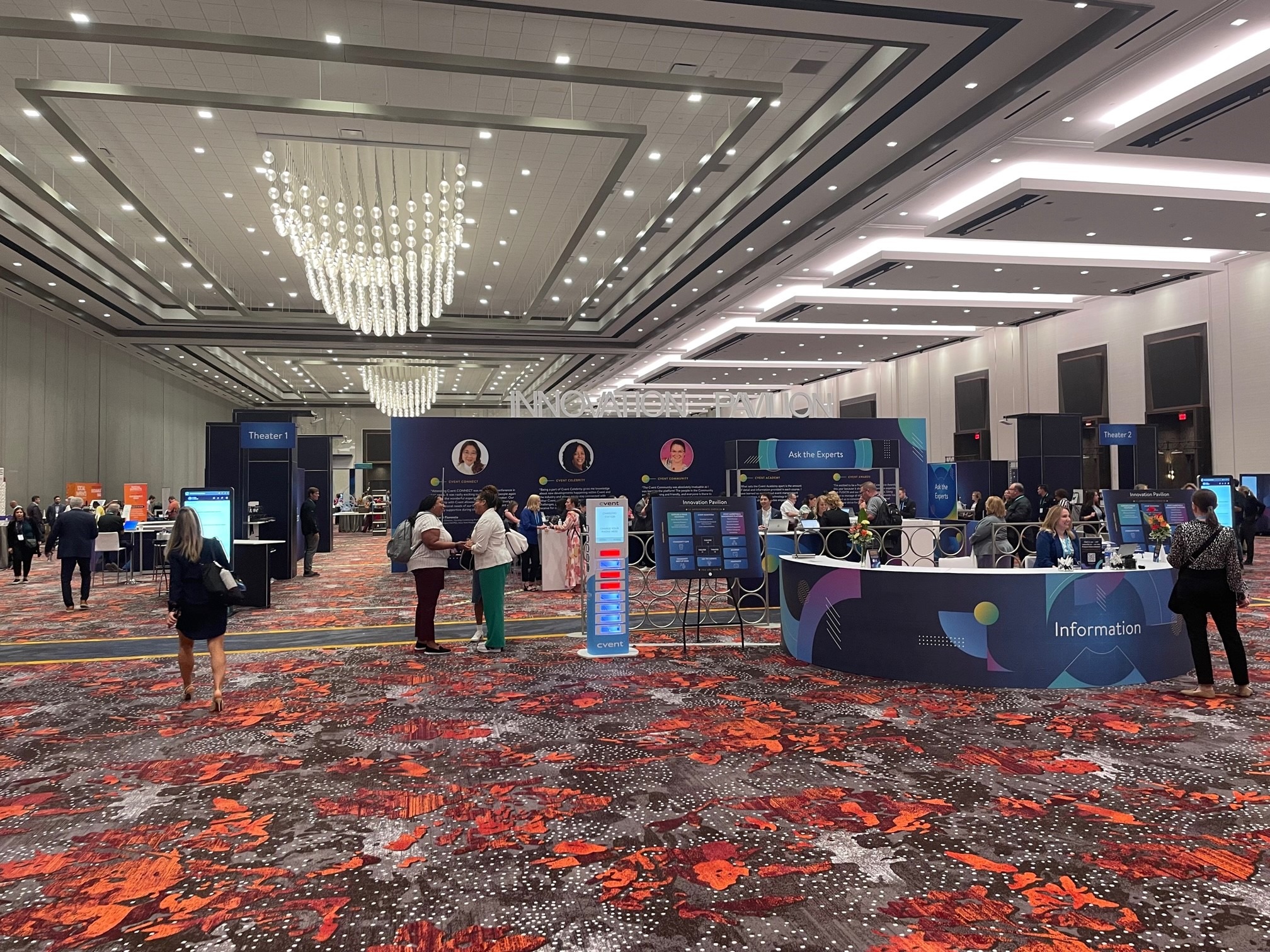 Cvent Co-founder and Chief Technology Officer David Quattrone said the team is excited about what planners and customers will be able to do with the webinar tool. "It's designed in a way that's simple," he said. "You don't have to overburden your internal events team. You can allow end users to have some of that content. If they want to get some of those interactions going, they can do it and manage it on their own."
Cvent's new Cvent Events+ will also be used to foster year-round engagement and generate more engagement among attendees, displaying upcoming events and webinars, as well as on-demand video and highlights for those who weren't in attendance. Video content will also be easier to handle through Events+, as event planners will be able to edit and promote their video content from the platform.
Read More: Cvent's 'Top Meetings Destinations' and 'Top Meeting Hotels' Returns
The use of AI plays into the operation of Cvent Events+ in several ways. Writing event and speaker descriptions are an important part of creating events, but it's also an area where many event planners would prefer not to spend extended periods of time. Cvent's AI feature will be able to help with this. Using what's called "seed text," a sentence or two (or longer, if necessary) containing your main message, you will then use AI to make the text longer, more concise or give a different tone. AI can also be used to write video descriptions by analyzing the video's content.
No dates were announced for when these products will be out, although representatives said they will be available for use within six months.
Personalization and the Future of Tech
The future of event technology is both exciting and a bit uncertain. Brian Ludwig, senior vice president at Cvent, expressed this excitement when talking about the future of event tech, some of which may be here in the near future, while others may be decades away.
"No one's going to debate whether or not AI is going to take off," Ludwig said. "Really, the question is which areas are going to become most pervasive, like will AI for venue sourcing become a thing, instead of doing it the more traditional way. Will recommendations around sessions and speakers and people that you should meet get smarter and more personalized? I think we all agree those things are going to happen. Really just how much more digitized are events going to get? The pandemic sped it up, and I think over the next five to 10 years, it's just going to keep going in the exact same direction."
The simultaneous consumption of content among attendees is something Ludwig believes will continue, although he admitted he has a hard time wrapping his head around it, battling whether the attendee is actually engaged and paying attention to the content. Acceptance that attendees are being pulled in multiple directions is likely the solution.
Read More: How Meeting Profs Can Find the Right Event Tech
"We have to come to expect that they're looking at the deck [on their phone], they're texting someone they just met about having a conversation about the topic. We have to embrace that people's attention spans are short, and they're going to be pulled in lots of different directions; they're going to be getting [opportunities for] content collaboration coming at them from all angles."
The flood of information attendees receive during events isn't useful to everyone equally, and Ludwig toyed with the idea of optimizing someone's experience so they can take it all in, analyze it and walk away with only what they need and want. "We don't do a great job of this today," he said. "What I envision is if I met 27 people and went to 15 sessions, and I loved the first five minutes of that one and seven minutes of this one…." Ludwig sees a time when all that content can be funneled to give each attendee only what they need, so they can walk away from a conference with an A-to-Z of what happened, what the interesting moments were and use AI to draft that into a write-up.
Personalization is always a huge topic and technology can be used to make it even better, but Ludwig said this personalization requires more participation on the part of attendees. "It starts with having people fill out a robust profile," he said. "Today, even though they can do it, a lot of people sign up for the event, go into the app and don't fill out personal preferences, interests, background detail, they don't upload a profile picture and they don't upload their LinkedIn profile.
"The more we can get people to give during registration or when they first log into something like a mobile app allows us to then see out to their connections, where they went to school, who they're connected to, what interests they have. When you gather all that unstructured data, and bring it together via AI, then you can start offering the right things for the right people at the right time."
Choice Hotels International Joins Cvent's Instant Book Platform
In Q3 2023, Choice Hotels International will join Cvent's Instant Book platform, allowing meeting profs to easily find and book guest room blocks for small events at Choice Hotels properties. With this new integration, planners with small and simple events will be able to search, compare real-time rates and availability without the need to send RFPs, normally required for larger, complex events.
"Choice is a very tech-forward type of company," said Jim Abramson, vice president of product management for Cvent. "One of the things that's happened since the pandemic is higher response times, and with higher response times, the RFPs planners send need a faster turnaround. So, they look at technology as a way to help them respond faster—and there's really nothing faster than instant."
Abramson said they're going to continue working with Choice to find out what works and what doesn't, as well as work with other chains and hotels to grow the marketplace.
"This is an industry change," Abramson said. "For an industry to change, you need to have everybody in the industry change it together. Choice is one of those [brands] that's more on the early side. But both planners and hotels need to adopt this to be ubiquitous over time. I don't know if it's five years, seven years, 10 years, but at some point, Instant Booking is going to be just a normal thing that we all do in this industry."