How combining business and pleasure at a meeting creates a win-win
Just because California boasts a $3.83 trillion economy—the largest of any state in the union and all but four countries—doesn't mean we can't have fun while getting business done. In fact, the state's celebrated spirit of adventure—along with diverse geography for shipping, farming and outdoor activities—is part of the reason meeting there are so successful. Visit California's annual conference, California Outlook Forum at SAFE Credit Union Convention Center in Sacramento this week embodied the upbeat, fun and adventurous spirit the organization's research showed as core attributes believed about the state.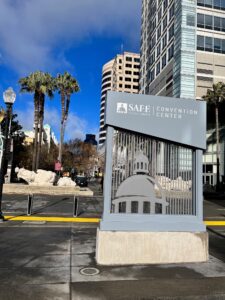 "California has always been a famously playful place. Its free-spirited, you-do-you attitude is contagious, inspiring people from near and far to lighten up, explore, try new things and follow their fun through its vast playground of beaches, mountains, deserts, canyons, Redwood forests, charming towns and urban wonders," the group's marketing positioning paper read, citing the invention there of Barbie in 1959, skateboarding in the 1940s, the martini in the 1800s, the gaming industry in the 1970s and Disneyland in 1955 as proof points of the state's abundantly diverse, fun mindset.
Visit California President and CEO Caroline Beteta highlighted the diverse resources, experiences and intellectual capital that makes the Golden State such a popular place to meet.  
Native California
The state is home to more Native American tribes on their ancestral lands than any other state. Beteta asked Wade Crowfoot, California Secretary of Natural Resources; Reid Milanovich, chairman of Agua Caliente Band of Cahuilla Indians; and Sherry Rupert, CEO of the American Indian Alaska Native Tourism Association about the appropriate ways visitors can respectfully partner with Native communities to create vibrant experiences in their ancestral homes while practicing responsible tourism.
Read More: California: Golden Moments
Rupert said the first step is a phone call. Her organization regularly connects groups with local representatives to find ways to add cultural elements to any program. "Tribes are everywhere," she said.
Chairman Milanovich pointed to The Spa at Séc-he, which will be opening in Palm Springs in April. It will feature private mineral baths, a cryotherapy chamber, float pod suites, a grounding room, an acoustic wellness lounge, a tranquility garden, a menthol dry sauna, a eucalyptus steam room, two halotherapy salt caves, a resort-style pool with a waterfall and grotto, a zero-edge mineral pool, four whirlpools, luxury cabanas, full-service salon with scalp treatment beds, a cafe and a poolside bar.
Agua Caliente Cultural Plaza, museum and Oasis Trail will follow soon after to tell the story of the connections of water, the land, animals and people in the valley at the base of the San Jacinto Mountains. This will be a vivid and convenient way for groups to share the voices of the people who populated the land where their ballroom now sits.
Reinventing Gathering
"The way we build arenas hadn't really changed since the days of the Roman coliseum," said Vivek Ranadive, co-owner of the NBA Sacramento Kings, and more recently, MLB farm team Sacramento River Cats, prefacing his approach to building Golden 1 Center for the Sacramento Kings.
He worked with IDEO U Design Thinking to eliminate friction in the event experience by controlling traffic, streamlining queues and making attending as easy as watching from home while entertaining at the highest levels and being the most sustainable operation possible.
"I am a big believer in the power sports can bring to a community—and it is a great investment," he said.
Addressing his reason for stepping in to keep the team in Sacramento, this non-sports guy explained his love of his adopted home state. "California has a sense of opportunity; it is forever young. Sacramento is the capital of that state. The landscape and the people are beautiful," he said.
His vision is to build a city that ushers in Civilization 3.0. "I want to do something bigger and better that supports everyone," he said. On many nights, that starts with a call to "light the beam," the purple laser that can be seen from passing airplanes when the Kings win.
"The beam has become a beacon of hope for the community," Ranadive said. "We all have our journeys, and we have to celebrate each step along the way."
The Future of Live
"You have to give people a reason to come to the event," said Kevin Carr, vice president of Cvent, who joined a panel about the future of live events. "The natural beauty of the state attracts attendees interested in bleisure and plus-one opportunities and results in higher attendance," he said.
California's reputation as a destination drenched in food and fun is legendary. Darren Green, chief sales officer, Los Angeles Tourism & Convention Board, moderated the panel and stressed the importance of sharing the message that California is also a place to do business because of its robust intellectual capital, the number of headquarters companies and the thought leaders who live here. 
Carr shared that the data he is seeing from meeting professionals looking for destination shows that, while they may say price is the most important variable they consider, price is actually lower on the list than security and safety.
Mindy Gunn, global head of event marketing with Amazon Business who was also on the panel, agreed that having the destination work with the organizer to secure the area needs to be done thoughtfully rather than as security theater. "The worst thing is to pretend it isn't a problem," she said.
Green suggested working with the destination early to access free resources available, something that can be accomplished easily by using the tag the CVB feature through Cvent.