European Travel Is Rebounding Says New Study
The European Travel Commission (ETC) has released a new study that says European destinations are "on their way to recovering pre-pandemic tourist arrivals."
The report compared year-to-date data compared to 2019 and showed that about one in two reporting destinations have recovered more than 80% of their pre-pandemic foreign arrivals.
Southern Mediterranean destinations posted the fastest recovery as the year ended. Slower destinations to recover were in Eastern Europe due to the war in Ukraine and the loss of Russian visitors to their destination.
As the Asia Pacific region broadly reopened over the second half of 2022, travel demand from the region to Europe is likely to rebound in 2023 said the study. In particular, encouraging news came in December with the end of the three-year-old "zero-Covid" policy in China. Experts anticipate a gradual return of Chinese travelers to Europe from the second quarter of 2023, as significant barriers remain.
Transatlantic travel is expected to continue making significant contributions to European destinations. The U.S. leads the recovery of long-haul travel to Europe, thanks to short-lived and fewer travel restrictions, and the strength of the dollar against the Euro, the ETC study said. Based on year-to-date data, almost one in four of reporting destinations saw U.S. arrivals exceed 2019 levels.
Arrivals from this market to Europe are 25% below 2019 levels in 2022 and are expected to recover 82% of 2019 volumes in 2023. Canada is performing similarly to the U.S., if a little weaker, with arrivals from Canada to Europe looking to be 28% below 2019 levels in 2023. Growth from North America, however, might slow in 2023 as the economic outlook points to a mild recession due to challenges associated with inflation, labor markets and consumer and business confidence, among others.
Download the full report here.
JFK's Terminal 6 Breaks Ground
Governor Kathy Hochul and the Port Authority of New York and New Jersey broke ground on Feb. 23 on the new Terminal 6, a $4.2 billion,1.2 million-square-foot, state-of-the-art new terminal on the airport's north side. The new terminal will feature 10 new gates—including 9 wide-body gates.
"New York remains committed to providing travelers with a premier experience that includes world-class amenities, expanded and streamlined airport transportation and state-of-the-art security," Governor Hochul said.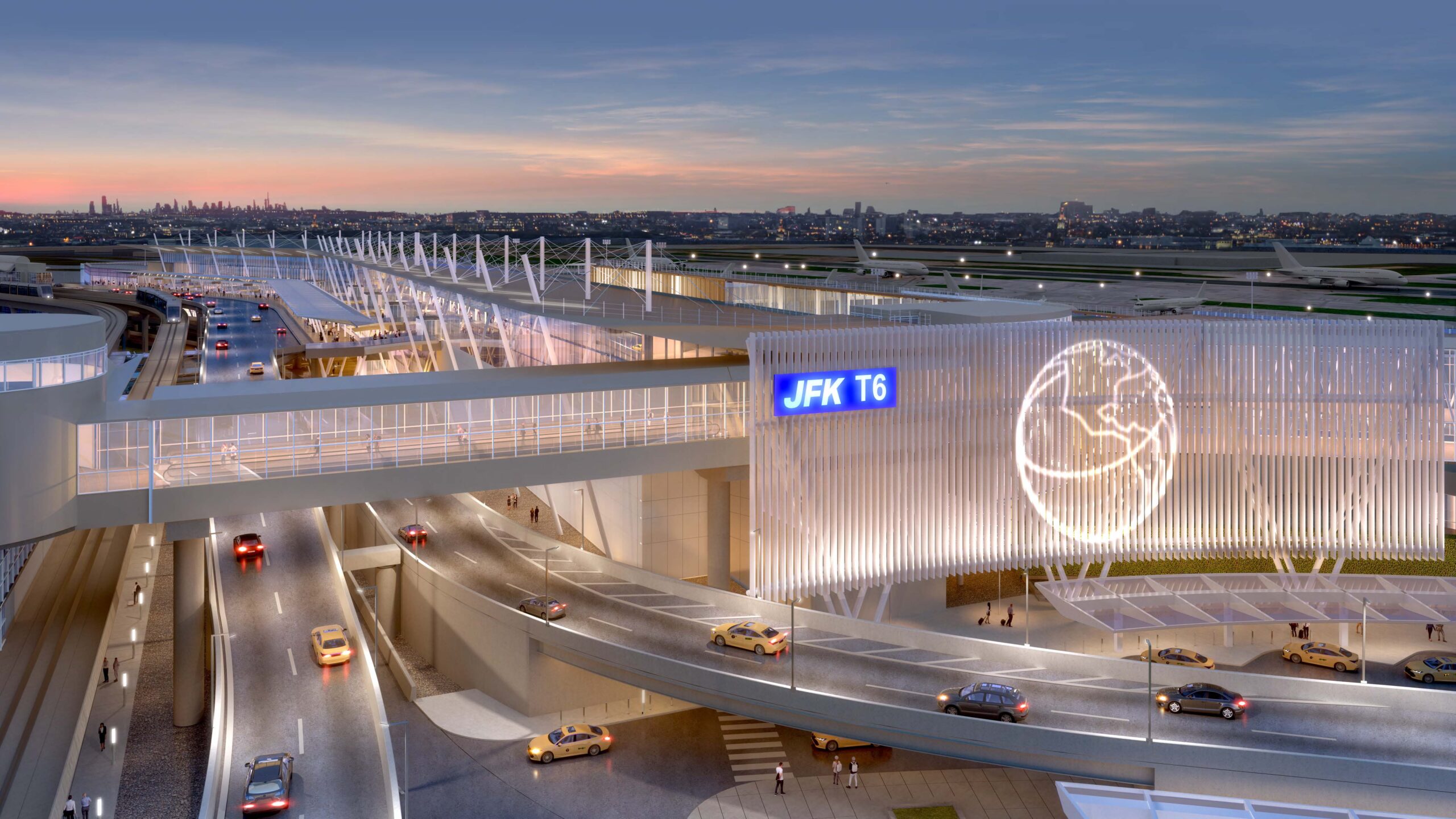 The new Terminal 6 is a public-private partnership between the Port Authority of New York and New Jersey and JFK Millennium Partners which is developing the new terminal in two phases, with the first new gates opening in 2026 and construction completion in 2028. The new terminal will create an anchor for passenger travel on JFK's north side, spanning the sites of the former Terminal 6 and the existing Terminal 7. JFK Millennium Partners is managing Terminal 7 until the 50-year-old facility is demolished to make way for the second phase of construction.
The new Terminal 6 arrivals and departures hall is designed to be "spacious, bright, and airy thanks to floor-to-ceiling windows and high ceilings throughout the new terminal."
Art by New York-based artists and architectural elements will depict New York landmarks. More than 100,000 sq. ft. of shopping and dining will feature local restaurateurs, craft beverage options and Taste of NY stores.
Touchless technology will whisk travelers from check-in to gates. Security systems will include automated TSA lanes, biometric-based access control systems and a flexible design to accommodate future technology or regulatory changes. A taxi plaza as well as designated for-hire vehicle pick-up areas will be shared with Terminal 5. In addition to JetBlue, Lufthansa Group will also make its home in the new Terminal 6, operating international flights out of several gates and creating a lounge experience for guests traveling on its airlines, which include Lufthansa, SWISS, Austrian Airlines, and Brussels Airlines.