Top meeting professionals gathered in the Nation's Capital this week at Smart Meetings Mid-Atlantic Experience were treated to a crash course in finding personal and professional freedom while building a network that will serve their careers for years to come. The one-day event at Hamilton Hotel in the heart of Washington, D.C., kicked off with tips from Mel Abraham, founder of Thoughtpreneur Academy and Business Breakthrough Academy.
Be in the room where it happens by registering for an upcoming Smart Meetings Experience Today.
The author of The Entrepreneur's Solution explained the financial impact meeting professionals have when they practice their craft intentionally. "We have effectively all been in solidary confinement for a year or more and we are starved for human connection.
As meeting planners, you have the opportunity to not only educate and entertain, but to create a moment of experience that becomes part of attendees' very selves. When they take away a powerful feeling, that will make them more loyal, encourage them to come back and result in a bigger bottom line. It pays off in spades."
Thanks @MelHAb for the tips on making time for meaningful moments. #MeetSmart @SmartMeetings pic.twitter.com/OwTqRBZs1N

— JT Long (@SmartMtgsJT) June 17, 2022
Abraham also put current dire headlines in perspective. "This too shall pass," he said, referring to Covid outbreak scares, rumors of an impending recession and political unrest. He encouraged attendees to act during crisis as Smart Meetings founder Marin Bright did when she started the publication 20 years ago in the wake of the 9/11 terrorist attack that temporarily crippled travel.
"More millionaires are made during challenging times than good times because we have to rethink our businesses and how we do things," he said.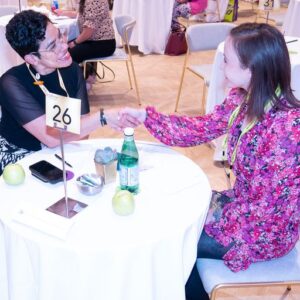 The first step toward being financially independent for ourselves and our companies is to talk about it. "That is how we solve problems, but too many people are afraid to discuss money. We have to get over that."
Abraham used himself as an example. "I have made enough money to be successful, but also enough mistakes to be educational. That is why I share the dumb things I have done so others can learn from them."
He boiled down the financial barrier most people face. "We don't have money issues; We have symptoms of our behaviors and decisions. We also have control and the ability to change our behaviors."
Financial freedom starts with stability to pay for the basics, he explained. Then you can move on to financial security, which includes the wants (Netflix, mani-pedis…). Financial independence allows you to do what you want. "Financial liberation is a journey and a path. It is a process of getting there. Incremental changes can make a big difference over time."
Here is the short list of ways to gain financial freedom with small, incremental changes.
Start by finding a purpose
Measure life based on what percentage you can control
Automate as much investing and debt reduction as possible
Look carefully at how you are spending your money and your moments
Your legacy is how you act in every moment
Thank you to our Platinum & Event sponsors Hamilton Hotel, MGM Resorts International and Cadmium.