Editor's Note: As part of Back Light, an ongoing series of looks behind the scenes at how events are being produced today, we asked Paula Mettler Marketing and communications manager with Leo Events to share a look at a recent production for a major retailer.
To celebrate the 60th anniversary of the world's largest retailer, Walmart and Sam's Club associates met in Fayetteville, Arkansas, for the 2022 Associates Week, June 1-3. For the first time since 2019, more than 14,000 domestic and international associates came together in person for a singularly inspiring experience.
Walmart Associates Week features a lively program of events across three days. Business sessions include keynote presentations from Walmart and Sam's Club leaders, top executives sharing fiscal results, and a diverse array of associate recognition and on-the-spot job promotions. Celebration events include nightly concerts and surprise celebrity appearances. Presentations and performances come from a sophisticated stage designed to immerse the audience in content, video and electrifying graphics, driven by the latest in event and theater technology and featuring larger-than-life augmented reality.
The week culminates at Bud Walton Arena with the Associate Celebration, a live-streamed public production affectionately referred to internally by the Walmart Event Solutions team as the "mini-Grammys" and the "Super Bowl of Walmart."
The annual Walmart Associates Week accomplishes much more than fulfilling the company's regulatory requirements of reporting the past year's performance and voting on matters affecting corporate operation.
"We're a purpose-driven company," explains Walmart's Mark Henneberger, vice president of shows and events. "This week is an opportunity to share plans with thousands of associates from around the world and re-energize their dedication and enthusiasm for the company's mission to help customers 'Save Money. Live Better.'"
On-stage at Bud Walton Arena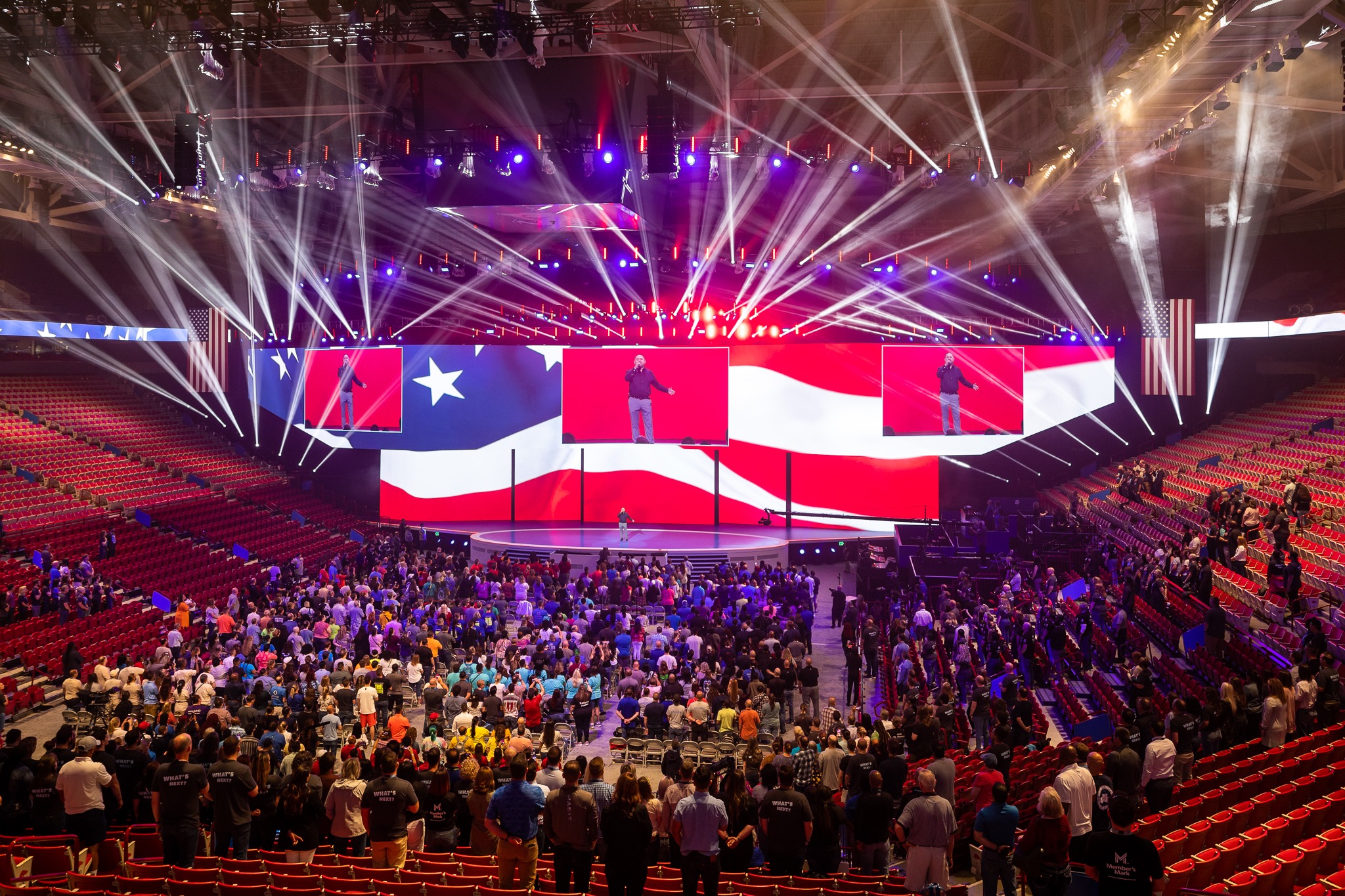 Home of the University of Arkansas' men's and women's basketball teams, Bud Walton Arena hosted the Sam's Club Associates Meeting, Walmart U.S. Associates Meeting, and the legendary Associates Celebration to wrap up the week.
The Walmart Event Solutions Team, in partnership with LEO Events, constructed the most extensive LED environment to date at the arena. Spanning 170 feet wide and 35 feet tall, the concave LED screen created a captivating experience for everyone in attendance, from any seat in the house.
Read More: How Leo Events Nails Immersion
Every element of the creative and environmental work was artfully crafted. While enchanting graphics danced across the stage to create unique environments for each speaker and performer, LED screens displayed close-up shots of each individual. Three additional LED walls were raised to display branded graphics and decor elements like the commemorative 60th-anniversary logo to serve as a moving backdrop for presentations.
Massive stage lifts, moment-defining foggers, and compelling mobilators (conveyors that allow the stages to move in any direction) brought the arena to life throughout the week, and the sports arena setting made the entire meeting feel like a true celebration, with associates and shareholders cheering on "team Walmart."
Sam's Club Associates Meeting
The three-day meeting kicked off with the Sam's Club Associates Meeting, where President and CEO Kath McLay addressed associates from the branded LED set and shared messages of gratitude and encouragement, highlighting real-life examples of associates and clubs taking care of the communities they serve.
The energy was extraordinary as associates descended into Bud Walton Arena. With associates on their feet throughout the meeting, cheers rattled the rafters, turning an 8:00 a.m. corporate meeting into an experience reminiscent of an 8:00 p.m. event.
Recognition was sprinkled throughout the entire program, with two live job promotions at the beginning and end of the meeting. Sam's Club leadership announced philanthropic initiatives with Children's Miracle Network Hospitals and Salad Bowl Boxing, a non-profit organization started by a Sam's Club Supplier Quality Control Manager.
The meeting featured unique ways to engage the audience, including a live game show segment where associates went head-to-head to answer Sam's Club trivia before building a 3D puzzle on-stage. During a merchandising keynote, parachutes fell upon the audience, each carrying a sampling of items for associates to enjoy.
To wrap the meeting, each associate was honored with a customized, keepsake poster featuring a quote from their manager on a fantastic performance. Before departing a Grammy Award-winning artist surprised the audience with a live performance, electrifying the crowd before dismissing everyone for the next activity.
Walmart U.S. Associates Meeting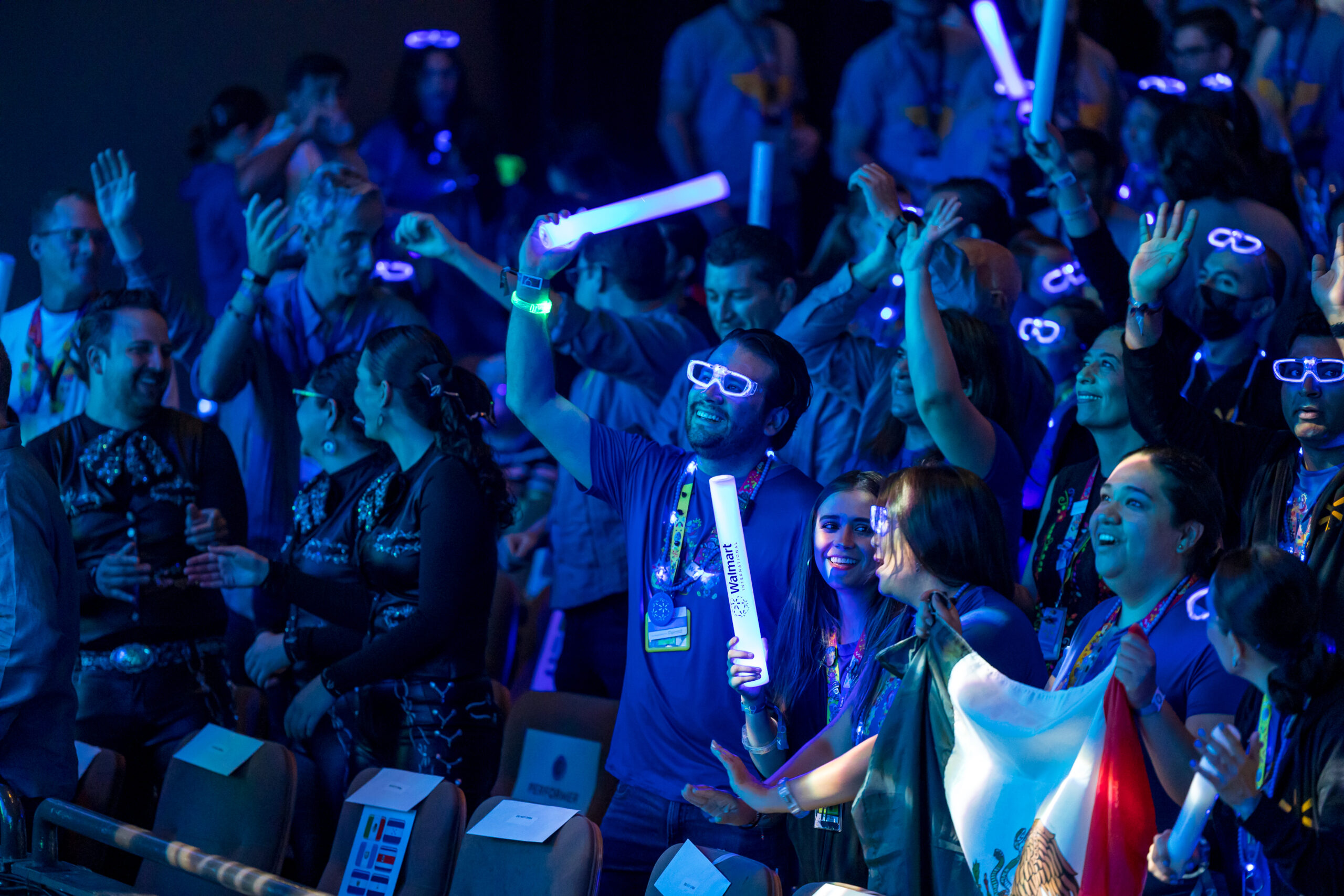 Following the Sam's Club meeting, Walmart Associates poured into Bud Walton Arena in waves of cheers, dances and celebratory hugs and high-fives. Walmart Radio DJs led the excitement as beachballs bounced around the crowd.
John Furner , president and CEO of Walmart U.S., welcomed Walmart associates to Bud Walton Arena with a keynote on core Walmart U.S. values—Respect, Service, Excellence and Integrity. The theme of the 60th anniversary meeting was "Connecting Together," a mantra that speaks to the act of gathering around shared values and experiences to become more connected than ever—at a time when connection is more important than ever.
The theme was illustrated by showcasing associate-created social media posts on screen between keynotes. The camera boom weaved between the audience while associates cheered on their colleagues, two of whom received live job promotions directly from the C-Suite.
In celebration of 60 years of helping people save more and live better, the meeting was designed to capture what is unique and special about Walmart—its people. The overall message was for associates to have fun, connect with each other, and reconnect with the company's purpose.
Walmart also announced a new internal app for employees to share ideas, noting that the best ideas have historically come from associates. Special thanks came when executives spoke on the current social and political climate, noting that communities across America rely on Walmart associates, pharmacists, supply chains, merchants and private fleets, especially during times of crisis.
Before heading to evening events, the audience enjoyed a live game show segment, goody bags filled with some of Walmart's most popular summer items, and, like the Sam's Club meeting, a live performance a Grammy Award-winning artist.
International Associates Celebration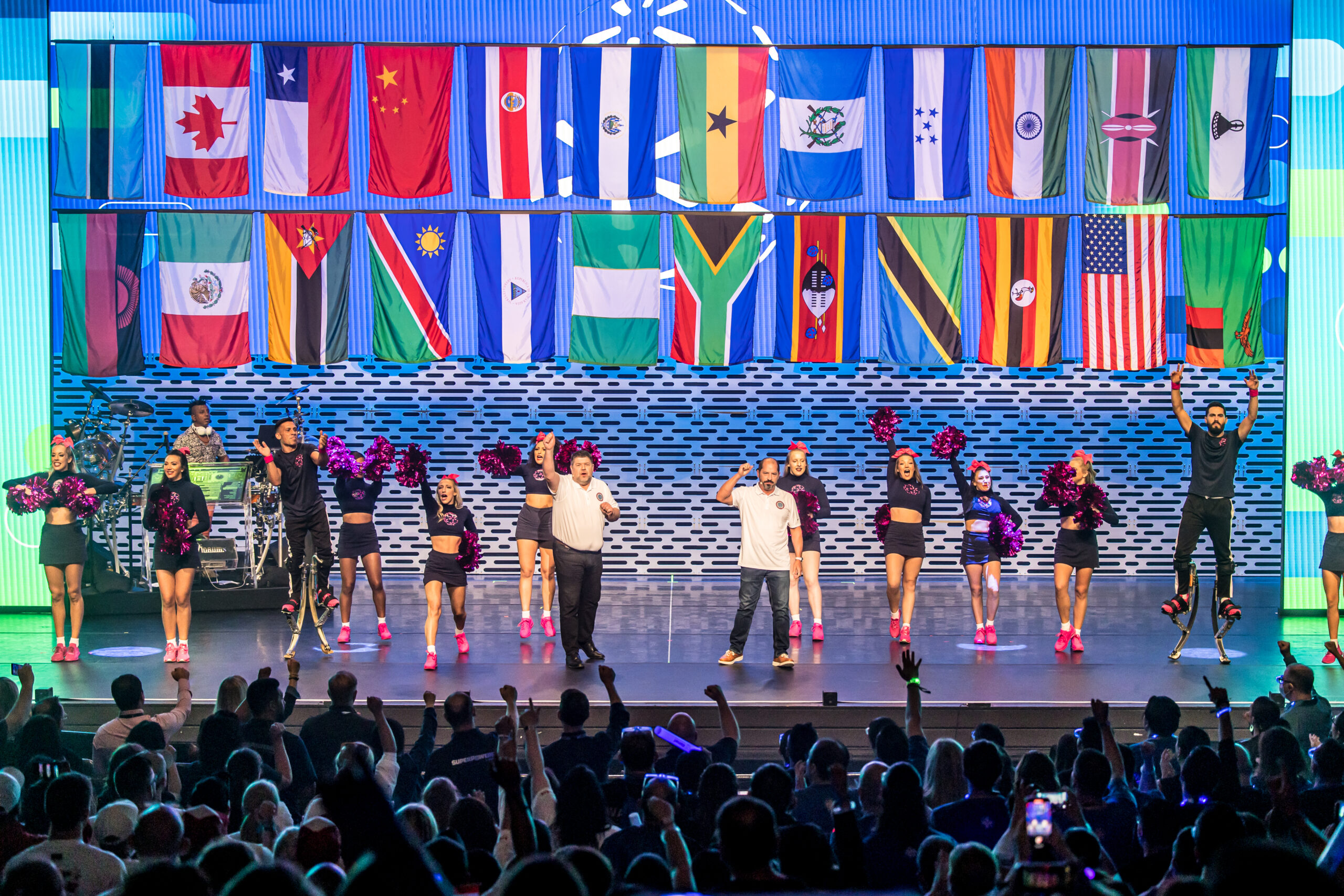 At a separate venue, more than 1,000 International Associates met with their U.S. counterparts in Fayetteville, traveling more than half a million collective miles to be in attendance. With markets in Mexico, Central America, Chile, India, Africa, Canada and China, the International Associates attendees represent the diversity of the Walmart brand and the voice of half a million associates from across 23 countries.
Read More: International Cities You Need to Know
Judith McKenna, president and CEO, Walmart International, led the meeting in celebration of tremendous growth, power of partnership and the international delivery of the Walmart story. Following a superhero motif, the meeting featured Chilean dancers, special recognitions and a guest appearance from a celebrity magician. Before International Associates were dismissed, they were each gifted a custom superhero cape as a reminder of the power of people and planet in global sourcing.
The Associates Celebration
The Associates Celebration began bright and early Friday morning, bringing together everyone from Sam's Club, Walmart, and International Associates to wrap up the week. The Associates Celebration featured a block party theme on massive LED screens. Acts moved across the stage, interacting with a branded digital environment that depicted a neon cityscape.
To wrap up the week, Walmart President and CEO Doug McMillon, addressed all associates and shareholders with a movie-themed presentation, describing Associates as stars of the Walmart Movie. Enhanced augmented reality (AR) moments displayed a movie marquee that enveloped overhead and ended with dazzling stars flying over the audience.
"You're the stars. You're the heroes. You've all earned your star on our Walk of Fame."
–  Doug McMillon, President and CEO, Walmart
The result of all the Walmart Events Solutions Team's planning and expertise was a meeting where the enthusiasm-level of participants was so high that cheers were heard across the campus, especially during the closing act and massive firework display effect to wrap the show.
"Everyone has a story to tell," explains Henneberger when asked how companies can pull off a show of this magnitude in a post-pandemic landscape. "Take advantage of all the tools at your disposal. If you have a good story, you can put on a great event."
Walmart sent its shareholders and associates back to the field feeling energized, proud to work for the organization, and ready to share that experience with those who did not attend.
Speaking of sharing, the planning team coordinated a live stream of the entire event, which can be viewed here.