Marriott International is moving into wild new territory. In partnership with Baraka Lodges Ltd., the international hospitality brand will open JW Marriott Masai Mara Lodge in the National Reserve of Narok, Kenya, an African wildlife conservation and wilderness region. The retreat is slated to open in 2023.
"As a brand rooted in mindfulness, we cannot think of a more perfect retreat for the mind, body, and soul than the Masai Mara National Reserve in Kenya," said Bruce Rohr, JW Marriott vice president and brand leader.
JW Marriott Masai Mara will feature 20 private tents, including one presidential pavilion and two interconnected canopied suites. The property will also feature a restaurant, lounge and bar, spa and an outdoor terrace with fire pits. According to the company's press release, the landscape will provide guests with the opportunity to observe several of the reserve's local animals, lions, leopards, buffalos, rhinoceroses and elephants.
Between June and September, the reserve provides a front row seat to the annual wildebeest migration, an 1,800-mile traverse or more than 10 million animals from the Serengeti.
Read More: Marriott Takes a Giant Leap for the Planet, Commits to 'Net Zero' by 2050
"JW Marriott Masai Mara Lodge will offer guests a luxurious backdrop to make once-in-a-lifetime memories as they connect with nature and wildlife as never before," Rohr added. "We are thrilled that the JW Marriott brand will be welcoming adventure travelers…to this breath-taking part of the world."
This isn't Masai Mara's first foray with hotel properties. Virgin Hotels' Mahali Mzuri Camp, part of its Limited Edition Luxury collection, is a 12-tent luxury safari camp in the private Olare Motogori Conservancy. Each two-person tent features a bathroom and private deck, all which surround a main tent.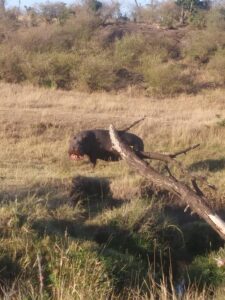 Breakfast and lunch are served at the property's lounge, which comes in the form of a large outdoor deck with a fireplace, which lends itself to fantastic views of the region's various animals such as zebra, giraffe, impala and gazelles—as does its outdoor heated infinity pool. Twice-daily game drives are available for group members who don't think views from the property are intimate enough.
More Marriott-Based Experiences
Other Marriott properties, such as Lake Club at The Ritz-Carlton, Lake Tahoe, in California, offer incentive-worthy outdoor experiences closer to home. Lake Club accommodates private overnight gatherings for groups of up to 40.
Team members will find all the lakefront amenities conducive to a time well-spent among colleagues. The property offers an open-air whirlpool, access to MasterCraft boat rentals, private beach access and a pier for kayaking and paddleboarding. All this adventure includes access to the comforts of The Ritz-Carlton, Lake Tahoe restaurants and accommodations.