What's in the Pacific Northwest, just secured final funding and will add more than 550,000 sq. ft. of meetings space to its facility? Answer: Washington State Convention Center (WSCC)'s Summit building, in Seattle.
Last month, developers for WSCC confirmed the sale of $342 million in municipal bonds. This funding enables the completion of WSCC's Summit Building, scheduled for mid-2022. Summit will be an addition to the 434,080-square-foot Arch building, which is a block and a half away.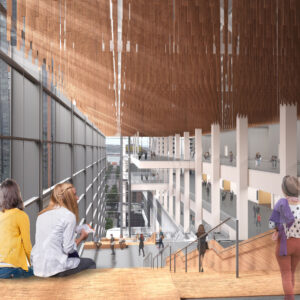 See also: Essential Seattle: A Post-COVID Site Inspection
"Our optimism around the future of Seattle grows as the final funding for Summit is secured with construction well underway. Having two buildings to offer for future conventions, both in the heart of our vibrant downtown, is an incredible and unique asset," says Kelly Saling, vice president of convention sales and services for Visit Seattle. "This is one of the vital sparks Seattle needs to sustain the resilience and innovation of our downtown."
The GBAC STAR-accredited facility is already booked to host 32 conventions from 2022-2026, including American Society of Landscape Architects, Materials Research Society, Society for the Advancement of Material and Process Engineering, and Best Western International, Inc.
The facility also serves as a vessel for a $93 million community benefits package which will "create better mobility in the downtown core, enhance economic opportunities and provide affordable housing for residents in the greater community," according to a press release. The package will also fund projects for improvements to Pike and Pine between downtown Seattle and Capitol Hill, and bicycling infrastructure.
In addition, the package will pay for the Lid I-5 Study, a feasibility study designed to lay out the benefits of building a "lid" over Interstate 5, which, if created, will run through downtown Seattle, connecting this area, as well as Capitol Hill and First Hill. "In addition to connecting those crucial areas, the lid would create opportunities for affordable housing sites, public open space, civic facilities like schools and community centers, and other public and private infrastructure," Saling says.
Washington is now in phase three of reopening, which allows small groups to meet in person. Saling says the state hopes to welcome conventions in the second half of 2021.