U.S. Travel Association is predicting a 6 percent hit to international visitor numbers over the next three months due to COVID-19, the novel coronavirus—the largest decline since 2018. Destinations across the country are already warning that they could see at least a temporary dip due to the sudden loss of visitors from China.
San Francisco
Like many other cities across the country, San Francisco reported visitor numbers from 2019 last week. In a year that marked the opening of a $551 million expansion at Moscone Center, the city realized its 10th year of record-breaking tourism—26.2 million people spent $10.2 billion, up 2.7 percent from the previous year. Room nights attributed to groups at Moscone Center exceeded 1 million.
More: Your Guide to Staying On Top of the Coronavirus Outbreak
The good news came with a footnote. "The evolving coronavirus situation and other market conditions make 2020 a difficult year to project," said Joe D'Alessandro, president and CEO of San Francisco Travel.
International visitors are a big part of San Francisco's visitor equation, making up 28.3 percent of overnight visitors (2.9 million people) and 61.6 percent of all overnight visitor spending in 2019. The top five markets for visitor spending in 2019 were China, the United Kingdom, India, South Korea and Australia.
Humphrey Ho, managing partner with Hylink Digital Solutions Co., said that marketing and public relations campaigns in China were paused at the end of January after travel restrictions were put in place. However, he added that pent-up demand among Chinese consumers for travel is stronger than ever, citing a spike in popularity of travel-related topics on Chinese WeChat and Wibo channels.
"Travel is one of the hottest topics on Douyin," he said. "The travel industry is expected to experience a huge rebound after coronavirus fades away."
He compared the possible upside to the rebound that occurred in 2003 after the acute respiratory syndrome (SARS) outbreak. "It's a real possibility that summertime and October travel from China could come back stronger than ever."
So far, California has realized a 27 percent decrease in Chinese visitors.
Las Vegas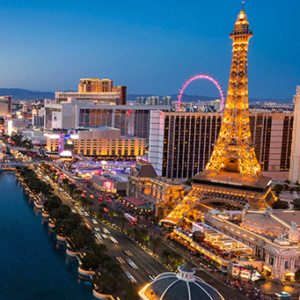 The flow of business visitors also increased in southern Nevada, where 6.6 million convention attendees and a total of 42.5 million visitors checked in last year. China represents the fifth-largest foreign market for visits to Las Vegas. The top four are Canada, Mexico, the U.K. and Australia.
Convention attendance in Las Vegas was up 2.3 percent. Almost half (40 percent) of planners responding to a survey taken before the coronavirus scare said they expected to plan more meetings there in 2020.
National Association of Broadcasters (NAB), which brings an estimated 100,000 people to the city every April, stressed on its website that its show will take place as usual. "As of today, we are hearing that the overwhelming majority of our exhibitors are looking forward to attending the show, and our attendee registrations continue on pace with the normal patterns we see year-over-year," NAB reported.
Las Vegas Convention and Visitors Authority said it continues to actively monitor COVID-19 and is diligently working with the Southern Nevada Health District and the U.S. Travel Association to share updates.
See also: How Coronavirus Is Affecting a Meeting Near You
In addition to following all CDC and Health District guidelines, the Las Vegas Convention Center has increased cleaning protocols to include more frequent wiping and disinfecting of touch points, such as door handles, elevator buttons, handrails, restroom stall doors and sinks, during occupied show hours. Like many other facilities, it has added additional hand-sanitizer stations and increased outside air intake/air change rates during occupied show hours.
National Hotel Brands
Hotels brands are also warning shareholders of possible impacts. Marriott International President and CEO Arne M. Sorenson advised that lowered expectations for Asia-Pacific properties due to coronavirus restrictions could lead to RevPAR growth for the year that is flat or limited to 2 percent. "I am particularly proud of our Asia-Pacific team as they assist affected customers and fellow associates," he said.
He speculated that low occupancy rates there could reduce the projected $4 billion estimate (a 5 percent increase) for total 2020 franchise fee revenues by $25 million.
Hilton has temporarily closed about 150 hotels in China in response to the growing coronavirus crisis, taking 33,000 rooms out of commission, reported Hilton CEO Chris Nassetta.