Some 170,000 attendees of Salesforce's 17th Dreamforce user conference swarmed San Francisco this week, making their black hoodie-clad way from the expanded Moscone Center to breakouts that took over almost every open meeting space in the city. In addition to actionable tips on best practices for leveraging the customer-relationship management platform and new product rollouts, the massive citywide had logistical lessons for planners tasked with scaling up without losing the personal approach.
Go Big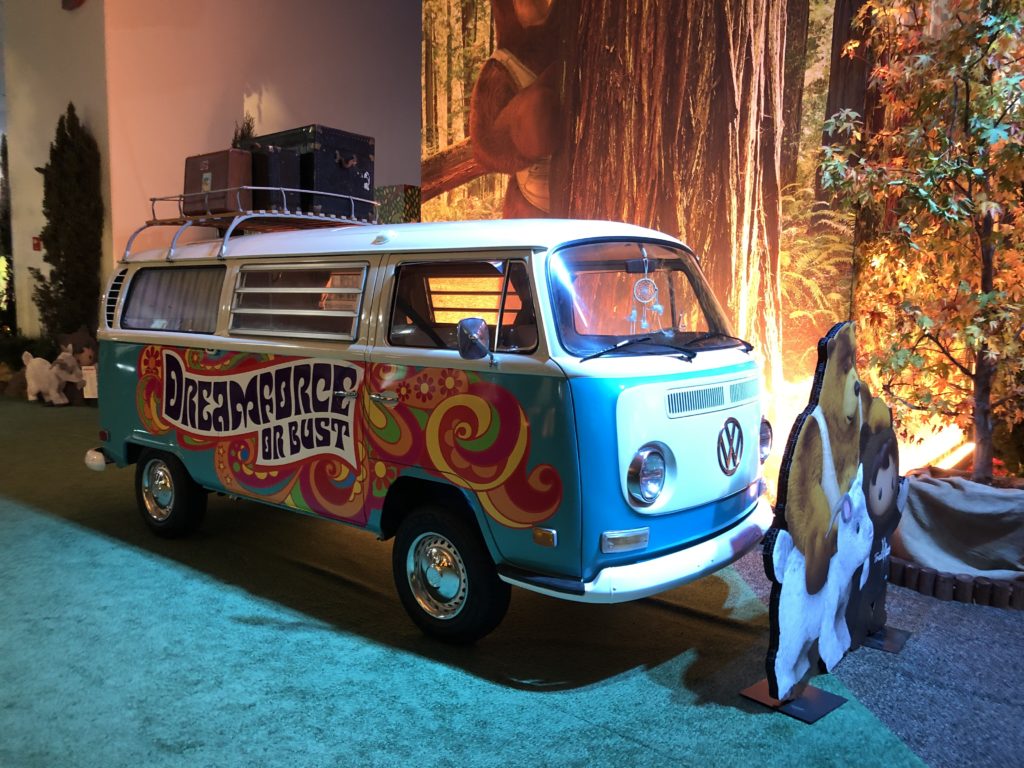 A man-made waterfall was erected as part of a transformation of Moscone Center into a camp setting, with thousands of square feet of artificial grass rolled inside and out. Celebrity speakers and performers drew overflow crowds—former President Barack Obama keynoted with Salesforce CEO Marc Benioff, and Fleetwood Mac headlined Dreamfest, a concert benefitting UCSF Benioff Children's Hospitals, at Oracle Park. Company mascots in the form of a vested bear, thoughtful Einstein and helpful Astro were everywhere, while an army of guides in ranger uniforms directed attendees to their next breakout.
More than 2,700 sessions went down at Moscone Center, The Westin St. Francis, City View at Metreon, InterContinental San Francisco and Hilton San Francisco Union Square Hotel. After-parties filled Union Square and Financial District restaurants, bars and art galleries. From Karaoke for a Cause to CRM Science Puzzle Party and CMO Confessions Cocktail Party, there was something for everyone.
Prices and availability of hotel rooms in the city reflected the demand. Jason Webb, general manager of Tilden Hotel, said his 118 guest rooms were sold out months before the event, and  people started reserving for the next year before they left town. Brian Fenwick, general manager of Nob Hill property Huntington Hotel reported his 134 guest rooms on the cable car line were also full. In addition to the iconic private dining room in Central Pacific Room and 2,500 sq. ft. of meeting space on site, his team worked with nearby Grace Cathedral and SF Masonic to secure room for more gatherings.
Mid-conference, a Holiday Inn guest room far from the main campground was going for $700. An Uber ride that is normally $20 was clocking in at $40.
Share the Stage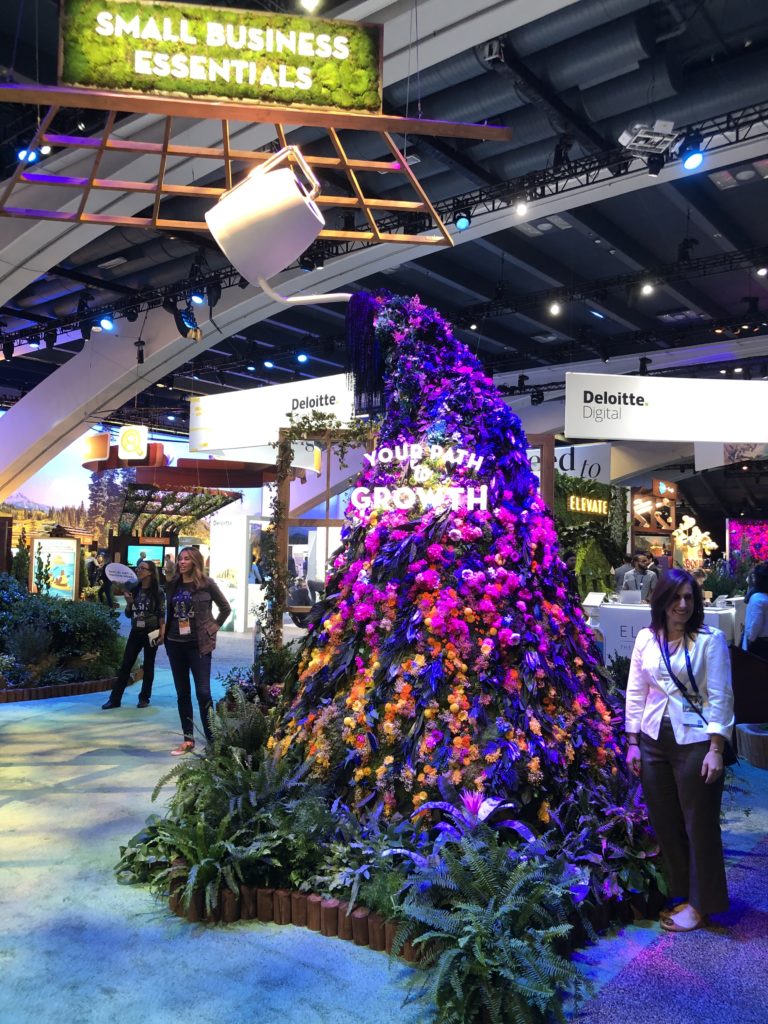 In addition to presentations from company executives, the conference shared case studies of customers and partners who have built on the technology platform to manage everything from marketing and sales efforts to philanthropy. Actual users were featured in posters all over the conference and on stage. Stephani Slingerland, director of philanthropy and social impact at Kellogg's, shared the company's success in addressing hunger by using Salesforce software to track volunteering and giving, as well to leverage the passion of employees, customers and consumers in a partnership with United Way to provide breakfast to students in need. She called it the right thing to do and a way to more fully engage employees and enhance customer loyalty.
In a surprise move, Benioff allowed a protestor, who was part of a group calling on the company to drop its contract with U.S. Customs and Border Protection, to speak during his keynote on Monday morning. He told the audience that he stopped the program to allow the message because he values free speech.
Thoughts from the conference were not limited to those who could make the trip in person. Another 13 million watched presentations online.
Cook Out
How do you ensure your attendees are happy campers? Keep them well fed. At an event this spread out, that required distributing grab-and-go meals at locations in or near each of the venues, including a picnic spread in Yerba Buena Garden. Security ensured only those with badges were selecting box lunches. Labeling and ingredients took into consideration all possible dietary needs. Plus, meal packaging was 100 percent compostable.
A Climate Summit on Thursday showcased solutions in the areas of youth activism, food systems and the environment. But the environmental effort was more than words from a stage. Many of the strategies discussed by Michelin-starred chef and activist Dominique Crenn for rethinking the supply chain to be more sustainable were on display throughout the conference. Attendees received reusable water bottles in their welcome backpacks, a move that was designed to save 100,000 plastic water bottles. Lunches were beefless in a nod to conserving the water required to raise cattle.
Additionally, suggested donations to the nonprofit Cool Effect to offset travel carbon emissions will fund greenhouse gas-reducing projects all over the world.
Have Fun
Jody Kohner, senior vice president of employee marketing and engagement for Salesforce called the conference "the ultimate expression of the cultural voice" of the company. "Don't underestimate the value of fun," she said.