This week in air travel: Smart Meetings ranks major airline peanut policies, the FAA investigates Newark Airport and U.S. air travel gets Brexit-proofed.
The Peanut Policies of 5 U.S. Airlines, Ranked by Letter Grade

Nut allergies are no joke, and airlines around the country have taken steps to protect passengers with peanut and tree nut allergies in recent years. We've outlined the policies of five major airlines (and letter-graded them) for easy, breezy and safe traveling.
JetBlue | Grade: A+
Southwest Airlines | Grade: A
United Airlines | Grade: A
American Airlines | Grade: A-
Delta Air Lines | Grade: B+
Note: None of the policies guarantees a completely allergen-free flight due to risk of cross-contamination and outside food. Rankings based on snacks provided and accommodations for allergic passengers, such as pre-boarding and buffer zones.
Do These Prices Smell Funny? Newark Airport May Be Overcharging You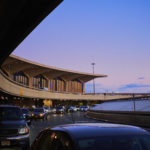 The Federal Aviation Administration is calling, "no fair" on airfare at Newark Liberty International Airport (EWR). On Nov. 19, the FAA—following up on a 2014 complaint filed by United Airlines, who has a hub at the airport—announced that the Port Authority of New York and New Jersey has misused airport revenue and failed to provide transparent reasoning for the fees it charges airlines. According to the United complaint, Newark Airport flight fees are 75 percent higher than that of JFK and 38 percent above actual cost—which means you too are paying more for your ticket. Port authority has 30 days to reduce charges and provide a clear method of how it allocates costs. Stay tuned to find out which New York-area airport you should fly into in 2019.
Keep Calm and Fly On: Brexit Won't Upend Your Travel Plans

Go ahead and plan that London event. While the United Kingdom prepares to leave the European Union in March 2019, nations and companies are Brexit-proofing aviation agreements to guarantee easy, continued global travel. The UK has already secured new arrangements for transatlantic routes with the United States and Canada, as well as Iceland, Switzerland, Montenegro, Kosovo, Albania, Georgia, Israel and Morocco.