Nearly 58 percent of United Kingdom hotel and convention professionals surveyed recently say that Brexit has had no noticeable impact on their business, a jump of more than 10 percent from last year.
HBAA, an events and hospitality association, recently released the survey, detailing the effects on the industry in the aftermath of the U.K.'s referendum on whether to remain a member of the European Union.
Those who participated in the survey included hotel groups, independent report hotels and convention venues. There were 72 respondents in this year's survey, compared to 88 last year.
When asked whether Brexit has had a noticeable impact on their business as a whole, 57.7 percent of professionals said that Brexit has had no impact on business. Another 15.3 percent have noticed less effect on business from the referendum.
"The consensus among members commenting on these trends is that the immediate impact two years ago was a rise in costs due to the significant drop in sterling, and a more cautious attitude among clients towards booking events," said HBAA Chair Louise Goalen.
James Rees, executive director of ExCel London, agrees that the initial shift in corporate business was due to businesses' prudent evaluation of Brexit's effects—but that has changed.
"From 2017 onwards, however, it has been business as usual, with the industry returning to normal and showing strength in all markets," Rees says. "This was particularly the case for North America, which showed a 50 percent growth in 2018 compared to the first part of 2017. This trend is set to continue into 2019."
Internal Woes
Conversely, the same report showed that recruitment difficulties have escalated since the vote.
Those saying Brexit has had a major impact on the industry rose nearly 7 percent to a total of 9.6 percent. Members who say there has been no impact decreased 13 percent to 67.3 percent. Those surveyed contend the hardest positions to fill are entry level positions, followed by middle level roles and then senior positions. This could be partially attributed to unchanged recruitment policies of more than 80 percent of organizations following the vote.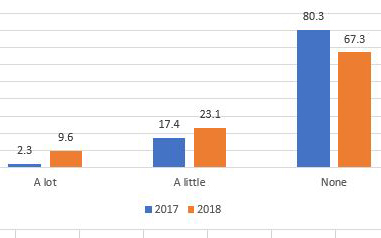 In an HBAA article, Sally Raith-Riches, group director of sales at U.K.-based Foxhills Country Club and Resort, said the recruitment difficulties will noticeably influence the food and beverage sector. In the same article, however, Philip Allsopp, sales and marketing director at Lea Marston Hotels, said this is nothing new.
"Recruitment has been difficult for many years; I think the Brexit debate is masking the problem," Allsopp said. "We need to look at more creative ways to engage people to want to work in our industry."
Nevertheless, industry insiders are working to combat this negative trend. Three years ago, the U.K. government created its Business Visits and Events strategy to drive traffic for the industry. Out of that decision came the Events Industry Board (EIB), which works with the government to make strategy come to fruition.
In March, EIB launched Talent Taskforce. The task force's mission is to assess current misalignment in skill sets and resources needed for improvement in a post-Brexit environment.
Currently, the group is gathering industry evidence for a report to be sent to the Minister of Tourism. The research results will help the government foster a competitive and proficient task force. Surveys of employers and round-table discussions will be some of the methodology used.
Juliet Price, HBAA consultant executive director and member of Talent Taskforce, said the HBAA survey results signal a need for the Talent Taskforce's project.
"These results give a clear picture of the growing issue that the industry is facing, and why the Talent Taskforce initiative to provide evidence to government and secure support in addressing the potential consequences is vital and urgent," Price said.
On the other hand, Rees says ExCel is not facing the same hurdles and is actually benefiting from "the regeneration of the local area."
Remaining Hopeful
Despite the struggles, Chris Lynn, vice president of CVB London and Partners' North American and emerging markets, said England's main metropolis remains strong.
"While the U.K.'s decision to leave the EU has created some uncertainty, the fundamental strengths of London as a world-class destination for events and hospitality remains unchanged," Lynn said. "London is a truly global, cosmopolitan city and remains open to international event planners and business travelers from all over the world."
Lynn highlighted that London's easy connection to 336 international cities and vast portfolio of accommodations will help the industry stay grounded. Additionally, London's diverse culture scene will help provide speakers, exhibitors, event sponsors and networking groups for meeting planners.
Rees has noticed that when discussing with European bids, there's a need to give extra information and insistence that the convention center is ready for Brexit.
"We are working more with our service partners, such as London and Partners, to show how Britain, and its government, is preparing for the next steps," Rees said. "We have also been giving reassurance to the event industry and lobbying to ensure our voice is being heard for our exhibitors, organizers and delegates."
He adds that it's hasty to make a prediction about the state of the industry a year from now, because the government continues to remain indecisive. Though regardless of the uncertainty, it is now cheaper to visit the U.K., making it a more attractive and preferential destination. ExCel will continue to creatively strike balance in portfolio offerings to maintain its position as a leading events venue, Rees says.
"Over the last 12 months, these challenges seem to have settled down slightly and businesses have adjusted," Goalen said. "Now, everyone is warily waiting to see what happens next. It will be fascinating to see what everyone thinks 12 months from now, when we will have been out for three months."