It's unanimous. Every respondent in a recent IACC survey confirmed that requests for gluten-free options—especially for desserts—are rising. Vegan requests followed, with some 83 percent saying they have received more requests for meals free of dairy, fish, meat or eggs.
While some requests are due to lifestyle choices, many are because of serious allergies, so the majority of venues responding to the survey said they have made a point of asking attendees in advance as part of the registration process or upon arrival.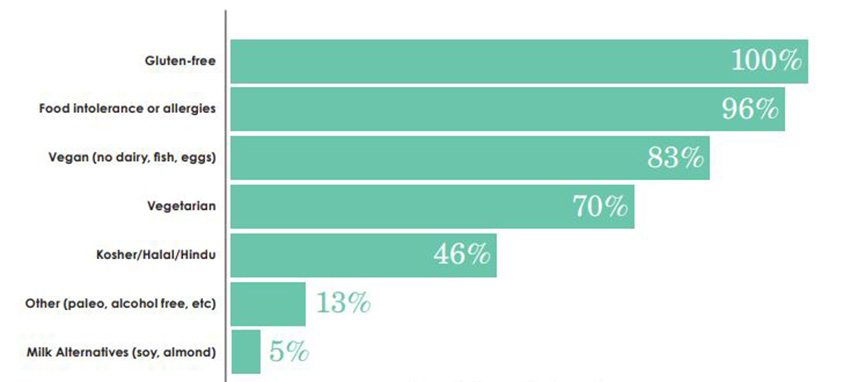 IACC graph of food trends requested more today than two years ago
Venues are responding by increasing options. A super-majority (87 percent) said they have made changes or additions to their menus based on health and wellness principles—even if planners and attendees don't always choose the healthy options. Ron Stoddard, chef at Summit Executive Centre in Chicago told surveyors, "We (still) try to have that one indulgent item on the menu. Maybe it could be macaroni and cheese, a creamy soup or possibly bacon."
The report concluded that the role of the venue is to give delegates an opportunity to "nourish themselves through food and beverage in whichever way they prefer."
Just as what people are eating has become highly personalized, the "when" is also increasingly being left up to the attendee to decide. Jessie States, manager of professional development at MPI, said, "Meeting professionals are increasingly asking for continuous food breaks to fuel their attendees. The nutritional needs of an audience are as diverse as the individuals who comprise it." Tables of brain foods, such as nuts, seeds, fruits and vegetables, along with hydration stations of mint-infused water, allow people to keep energy levels stable during long conference sessions.
Also trending was a focus on how the food is prepared. Farm-to-table has come to the meeting space. Another supermajority (84 percent) said event professionals are requesting—and are willing to pay more for—locally sourced foods.
Healthy Shape Shifting
There was unanimity in a focus on considering overall attendee health and well-being when making design decisions. Many said the construction of the spaces where meetings are held is changing to fit a new focus on fitness.
Daniel Techman, director of sales and marketing at President Abraham Lincoln Springfield-a DoubleTree by Hilton, shared that when his property recently renovated, its public meeting space was reconfigured to provide both areas where people can stay connected and have private space.
Other properties are including more natural light in meeting rooms, patios for fresh air and walking trails for solo or group exercise.