Photo of Anaheim Convention Center North exterior
Anaheim Convention Center (ACC) has entered the elite "one-million-square-foot-club," announced Jay Burress, president and CEO of Visit Anaheim, which celebrated its 50th anniversary by adding 200,000 sq. ft. at the end of September as part of its seventh "betterment" expansion.
The 1.8 million square foot structure is now the largest convention center on the west coast and 11th largest in the United States. After seeing a need from potential and current clients for more breakout space, ACC turned itself into the contortionist of convention centers. It can host multiple clients simultaneously without interference. Before even cutting the ribbon to usher in a new era of ACC history, 75 meetings were booked at the venue. The Orange County International Auto Show had already begun setting up in the exhibition hall on opening day and Best Buy was soon to follow.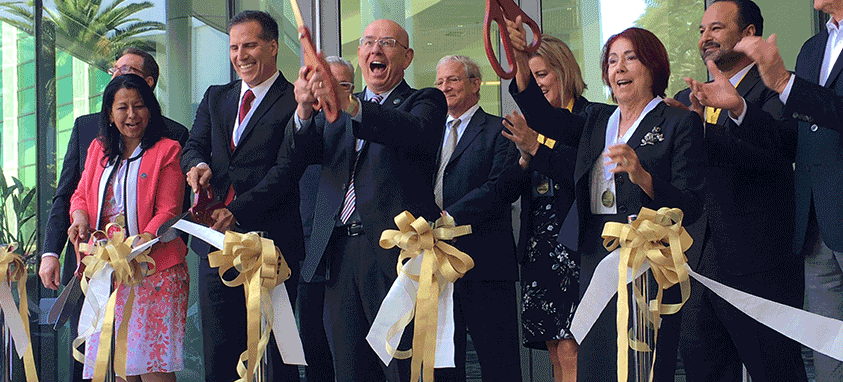 Photo from Anaheim Convention Center opening ceremony
With the expanded space, Visit Anaheim anticipates bookings will continue at an elevated pace. One example of the role the new square footage will play is booking of American Heart Association's 2017 Scientific Sessions in November. "That group wouldn't have come here without this space. In fact, they were booked in…another destination and that destination couldn't deliver their expansion and so we were able to secure it with the caveat that we expand our convention center," Junior Tauvaa, senior VP of sales and services for Visit Anaheim says. Other large groups that rent out ACC are Disney's D23 Expo, VidCon and WonderCon. These historic grounds have hosted the likes of Martin Luther King, Jr., Ronald Reagan, Elvis Presley and The Beach Boys.
Outside the Center
Southern California is known for its sunshine, so Tauvaa encourages meeting professionals to "unconference their conference" by bringing events outdoors to ACC's two plazas or new 10,000 sq. ft. streetfront balcony overlooking Disney California Adventure Park and nightly fireworks. During the day, the terrace doesn't receive direct sunlight, so guests can schmooze comfortably in the shade. ACC North also has two freight elevators and double the kitchen size.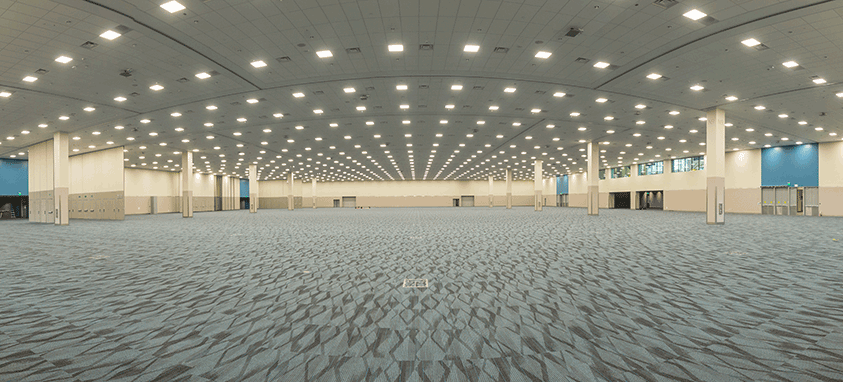 Photo of Anaheim Convention North interior, Level 100
Architect Todd Voth, founder and senior principal of the firm Populous, points out that ACC North blends the outdoors and indoors. Its architecture and carpeting draws inspiration from ocean waves and the reflection of palm trees coming through the building's window panes. Designers consciously made the new building and existing structures flow seamlessly to form this unified campus. He adds that there will be enough parking to accommodate the large groups ACC expects to attract.
Another selling point is the convention center's close proximity to high volume hotels, such as Hilton Anaheim (1,574 guest rooms and more than 150,000 sq. ft. of meeting space) and Anaheim Marriott (1,030 guest rooms and 100,000-plus sq. ft. of event space), in addition to three Disneyland Resort Hotels. Anaheim is very excited to have broken ground on a new four-diamond Westin property, which will serve as the brand's flagship location when it replaces the Anabella in 2020. It'll have 613 guestrooms, 4,200 sq. ft. of meeting space—all on the first floor—and seat 1,800 people theater style.