With the annual IMEX America show less than a month away, organizers of the massive incentive travel, meetings and events exhibition announced on September 13 that in 2019 and 2020, it will be moving the event to September dates, and in 2021, the Las Vegas show will shift from its traditional home at Sands Expo & Convention Center to Mandalay Bay Convention Center.
"The Sands Expo team have been wonderfully supportive partners since well before our inaugural show in 2011 and we are looking forward to four more successful shows working with them, through 2020," said Ray Bloom, founder and chairman of the event. "However, we were not able to lock in space from 2021 onward. Therefore, after celebrating ten years working together and enjoying a fantastic relationship with the Las Vegas Sands team, we shall be moving to Mandalay Bay."
Starting Oct. 9, the 2017 IMEX America event will bring more than 12,000 attendees and 3,200 exhibitors from more than 130 countries to Sands Expo and The Venetian/The Palazzo for education, networking and inspiration. Last year, 60,000 pre-scheduled one-on-one meetings were held. That represents hundreds of thousands of dollars of business getting booked. The theme for the week this year will be Purposeful Meetings: How to Plan with Deeper Meaning, Innovation and Insight in Mind.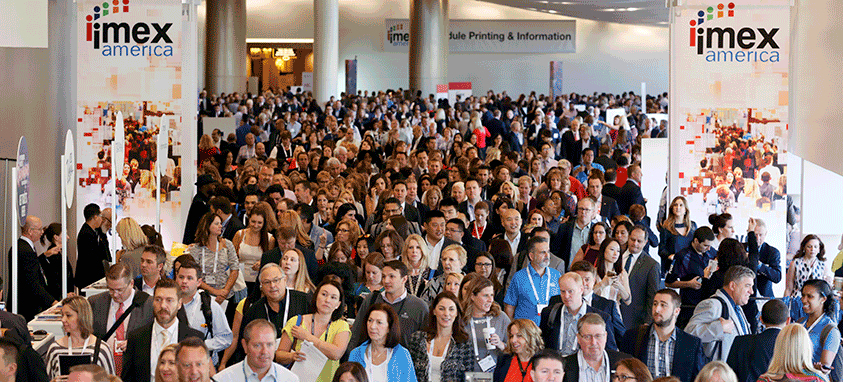 New this year will be an expanded Technology Pavilion to facilitate Tech Tours. "Meetings technology is growing at such a rapid pace; we try to celebrate that, but also focus in and spark learning and conversations that help people slow down a bit and make sense of it all," explained Carina Bauer, CEO of IMEX Group.
Dates and venues for IMEX America for the next eight years will be:
2018   Oct. 16-18   Sands Expo
2019   Sept. 10-12  Sands Expo
2020   Sept. 15-17  Sands Expo
2021   Nov. 9 -11  Mandalay Bay
2022   Oct. 25-27   Mandalay Bay
2023   Oct. 10-12   Mandalay Bay
2024   Oct. 8-10   Mandalay Bay
2025   Oct. 7-9   Mandalay Bay