Not even a pandemic that resulted in the entire world sheltering in place for months at a time could stop meeting professionals from planning gatherings. A new survey of the event community released today by Smart Meetings found that a supermajority of readers (80 percent) said they were still planning for future meetings. "Smart Meetings' Post-COVID-19 Meeting Industry Vision Survey" covered strategic, legal and logistical challenges around planning, cancelling and postponing meetings during this time. Readers and experts weighed in on best practices for hybrid meetings, physically distanced F&B strategies and work from home strategies.
Download the full Smart Meetings' Post-COVID-19 Meeting Industry Vision Survey here for free.
While many were sheltering in place, some added the job of supervising children home from school and others were deemed essential workers and traveling to job sites. Multitasking planners picked multiple options and said they were also networking through video-conferencing platforms (69 percent) and helping others who are struggling (42 percent). Just under half said they were focusing on taking a deep breath.
Postpone is Favored Alternative

Moving meetings to a future date was the most common survey response, but individual planners utilized a combination of postponing, pausing and pivoting. While 56 percent said they had to cancel some meetings due to the complexity, size and risk profile, more than 69 percent said they would be postponing and almost 51 percent said they would pivot to virtual.
A telling statistic was that in many cases the same planner was employing multiple strategies rather than postponing all or canceling wholesale. A third (34 percent) said they would be both postponing and pivoting, and a quarter of respondents (23 percent) said they would be doing all three.
Return to Meeting Predictions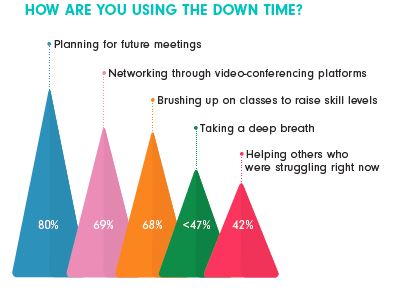 While some survey respondents thought meetings would come back with a vengeance, thanks to all the Q2 meetings pushed to the Q4 calendar, most said that group events would more likely come back tentatively, and with new security measures in place to keep people healthy. "There will be new normal in the industry to adhere to state and international guidelines for health and safety," said Sandy Joyce, head of global event marketing with Discover Financial Services in Chicago.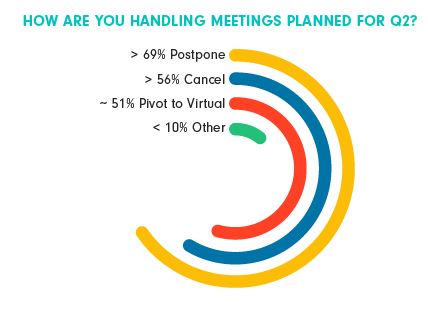 While many agreed with the go-slow approach, regional meetings that don't require airlift at a time when routes are still returning were considered a safer option. Long-term, the outlook was brighter. "People will want to get back some form of normalcy, but I believe it will come slowly and build back up. There will be more precautions and more reluctancy in the beginning, but we will bounce back and we will be stronger and more creative than ever before," said Shirli Goodman, vice president of marketing and events at Nexxus Solutions Group.
Jeanette Paschal, president of Sound Meetings & Event Management in Raleigh, North Carolina may have been the more optimistic of all. "We will all be more gracious and kind to each other," she predicted.