Cincinnati USA Convention & Visitors Bureau found a creative way to include its community as the CVB prepares to host two major conventions this summer. When the National Association for the Advancement of Colored People (NAACP) and The Church of God in Christ Auxiliaries in Ministries Convention (COGIC) gather in Ohio in July, delegates will be greeted by artwork designed specifically for their groups.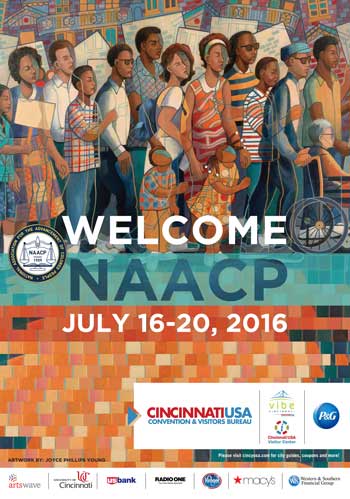 On June 20 at Aronoff Center, Cincinnati USA unveiled "Foot Soldiers of Freedom" by Joyce Phillips Young, whose artwork was designed for the NAACP convention. "Prayer and Praise" by Annie Ruth was created for COGIC. The CVB staged a contest, encouraging local artists to submit their work to be considered for the two major events. The selected artwork will be featured on downtown street banners, posters and other welcome materials during conventions.
The NAACP will convene in Cincinnati July 16-20. The theme of NAACP's 107th national convention is "Our Lives Matter, Our Votes Count." The convention will feature workshops, discussions and speakers highlighting voter education, voter protection and voter mobilization.
There's a good chance presidential candidates will be speaking as well. When Cincinnati hosted the 2008 NAACP convention, presidential candidates John McCain and Barack Obama addressed the thousands of delegates in attendance.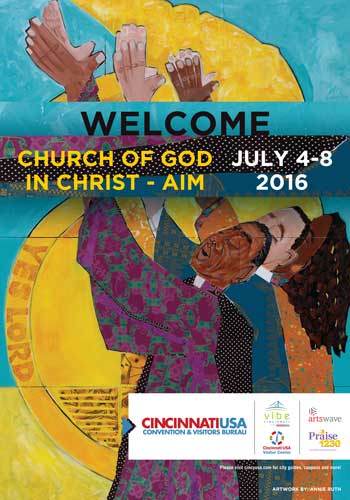 "When the right of every citizen to vote is under threat in states across the nation, we must join together to respond and be heard," Roslyn M. Brock, chairman of the NAACP's board of directors. "In towns and cities across this country, we are witnessing a new era of activism as a new generation rises to stand against police brutality and for the right to be heard in our democracy. We must harness that desire to be heard and mobilize our members to protect the vote and to get out the vote."
It's no surprise that Cincinnati is excited about hosting the NAACP convention in an election year.
"We are proud to once again have the opportunity to provide the backdrop for the NAACP's national convention, especially during such an important election year filled with impassioned political debates that strike at the core of civil rights issues in our country," said Cincinnati Mayor John Cranley. "I look forward to being part of what promises to be a memorable convention and a thought-leading event for the country this year."
The Church of God in Christ Auxiliaries in Ministries Convention (COGIC) will take place July 4-8.