International travel grew gradually in 2021 after the quarantine of 2019, yet 2022 has seen a huge spike. With more countries opening their borders and lifting Covid restrictions, 2022 international travel has increased exponentially since 2019 and progressing towards pre-pandemic numbers.
But with the travel industry still reeling from the fallouts of Covid, heavy international travel traffic has been difficult for airports to handle. Staffing shortages, long security lines, delayed/canceled flights and less flights being scheduled are causing travel anxiety for planners. Smart Meetings breaks down the 2022 international travel buzz and gives travel tips to meet smart.
Europe and America have seen the most international travel recovery, yet Europe is leading the race. World Travel Organization (UNTWO) has reported an estimated 474 million international arrivals into Europe from January to May 2022, almost triple the reported 175 million over the same months in 2021. The same report claimed numbers were still going strong in June and July, with 207 million European international arrivals registered. Below is a graphic published by UNTWO to illustrating the recovery progress of international travel in 2022 against the quarantine numbers of 2019.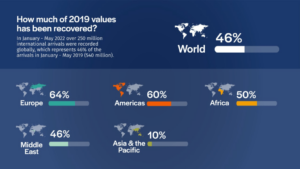 Read More: With Covid Waning, Where are International Travelers Going?
Why the Rapid Growth in International Travel?
The pent-up demand for travel has had many waiting with bated breath for Covid restrictions to be more lenient and destination borders to be open. Now that destination locations are once again available for business event and incentive planning, international business travel has been thriving. Destinations which were previously unable to receive or provide hospitality accommodations for large groups are lifting border restrictions and are back to hosting international business events. Industry professionals are travelling in droves for these coveted locations for their corporate events and incentive trips.
The influx in international travel is also comprised of passengers with more personal reasons. Multi-generational travel has matched the business travel volume and contributes to the impressive international travel numbers of 2022. The term is self-explanatory; family members from more than one generation taking vacations or yearly trips of some kind.
Yet this common travel term has been redefined after Covid. Not only are families eager to plan a reunion abroad as travel restrictions are lifted, but the pandemic has instilled a stronger sense of urgency to do so. The somber but important lesson Covid has taught us—you don't know when you will be able to see your loved ones next.
The Concerns
Although the recovery from 2019 has been progressing, travel experts express concerns regarding the future of international travel. The summer of 2022 saw throngs of travelers rushing to airports, yet many were squeezing into full flights with no room for luggage, overcrowded airways causing cancelled or delayed flights and all before arriving to overbooked hotels. While many surmised the craze was a result of pent-up travel demand and summer vacations, experts are concerned the trend may not be so ephemeral.
World Travel & Tourism Council (WTTC) released a statement this past July warning travelers of the staffing shortages and passenger limit restrictions continuing to cause delays and cancellations in the busy upcoming holiday season. British Airways has cancelled more than 1,000 flights before the end October to meet its capped 100,00 per day passenger limit and many other European airports have followed suit. The understaffing and passenger traffic restrictions in European airports have led to sweeping employee strikes, contributing further to the reality that many travelers may either have an incredibly laborious trip to Europe—or no trip at all.
International travel has become more laborious and unpredictable, yet travelers are still agreeing to inflated prices and continuing to book flights in the holiday season. Yahoo Finance US reports the average international round-trip airfare for Thanksgiving 2022 to cost an average of $795, a 25% increase from 2019. Christmas international round-trip airfare is predicted to increase similarly with a 26% increase from 2019 and an average cost of $1,300.
Tips for International Travel in 2022
Travel insurance and credit—As international airports are scheduling fewer arrivals and even cancelling existing ones, travel insurance is worth considering to protect yourself from unforeseen costs. If you are credited due to a cancellation, be sure to check the expiration date so you can reschedule your trip.
Check Covid guidelines and restrictions—While many Covid mandates have been lifted or modified to be more relaxed, there are still regulatory safety measures taken which differ from country to country. When travelling internationally, one should always check the current Covid safety protocols for any airports, hotels and public spaces you will be visiting.
Have travel documents ready and in order—With long security lines due to airport staffing shortages, make sure your passport and other travel documents are up to date, in order and ready to give to security staff to expedite the process.
Keep essentials with you—With fewer staff members and overwhelming passenger capacity, the lost luggage rates are increasing. If you are checking a bag, make sure that essentials are in your carry-on: a toothbrush, extra socks/underwear, your phone and laptop charger and anything else you may immediately need should your bag be misplaced or lost.
Read More: Essential List: Top International Travel Apps of 2022