The true costs of fallout from weaponization of travel
The hits just kept coming for North Carolina's hospitality industry in 2016. The NBA, NCAA and The Atlantic Coast Conference (ACC) all publicly announced that they would be moving their high-profile games out of the state because of laws that prevented cities from enacting protections based on sexual orientation and gender identity.
The decision impacted events planned for Cary, Charlotte, Greensboro, New London, Durham and Charlotte—a solid blue island in the red state that lost the NBA All-Star Game. When making the announcement, ACC Commissioner John Swofford said in a statement, "The core values of this league are of the utmost importance and the opposition to any form of discrimination is paramount. Today's decision is one of principle, and while this decision is the right one, we recognize there will be individuals and communities that are supportive of our values as well as our championship sites that will be negatively affected."
He added, "Hopefully, there will be opportunities beyond 2016-2017 for North Carolina neutral sites to be awarded championships."
The controversy led to a change in governorship, the "Bathroom Bill" as it was known was partially repealed and sporting groups eventually returned. But using event boycotts as a weapon to make a cultural statement has grown to include bans based on laws about gun control, women's reproductive rights and the ability to "say gay." California has a prohibition on state-funded travel to places with what it describes as "discriminatory laws" that now cover 23 states.
The practice has come to be known as "weaponization of travel" and meeting professionals are increasingly collateral damage. The fallout from the culture wars raging in state legislatures and the U.S. Supreme Court is impacting the ability to source destinations for conferences, particularly for large association annual events that usually sign contracts years in advance, before hot topics hit the headlines and statehouses, often far from where the event will actually take place.
What is a meeting prof to do? We asked the experts how they are making sourcing decisions, what the options are if the ground shifts pre-conference and how they can be a force for good during contentious times.
Go, No-Go Time
The calculation about whether and how to respond to a shift in political realities in a specific location will be different for each organization and event. Carol McGury, executive vice president at association management company Smithbucklin, helps clients have "difficult conversations" about what to do using a resource guide that asks a series of questions to come up with a plan.
Read More: Travel Is Not Going Back To Normal
The table, titled "Should We Stay or Should We Go," starts with gathering information that takes into account the stance of residents, the association and members. It considers the financial impacts. Those sports groups mentioned at the top of the story most likely paid hundreds of thousands of dollars in cancellation fees. Some contracts will be easier to negotiate than others, depending on how far out the event is, how easy it will be to fill the space and the relationship.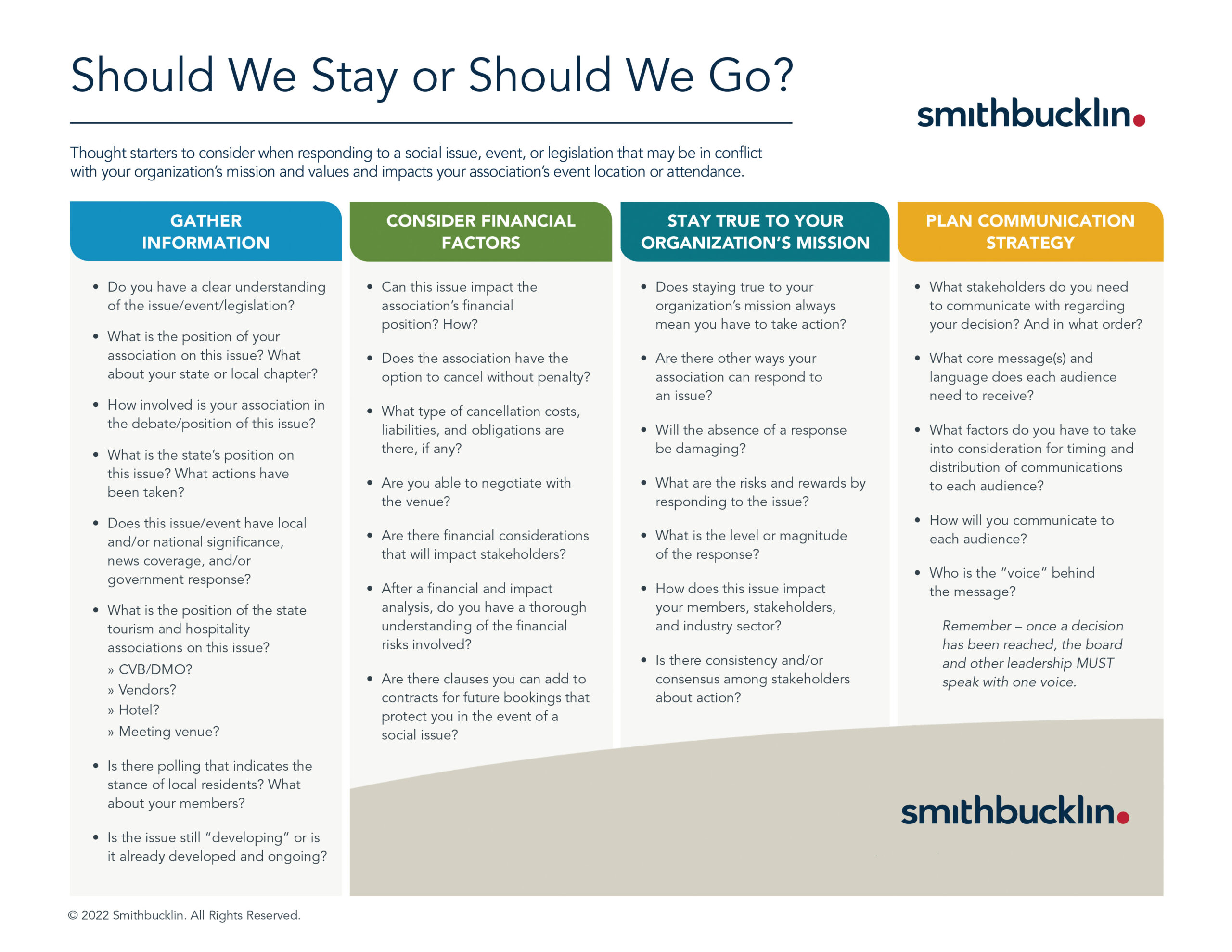 Event organizers also have to come to terms with the costs of staying the course if it is not in line with the organization's mission. "Will the absence of a response be damaging?" "Are there other ways you can respond?" These are questions that can help put the decision into better context.
If the decision is made to change locations, then a careful communication strategy is critical. McGury advises mapping out what stakeholders need to be alerted in what order, the timing and delivery method, even the "voice" behind the message. "Remember—once a decision has been reached, the board and leadership must speak with one voice," the resource guide intones.
A Doing Good Initiative
Michelle Mason, president and CEO of The Center for Association Leadership (ASAE), says an anti-discrimination provision that has long been part of the group's contract is being reviewed. A new Meeting Community Needs initiative is focused on impacting positive change in the community that hosts its annual meeting. "ASAE's goal and commitment is to do well by doing good," she said.
"If you don't go to a place, you won't connect."
–  Don Welsh, Destinations International
ASAE will work with destination leaders in its future host cities to develop a customized approach to impacting positive change based on the unique needs of each community. For the 2023 ASAE Annual Meeting in Atlanta, she is working with Discover Atlanta to put a roadmap in place before the group arrives in August.
Dangerous, Ineffective and Counterproductive

"If boycotts continue to expand, meeting planners will find themselves with limited options of destinations to hold meetings," said Don Welsh, president and CEO of the destination marketing organization association Destinations International. "We have always held the belief that when boycotting/canceling because of legislative decisions is being considered, it is best that the meeting take place and the organization activate in the local community with organizations who support your cause."
Welsh saw the debate as not just a logistical problem, but an existential one.
"Not going to a location for a political reason is dangerous, ineffective and counterproductive," Welsh said. "It goes against the basic logic of tourism as a powerful way to break down barriers by introducing people and points of view. If you don't go to a place, you won't connect."
Jack Johnson, Destinations International's chief advocacy officer expanded on the power of engaging rather than boycotting. "I appreciate the intent and passion, but it is blinding people," he said. "To be effective, you have to roll your sleeves up and get involved."
"Not going doesn't have much of an impact," he observed. Groups are often replaced by leisure tourists who may not have spent as much, but the difference is negligible to most legislators who aren't looking at the numbers the way hospitality executives pour over RevPar charts.
"When you boycott a place, you are holding a city or hotel hostage and telling them to go to state capital and change the law on our behalf. That is unfair and ineffective."
–  Jack Johnson, Destinations International
Johnson pointed to the highly publicized ban on travel in North Carolina, yet travel numbers went up every year. "Not bringing your show doesn't move the needle politically," he said.
What does work, he said, is bringing the event and empowering the two things elected officials pay attention to: "Who is going to vote for me and who is going to fund me."
"If your value is to have reproductive freedom decisions made between a woman and a doctor, then I would encourage you to go to one of the states limiting that and work phone banks, stuff envelopes, go to a fundraiser, support establishments that are campaigning to change the law." This is particularly effective in cities with political leanings different than the laws passed in the capital. Supporting those cities is supporting the resistance. "It is a lot more work than picking up and walking away and it is much more effective," he said.
Johnson knows the work involved. Destinations International grappled with the problem in 2019 when the annual convention was in St. Louis, Missouri, at a time when the state was debating an abortion bill they hoped would end up at the Supreme Court as a challenge to Roe v. Wade.
"We had people say they wanted to come but felt uncomfortable spending their dollars there and indirectly supporting actions they don't agree with," he said. Destinations International connected the participants with the local Planned Parenthood who said they were not calling for a boycott and they were able to give a list of restaurants that support their work, something Johnson said most destinations can help with regardless of what side a group is on an issue.
"That made more of a difference than pulling a conference would have been," Johnson said. "Politics is about power, not sleeping well at night because you didn't go to a city."
Johnson put the decision in graphic terms. "When you boycott a place, you are holding a city or hotel hostage and telling them to go to state capital and change the law on our behalf. That is unfair and ineffective. You need to come, roll up your sleeves and help," he said. "If the industry is serious about living our values, conveying our values and fighting for those values, you have to show up and get involved."
Futureproofing
Worried about what might happen politically in a destination between the time the ink dries on your hotel contract and the first attendees arrive? Hotel attorney Lisa Sommer Devlin says the chances of getting a hotel to agree to a wholesale political cancellation clause are slim to none. "It is not reasonable to expect a hotel to let your event go because of something the legislature did," she said.
Smithbucklin's McGury agreed that although most association contract templates have clauses allowing them to cancel, that is usually negotiated out before the final version.
Devlin suggests sharing the risk. "That way if a group has to move because of politics, you will pay half the cancelation damages because it isn't fair to punish the hotel for something they had no control over."
A Soliloquy for Sourcing
To meet or not to meet in yonder city? That is the question.
Whether 'tis nobler in the mind to suffer
The slings and arrows of Twitter activists
Or to take arms against a sea of legislated matters
And by opposing, to make a statement, if not a difference
To sleep in just a few states still seen as in the "safe" club
Perchance to dream of a world where meeting profs aren't squeezed by culture wars
Ay, there's the rub.
This article appears in the digital-only November 2022 issue. You can subscribe to the magazine here.