Meetings and tourism industries are proving grounds for new technologies
During the 2016 Professional Convention Management Association Convening Leaders conference Jan. 10−13 in Vancouver, British Columbia, Tourism Victoria of Canada will introduce its newest staff member, a robot. A leader when it comes to embracing new technology, Tourism Victoria created buzz at the key meetings industry event with its portable robot, which looks like a Segway with an iPad mounted on top.
"This technology allows people who can't physically be at a show to be virtually in two places at once," says Trina Mousseau, chief marketing officer at Tourism Victoria. "Sure, there are lots of ways we could keep in touch with meeting planners, like email, FaceTime or Skype. But the telepresence robot gives Victoria's local experts the opportunity to reach out and connect with meeting planners they might otherwise not be able to influence."
The robot, which is manufactured by Double Robotics, allows users to pilot the flexible and slender device through an app. It can be positioned to sitting or standing height, and can run for eight hours before its batteries need recharging.
The robot is expected to become an essential tool to the Tourism Victoria team because it will expand the organization's sales force on location to meet people and create leads when budgetary constraints would otherwise not allow it.
Besides saving Tourism Victoria some money, the robot is expected to create excitement at events and position the Canadian city as an innovative leader in technology. Victoria, the capital of British Columbia, is known as the Idea Capital and the addition of this telepresence reinforces that positioning.
Virtual Attraction

Smart Meetings was introduced to XplorIt's advanced virtual travel technology in October during IMEX America in Las Vegas. The product was called to our attention during a breakfast meeting with Los Angeles Convention & Tourism Board.
XplorIt has been described as Google Street View on steroids. The technology allows visitors anywhere in the world to experience virtual travel as they seemingly walk through hotels, convention centers, meeting space and attractions.
XplorIt helped develop a new programmatic virtual content delivery system for LA Tourism's new Meet LA website, where users can virtually experience Los Angeles Convention Center and LA Live. The technology also allows users to virtually tour the city with a device that turns a smartphone into the imagine finder.
XplorIt has developed an extensive roster of clients. Tech-savvy Santa Clara, California, is using XplorIt to help visitors get to know Silicon Valley before arriving to Super Bowl 50 at Levi's Stadium.  Users may also explore Santa Clara Convention Center, regional attractions and top meeting hotels.
A recent project for Visit Sacramento included multiscreen delivery, touch-enabled interactive kiosks and 3D immersive headset technologies, offering the most comprehensive suite of custom virtual platforms to a destination experience.
Attractions such as Mammoth Mountain and Kennedy Space Center are using XplorIt to showcase exhibits and outdoor activities.
"We keep hearing it's 'all about content,'" says Greg Murtha, president and CEO of XplorIt. "Video is great but it's linear and you can't interact with it, and most users are ADD and bounce from one site to the next. In our world, that same ADD consumer or meeting planner can bounce around within the virtual world we create all while checking out meeting space, restaurants, golf or attractions in an actual first person exploration experience. And as far as first-person virtual travel, we do it better than anyone, including Google."
Innovation Catalog from Germany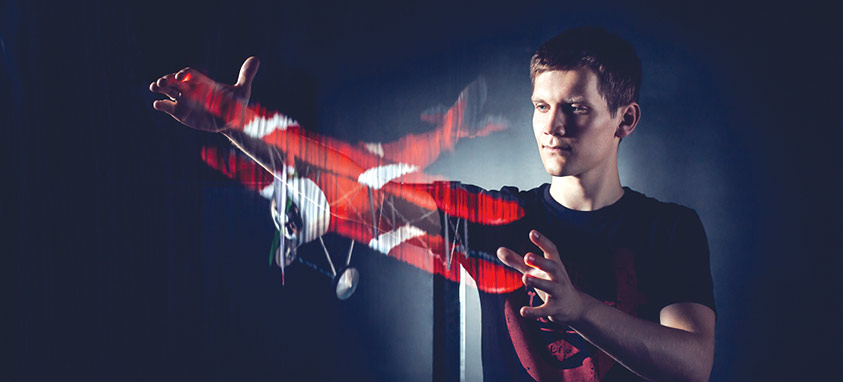 Just in time for the new year, German Convention Bureau (GCB) launched its Future Meeting Space Innovation Catalog in December. Technology was identified as one of the mega trends in GCB's Meeting & Convention 2030 study that came out in 2013, and the Innovation Catalog is an extension of those findings.
GCB teamed up with European Association of Event Centres (EVVC) and Fraunhofer Institute for Industrial Engineering IAO, Europe's largest applied-science research organization, to develop the catalog.
Cutting-edge tech trends to look out for include mist projectors that allow you to present information, images and video mid-air.  Another trend will be physical telepresence or tangible media technologies that allow remote speakers to be seen, heard and even move and demonstrate objects in the audience's separate location.
The merger of tech and infrastructure will be more important than ever, facilitating LED virtual skies for meeting spaces. Wi-Fi balloons will bring connectivity to remote locations.
"As a leader in the global meetings industry, it is critical for us to continue to invest in research and initiatives that move our industry forward and provide fresh ideas," says Matthias Schultze, managing director of the GCB. "We hope this unique study will prove to be a valuable resource for planners."