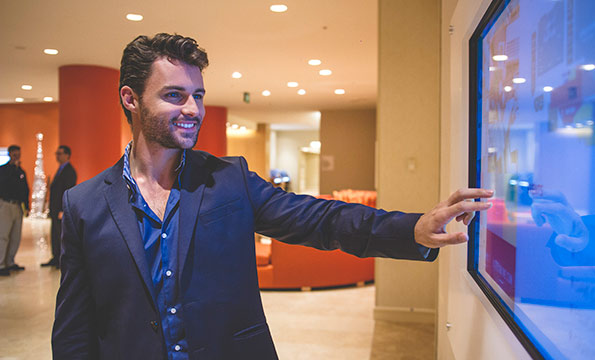 Hotels are taking the lead in showcasing technology that is available to today's business travelers. In our tech-centric world, upgrading technology is just as important to hotels as renovating guest rooms and meeting space.
Last fall, Marriott Hotels, the flagship brand of Marriott International, Inc., introduced portable charging stations at 29 properties thanks to a partnership with Kube Systems. Through Qi technology, smartphones charge by resting on a portable transmitter.
"Leisure and business travelers have struggled for power on the road as battery technology has not kept pace with the demands of larger screens, faster processors and more app-driven devices," says Dave Weinstein, vice president of Kube Systems. "A two-year development effort in collaboration with Marriott technologists has resulted in the KS Portable, a truly unique solution to charge virtually every mobile device on the market today, without the need for guests to carry cables or adaptors."
The 1,298-room Detroit Marriott at the Renaissance Center, which wrapped up a massive $30 million renovation in January, added several high-tech features, including wireless charging. The property also installed touch screen electronic reader boards in key meeting areas of the property. The interactive touchscreen monitors display information about events being staged in the hotel, as well as offerings and attractions in the Renaissance Center and the city.
Music lovers staying in the Presidential, Governor's and Chairman's suites can use Bluetooth technology to sync their mobile devices in order to hear music through speakers mounted in the bed.
Technology was a focus when the California-based Irvine Company rebranded the former Hyatt Regency Irvine in late 2014 to Hotel Irvine. The multimillion-dollar project included the installation of carefully designed pods equipped with multiple outlets, USB ports and easy laptop setup. The pods were strategically placed throughout the lobby and bar areas so business travelers could mingle or work.
"Our focus on technology meets the evolving needs of today's meeting guests who expect immediacy and up-to-the-minute technology," says J.D. Shafer, general manager for Hotel Irvine. "Hotel Irvine's high-tech bent is apparent the minute a guest checks in, when the high-speed Wi-Fi kicks in and a team member introduces the hotel's personalized 'Reach Me' text concierge. From there, the experience only gets better, with plugs and USB ports conveniently situated throughout the hotel, and interactive touch screens to help direct guests to events and activities."
Of course, Wi-Fi is free throughout the hotel, and the 536 guest rooms and suites were designed with devices in mind, with plug-ins located bedside and at work stations. Hotel Irvine boasts 50,000 sq. ft. of event space, including a 14,000-square-foot ballroom and a 120-seat theater with a large panel flat screen.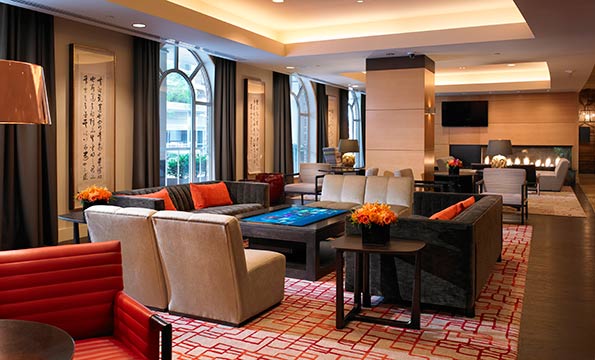 The 732-room Hyatt Regency Bellevue, just outside Seattle, completed a $5.2 million renovation in March. With Microsoft as one of the biggest employers in Bellevue, the Hyatt's redesigned lobby features two Microsoft Windows interactive touch screen tables, created in cooperation with Microsoft Corp., Interknowlogy and Moncierge.
The 55-inch touch screen tables feature advanced processing power that utilizes the latest Perceptive Pixel technology. The innovative coffee-table units allow guests to browse hotel and area information, view flights, play games such as air hockey and 3-D chess, and surf the Web.
The Hyatt has a new executive boardroom that is equipped with state-of-the-art technology, including a high-definition projector with a 109-inch screen and two 80-inch flat-screen display monitors with Touch Interactive Software.
"The Bellevue-Seattle area is known for being a technology hub, and it's important that we provide our meeting guests access to the latest innovations in audio-visual equipment and conference capabilities," says Tom Wolf, general manager at Hyatt Regency Bellevue. "The renovation of our original Cascade Tower this spring brought everything to the next level and includes an all-new, state-of-the-art executive boardroom that gives organizers seamless control over small meetings and presentations."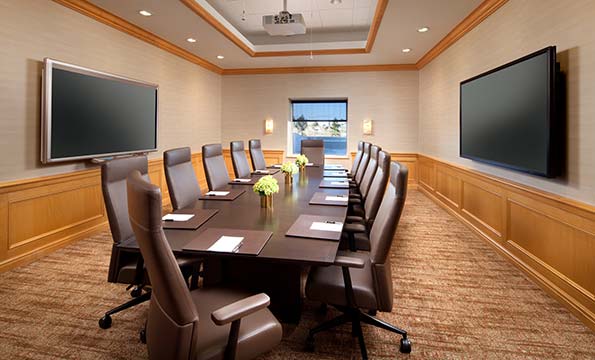 Skamania Lodge, A Destination Hotel, is located in Stevenson, Washington, 45 minutes north of Portland, Oregon, in the Columbia River Gorge National Scenic Area. As part of its multimillion dollar renovation wrapping up this spring, the International Association of Conference Centers lodge is enhancing its technology offerings with new audio-visual equipment, including 72-inch smart TVs and projection screens, and increased 100MB bandwidth.
"Our lodge is a go-to conference center on a national scale, so it's important that we continue investments in the property," says Ken Daugherty, general manager at Skamania Lodge. "Every enhancement is reflective of our commitment to modern technology and amenities, as well as to the traditional design of our Cascadian-style lodge."
---