An uncrowded paradise that brings nature up close and personal
Groups can have the oldest, least populated of the major islands their way: the rugged beauty of Napali coastline and Bali Hai beaches in the north, the leeward majesty of Waimea Canyon, or the sun-drenched sands of the south. The Garden Island is as sweet as any sugar produced here, an inviting mystery cloaked in many shades of green.
Soar
BY THE NUMBERS
4,054
hotel rooms
16,552 sq. ft.
largest meeting space
65,930
residents
25
miles long
33
miles wide
5,148 feet
highest point
The legendary Napali Coast is just one highlight of a tour offered by Blue Hawaiian Helicopter in a six-passenger American Eurocopter Eco-Star. Its more fuel-efficient motor drastically limits flight noise over Kauai's delicate ecologies as you glide over "Jurassic Park Falls," jaw-dropping Waimea Canyon and Mount Waialeale, the wettest spot on earth.
Float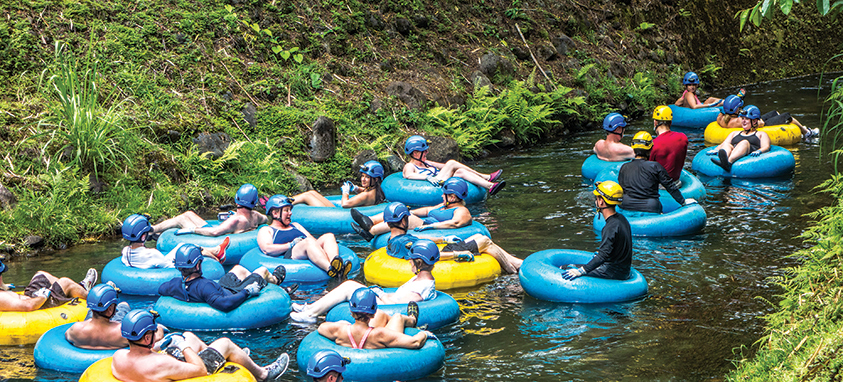 Mountain Tubing Adventure with Kauai Backcountry Adventures, Lihue
An exhilarating rush and unique look at the island's beauty awaits with Kauai Mountain Adventures, which has exclusive eco-tourism access to the 17,000 acres of Lihue plantation. For the Mountain Tubing Adventure, guests grab a tube, don a headlamp and jump in the canals—hand-dug more than a century ago—that once irrigated the sugar crop. Get a rare point of view and an exclusive look at these historical engineering feats as you float along, and through, dark tunnels and flumes. Get refreshingly wet, too. Groups of up to 20 at a time can be booked, with several departures per day.
Stay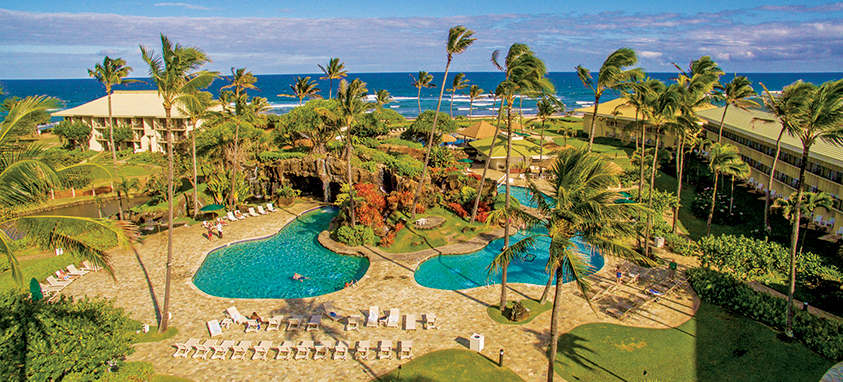 Aqua Kauai Beach Resort, Lihue
The wow factor is definitely at play after the $110 million-dollar expansion and rebrand of Koloa Landing Resort at Poipu, Autograph Collection, with 306 deluxe studios and suites. On the sunny South Shore, its 25 acres are a stroll to glorious Poipu Beach and Shops at Kukuiula Village. The challenge is luring attendees away from three incredible pools, including the largest in Hawaii (350,000 gallons, with waterslides, a swim-through and walk-through grotto, waterfalls and a negative-edge pool), Holoholo Grill (a collaboration with James Beard-winning chef Sam Choy) and a 4,000-square-foot spa with the island's only Japanese Ofuro soaking tub. Your ally is a brand-new 18,000-square-foot conference center.
Other noteworthy Kauai hotels include:
Aqua Kauai Beach Resort in Lihue, located on the longest strolling beach on the island, has completed a property refresh to its 350 guest rooms and public spaces, including the 8,611-square-foot ballroom. In all, there is 21,693 sq. ft. of meeting space. The resort installed 2,400 solar panels over its guest parking and received a Hawaii Green Business Award for energy efficiency.
Hilton Garden Inn Kauai Wailua Bay is a beachfront hotel near Kapaa with easy access to the island's only protected swimming beach and Ke Ala Hele Makalae walking and biking path along the eastern coastline. It features 216 newly refurbished guest rooms, including two-bedroom cottages and 7,460 sq. ft. of event space. The Hilton brand has committed its properties to high sustainability standards.
? Kauai Insider Tip
What's up with the chickens? Even as you leave the airport, it's cockle-doodle-clear: They're everywhere. Wild chickens thrive in the absence of the mongoose that slink about elsewhere in the state. The Polynesians brought their moa (jungle fowl) on their epic canoe journeys from the South Pacific, and these have intermingled with domestic cluckers that hightail it during hurricanes.
These preening birds fly into the nearest tree at night, and the roosters vocalize whenever in the mood. A friendly splash of water does wonders to convince a crowing cock to relocate from outside your balcony at 4 a.m.
? Kauai Insider Tip
The reefs and air are ka oi ai (the best). Kauai's coast has the most fish and diversity of the main Hawaiian Islands, and air quality is best in the state due to the lack of industry, trade winds and its isolation from Hawaii Island vog (volcano smog).
MAJOR MEETING VENUES IN KAUAI

Aqua Kauai Beach Resort
On 25 acres near Lihue Airport; 350 guest rooms; more than 26,000 sq. ft. of meeting space; four pools, with waterfalls.

Grand Hyatt Kauai Resort & Spa
In sunny Poipu; 602 guest rooms; 24,000 sq. ft. of meeting space; luau; four award-winning dining options; golf course; spa; saltwater lagoons with kayak rentals.

Hilton Garden Inn Kauai Wailua Bay
Beachfront hotel (formerly Aston Aloha Beach); 216 guest rooms; 7,460 sq. ft. of event space; access to protected swimming beach and Ke Ala Hele Makalae walking and biking path; 5 miles to Lihue Airport.

Kauai Marriott Resort
Lihue resort on Kalapaki Bay; 356 guest rooms; 27,758 sq. ft. of meeting space; golf course; spa; four restaurants plus weekly luau; fitness center.

Koloa Landing Resort at Poipu
Marriott Autograph Collection property; recent $100 million expansion; 206 guest rooms; 18,000 sq. ft. of indoor meeting space; new 18,000-square-foot conference center; Holoholo Grill (with award-winning chef Sam Choy); spa; 350,000-gallon pool, state's largest.

Sheraton Kauai Resort
On 20 acres fronting Poipu Beach; recent $16 million renovation; 391 guest rooms; 25,000 sq. ft. of indoor meeting space; RumFire restaurant; weekly luau.

St. Regis Princeville
Luxury property on North Shore, overlooking Hanalei Bay; 252 guest rooms; 43,494 sq. ft. of meeting space; Makana Terrace restaurant; Robert Trent Jones Jr. golf course; spa.
Read more about the islands: