When we bring people together, we impact lives—the lives of attendees, businesses and, according to a recent Smart Meetings reader survey, the lives of the beneficiaries of a multitude of charities supported by events. Incorporating Corporate Social Responsibility (CSR)—defined as integrating social and environmental concerns in business operations—in events is now the rule rather than the exception.
We wanted to know how this lofty concept is being practiced day-to-day, so we asked you, the experts. Are you including philanthropic activities in your events? Are you looking for vendors who do? How do you decide what charities to support and whether your efforts have been successful? Your thoughtful answers show that the commitment to doing the right thing comes from the heart, yet the successful execution of that sentiment requires a lot of planning.
An overwhelming majority of respondents (96 percent) say they at least sometimes include philanthropic elements in their programs. From food banks and medical research to children's charities and environmental clean-up programs, attendees are actively giving their time while getting to know the members of their group better.
The Giving Kind
The majority of respondents in our survey say they at least sometimes include philanthropic elements in their programs and look for suppliers that have CSR initiatives in place. More than one-quarter always give back as part of their events and almost 20 percent exclusively work with companies that have similar values.

All corporate planners who responded say they include community service in their programs at least some of the time, and 96 percent say they look for the same in their hotels, caterers and AV partners. Independent planners show similar high levels of commitment, with 92 percent saying they at least sometimes include philanthropic activities, and 84 percent of the time they seek out vendors who do.
Respondents who plan events for associations say they at least sometimes include giving back 87 percent of the time and look for the same commitment from vendors at least 80 percent of the time.
Social Variations
Finding vendors who live by the social responsibility standard is becoming easier. Initiatives organized by International Tourism Partnership and American Hotel and Lodging Association harness the power of the industry to address everything from human rights to food and waste issues.
Environmental sustainability is a growing area of CSR commitment as it is often seen as both the right thing for the earth and the bottom line. MGM Resorts International was an early mover in establishing its Green Advantage Program to reduce its carbon footprint. Since 2010, the company has reduced emissions by more than 60,000 metric tons of carbon dioxide.
Marriott has also been vocal about its commitment to a sustainability strategy that "reaches beyond the doors of our hotels to preserve and protect the planet, and its resources." The company has reduced energy intensity more than 13 percent since 2007 and water usage by more than 10 percent.
Hyatt Hotels' Thrive program includes a commitment to influence its supply chain by purchasing seafood and other items responsibly to align with U.N. Sustainable Development Goals. Hyatt collaborated with World Wildlife Fund to select optimized sources for things such as palm oil in baked goods and eliminated nearly all disposable packaging made of polystyrene foam. In total, the company donated $12.5 million in 2016 through Hyatt Hotels Foundation, community grants, fund-raising and volunteerism.
Cultural giving is a growing area of involvement for many hotel properties. Melia Hotels International was the subject of an academic study in Tourismos in 2013 that found the cultural aspect of the company's approach was part of an emerging trend in the industry. When the company opened Melia Zanzibar, it made a commitment to reduce poverty by improving the employability of young local people.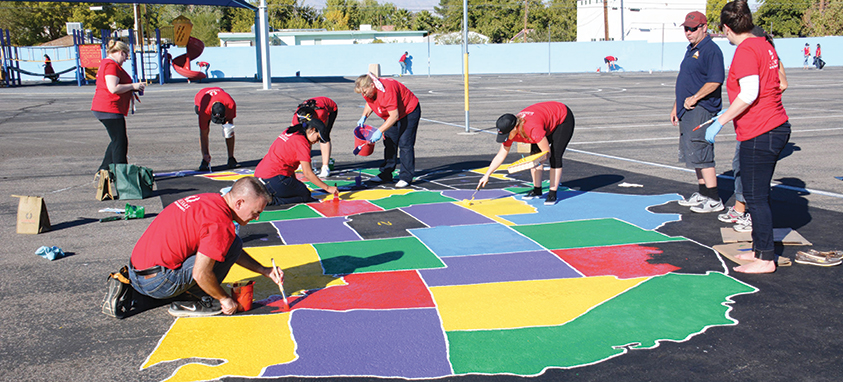 Caesars Heroes at Doris Reed Elementary School, Las Vegas
Community involvement is a key way hospitality companies give back. At Caesars Entertainment, the company empowers its employees to drive the focus of social and environmental involvement in local communities through its Caesars Heroes program. In 2015, employees volunteered 260,000 hours of service. Caesars Foundation gives more than $5 million a year in grants to nonprofits.
"We do not simply connect with our communities. We connect in our communities," is the call to action at Caesars.
CSR also extends to a company's employees. Since 2006, Starwood Associate Relief Fund has distributed $4.8 million in grants to associates after natural disasters. The nonprofit is supported by employees and matched by corporate funds.
A Worthy Cause
Not all nonprofit groups are the same, and finding the right one can be a challenge. With 26 percent of respondents saying the ability to really impact an organization is a priority, finding a charity that would benefit in a material way is important. While many (35 percent) pledge ongoing support to chosen organizations year-after-year, even more rotate depending on where the event is held and—in the case of independent planners—the wishes of the client. A small percentage (6 percent) allows employees to pick their beneficiaries in the form of matching donations.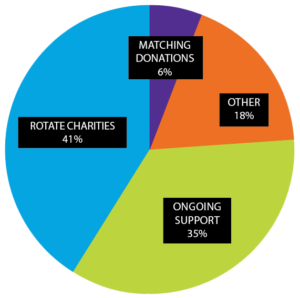 That leaves a lot of groups scrambling to find an appropriate nonprofit partner, often in a city where they are not located. Many organizations (26 percent) rely on employee suggestions and past relationships (28 percent) to find suitable charities. Destination management companies and third-party facilitators are named as helpful in finding the perfect fit between cause and company.
When Blattner Energy in Avon, Minnesota, wanted to build relationships and have a global impact, it turned to MetroConnections to help orchestrate an annual giveback event that included Beyond the Yellow Ribbon. The result: 450 employees created 3,400 care packages for service men and women, an effort that earned them the Employer Support of the Guard and Reserve award.
When it comes to deciding what nonprofits to give to and how, matching the organization's values with the right charity is named as the most important consideration. Like 43 percent of respondents, Brittany Zbikowski, a member of the Altice USA event, travel and conference management team in Oyster Bay, New York, says alignment with her company's values is the deciding factor. During incentive trips, she investigates local charities in the area to identify their mission and needs, to determine the best way for participants to give back.
Most recently, the company hosted a program at Hotel Del Coronado in San Diego. Top sales winners raced to blow up 300 soccer balls that were donated to the Boys & Girls Club of National City.
Children's charities and organizations that focus on helping those in need resonate with lots of groups. Boys & Girls Clubs, food banks, Habitat for Humanity and Dress for Success are popular. Medical research and support for those going through difficult health trials also rank high with respondents. Ronald McDonald House Charities, Shriners Hospitals for Children and Susan G. Komen are mentioned, along with Special Olympics.
Mara Weber, global marcom and analyst relations leader at Honeywell Performance Materials & Technology in Phoenix, says science, technology, engineering and mathematics education (STEM) is a priority for her company because those skills are critical to its global success. Honeywell must employ talent equipped with the knowledge and skills to innovate, to develop technologies that solve challenges for its customers.
Environmental programs are also favored. Hyatt Regency Waikiki Beach on Oahu Island in Hawaii connects groups looking to do team building with Hoomau Ke Ola, an environmental rehabilitation treatment. The center, which focuses on Hawaiian cultural practices as a part of the recovery process, offers hands-on reforestation activities.
Some see team building (14 percent) and connecting with beneficiaries (8 percent) as priorities when executing on campaigns. Indeed, team-building activities that include working together to help a cause are becoming so popular that at the annual Meeting Professionals International World Education Congress meeting in June, the Exchange Room hosted daily volunteer activities for positive social impact, including packing lunches for Three Square Food Bank, and dropping off socks and undies for Street Teens. The final day attendees literally bled for the cause by participating in a Red Cross Blood Drive.
Measuring Impact
Most groups (51 percent) conduct post-event surveys to determine if attendees see the activity as impactful. But many (41 percent) also rely on feedback from the charity and some (7 percent) see an event as successful if it results in attendees continuing the relationship with the cause.
---
3 Creative Ways to Include CSR in Your Next Event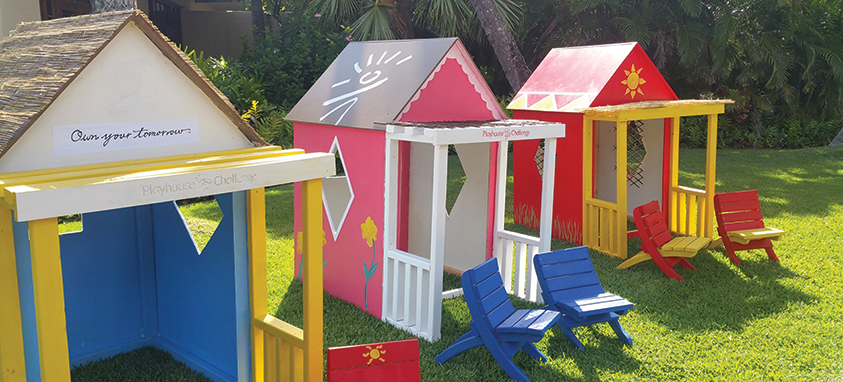 An incentive group at Grand Kauai Resort and Spa in Koloa built 20 playhouses to donate to local schools.
Are you thinking of introducing a philanthropic component to your next event? Alan Ranzer, managing partner and co-founder of Impact 4 Good in West Orange, New Jersey, suggests three creative ways to add an element of giving back that will both bring people together and connect them in a meaningful way to the community.
Traditional Team Building
Conduct a team-building event that also incorporates a do-good element that ties in to your meeting message. If your theme is Gearing Up for the Future, consider a Bike Build for Charity event. Including a CSR component gets your group working together in new ways for a common cause, plus everyone wins as they provide a real benefit for a local community beneficiary or charity.
Meal-Time Giving
No extra time in your agenda? You can still make a difference. Create a give-back moment during your lunch or dinner. For example, place items as the centerpiece to your tables to be wrapped and decorated for a local children's hospital. It allows everyone to engage in a group activity that is quick, fun, productive and philanthropic during a normal break in the schedule, and creates a positive vibe during your event.
Voluntary Team Build
Another great way to incorporate CSR is by doing something for your team members as they arrive. On arrival day, create an area for attendees to drop in and voluntarily participate before the welcome reception even takes place.
One example is to host a Backpack Pack with school supply items for kids, or to stuff and pack bags of canned food with messages of inspiration to children on free and reduced lunch programs. The event can be done with little time commitment, and as the meeting or event begins, the items are all placed on stage. The activity will demonstrate what your group can do as a team, creating for them a feeling of accomplishment. It will set the tone for positivity and get your group members heading in a great direction as they head into their meeting.
With some planning and creativity, there is always time and potential to do a team activity that will inspire your group and be of benefit to the community.
---