Meeting resorts and spas come in all shapes and sizes—some with fast-paced environments and others a little slower. Some have sports bars with TVs in the lobby, and others provide walls of windows overlooking the ocean or greens. A new business model in conference settings combines the art of business with the science of wellness; these are resorts where attendees can take care of work and then escape to unwind and break out of the daily routine, returning refreshed, rejuvenated and ready to take on the world.
Some resorts create peaceful settings to induce serenity; others offer activities that calm the brain. A few even employ high-tech treatments that steer guests through the art of letting go.
Planners have their pick of many luxurious resorts where meetings can be productive while boosting the spirits. Here are a few destinations that harness color, sound and the outdoors to help guests find refuge and relaxation in a work-related setting.
Color Me Relaxed
Since ancient times, cultures around the world have realized the power of color. In the Middle East, for instance, blue was used for security and in China, red symbolized good luck. Restaurants often incorporate reds and oranges, which stimulate hunger, while hospitals turn to calming greens.
Designers also have long known the importance of color as a tool in making hotels feel comfortable and inviting. The design and color scheme of a resort will greatly impact a guest's mood and energy. The right color can make a guest room feel spacious and elegant, or intimate and rustic. That's why choosing the appropriate hues can make the difference between an energizing stay and one that is a stress-free, where guests leave the world behind.
Nature Calls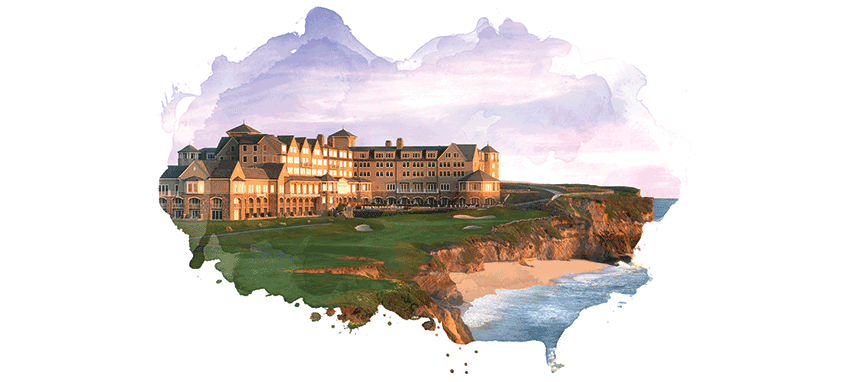 Color psychology says colors that appear in nature have the most calming effect. These might include shades of green, tan and soft gray, which are often used to create a peaceful, tranquil space. Take 261-room The Ritz-Carlton, Half Moon Bay spa and golf resort in California, perched on a bluff overlooking the water. There, guest rooms capitalize on the coastal location, using a cool gray and blue color palette inspired by the Pacific Ocean.
Color is just one element of design, says designer Heather O'Sullivan of Whitespace Interiors in Chicago. O'Sullivan has redesigned several spaces for The Ritz-Carlton, Half Moon Bay.
The color is chosen to capture a mood, she says. In this case, the mood the hotel wanted was relaxation and approachability, and casual elegance. O'Sullivan took inspiration from the beachfront setting, choosing pastels in soothing tones of blue and green, with lots of calming neutrals in public spaces. Blue is an especially good stress-buster because it is associated with the ocean and sky, two elements of nature embracing tranquility. Pale blue will always make a space restful, designers say.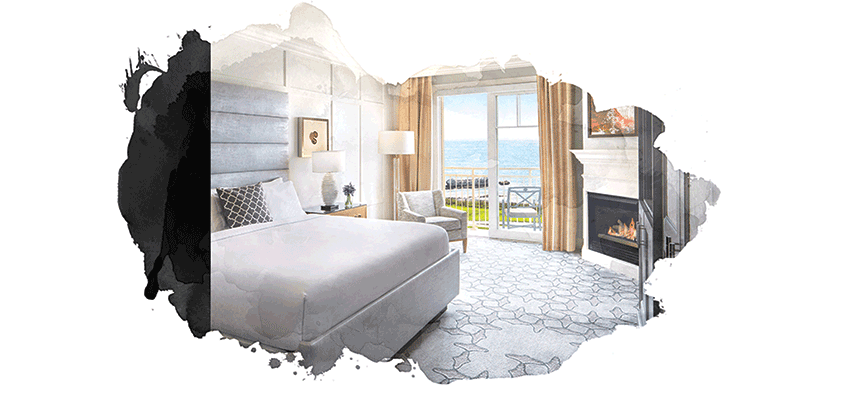 The Ritz guest rooms take their cue from the blue and gray (ideal colors for insomniacs) aesthetic, as well, with a touch of muted orange in the carpet design, which O'Sullivan says is reminiscent of kelp when mixed with the mid-century graphics. Another appealing touch is bedside white noise accessed with the push of a button.
Meeting attendees also will find two new meeting rooms at The Ritz-Carlton, Half Moon Bay: the 1,691-square-foot Pescadero and the 675-square-foot Moss Beach (bringing total meeting space to 35,000 sq. ft.). Both follow the beachy theme, with silver and gray walls and an ocean-blue and sunset-yellow carpet. "These [meeting] spaces behave as a canvas for the end-user," O'Sullivan says. They are used for different purposes, so choosing a clean palette with neutral coolers forms a calm backdrop for any event.
Coastal Calm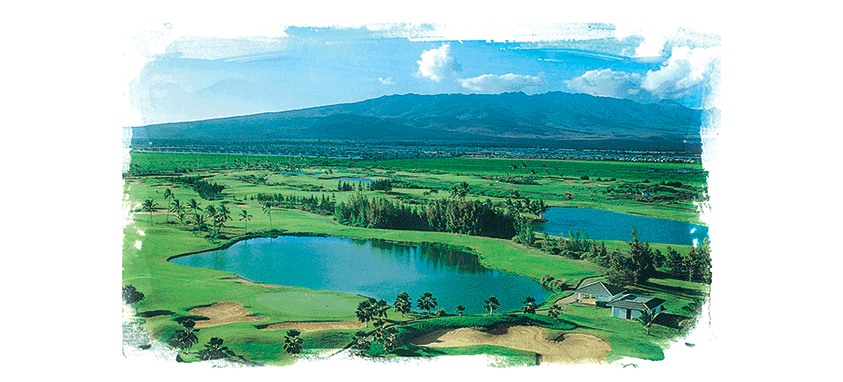 It's hard not to relax when visiting Hawaii, but the 252-room Mauna Kea Beach Hotel in Waimea on Hawaii Island ensures that guests leave feeling trouble-free. Like The Ritz-Carlton, Half Moon Bay, the Mauna Kea is well-situated on oceanfront property with its own white-sand beach and quiet cove for swimming. While many beach resorts use light-bleached or sand-colored accessories in the decor, the Mauna Kea wanted guests to embrace the slow pace of "old Hawaii," so accommodations are decorated in tropical colors (think blues and corals) with de-stress enhancements that include soaking tubs, plush Frette linens and natural wood floors.
Event spaces, which range from beachfront lawn for 650 to ocean-view decks for receptions of 70, also encourage relaxation with natural palettes of tan and white, and soothing water or garden views.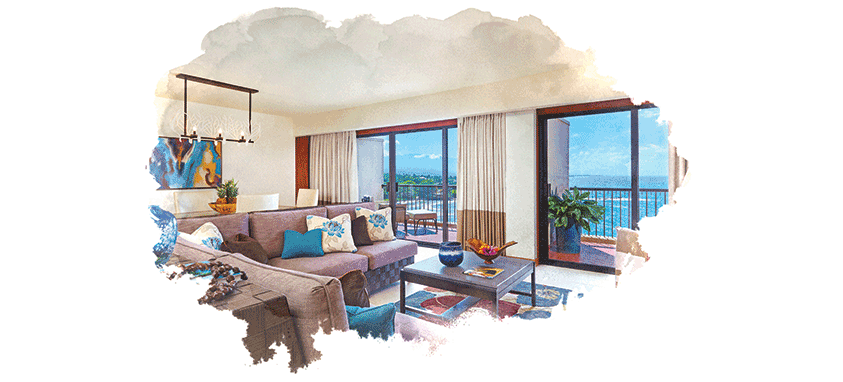 At Prince Waikiki in Honolulu, the white, bright decor takes its cue from the horizon, where a glowing sky meets the turquoise of the harbor and the ocean beyond. From the soaring lobby's modern art and furnishings to the hand-painted Naio flowers on the guest-room walls, the colors and textures are designed to echo the sun, sand and sea.
The most exciting color, however, may be the greens of the unique Arnold Palmer- and Ed Seay-designed Hawaii Prince Golf Club, which is actually three interchangeable nines to create a round perfect for any skill level. Long verdant fairways dotted with white-sand bunkers and 10 refreshing azure lakes welcome all comers.
Hillside Haven
At the other end of the color spectrum are browns and natural woods that pay tribute to the outdoorsy location of the 300-room Coeur d'Alene Casino Resort Hotel in Worley, Idaho. Earth tones are nurturing and calming, and often used in resorts to enhance tranquility. The resort is set among rolling foothills, so designers called on oversize leather furnishings and carpeted wood floors to embrace the rustic ambiance. This way, guests can while away free time surrounded by the outdoors.
The resort's Spa Ssakwa'q'n (Sitkwe—water—provides Ssakwa'q'n with its root meaning) conjures up images of alpine lakes. Like the resort, the spa is meant to connect with nature, and uses cedar and natural light to calm the mind by bringing the feeling of the outdoors inside. The resort has a championship golf course and more than 40,000 sq. ft. of meeting space.
Color Therapy
Casa Velas in Puerto Vallarta, Mexico, takes an unexpected approach to using color as therapy. Mandala coloring is a spiritual ritual that activates two hemispheres of the brain. The treatment is led by one of the resort's spa valets, who gives an overview of the mandala and its history before having guests break into teams to color their own. "Coloring mandalas has numerous benefits for the brain," says Juan Vela, vice president of Velas Resorts. "It helps to develop mental abilities, inducing a state of calm and decreasing anxiety and depression to make attendees more tolerant and understanding."
Mandala coloring also develops cognitive abilities and aids in concentration, he adds: "This psychotherapy technique is recommended both in the therapeutic field as art therapy and as an individual and group relaxation technique." The 80-room, AAA Four Diamond Casa Velas is on Marina Vallarta Golf Course and has a 4,800-square-foot convention center and four outdoor venues.
Sound Effects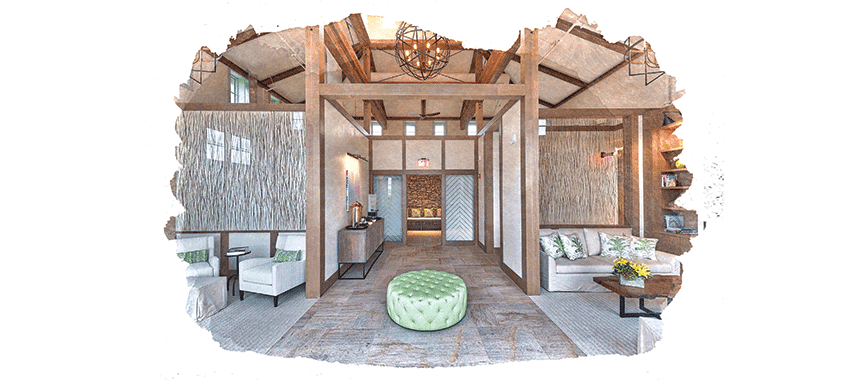 When you think of relaxing sounds at spas and resorts, you probably think of elevator music or the steady pulse of the spa's meditative CDs. No more. Resorts around the world are taking an increased interest in sound therapy, which produces a state of mind in which the left and right brain hemispheres work in harmony to encourage deep relaxation.
"Relaxing sound patterns will gently lead you into powerful, free-flow explorations and leave you centered, focused and totally refreshed," says Kristin Brock, spa director at the 100-room Carneros Resort and Spa in Napa, California. Sound therapy is the use of both sound and vibrations at varying frequencies to achieve a soothing effect on the brain, body and spirit. It dates back to ancient Greece and has been used to boost morale in the military, increase productivity at work and lower stress.
Carneros Resort has recently added $3.5 million worth of new amenities and treatments to its 5,919-square-foot spa, and one of the most unique additions is the sound lounger, designed like a musical instrument to cradle guests in a soothing musical massage, creating a deep relaxation experience for the mind and body. The zero-gravity position of the lounger is ideal for increased circulation, enhanced awareness and stress reduction. Guests wear Bose headsets and listen to harmonic music, which is calming and grounding, and allows them to relax, let go and feel more centered. "The music combined with the vibrations of the sound lounger provides the perfect power nap," Brock says.
Beyond sound, Carneros' spa menu includes two tech-infused treatments for decompressing. Tune Me Up, a power pampering, increases mental clarity by heating guests in an infrared sauna, before cooling them in an outdoor shower and tucking them into a reclining zero-gravity chair.
Light Me Up uses LED light technology and magnesium-rich oil to increase circulation, decrease inflammation and accelerate healing. The light treatment is followed by a massage and ends with audio programs to recalibrate the mind-body connection.
In addition to the spa, Carneros Resort has a variety of meeting venues that include a 3,276-square-foot ballroom and a 6,200-square-foot hilltop courtyard.
Bowls That Sing
A more ancient form of sound therapy comes from singing bowls, a type of meditation dating to the 12th century and used for healing in Tibetan culture. Singing bowls are two of the sound treatments found at the revamped spa at Turnberry Isle Miami, which completed a $2.5 million renovation of its wellness facilities, including an expanded spa menu that offers sound as therapy.
The "singing" bowls are placed in and around the body and head to balance energy and encourage relaxation. When tapped, the metal bowls resonate with a deep, vibrating sound that relaxes the mind. Guests usually sit or lie down while the healing vibrations help to calm the brain.
The other sound therapy at Turnberry Isle's spa is Spa Wave, which employs an acoustic stimulation massage table (think heated water mattress) with rolling wavelike audio frequencies matched to the body's organs and chakras. Spa Wave is designed to reduce stress, balance moods and improve sleep. Guests can intensify the experience by adding one of the color therapies built into the table.
Turnberry Isle Miami is completing another expansion that includes a 16-story, 325-room tower, bringing room capacity to 685 and adding an additional 121,000 sq. ft. of event facilities to its existing 47,000 sq. ft. of space. Completion is slated for December.
Forest Bathing
It isn't a bath. It isn't a hike, either. Forest bathing is a hot new trend in relaxation therapy that takes guests to the woods to slow down.
The practice started in the early 1980s in Japan when the Ministry of Agriculture, Forestry and Fisheries coined the term shinrin-yoku, or forest bathing, as a way to reduce stress and elevate moods. Shinrin-yoku roughly translates to "taking in the forest atmosphere" or "forest bathing." The belief is that by immersing yourself in nature, you harness the health benefits of being outdoors.
Since the 1980s forest bathing has gathered a large following of luxury spa and resorts around the world, including the 402-room The Woodlands Resort in Texas, which lures guests by the calm of the wild in the surrounding 28,000-acre Texas Piney Woods.
Some doctors say forest bathing could be considered a form of medicine. As you relax, your parasympathetic nerve activity increases, leading to a drop in blood pressure. Another benefit of forest bathing comes from trees that release essential oils, such as phytoncides found in pine trees and cypress, which can increase energy levels by more than 30 percent. Aromatherapy fans know that these tree oils conjure a state of well-being.
As if that's not enough, forest bathing is known to improve sleep by about 15 percent after a two-hour walk. It also boosts the immune system and improves cardiovascular and parasympathetic health. Scientific evidence aside, the popularity of shinrin-yoku shouldn't be surprising. Who hasn't felt an inner peace when standing in a grove of trees, providing a respite from work and a mini-immersion for the mind?
The Woodlands Resort has more than 60,000 sq. ft. of event space.
Walking in Circles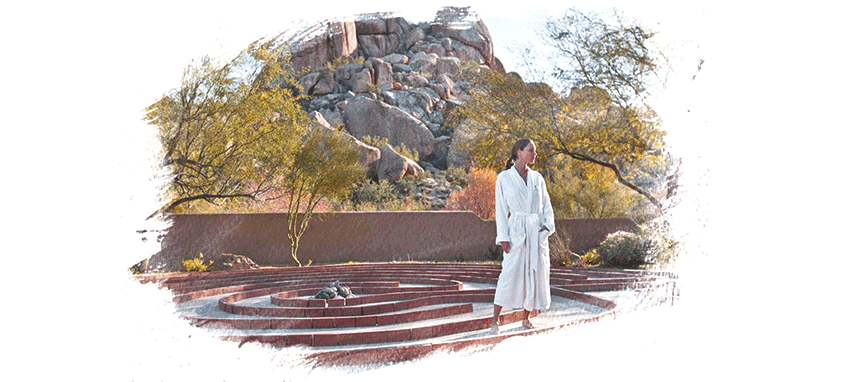 While most people avoid walking in circles, at the 225-room Boulders Resort and Spa, it's a way of life. The Scottsdale, Arizona, spa has an outdoor labyrinth (Path to Wellness) where guests can indulge in a spa treatment and then step outside to the labyrinth. The ritual starts with a deep breath before entering the labyrinth, where guests choose a rock from a small pile and hold it as they focus on an intention while walking the path. Labyrinth therapy is often seen as a three-step process: release worries, accept insight and claim power.
If you would rather meditate than meander, head to the resort's private tipi, a cone-shaped tent originally used by Native-American tribes as living quarters but now popular as a retreat for those seeking peace and tranquility in a private space.
In addition to the tipi and labyrinth, the resort has an award-winning golf course and more than 55,000 sq. ft. of meeting space.
Lighten Up
Want to crank up the energy in meetings? Turn up the lights. As more research emerges on the impact of lighting on attendee productivity, more designers are focusing on good lighting for meetings.
"Lighting is critical," says Heather O'Sullivan, a hospitality designer with Whitespace Interiors in Chicago. "Lighting, more than anything else, creates mood."
Studies suggest that lighting affects emotions and mental agility. Good lighting can improve energy levels, which can impact alertness at meetings. Conference rooms with brighter lights are best for morning and daytime meetings, while dimmer lights are ideal for late afternoons when business winds down and chatter picks up. Designers suggest turning up the lights if attendees appear drowsy, to increase focus. But don't overdo it. Excessively bright (especially fluorescent) lights can drain energy and trigger grumpiness.
Of course, the best lighting is natural, which means meeting rooms with lots of windows. Rooms with natural light have been shown to create a happier environment for attendees. If natural lighting isn't possible, high-quality lights with a dimmer are the next-best choice.
In many meeting rooms, the table is the focal point, and lighting there is extremely important. This is where presentations take place and group discussions are held. Lighting boosts concentration, so the table must be optimally lit. Central lighting is best, since activities can range from note-taking to speeches. Ideally, the meeting room will have a control panel, so the lighting can be adjusted as needed.
Lighting can affect appetites, as well. If food is on the agenda, Cornell University research shows that people choose healthier options in rooms that are well lit.
Kristine White is a California writer who spent many years attending off-site meetings and now enjoys writing about them.