Cleveland Convention Center
Medical and pharmaceutical meetings often require a little more TLC than other events. There are government-mandated reports that document payments between manufacturers and doctors. There are security and privacy concerns that must be taken into consideration. There are often visa and equipment transportation issues that need to be resolved.
Meeting and event first responders, such as hotels, convention centers and professional organizations, have come to the rescue, providing the type of support planners and suppliers need to navigate logistics and legislation.
American Express Meetings & Events has helped the industry better understand medical meetings by surveying the doctors themselves. Doctor's Orders: The Physician's Perspective on Meetings and Events presents responses from 505 physicians from around the world. The report, released in June, was specifically designed to help pharmaceutical companies gain insights into the modern meetings landscape.
---
---
"Attracting physicians and designing effective, compelling meeting experiences is critical to the ongoing success of pharmaceutical-sponsored meetings," says Issa Jouaneh, senior vice president and general manager for American Express Meetings & Events. "By better understanding the shifting expectations of physicians, meetings organizers can ensure that their events are a more effective channel for professional networking, product education, awareness and feedback."
Physicians' Assessments
Respondents to the American Express Meetings & Events survey report that they were invited to an average of 16 meetings in 2015, but only attended half that number. The survey reveals four types of events most frequently attended by physicians:
–Speaker dinners, 67 percent
–Symposiums, 66 percent
–Congresses, 53 percent
–Product meetings, 52 percent
Physicians cited access to new information and the opportunity to earn CME credits as key motivators of whether or not to attend an event. The importance of content is further reinforced by the fact that physicians listed it as the top component that could use improvement.
Technology is also critical and is an area where improvements are needed, according to the survey. More than half of the doctors under 40 commented that organizers should upgrade mobile meetings technology; this group is also more likely to use a mobile app to connect with other meeting attendees.
Specialists
Hilton Chicago stands out among its peers as a property that caters to medical meetings and events. It's not an accident. Cheryl Jakob, senior sales manager for Hilton Chicago's pharmaceutical meetings, says the brand tends to assign sales managers to vertical markets, creating expertise and specialties.
"It's an important market for Hilton Chicago, and we're helping our meeting planners do their jobs," Jakob says.

By focusing on customer needs and seeking feedback from hosting pharma representatives, Hilton Chicago has become a go-to venue for international medical meetings. Hilton has invested $200 million to ensure that infrastructure, including technology for live broadcasting, exceeds expectations. It wrapped up its latest round of renovations in May.
Besides boasting the fastest broadband in Chicago, Hilton has a web page dedicated to medical meetings. Hilton also helps planners select menus that are compliant with spend caps, and when hosting international delegates the chef often creates dishes that reduce costs by cutting back on meats, for example.
With 1,544 guest rooms and 234,000 sq. ft. of meeting space, Hilton has flexibility for set-ups, once turning an exhibition hall into a hospital to reflect patient experiences.
Caesars Entertainment features properties coast to coast and has become a popular host of medical meetings and exhibitions. Caesars Palace Las Vegas will be the site of the OR (operating room) Manager Conference Sept. 21−23. The event is expected to draw 1,400 managers and directors for continuing education and networking.
Medical Education Resources, Inc. (MER) coordinates conferences and summits in Las Vegas. Besides Caesars, MER event venues include The Venetian Las Vegas, Mandarin Oriental Las Vegas, and Bellagio Hotel and Casino.
M Resort Spa Casino in Las Vegas has received a Forbes Four Star rating for seven consecutive years. It offers 390 guest rooms and suites, and more than 92,000 sq. ft. of meeting space, including the flexible 25,000-square-foot M Pavilion, which can seat 2,300. When it's not being used for meetings and exhibitions, M Pavilion can be transformed into an entertainment venue.
"We take great pride in our ranking among the world's finest hotels and spas as it reflects in our mission to provide outstanding levels of service," says Bob Sheldon, president of M Resort.
Medical Centers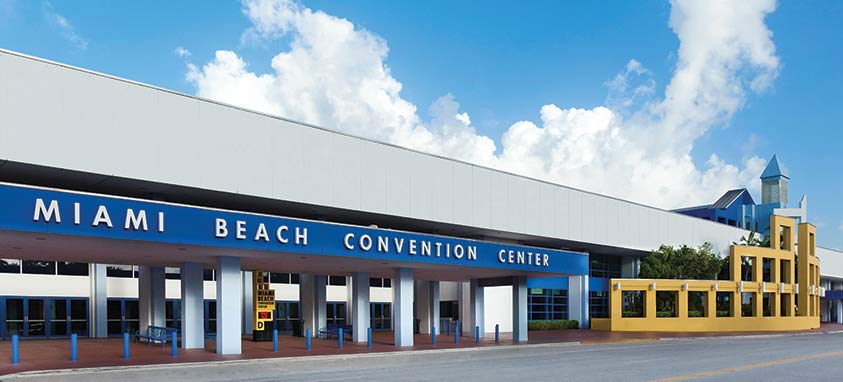 Greater Miami Convention & Visitors Bureau's pursuit of future medical conferences and conventions is being enhanced by its partnership with Mount Sinai Medical Center, which is home to more than 700 renowned physicians. While Miami Beach Convention Center undergoes a $615 million renovation, Mount Sinai has its own $205 million project underway. Miami expects to unveil one of the most sophisticated medical conference environments in the world when both projects are complete in 2018.
Miami's 50,000 guest rooms, nonstop flights from more than 100 airports and plentiful Vitamin D are totally appealing, and the city's new and improved convention and medical centers are expected to add to its allure. The convention center expansion will increase exhibition space to 500,000 sq. ft., and there will be a new 60,000-square-foot ballroom.
Visit Florida is contributing to Miami's medical meetings push with a grant that will help fund live streaming by Mount Sinai to convention center attendees.
South Florida has truly emerged as a medical meetings hub. Greater Fort Lauderdale Convention & Visitors Bureau promotes Broward County Convention Center, which offers 600,000 sq. ft. of event space. Six hotels make up the Lauderdale Convention Collection: B Ocean Resort Fort Lauderdale, Fort Lauderdale Marriott Harbor Beach Resort & Spa, Hilton Fort Lauderdale Marina, Hyatt Regency Pier Sixty-Six, Renaissance Fort Lauderdale Cruise Port Hotel and Embassy Suites by Hilton Fort Lauderdale-17th Street. Fort Lauderdale's convention center is in line for major upgrades, with plans to add 300,000 sq. ft. and a new 1,000-room hotel. Although final approval is pending, construction on the $500 million waterfront project is expected to break ground in 2018 and wrap up in 2020.
Palm Beach County Convention Center and the new Hilton West Palm Beach have become an important one-two punch for medical meetings. The convention center features a 100,000-square-foot exhibit hall. It also has a 22,000-square-foot ballroom and 19 breakout rooms totaling 21,000 sq. ft. Steps from the convention center, the 400-room Hilton West Palm Beach opened in January. It offers 24,000 sq. ft. of meeting space, plus two 2,400-square-foot lawns for outdoor events.
Cleveland Clinic and Cleveland Convention Center made a winning team in May during the seventh annual Patient Experience summit. The event drew nearly 2,000 registered attendees from 45 states and 37 countries thanks to the influence of Cleveland Clinic and the city's state-of-the-art convention center.
Kudos to Response Teams
From hotel sales directors learning the ins and outs of government reports to CVBs building community relations to promote pharmaceutical events, first responders have stepped up in many ways to ensure informative and compliant medical meetings.
---
Smart Meetings Presents Webinar on Medical Meetings
Pat Schaumann, senior compliance director at Maritz Travel, will lead Smart Meetings' webinar on Health Care Meeting Trends on Aug. 9.
Considered a leading expert in the area of compliance issues relative to medical and pharmaceutical meetings, Schaumann previously served as director of professional development for the Meeting Professionals International (MPI) health care sector. In her new role, Schaumann will help Maritz's health care meeting clients understand and adhere to complex regulations mandated by the 2010 Affordable Care Act.
The National Physician Payment Transparency Program (known as Open Payments) has required health care manufacturing companies to compile and report their financial relationships with doctors and hospitals to Centers for Medicare & Medicaid Services (CMS) starting with 2013 meetings. This includes money for research activities, gifts, speaking fees, meals and travel.
"Compliance with new regulations creates challenges in the health care industry," says Steve O'Malley, president of Maritz. "This adds complexity in business processes for our clients, so we're taking steps to alleviate the pain they are feeling."
Schaumann's impact in the hospitality industry is far-reaching. She has authored several health care compliance policy books, including Breaking the Code to Healthcare Compliance. She served on the Convention Industry Council (CIC) Healthcare Certification Governance Committee, helping develop the rigid CMP-HC certification. At MPI, she founded its Healthcare Meeting Compliance Certificate program, a springboard to introduce nearly 1,000 medical meeting planners to Open Payment basics.
"Maritz Travel is one of the most forward-thinking companies in the industry," Schaumann says. "I'm honored to join the team—especially as the company works to bring new solutions to navigate [health care providers] event compliance to its impressive base of clients."
To register for Smart Meetings' webinar on Health Care Meeting Trends on Aug. 9, visit smartmeetings.com/webinars
---
Case Study: 6 Countries & 2,000 Delegates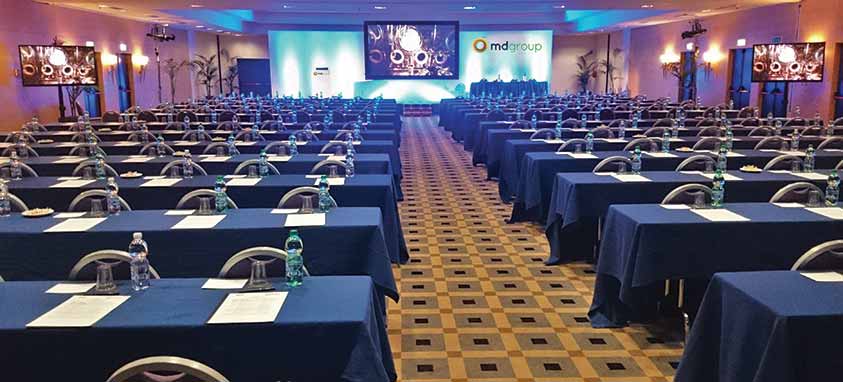 MD Events meeting setup
Tasked with the challenge of coordinating a series of investigator meetings in six countries for nearly 2,000 delegates, MD Events was faced with a number of logistical and cultural challenges.
An investigator meeting brings together investigators, patients, doctors and site personnel who have agreed to participate in a multivenue clinical trial. The purpose of the meeting is to inform delegates about the product they will be investigating and how the clinical trial will be run.
The meetings took place at Omni Atlanta Hotel at CNN Center, Hilton Munich Park, Hilton Prague Hotel, Sofitel Wanda Beijing Hotel, Seri Pacific Hotel Kuala Lumpur in Malaysia and Sheraton Lima Hotel & Convention Center in Peru.
Drawing on 15 years of experience in planning investigator meetings around the world, MD Events developed the following solutions.
Delegate Management
As part of MD Group, MD Events has access to a range of high-quality business services, including patient recruitment, travel and destination management, and continuing professional development (CPD) accreditation. High-touch delegate management helped MD Events gain maximum site representation needed to successfully handle the volume of delegates arriving from around the world.
This was particularly important when dealing with delegates from Russia, where the scale of the country led to complicated travel arrangements and ground transportation requirements.
Regional Presence
Consistency and quality across all meetings was a big focus. Being a global organization with offices in each region meant that MD Events could have key players on the ground from the onset. This ensured a high-quality experience without the need to outsource, which kept costs down and ensured consistency of service both onsite and offsite.
Understanding Cultural Expectations
Relying on regional suppliers and an understanding of cultural needs were keys to the success of the series. MD Events has native and local staff in each of their global offices who can provide invaluable insight into cultural expectations.
With a global workforce, MD Events was able to offer simultaneous translation in up to eight languages. This led to white-glove service to their delegates without isolating anyone.
Russian delegates were extremely impressed that MD Events was able to coordinate and manage their requirements through their Russian office, many stating that they had never attended such a well-organized investigator meeting.
Visa & Insurance Management
Dealing with a series of events on a global scale meant navigating complicated visa and insurance requirements, particularly for delegates traveling from Russia and parts of Asia.
MD Events provided travel management services, including collecting and submitting all necessary visa documentation and liaising with consultants and embassies on behalf of delegates from around the world.
Digital Solutions
For those unable to attend the series, MD Events provided digital solutions to increase the impact and reach of the study. With customized apps and digital platforms, live streaming from the events and interactive forums increased participation while meeting compliance regulations across the board.
Compliance
Compliance is a big concern for all clinical trials, and the regulations and codes change across different countries. MD Events agents have a strong background in pharmaceutical science, providing understanding on every aspect of a study before the investigator meetings take place.
During the series, a dedicated team of compliance experts monitored international guidelines carefully to ensure all codes were met. They also managed all consultancy agreements and contracts on behalf of the client, overseeing honoraria payments and compliant expense processing, and meticulously reporting on all deliverables.
–LaQuinta Jernigan
---
LaQuinta Jernigan is director of business development for MD Events, which has organized thousands of investigator meetings in more than 67 countries during the past 15 years. Its global headquarters is in London, with offices in Philadelphia, San Francisco, Hong Kong, Singapore and St. Petersburg, Russia. MD Events is a subsidiary of MD Group.
---
6 Tech Tips for Medical & Life Science Meeting and Event Professionals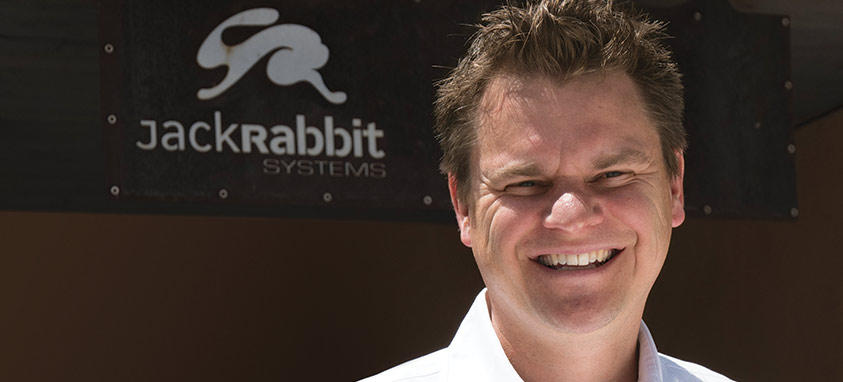 Andrew Van Luchene, president and CEO of Zerista
1. Tech Strategists, not Vendors
Find tech partners who want to work with you as creative tech strategists. Your tech partners should be open to your feedback, and come to the table ready to creatively solve your challenges and propel your event forward.
2. Be Picky
Pick a comprehensive event tech platform that specializes in the medical and life sciences vertical to ensure that your participants, complexities of programs, accreditation and other aspects of your audience and events are fully understood.
3. Play Nice in the Sandbox
Make sure your tech platforms integrate nicely with each other, whether it's your abstract management solution, registration and housing provider, or your mobile web app provider. Check to make sure that data transfer is seamless.
4. Brain Dating
Choose a mobile app that has a good scheduling functionality, including algorithmic matching to ensure right brain dating between your event participants. All interactions should be tracked, and that data is gold.
5. Carpa Data
Seize your event data from all aspects. Your tech partners should help you decipher the data to better understand your stakeholders and event participants. Ask your tech partners how they can better integrate into one dashboard for you to access all your data from one spot.
6. Stellar Customer Service
Augment tech integrations with great customer service. Not all your attendees are tech savvy. Prepare marketing materials in different formats—video, links on your website and more importantly, onsite help for when they get stuck. Skimping on service can completely derail the success of your technology.
-Andrew Van Luchene
---
Andrew Van Luchene is president and CEO of Zerista, which provides an event management website and mobile app that allows planners and attendees to manage schedules, generate leads and participate in games that encourage collaboration.