It's often said adversity brings out the best in us. Certainly, that's proven true in the aftermath of our recent natural disasters. These terrible moments level the playing field. Acts of generosity and kindness spring from every quarter of the community.
But when adversity comes in the horrific form of a mass murder, as it did in October in Las Vegas, a city that pulsates with visitors from around the globe, both the initial shock waves and the resulting tsunami of solidarity and support enveloped the world's most famous desert oasis from nearly everywhere.
As reported in Time, Prime Minister Mark Rutte of the Netherlands tweeted that his thoughts were with "all the victims of this atrocity," while Lars Lokke Rasmussen, prime minister of Denmark, wrote: "Horrified by the brutal shootings in Las Vegas. My condolences and deepest sympathy to the victims, the wounded and their loved ones."
A telegram sent on behalf of Pope Francis said he was sending "the assurance of his spiritual closeness to all those affected by this senseless tragedy." Pope Francis commended the efforts of police and emergency service personnel, and offered "the promise of his prayers for the injured and for all who have died, entrusting them to the merciful love of Almighty God."
British Prime Minister Theresa May said her thoughts were "with the victims and emergency services" and Jeremy Corbyn, leader of the opposition, posted a similar message.
Bana Alabed, the young Syrian refugee who became known worldwide for live-tweeting the war from Aleppo, wrote that she was praying for Las Vegas. Her mother, Fatemah, added, "Nothing is worth killing for."
The hashtag #VegasStrong became an instant meme.
Coming Together, Amid Gunfire
Starting at 10:08 p.m. on Sunday, Oct. 1, as the final act of the night was on stage at the Route 91 Harvest country music festival, 64-year-old Stephen Paddock of Mesquite, Nevada, began alternating fire from the windows of two suites on the 32nd floor of Mandalay Bay Resort and Casino, across from the outdoor concert area. His motive has still not been made public, and seems to remain a mystery.
The outpouring of grief and rage and disbelief—the heinous attack resulted in 58 lives lost and ranked as the deadliest mass shooting in modern U.S. history—began immediately. But just as immediately—in fact, even as police and concert-goers themselves reacted heroically and braved the continuing rapid-firing to save the fallen and stop the carnage—Las Vegas came together and began demonstrating its resiliency and strength in ways large and small.
This tourism mecca—and the hospitality engine that largely propels its economy—continues to show both, even as it grieves and heals. As have meetings venues throughout the country, it has begun a thorough review of what is really needed in today's America—in today's world—to ensure the safety of attendees.
Safety—always top of mind for planners—became an even more pressing topic. Discussions about the possibility of airport-style scanners at convention centers and hotels and policies about where to allow guns started on social media, at event conferences and in board rooms. It will take time to determine next steps, and the solution will be different for different planners, venues and destinations.
But first, we want to take a few moments to celebrate the feeling of support that brought people together. Let us take comfort in the many ways in which Las Vegas rebounded—with the whole world watching.
Let Healing Begin
Here's some of what's happened.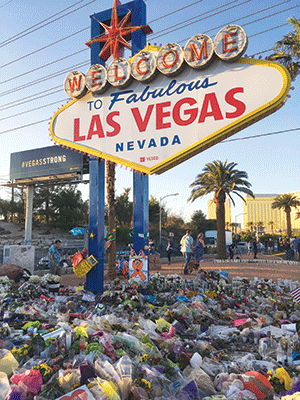 On the day after the shooting, MGM Resorts tweeted that crisis counselors were available for any guest or employee "who needs to speak with someone." Phone numbers were posted, along with a pledge to set up locations for in-person counseling at all MGM properties in the city.
The following night, marquees on the Las Vegas Strip displayed the message, "We've been there for you during the good times. Thank you for being there for us now. #VegasStrong." The signs paired these moving words with an image of the iconic Strip.
A little more than a week later, IMEX America 2017 went on as scheduled, without incident, and more than 12,000 meetings professionals and others attended. Sands Expo, The Venetian and The Palazzo hosted the event.
MGM Resorts International Chairman and CEO Jim Murren gathered with fellow hospitality leaders from Meetings Mean Business and Las Vegas Convention and Visitors Bureau to say, "We are heartbroken, but not broken."
A statement issued by IMEX Group Chairman Ray Bloom and CEO Carina Bauer reassured attendees that "IMEX America and the Sands have very strong security in place, with both visible and plain clothes security teams in the venue and at the trade show."
Destinations from all over the country and the world showed their support with buttons and signs showing their love for Las Vegas.
Members of the Las Vegas community stood in line for hours to give blood to those of the 500 wounded who were still hospitalized, brought food to grieving families and created healing spaces to gather.
On Oct. 19, Big & Rich, the music duo that led country fans at the outdoor festival in singing "God Bless America" before the massacre began, headlined a free concert at Orleans Arena in which 2,000 tickets were reserved for first responders and medical personnel.
On Nov. 9, thousands of people assembled on the Las Vegas Strip in a march organized by Las Vegas locals of the Culinary Workers Union and Bartenders Union, which represent more than 57,000 workers—55 percent women, 56 percent Latino and from 167 countries—in Las Vegas and Reno, Nevada.
"Nevada is a place where working men and women have a real opportunity to provide for their families and achieve the American Dream," said Geoconda Arguello-Kline, secretary-treasurer for the Culinary Union. "Nevada is our home, we are Vegas Strong and we will not live in fear. Workers serve our country and our community every day, and we stand united and together, today and always."
The call to hug-a-bartender stressed the important role tourism and events play in supporting thousands of hospitality workers and their families.
Help for Victims, Thanks to the World
Two months to the day after the horrific shooting—Dec. 1—the Vegas Strong Benefit Concert at T-Mobile Arena raised hundreds of thousands of dollars for the Las Vegas Victims' Fund, to provide relief and financial support to the victims and families of the shooting. The lineup of performers included Imagine Dragons, The Killers and Boyz II Men, as well entertainment stalwarts of The Strip such as Cirque du Soleil, David Copperfield and Penn & Teller.
Even before the concert, the victims' fund had raised $11,489,264 (as of mid-November), from pledges made by 87,715 people.
"Our community is grateful for the outpouring of support from folks all across the nation and all around the world," said Steve Sisolak, commission chair of Clark County, which includes Las Vegas. "Tens of thousands of people have made their voices heard and are standing up to hate, and standing together to support the victims and their families during this difficult time. We want to thank you for your generous contributions."