Musical force of nature Jade Simmons is passionate about supporting 'sensation-makers'
"Purpose is not the thing you do. It is the thing that happens in others when you do what you do." –Jade Simmons
What do you do when you spent your whole life training to be a master concert pianist only to find that there wasn't a place for you on the classical music circuit? Musician, author and motivational speaker Jade Simmons created her own space as a "transformation-enabler," touching hearts through a mix of virtuoso performances, powerful straight talk and a little bit of rap.
Simmons created Jade Media Global as a revolutionary live experience and content distribution company to focus on 360-degree personal development and strategic transformation. For her, music is the vehicle by which she connects and moves audiences. She is a virtuoso storyteller.
Now she is helping corporate groups of all types be more purpose-driven and effective. She has been named one of the best keynote speakers and has performed at the White House and the U.S. Supreme Court, and also received the Sphinx Organization's Medal of Excellence. This disruptor even ran as an independent candidate for President of the United States in 2020 as the founder of Operation Restoration. Her strategy was to appeal to the "muted middle" as a moderate.
On her officialjadesimmons Instagram page, she dispenses wisdom and affirmations. "Purpose is one of the simplest things to discover," she posted recently. "One of the most natural things to walk out and easily one of the most life-giving aspects of human existence."
Simmons addressed the winners of the Smart Women in Meetings Awards in September at Smart Woman Summit at Resorts World Las Vegas, and those inspirational women left inspired.
PS: 2022 Smart Women in Meetings Nominations Now Open!
"Don't ask if you can be in the room. Know that the room needs you!" she advised.
Following is a transcript of a recent conversation that led to the scheduling of a Smart Chat Live! in January to share Jade's message with the larger Smart Meetings community.
How is planning with purpose different than normal planning?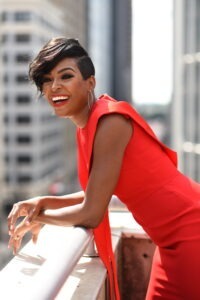 Planners by nature are intentional, so in this case I don't mean "intentional" when I say "purpose," because that's a given. In this instance, I'm talking about planning with the intended breakout effect you want to have on your attendees always at the forefront. Because experience-creators are detail-oriented, we can get lost in the details and sometimes forget the most important aspect, which I believe is the "takeaway sensation." Purpose is closely related to that sensation we each, as individuals, are uniquely designed to be able to create for others.
How does a person determine their purpose?
Uncovering true purpose is not as hard as we've made it and it also evolves over time and expands with us. The simplest way to get to the core of purpose is to understand what it is not. Purpose is not the thing you do. It is the thing that happens in others when you do what you do. So, your purpose is not to be a planner, it is the thing that breaks out in the people who attend the experiences you plan.
When you understand and uncover purpose, you get to prioritize it in everything you do. By nature, it gives back to you and refuels you. When you plan with purpose, you're still working hard, but in the end, you're spent, which is very different than depletion.
Right now, in my business, we only say "yes" to purpose-based opportunities. If I'm not able to activate people into becoming bigger and bolder, we decline. For instance, if I'm just being asked to sit down, shut up, and play the piano, I'll say "no" every time.
Purpose gets you to "no" much more quickly than before! And don't we all need to get better at saying "no"?
How do we ensure we are getting the "invitations to evolve" we want and need?
Almost every opportunity and every challenge is an opportunity to evolve into something bigger, tougher or smarter than you were before. When you turn down the right invitation, you usually know pretty quickly because your current situation suddenly becomes unbearable and you have less grace to do what you've been doing for a long time.
If you're lucky, you can run and chase down the invitation before it gets too far down the road. To ensure a barrage of invitations, commit to a lifestyle of personal evolution, growth and development. The larger you become, the smaller the spaces you're in will become. Inevitably, larger opportunities present themselves to you. The hardest thing you'll have to do then is choose which invitation to seize.
My career is a constant stream of invitations at this point, some coming externally, many of our own making. As young artists, we were conditioned to wait for invitations from agents, orchestras and concert halls. I know many an artist who hasn't stopped waiting.
My best crazy yes was an invitation to play the SWSX festival in Austin, TX. They didn't normally accept classical musicians, which is why on my application I said I'd play piano, create my own beats and rap on top of it all…something I'd never done before. I got the invite from them and suddenly had an invitation to become who I said I'd be in the future. That one acceptance changed the entire trajectory of my career, again. It is the reason I rap on stages today.
How can people who are normally behind the scenes "package their prowess" to market their skills to the people who need them?
Firstly, understand that there is no "under the spotlight" activity without the behind-the-scenes productions. Own that power, as being the foundation of a successful experience and repackage what you do as mission critical. Take it from me, anyone out front wants someone who is somehow better than them in many ways to be controlling the happenings behind the scenes.
My team at Jade Media Global is absolutely fundamental to my success on any platform. Whoever is running my A/V is all-important to my stage experience, though you may never know their names, which is why I often shout them out.
Finally, express gratitude at the level you would like to be shown gratitude. Humility goes a long way, always farther than pride, often much farther than sheer talent and ability.
An Open Book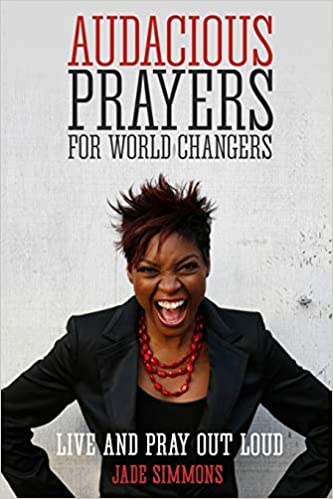 Jade Simmons, an ordained minister, authored two books, "Wise Up! Wisdom for Wild and Wacky Times" in 2012 and "Audacious Prayers for World Changers" in 2015. She describes the latter as a devotional for bold and fearless believers to elevate the confidence and faith of those looking to behave more audaciously in their walk with God.
It was created "to give Big Dreamers and Big Believers the Big Words to match their Big Vision."
The book, and Jade, are not for the faint-hearted, but for those ready to bust through walls, change atmospheres, increase territory, revolutionize industry, transform mindsets and cover and protect themselves and their families in the process of all their trail-blazing.