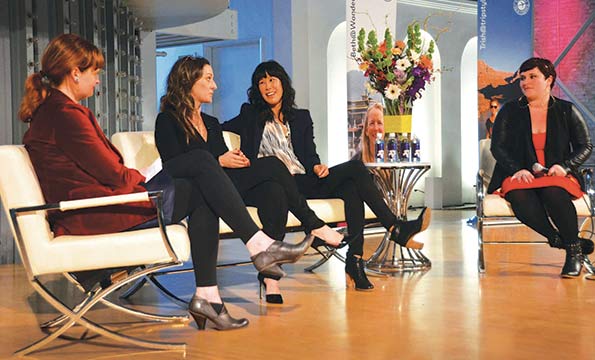 Journalist/broadcaster Laura Ling relied on two key mindsets to get through being detained five months in North Korea in 2009 while researching a piece on defectors crossing the border into China: She found something to be grateful for each day and cultivated connections with the women guards.
Ling's ordeal came to an end thanks to an unannounced visit to North Korea by former President Bill Clinton. As further testament to the value of human relations, Clinton had reached out to former North Korean leader Kim Jong-il when his father had died, an act that undoubtedly benefited Ling and Euna Lee, the other detained journalist with whom she was traveling.
Ling was one of the featured speakers during Women's Travel Fest on Feb. 27–March 1 in San Francisco. Opening day of the festival took place at the very hip San Francisco Design Galleria, setting the backdrop for fascinating and inspirational dialogues about women's travel.
Ling co-wrote a memoir with her sister, Lisa Ling, entitled Somewhere Inside: One Sister's Captivity in North Korea and the Other's Fight to Bring Her Home. Ling's tale of mistakenly crossing the China-North Korea border, then running for her life before being captured for entering the country illegally, is riveting.
Ling shared her experiences as part of a discussion on "Uncharted Territory: Navigating a Changing World." She was joined on the panel by Julia Cosgrove of AFAR Media, Paula Froelich of Yahoo! Travel and festival founder Kelly Lewis.
Among the lessons Ling learned: "Find people who are trustworthy, but don't put too much trust in them." In hindsight, she admits there were signs that she and Lee were headed down a precarious path when they walked across a frozen river in March 2009.
Once detained, Ling purposefully came up with one thing each day that she was grateful for, such as seeing a butterfly outside her window. Ling is frequently asked about the food, and although the portions were meager, she was grateful for that as well, saying "I knew there were local people who had less."
The North Korean women who guarded Ling also helped her cope, telling her to "have hope." Ling and Lee were actually sentenced to 12 years in a labor camp before Clinton intervened.
Ling, who won an Emmy Award in 2014, is now director of development for Discovery Digital Networks. Other noted adventurers who spoke during Women's Travel Fest included Felicity Aston, the only woman to ski across Antarctica alone, and Patricia Schultz, author of 1,000 Places to See Before You Die.
"We hand-select our speakers at the Women's Travel Fest to give our audience the best possible experience," said Lewis, also founder of Go! Girl Guides travel guidebooks. "All of our speakers are incredibly talented, well-traveled, well-spoken and above all else, wildly inspirational. I feel so lucky to be able to work with women in this community who share my passion for empowering and connecting women in travel."
The second annual festival drew 300 attendees and 18 exhibitors. It will return to New York in March 2016, although dates and venue have yet to be announced.
Exhibitors and Sponsors
The San Francisco Design Galleria is a stunning place to hold an expo, with two balconies overlooking the raised stage area. The second level was ringed with travel suppliers and tour operators, most specializing in travel for women.
It was great catching up with Jody Cole from Wild Rainbow African Safaris which is celebrating its 10th anniversary this year. Wild Rainbow offers scheduled and custom tours throughout Africa, including Zimbabwe, Rwanda, South Africa and Mount Kilimanjaro in Tanzania.
Women's Travel Fest had the backing of some noteworthy sponsors, including Expedia and Intrepid Travel. Expedia hosted Friday night's opening party at a San Francisco street food park.
Goodie Bag
As with most conferences, there was a giveaway bag of goodies from various travel-related companies. One of the most clever and practical inclusions was the feminine wipe by Healthy Hoohoo. With a slogan of "gentle care for down there," the wipe is fragrance-free, paraben-free and glycerin-free.
And because we know you're going to ask, Healthy Hoohoo wipes were "tested on gal pals, not animals."